Myanmar army kills over 100 citizens in 24 hours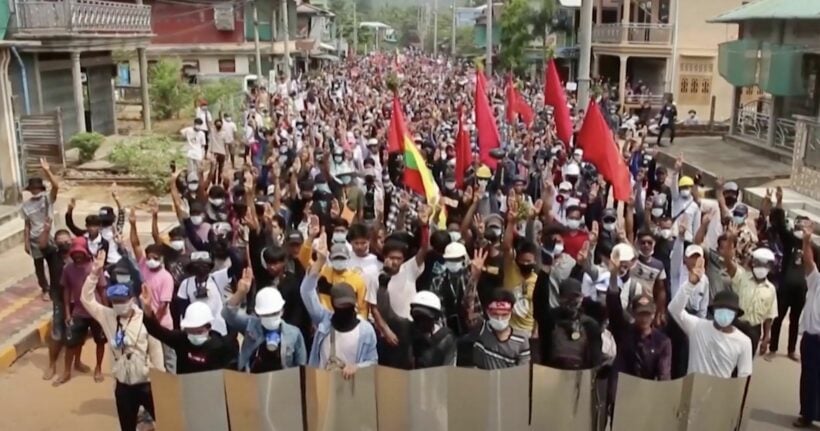 As the country commemorated its annual Armed Forces Day, Myanmar army troops continued to turn on the country's citizens with reports of more than 100 people killed over the past 24 hours. News site Myanmar Now report's yesterday's death toll had reached 114. On the BBC, more than 90 deaths in yesterday's violence was confirmed by the Assistance Association for Political Prisoners monitoring group. Other media outlets are reporting at least 50 killed.
Yesterday marked Myanmar's annual Armed Forces Day, which usually commemorates the beginning of resistance to Japanese occupation in 1945. Defying warnings from the Tatmadaw, the lethal crackdown continued as protesters took to the streets. State TV broadcast an announcement on Friday night warning people… "you should learn from the tragedy of earlier ugly deaths that you can be in danger of getting shot to the head and back".
It makes yesterday, March 27, the single deadliest day since the February 1 coup when the government of Aung San Suu Kyi was ousted by the country's military leaders in a bloodless early morning coup. The number of Burmese civilians reported killed since the coup has now reached 440 people.
Videos which are being uploaded from Myanmar show indiscriminate shootings from military gangs (below). There are many, many more making their way into social media, an indication of the real situation in the country.
Thailand sent a representative to inspect the Armed Services Day celebrations in the capital Naypyidaw. And whilst Army security force gangs combed streets in protest hot zones, shooting people dead without arrest or trial, Myanmar's military leaders put on a lavish parade for army chiefs and international representatives.
WARNING – Graphic content
Video from Global News…
Report from France 24…
Now calls are growing louder in the international community for the UN Security Council to take firm and swift action, including an emergency international summit. ASEAN, mostly, has remained silent over the killings of Myanmar's citizens.
UN special rapporteur Tom Andrews says the Burmese junta should be cut off from funding, including oil and gas revenues, and had their access to weapons cut off.
"Words of condemnation or concern are frankly ringing hollow to the people of Myanmar while the military junta commits mass murder against them."
"Words are not enough. It is past time for robust, coordinated action."
A statement condemning Myanmar's security forces, has been signed by 12 heads of defence in the following countries – Australia, Canada, Denmark, Germany, Greece, Italy, Japan, Netherlands, New Zealand, South Korea, UK and the US. The joint statement is a rare declaration by senior military commanders from countries around the world.
The statement says Myanmar's military "has lost credibility with its people".
"As chiefs of defence, we condemn the use of lethal force against unarmed people by the Myanmar armed forces and associated security services."
"…a professional military must follow international standards for conduct "and is responsible for protecting, not harming, the people it serves."
Additionally, an EU delegation to Myanmar has described yesterday's killing spree as a "day of terror and dishonour", saying the country has marked a "new low".
News reports and witnesses claim security forces killed 114 people, including children, yesterday as part of the wider crackdown on dissenters after the February 1 military coup ousted the elected civilian government.
Myanmar's military leaders have largely remained silent and, so far, ignored international criticism of its violent crackdown.
According to The Guardian, the London-based Burma Human Rights Network is calling on the international community "to tighten economic sanctions on Myanmar's business interests and impose a global arms embargo and a no-fly zone in the country's ethnic conflict zones".
"Every day the horror committed of the Burmese army gets worse as they become more desperate to cling to the power they stole from the people. The international community must respond immediately to end this nightmare for the Burmese people."
With both Russia and China, who have supported the Burmese military in the past, being veto-holding members of the UN security council, they could block any potential action or sanctions on Myanmar at this time.
Russia's deputy defence minister Alexander Fomin attended a parade yesterday in the capital Naypyidaw, after meeting with senior junta Burmese military leaders on Friday.
Thailand , Russia, China, India, Pakistan, Bangladesh, Vietnam and Laos also sent representatives to attend the Armed Forces Day parade in the nation's capital. Russia was the only one to send a senior minister.
SOURCE: The Guardian | BBC
📱 Download our app on Android or iOS for instant updates on your mobile
📧 Subscribe to our daily email newsletter
👍 Like/Follow us on Facebook
🔔 Subscribe to or Join our YouTube channel for daily video updates
PM Prayut will send Foreign Minister to Myanmar summit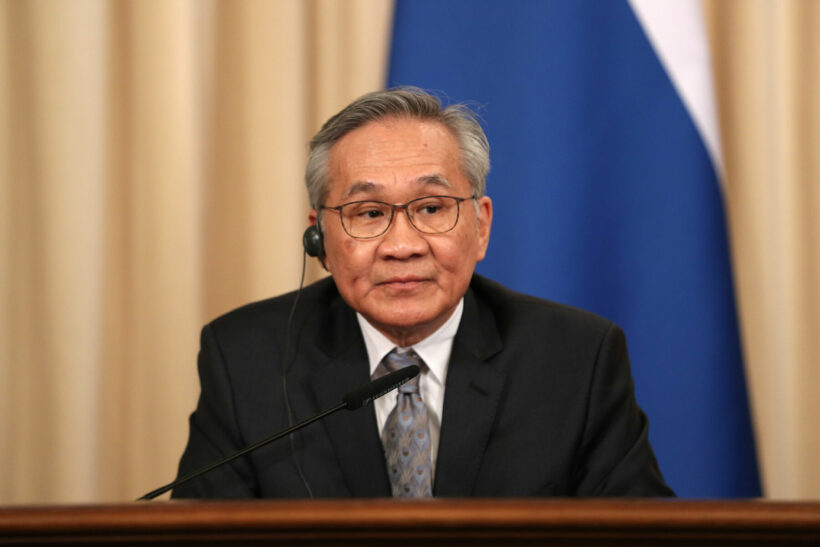 PM Prayut Chan-o-cha announced that he won't attend the ASEAN summit regarding Myanmar, but will send Foreign Minister Don Pramudwinai in his place. The summit, to be held in Jakarta this Saturday will address the increasingly dangerous situation in Myanmar where fear is growing that the ongoing protests against the February 1 coup could descend into civil war.
The meeting will be the first of national leaders, minus PM Prayut, as previous discussion of Myanmar has been between foreign ministers. Myanmar army leader Gen Min Aung Hlaing will attend the Myanmar summit, and the shadow government ousted by the coup has requested representation at the meetings as well.
Indonesia, stepping into a peacekeeping middleman role Thailand had played in the past, has been pushing to quell the growing crisis.
This time Thailand may be caught in the middle, with the Western world reevaluating its perception of the country. China and Russia's tacit, if not financial, support of Myanmar's junta, and Thailand's hesitation in condemning the Burmese coup, shines a spotlight on Thailand's own close relationship to China.
The lack of concrete condemnation of the Burmese junta, and possibly PM Prayut's decision to skip the Myanmar summit, is also a reminder that the current Thai government also came into power in a coup 7 years ago. And the last year of young protests in Thailand calling for the repeal of lese majeste laws and a replacement of the current government further a realignment of the country's perceived position on the scale of democratic freedom and authoritarianism.
Thailand is also closely connected to Myanmar not just by the geographic border, but also through 7 to 8 billion baht invested into the country. Behind only China first and Singapore second, Thailand is fearful of a complete collapse on their investments with trade shackled by civil unrest.
Exports fell 13% last year due to Covid-19, and are down another 15% in the first few months of this year and expected to fall even further. Thai business owners from manufacturing to massage shops are shuttering with staff refusing to work in the civil disarray while banking and trade have been throttled as well. Owners are calling for the Finance Ministry to restart trade assistance previously used from 2010 to 2015 before Burmese democracy.
On top of all these issues, sanctions from western nations may further cripple the Burmese economy. With Thailand's close connections to Myanmar, and the spotlight on the situation growing globally, Foreign Minister Don will face pressure to navigate the delicate situation at Saturday's Myanmar summit in Jakarta.
SOURCE: Bangkok Post and Thai Examiner
📱 Download our app on Android or iOS for instant updates on your mobile
📧 Subscribe to our daily email newsletter
👍 Like/Follow us on Facebook
🔔 Subscribe to or Join our YouTube channel for daily video updates
Burmese prisoners granted amnesty on first day of Myanmar's New Year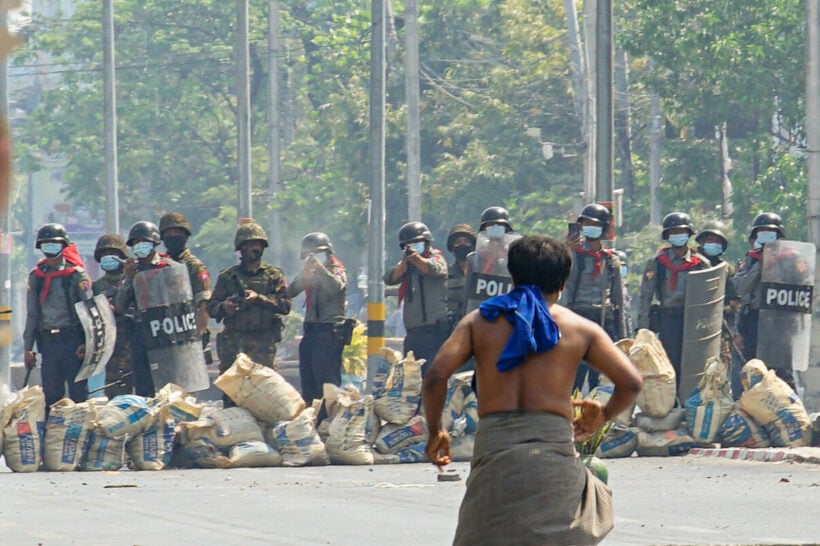 Over 23,000 Burmese prisoners and student political activists are enjoying freedom after being released yesterday in an amnesty on the first day of the country's Lunar New Year celebrations. The state-owned MRTV reported that 23,407 prisoners were released under sections of a penal code. In the Yangon region alone, over 800 prisoners were released, while Mandalay saw around 2,800 released from 5 prisons.
But, with the recent military crackdown on protesters and civilians, the law's ambiguity may be used against those released. As the law allows for the conditional release of prisoners, that means authorities can re-arrest the prisoners without warrant at any time.
Zayyar Lwin, Paing Ye Thu and Paing Phyo Min were among the released student political activists. The 3 were arrested for writing political Thingyan poems and rhymes. They were arrested under Section 505(a) of the penal code and Section 66(d) of the Telecommunications Law, both of which are regarded by many as draconian tools to oppress dissent.
The junta-led State Administration Council also issued a statement releasing 130 foreign prisoners under the same conditions. There have been 2 other mass releases since the coup. The first was in mid-February, which rights groups feared was a move to free up space for military opponents, and the second on the eve of Armed Forces Day when the regime released around 900 detained demonstrators.
But prisons continue to fill up as more than 3,100 people, mostly anti-coup protesters have been detained. The Assistance Association for Political Prisoners has been keeping track of detainees as well as injuries and deaths allegedly at the hands of the junta. It is stil unclear, however, if those released yesterday were post-coup detainees.
Meanwhile, the Burmese military leader, Gen Min Aung Hlaing, is expected to attend an ASEAN summit in Jakarta where representatives of the bloc are expected to discuss Myanmar's situation. Thailand's Foreign Ministry spokesman, Tanee Sangrat, made the announcement.
SOURCE: Thai PBS World
📱 Download our app on Android or iOS for instant updates on your mobile
📧 Subscribe to our daily email newsletter
👍 Like/Follow us on Facebook
🔔 Subscribe to or Join our YouTube channel for daily video updates
Myanmar junta leader to attend ASEAN summit, activists appalled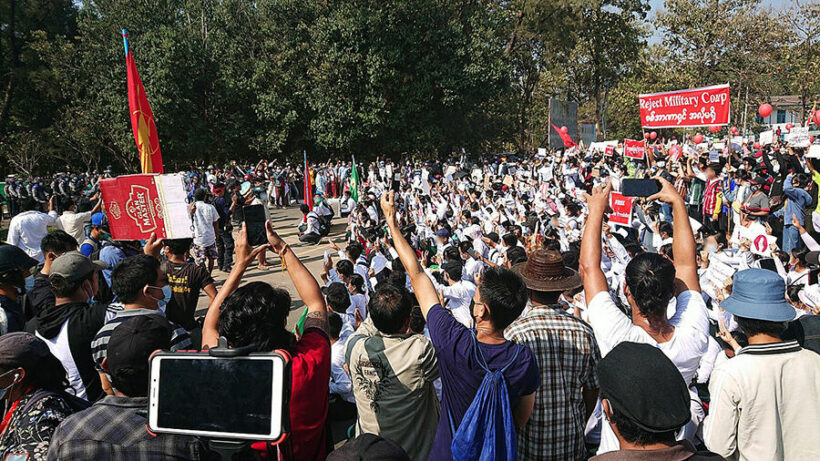 Myanmar's junta or military leader, Min Aung Hlaing, is expected to attend an ASEAN summit in Jakarta where representatives of the bloc are expected to discuss Myanmar's situation. Thailand's Foreign Ministry spokesman, Tanee Sangrat, made the announcement.
"I can confirm that the Brunei Chair has proposed the date April 24 with the venue at the Secretariat in Jakarta. Several leaders have confirmed their attendance including Myanmar's MAH [Senior General Min Aung Hlaing]. Some leaders have yet to confirm."
But Tanee refused to name other leaders and whether or not the meeting will be face-to-face. The announcement drew harsh criticism from activists, including Wai Wai Nu, who have hoped that foreign leaders would not recognise the junta. Last night, #ASEANrejectSAC was among the top-trending on Myanmar's twitter."#ASEAN do not legitimise the Myanmar Military junta as a government by inviting MAH to attend the summit. The Junta is illegitimate and illegal."
The Burmese military overthrew the civilian government led by Aung San Suu Kyi and the National League for Democracy on February 1. Protests against the coup continue across Myanmar and over 700 people have been killed during the crackdown. The whereabouts of Aung San Suu Kyi remain a mystery.
The military has consistently justified the putsch by alleging widespread fraud in November's elections, which Suu Kyi's party won in a landslide.
The country's New Year started yesterday, but it was a somber scene as activists traded celebrations for more protests. According to an AFP-verified video filmed by a resident, the New Year holiday saw soldiers crouched on a street as their commanding officer shouted that he wanted "deaths." A rescue worker told AFP at least 1 person had died.
"He was shot in the stomach."
The junta has also issued nightly arrest warrants on state-run media, targetting celebrities, influencers, journalists and prominent activists with large social media followings. Doctors refusing to work under the regime — leaving hospitals unstaffed in a pandemic — have also drawn the wrath of the junta. By last night, the arrest warrants totalled 420.
SOURCE: Bangkok Post
📱 Download our app on Android or iOS for instant updates on your mobile
📧 Subscribe to our daily email newsletter
👍 Like/Follow us on Facebook
🔔 Subscribe to or Join our YouTube channel for daily video updates