Whale shark sighted off Koh Racha – VIDEO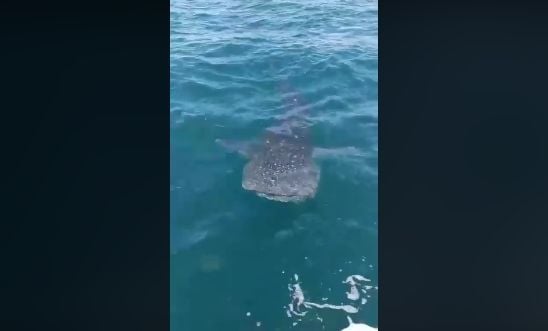 VIDEO/PHOTO: บังดำ นายสุวัฒน์ บาเร็ม/Saranyu Hassanai
A whale shark was sighted off Koh Racha, south of Phuket, yesterday.
A Facebook user 'Saranyu Hassanai' has posted the video clip with a message saying "A whale shark has showed up near the boat while we were travelling near Koh Racha."
"Tourists on the boat were very happy to see the whale shark."
ฉลามวาฬขึ้นมาอวดโฉมนักท่องเที่ยวตื่นเต้นที่มีโอกาสได้เห็น วันนี้เจอฉลามวาฬโพล่เหนือน้ำขึ้นมาให้ชม และฉลามวาฬวิ่งตามเรือเข้ามาไกล้ๆ วันนี้ประมาณ 11.00 น เรือโชคณรงณ์ กับคันเรือ นายสุวัฒน์ บาเร็ม กับตันเรือ ได้พานักท่องเทิ่ยวไปเกาะราชา ระหว่างทางตอนวิ่งเรือได้พบเจิอฉลามวาฬระหว่างเกาะเฮและเกาะราชา ขึ้นมาให้นักท่องเที่ยวดูเป็นขวัญตา ทำให้นักท่องเที่ยวดีใจมากๆ และปลาวาฬตัวนี้คุ้นกับเรือกับคนเหมือนว่าไว้มาที่ท้ายเรือ ในรอบปีนี้ได้เห็นฉลามว่าอีกครั้งเมื่อก่อนหน้านี้ได้เห็นมาแล้วเมื่อต้นปี ธรรมชาติทะเลบ้านเรายังสมบูรณ์ อยากให้ทุกๆคน ไม่ว่านักท่องเที่ยวหรือผู้ประกอบการณ์ คนขับแรือและทุกคนช่วยกันรักษาทรัพย์ยากรและช่วยกันอนุรักษ์ให้คงอยู่คู่กับทรัพยากรณ์บ้านเราตลอดไป….ขอบคุณวิดีโอจาก บังดำ นายสุวัฒน์ บาเร็ม By Saranyou. Hassanai

Posted by สรันยู หัสนัย on Monday, May 20, 2019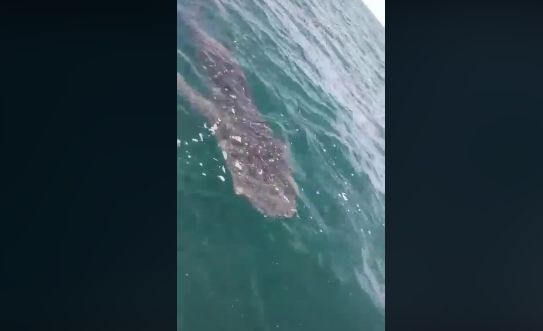 Keep in contact with The Thaiger by following our
Facebook page
.
Major international retailers banning monkey-picked coconuts – VIDEO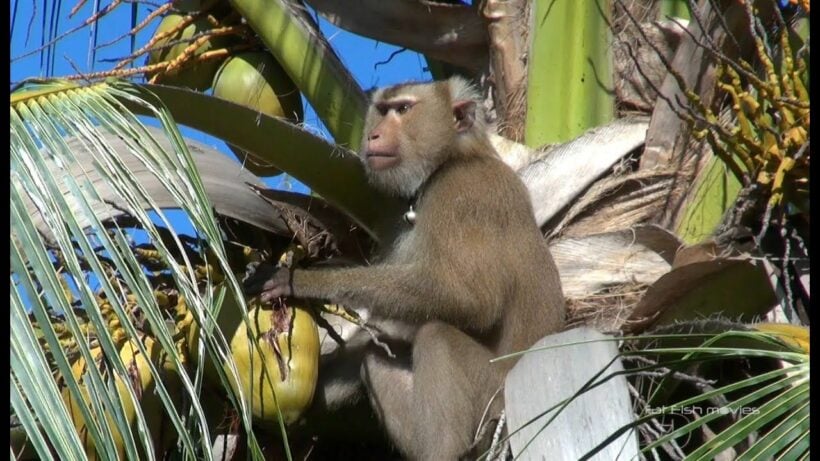 Allegations of animal abuse are prompting major Western retailers to pull Thai coconut products from their shelves, amid accusations that the coconuts are picked by monkeys treated inhumanely. People for the Ethical Treatment of Animals claim monkeys are snatched from the wild and trained to pick up to 1,000 coconuts a day. The animal rights group says pigtailed macaques are treated like "coconut-picking machines".
PETA claims monkeys are used by farms supplying 2 of Thailand's best known coconut milk brands: Aroy-D and Chaokoh, which are exported to many countries, including Europe and the US.
"Following PETA Asia's investigation, more than 15,000 stores will no longer purchase these brands' products, with the majority also no longer buying any coconut products sourced from Thailand monkey labour."
The BBC reports that in the UK, major retailers Waitrose, Ocado, Co-op and Boots are pledging to stop selling some coconut products from Thailand.
"Our own-brand coconut milk and coconut water does not use monkey labour in its production and we don't sell any of the branded products identified by Peta. We don't tolerate these practices and would remove any product from sale that is known to have used monkey labour during its production."
The Morrisons chain said it has already removed products made with monkey-picked coconuts from its shelves. Sainsbury's, the UK's second largest grocery chain, told the BBC…
"We are actively reviewing our ranges and investigating this complex issue with our suppliers."
A PETA statement says it has found 8 farms in Thailand where monkeys are forced to pick coconuts for export around the world. Male monkeys are reportedly able to pick up to 1,000 coconuts a day; it's thought that a human can pick about 80.
"Other coconut-growing regions, including Brazil, Colombia and Hawaii, harvest coconuts using humane methods such as tractor-mounted hydraulic elevators, willing human treeclimbers, rope or platform systems, ladders, or they simply plant dwarf coconut trees."
The group says it's also discovered "monkey schools," where the animals are trained to pick fruit, as well as ride bikes or play basketball to entertain tourists.
"The animals at these facilities, many of whom are illegally captured as babies, displayed stereotypic behaviour indicative of extreme stress. Monkeys were chained to old tyres or confined to cages that were barely large enough for them to turn around in."
"One monkey in a cage on a lorry (truck) bed was seen frantically shaking the cage bars in a futile attempt to escape, and a screaming monkey on a rope desperately tried to run away from a handler."
SOURCE: Bangkok Post
Keep in contact with The Thaiger by following our
Facebook page
.
Opposition questions ministry's plan to buy firefighting helicopters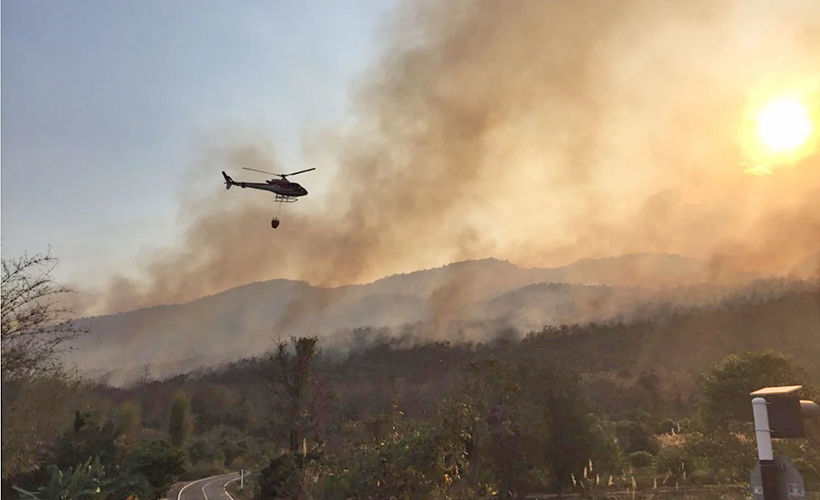 Thailand's interior minister yesterday defended his plan to purchase 6 firefighting helicopters, saying the ministry doesn't have any such helicopters and relies on military choppers to fight wildfires, "which aren't up to the task". Anupong Paojinda was responding to an objection raised by the opposition during yesterday's House debate on the budget bill for the financial year 2021.
"I'm sure those MPs in northern provinces know that the best the military helicopters borrowed for fighting wildfires ever did was carry water to pour on the fires, without sufficient accuracy in target identification."
Wildfires are common in Thailand's North, especially during the annual "burning season," usually February through April, when farmers burn their crop fields in preparation for the next growing season. The minister said up to 6 wildfire-fighting helicopters are needed because they would be used in rotation to allow regular maintenance.
The Pheu Thai Party MP for Chiang Rai said the ministry's plan to purchase 2 helicopters for fighting wildfires this year, at a cost of 1.8 billion baht, isn't worth it, as the country already has more than 300 helicopters. The Department of Disaster Prevention and Mitigation plans to buy the 6 helicopters by 2022, an outlay he said is unnecessary and should be scrapped. He says the order was made to help a private company win a lucrative contract at a time when Anupong was serving as the army chief.
Anupong responded that the DDPM is responsible for picking the helicopter supplier via a transparent and accountable bidding process, and that as long as the company that wins the bidding strictly follows the law, there is no problem. He vowed to take legal action against anyone found acting illegally.
SOURCE: Bangkok Post
Keep in contact with The Thaiger by following our
Facebook page
.
Government nominates Tham Luang park for ASEAN heritage ranking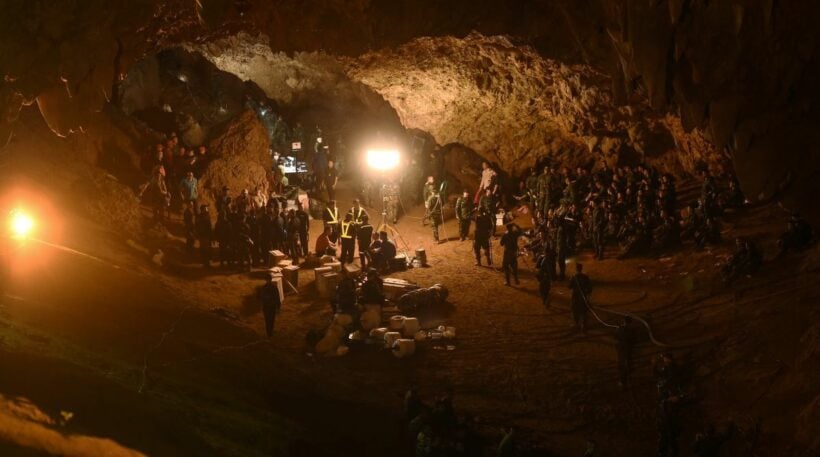 The Thai government has nominated Tham Luang Forest Park in the northern province of Chiang Rai for ASEAN heritage status. The park made headline news around the world when 13 young boys and their football coach became trapped in Tham Luang cave following flooding.
Today marks two years to the day that all 14 were found alive by a team of volunteer divers from the UK and Thailand. At that stage, they had been missing for 9 days. Such were the complexities involved in getting them out, they would spend a total of 17 days in the cave. Their story became headline news, with the world anxiously watching a dramatic rescue that unfolded over the course of 3 days.
Tham Luang Forest Park is now going through the process of becoming a national park, and, following a proposal by Thailand's Natural Resources and Environment Ministry, has been nominated for ASEAN heritage status. Khao Sok National Park, in southern Thailand, has also been nominated. The ranking would boost the profiles of both parks, which it's hoped would lead to an increase in funding for conservation projects. It's understood several endangered species can be found within Tham Luang Forest Park, which is also surrounded by 10 ethnic groups, including the Tai-Yai and Akha peoples.
There are currently 6 parks with ASEAN heritage status in Thailand.
SOURCE: Coconuts
Keep in contact with The Thaiger by following our
Facebook page
.