Toto, the sea-going stray, is now at Soi Dog and ready for adoption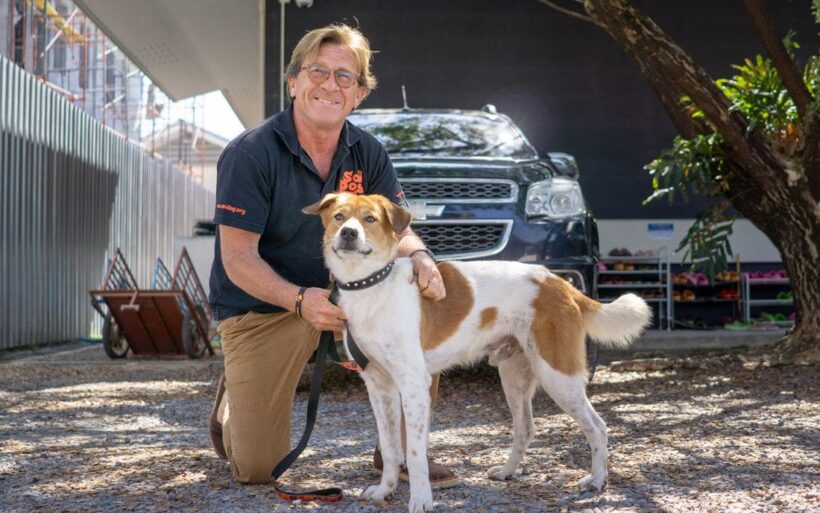 After many a long walk on Phuket's tough roads, through the heat and rain, Toto, the dog who never gave up looking for his owner, eventually found in himself in Rawai, a long way from where his journey began.
Saranyoo Hassanai, who works at Chalong Bay, spoke to Newshawk Phuket about the stray dog that had been hanging around Ao Chalong Pier in December, seemingly intent in finding its owner.
Read more about the persistent woofer HERE.
Following weeks of roaming, he is now in the care of the Soi Dog Foundation and ready to find a new home.
Toto, a 3 year old male dog, was abandoned in November 2018 when his owner returned to France and chose to leave his loyal dog behind with somebody who couldn't take care of him properly or protect him from being abused by neighbours.
The journey of this poor dog started that day. Somehow he escaped and ended up at Chalong Pier, where he was found in December.
According to eye-witnesses, Toto repeatedly jumped on tour boats that were tied up to the pier every day and even jumped into the water, intent on following one of the boats in the hope of finding his owner.
Sadly, he didn't realise he had been abandoned by the one he was looking for the whole time. Later that month, he was reported to have disappeared from Chalong Pier.
Fortunately for Toto, a kind man from Finland noticed him after he was seen following some tourists from Soi Saiyuan 4 to Soi Saiyuan 10 in Rawai. Though he was not injured, Toto's nails were completely worn out because of the distances he had run on the hard surface of the road, desperately searching for his family.
The man took Toto to rest at his house before sending him to Soi Dog's mobile clinic which was in Rawai at the time. Toto needed sterilising and vaccinating. The vets in the clinic gave him a full health check and tick control treatment and declared him fit and healthy.
"Toto had no tattoo on his ear but was wearing a black collar with a pink rubber band to identify him. He is incredibly friendly and craves affection and security. Everything about him says he is yearning for a loving home," said his rescuer.
"Sadly, I cannot adopt him as I am leaving for Europe soon but I will make sure he does not end up back on the streets, even if we fail to find a new home for him by that time. If you ever wanted a loving dog who would walk through fire for you, Toto is that dog."
Soi Dog Foundation have confirmed Toto is ready for adoption.
"This beautiful dog deserves a home. He has been searching and searching and, clearly, the owner he was looking for doesn't deserve him. So many foreigners here take a dog thinking they are helping the dog but it is actually for selfish gain because when they leave the country, they think they can just leave the dog with someone else. There are so many cases like this."
"It's better to leave the dog on the street than to take them home for a short time only to abandon them," said John Higgs, a Board Member of Soi Dog Foundation.
Toto is waiting at Soi Dog Foundation for a second chance to become somebody's best friend. His only wish now is to have a caring family who can give him a place to call his own and a home where he really belongs.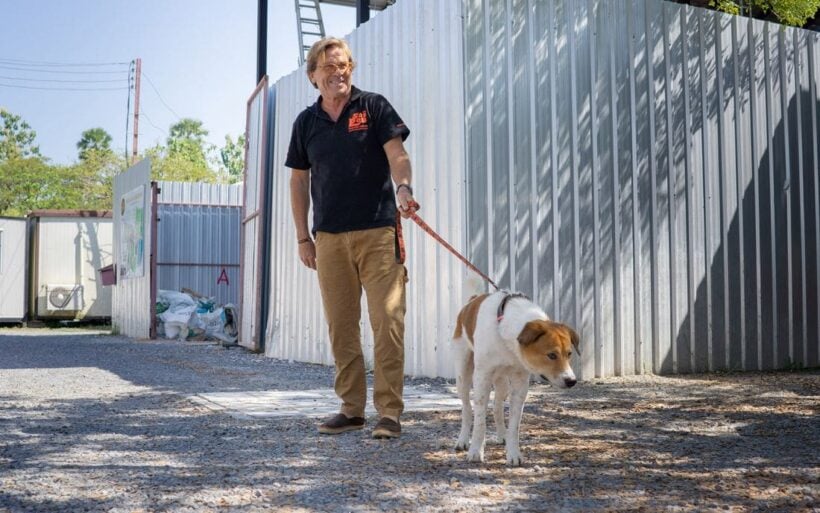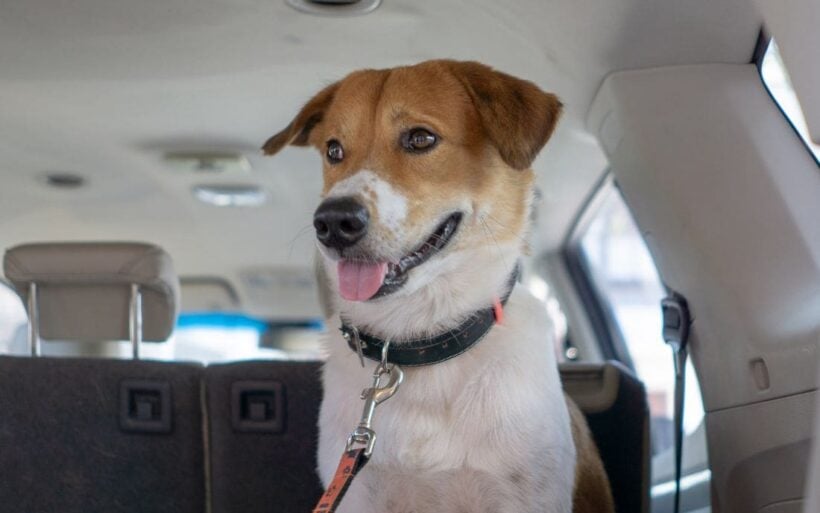 Keep in contact with The Thaiger by following our
Facebook page
.
2 killed after truck slams Phuket power pole – VIDEO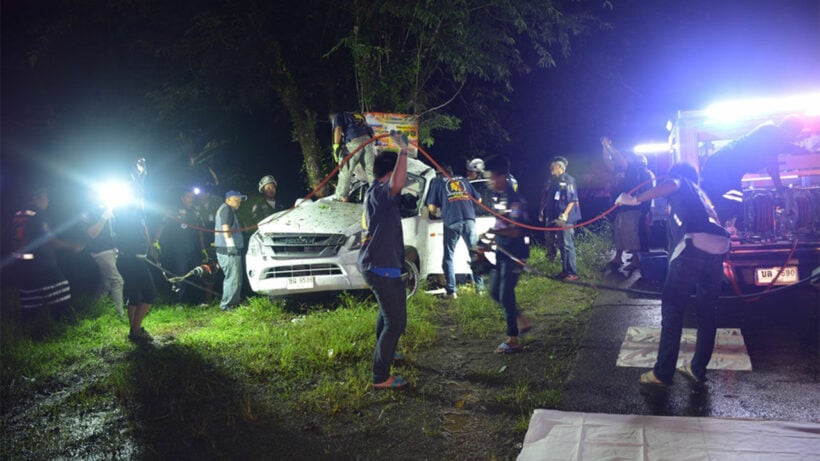 2 men are dead in Phuket after a truck slammed into a roadside power pole on the notorious Kata hill road, just out of Chalong yesterday. Police say the two men killed were a Thai and a Burmese national.
The deputy chief of Karon police says the accident occurred at about 4:50pm at the mouth of Soi Suksan 1 on Patak road – a windy section of road as it heads up the hill towards Kata Beach. The power pole fell across the road after being hit by the pick up truck, killing the man inside. He was identified as 31 year old Thanapon Prachit a native of Chaiyaphum province.
Another man, passing by on a motorbike, was seriously injured by the falling power pole. He was admitted to Chalong Hospital where but was pronounced dead. The passport found on him identified him as 28 year old Win Myo Hlaing from Myanmar.
The bodies of the victims were taken to Vachira Phuket Hospital for an autopsy.
SOURCE: Bangkok Post
Keep in contact with The Thaiger by following our
Facebook page
.
Two men die after truck plows into power pole in Phuket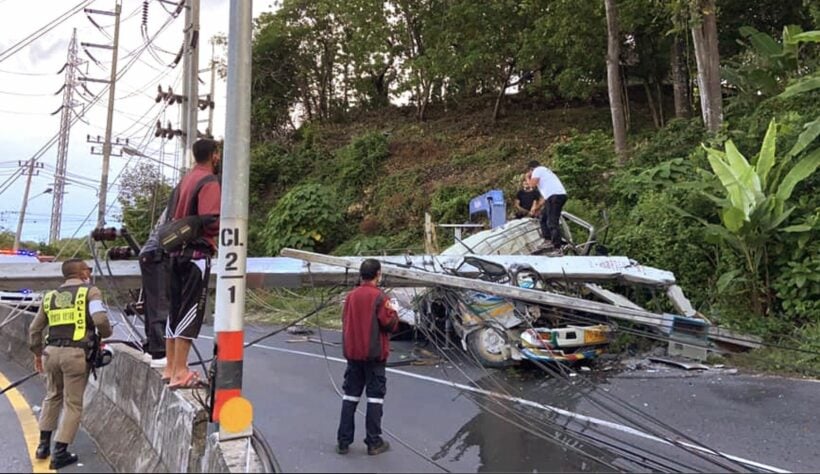 A Thai and Burmese man were killed after a work truck collided with a power pole on Kata hill, southern Phuket yesterday afternoon. The deputy chief of Karon police reported that the incident happened near the turn off onto Soi Suksan 1, on the Chalong side of the hill.
The power pole crashed on top of the truck as it fell, killing 31 year old Thanapol Prachit from Chaiyaphum province.
A 28 year old Burmese man was driving past at the same time and was also injured when the power pole fell. He was rushed to Chalong Hospital where he was later pronounced dead. His name was Hlaing Myo Win, according to the Bangkok Post.
The two bodies were transferred to Vachira Hospital and police are continuing their investigations.
SOURCE: Bangkok Post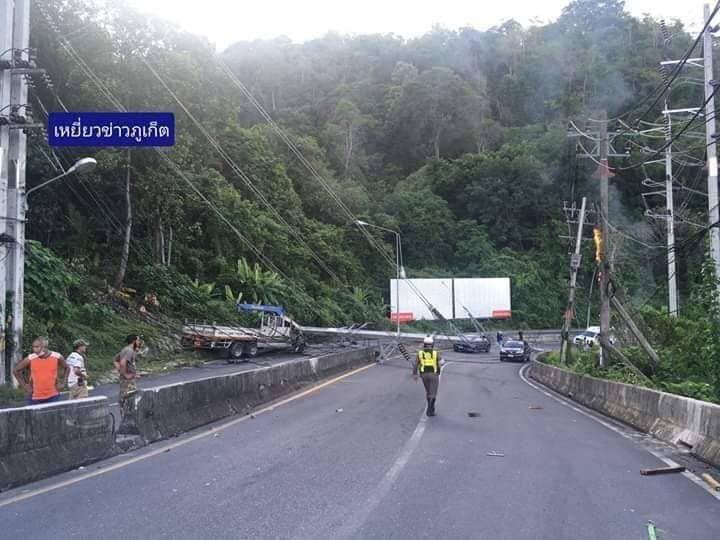 Keep in contact with The Thaiger by following our
Facebook page
.
Tourist and environment groups share concerns for new access piers for Maya Bay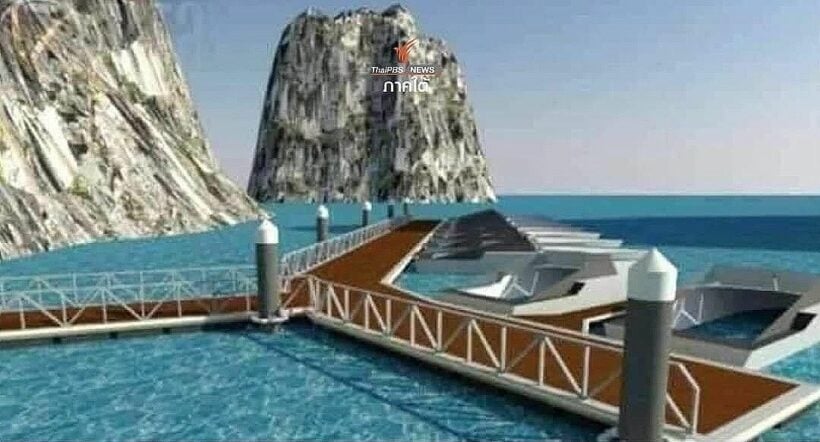 The Chairman of Krabi Tourism Industry Council has shared his concerns about new piers and landing facilities on Koh Phi Phi Ley after being made aware that the Department of National Parks had the initiative to build a pier so tourist can travel by foot to Loh Samah Bay area behind Maya Bay, Ao Nang Subdistrict, Muang District, Krabi.
Maya Bay remains closed to all visitors and access confined to boats passing by the entrance to the bay for a photo opportunity instead. The bay was attracting up to 6,000 people per day at the height of its popularity before authorities closed down access in June 2018.
The idea of the floating piers would allow tourists to disembark then walk from the rear of the island across raised boardwalks to arrive on the back of the beach. In the past tourists had arrived on boat and jumped ashore with the boats waiting either along the shore or anchoring in the bay.
Maya Bay was made famous in the 2000 movie "The Beach" with Leonardo diCaprio.
Even though Koh Phi Phi Ley, the smaller of the two Phi Phi islands, is in the Krabi province, most tourists accessed the island group from Phuket by either speed boat or scheduled ferry.
The Chairman says… "I am concerned about the impact on nature and the environment, where Loh Sama Bay is a dive site that consists of both shallow and deep corals, complete with beautiful, diverse species including soft corals, hard corals, sea anemones. Previously, tourists have consistently come to dive and inspect the beauty of coral reefs there."

A Koh Phi Phi conservation group consisting of tour operators and local villagers have also previously submitted a proposal to the Department of National Parks voicing their concerns about the construction of the new infrastructure.
Pankham Kittithornkul, Chief of Ao Nang sub-district, says that he and local villagers have come to a conclusion to proceed with the construction to service Maya Bay with the exception during low season, closing the famous bay for nature to recover.
"The Department of National Parks has closed off the area to preserve the wide life but there is no news of the reopening of the bay, causing local people to lose revenue."
"Previously the start of installation of the piers was recalled."
SOURCE: One31 | Phuket People Voice
Keep in contact with The Thaiger by following our
Facebook page
.