Beachgoers banned from swimming at Phuket beaches until crocodile is caught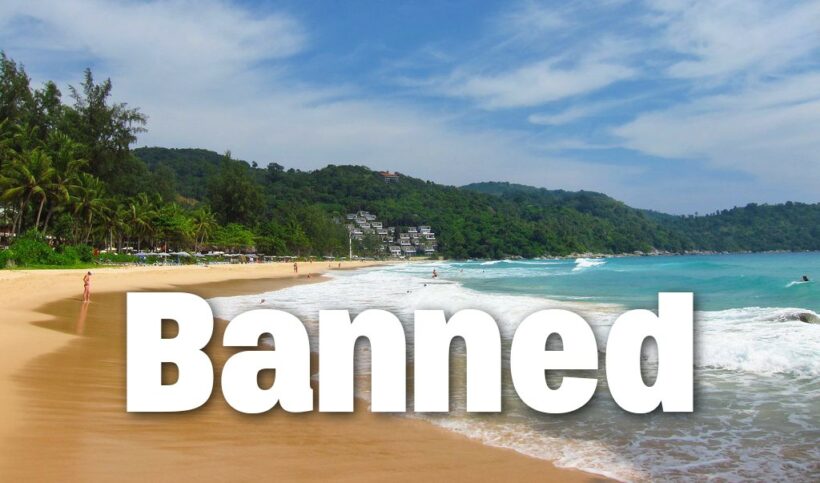 Swimmers have been banned on all beaches in Phuket while the crocodile hunting operation is still in operation.
Phuket is preparing to announce urgent crocodile registration measures in order to keep track of all known crocodiles in the area in accordance with the Wildlife Conservation and Protection Act.
Governor Norraphat Plodthong says, "We are preparing to announce registration for all crocodiles in Phuket. Anyone who has a crocodile must register the reptile or else they will offending under Section 49 of the Wildlife Conservation and Protection Act."
"Any person who possessing protected wildlife acquired by breeding or a carcass of protected wildlife acquired by breeding without permission, under Section 19, shall be liable to imprisonment for a term not exceeding one year or a fine not exceeding 10,000 baht, or both."
"We have checked all five crocodile farms in Phuket. No crocodile has been lost from those farms. We will have a better idea where the crocodile is from when we catch it."
"The 'best guess' from everyone who has seen the crocodile, is that it's about 1.5 metres long. It is not a big crocodile and not as fierce or dangerous as larger ones. As this crocodile is not from a crocodile farm, it might be from unregistered sources, from an area around Phang Nga Bay or someone might have released it."
"Swimmers have been banned on every beach until the crocodile is caught. Anyone with any information about the crocodile or if they've seen it, please call 092 -2468366 , 081 8673664 for 24 hours."
Phuket's elusive west-coast crocodile was last seen last night (July 23) at Tri Trang Beach. Today, crocodile hunters are focussing their attention around the waters of Paradise and Patong Beach where the crocodile is believed to be heading.
Read more HERE.
Yesterday Daren Jenner from the International Surf Life Saving Association called for a ban for all swimmers until the crocodile was found.
"The salt water crocodile is an apex predator and dangerous if it comes in contact with people. Until we know exactly what species it is we must take precautions."
Interview with Daren HERE.


Keep in contact with The Thaiger by following our
Facebook page
.
Police investigating a double murder and suicide in Lampang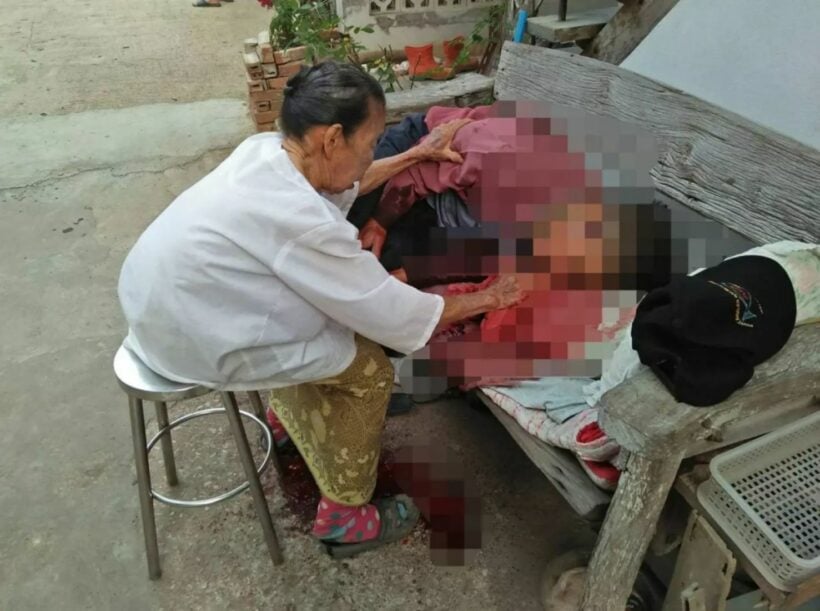 Police in the northern province of Lampang were called to the scene of a double murder, where a man killed two relatives and stabbed another before killing himself. His motive remains unknown. Police say they learned of the attack at about 7:45am yesterday.
The victims were identified as 52 year old Amphon Saikon and 70 year old Inkaew Promdam. Police and rescue workers called to the scene found the 2 men lying on the road dead with bullet wounds. A third man, identified as the gunman, 52 year old Somthop Saikon, was also found dead with a gunshot wound to the head in front of a wooden house. A shotgun was found near his feet. Police also found a knife and a spare shotgun shell in his pocket.
51 year old Phannee Saikon, the wife of one of the victims, was found inside the house with multiple stab wounds to her chest. Relatives rushed her to a Lampang Hospital.
A neighbour, 51 year old Phan Promdam, told police that all 4 people involved were related. She says she saw Somthop approach Phanee and stab her. Phanee then ran out onto the road and called for help. Her husband and father ran out their house to intervene, but they were met by Somthop with a shotgun, who killed them both.
Phanee fled to her house and hid. Somthop chased her but couldn't find her. He sat down in front of the house and turned the shotgun on himself, according to Phanee.
Lampang police are investigating.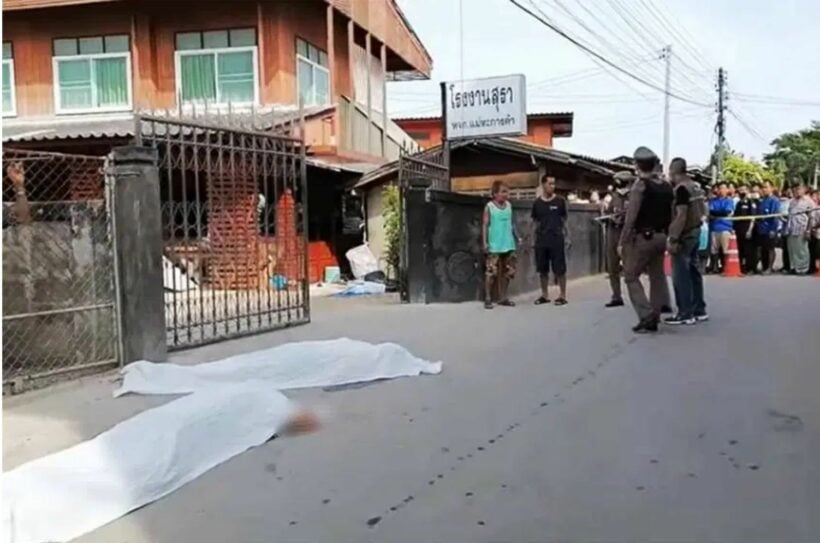 In a similar story, police are investigating an apparent murder-suicide in the southern province of Phuket, involving a couple who allegedly had a falling out over drugs. Police were called around 4:30pm Wednesday after people reported hearing a single gunshot. Upon arrival they found a man dead on the ground with a single gunshot wound to his head, an apparent suicide. A revolver was found beside him.
He was later identified as 42 year old Thanet "Oley" Chuisod. Police told The Phuket News that before finding his body they had been called to a shop where Thanet had shot and killed 27 year old Suphattra Suwanworn before speeding off on his motorbike.
SOURCES: Chiang Rai Times | Bangkok Post | The Phuket News
Keep in contact with The Thaiger by following our
Facebook page
.
They arrived! One Thai/Australian family's battle to re-unite.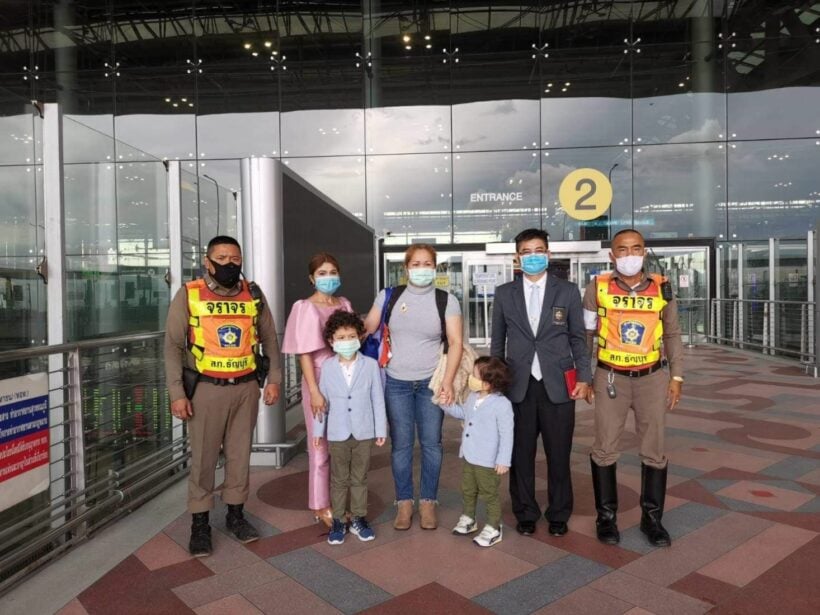 Common sense has prevailed and the uphill task faced by father Sam Kelly last week has had a favourable ending with his Thai wife, Kannika, and 2 children. Ronny and Adam, arriving safely this morning in Brisbane, Australia. His months-long battle with common sense and the vagaries of Thai officialdom has resulted in at least one family being re-united soon – one of many such cases. Not all of them end as well with families around the world still separated by border closures, bans and lack of flights.
This time last week the prospects of Sam's family getting onto a repatriation flight, organised by the Australian Embassy in Bangkok, looked doubtful as capricious Thai red tape was shuffling his family around as they battled to get from their base in Phuket to Bangkok and then onto the flight. The repatriation flights are rare and seats extremely limited. The flights are a bureaucratic nightmare to organise and Sam was doubtful last week that all the pieces of the paperwork puzzle would fall in place.
Suffice to say Sam, speaking to The Thaiger this morning, was overjoyed.
"They made it! My family have arrived in Brisbane safely and are currently undertaking their mandatory quarantine period there."
In Australia, the government pays all the bills for the mandatory 14 day quarantine period. Kannika and the 2 boys are staying at a five star hotel in the heart of Brisbane. Sam is stuck on an offshore oil rig with another 3 weeks of work ahead of him before he can be re-united with his family.
You can read the whole background to Sam, Kannika, Ronny and Adam's adventures to re-unite HERE.
"There are many people we would like to thank, and forgive me if I miss anyone. Firstly from the bottom of my heart I would like to thank the senior Thai government officers that were directly involved…
• General Anupong Phaojinda (พลเอก อนุพงษ. ์เผ่าจินดา) Minister of The Interior รัฐมนตรีว่าการกระทรวงมหาดไทย
• Mr.Chatchai Phomlert นายฉัตรชัย พรหมเลิศ Permanent Secretary ปลัดกระทรวงมหาดไทย
• Mr.Thanakom Jongjira นายธนาคม จงจิระ Director General อธิบดีกรมกาปกครอง
• Mr.Pinij Boonlert นายพินิจ บุญเลิศ Pathumthani Governor ผู้ว่าราชการจังหวัดปทุมธานี
• Mr. Jirawat Dusadeetharangkool นายจิรวัฒน์ ดุษฎีธารางกูร ปลัดอาวุโส ธัญบุรี (Thanyaburi District Senior Officer)
• Mr.Pisanu Prapathananun นายพิษณุ ประภาธนานันท์ Thanyaburi District Chief นายอำเภอธัญบุรี
These officials moved mountains and did everything within the Thai law to make sure my family was safe and released in time for the flight. Without these people we may have not be back together for many more months.
I would also like to thank…
• The Department of Foreign Affairs and Trade in Canberra and The Australian Consulate in Bangkok. The staff here have worked very hard to get everything sorted with the relevant Thai authorities for my family to make this flight. I cant even begin to explain how many phone calls and emails were bouncing back and forth between us all.
• All my friends and family from the 4 corners of the globe, Maritime Union of Australia members, the Phuket expat community and the Thai and Australian media who all got involved in my plight. Much love to you all and thankyou for all the phone calls that were made and emails that were sent on our behalf.
Lastly but not least, We would like to thank Australian Ambassador McKinnon and the Thai Government for chartering and arranging these repatriation flights. The effort that goes into this is unbelievable."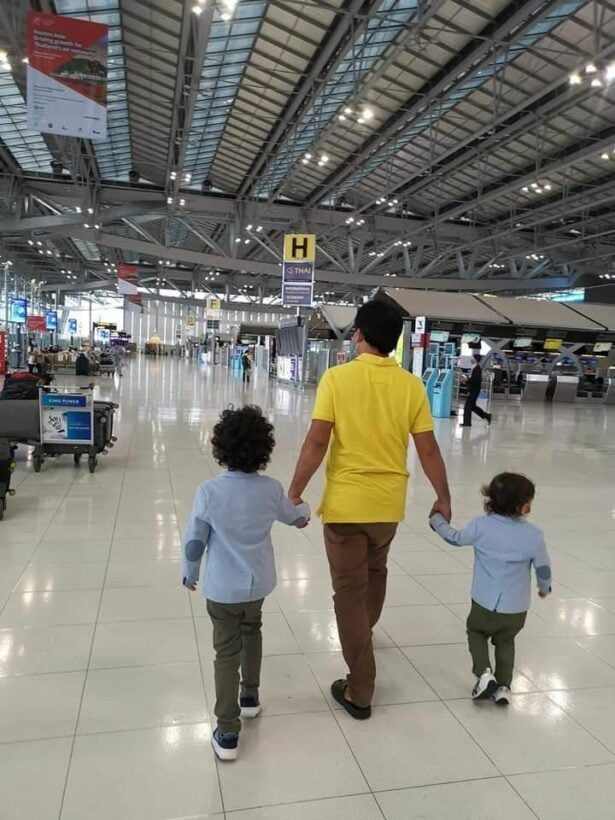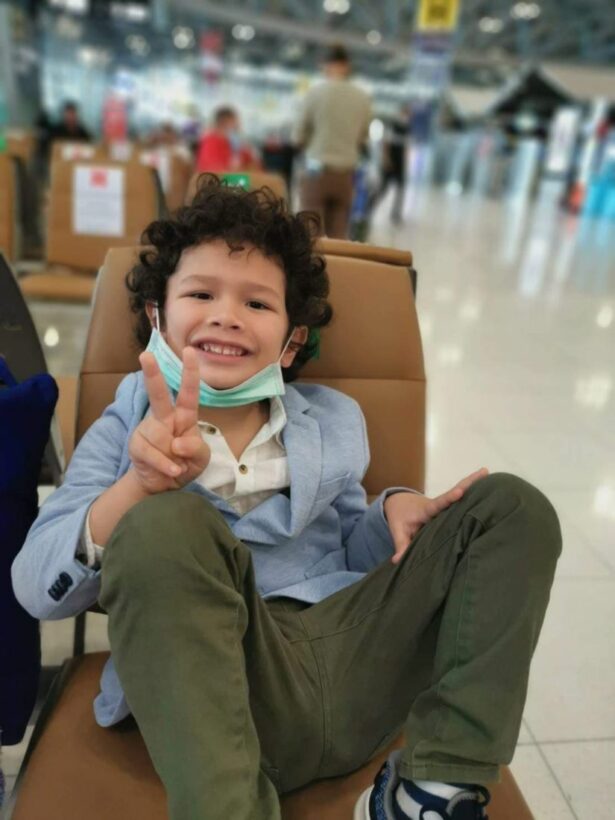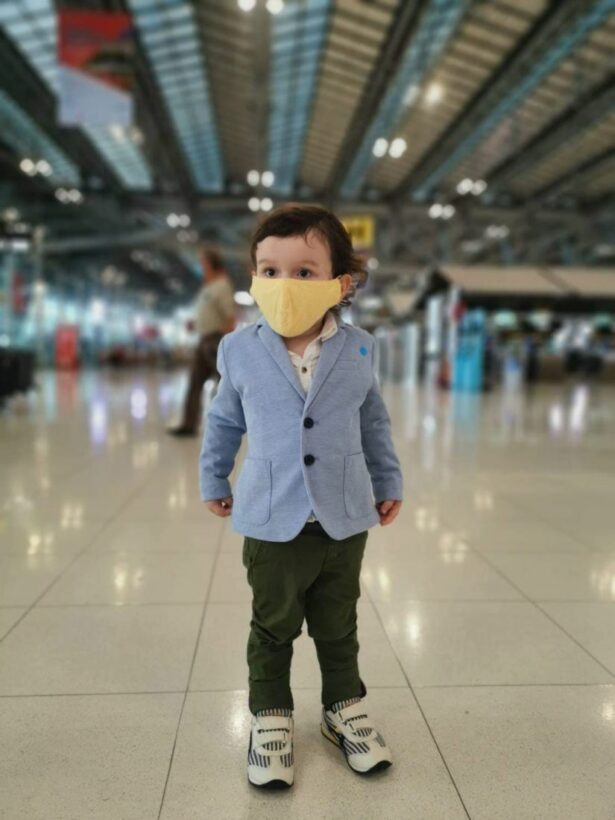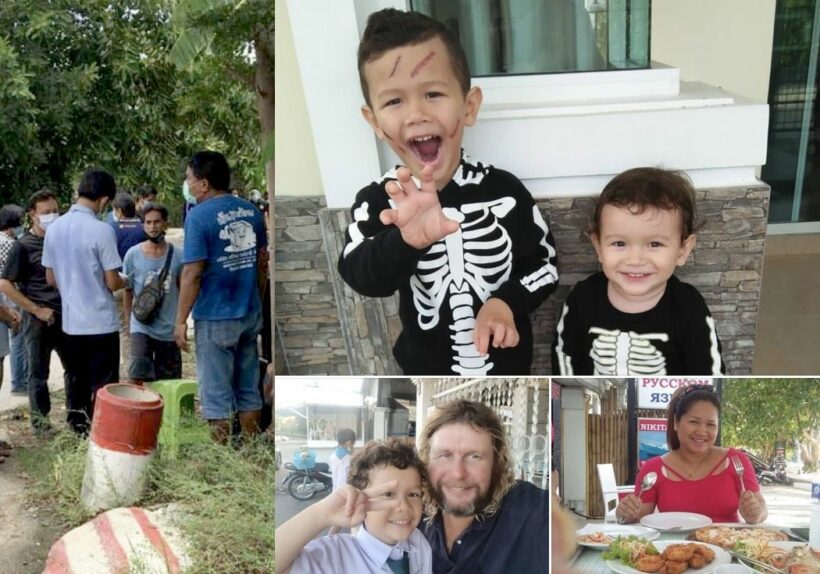 Keep in contact with The Thaiger by following our
Facebook page
.
Phuket's hotels can now open. Someone forgot to tell the hotels.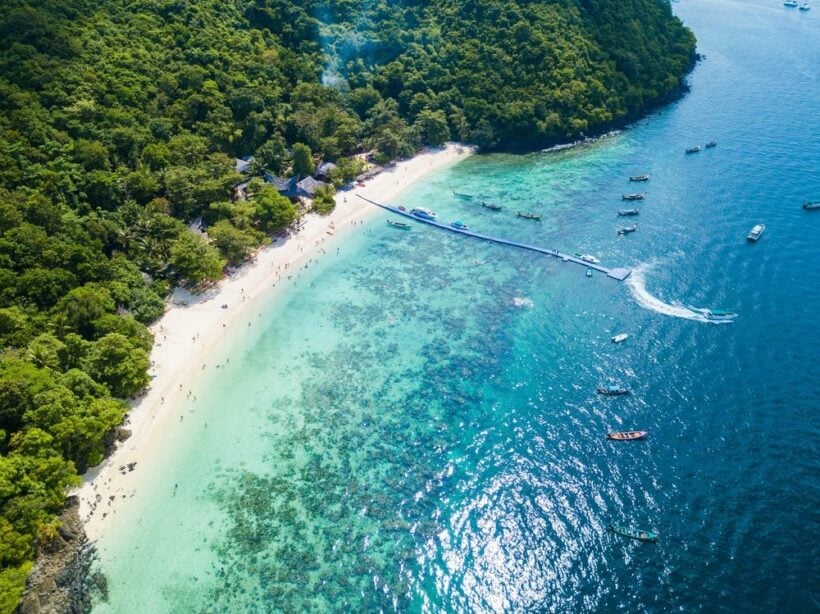 Phuket is open. Sort of. And the hotels on the island are officially allowed to re-open but few are flinging open their doors anytime soon to welcome the hordes of tourists lining up to book a room. The holiday island is in a Catch 22 situation with the hotels waiting for the guests to return and potential visitors waiting until there are signs of life.
Although the authorities said hotels could re-open on June 1 they forgot to give hotels any advance notice so management could put all the many wheels in motion necessary to open a modern hotel.
A hotelier told TTR Weekly the first he knew of the lifting of restrictions was when he received a message on his phone saying the province had announced the island's hotels could reopen.
But opening up the hotels is just one small step to re-booting Phuket's battered tourist industry.
What are the guidelines for quarantine, if any? Do guests require any specific documentation? Insurance? Which hotels are actually open? Who is co-ordinating the information? Do travellers get any information about these things when they make their bookings? How do travellers know the hotel's open anyway?
And if travellers come to Phuket, then return to their province. will they be required to do 14 day quarantine, as required by some provinces?
For now, the only way you can get to Phuket is across the Sarisan Bridge, the only land link to the Thai mainland. The island's marine piers are also open again but there are scant services running at the moment.
And the airport?
There has been no official announcement about the re-opening of Phuket International Airport, even for domestic services. The island's provincial authorities applied to the Civil Aviation Authority of Thailand last week to re-open the airport but there has been no official response. Many other airports have now re-opened around Thailand to limited domestic flights but the success of the domestic flights reboot has been sketchy with schedules constantly changing as airlines battle with the 'new normal'. Passengers are also describing the whole process as a "hassle' with longer times needed to get into the airport, through check-in, requirements for social distancing and the completely impersonal flight experience with flight crews dressed up like ICU staff.
But there are signs of life. Maybe Thai AirAsia, Nok Air and Vietjet Air know something the rest of us don't. All three have bookings available, at least between Phuket and Bangkok, from June 16. Fares range from 1,100 up to 1,700 in the week after June 16, one way. But if you're rushing to buy a ticket, on or off the island, be aware that there is no official green light for a resumption of flights, as of today.
International flights into Thailand are banned up to at least the end of June with, again, no official mention of what will happen after that. Residents of which countries will be allowed to fly in? What restrictions and conditions will be imposed? And which airlines are going to be flying anyway?
The CAAT has extended the ban on international flights twice already.
The Thai government said last month that they were going to use June as the month to clear a lot of the chartered Thai citizen repatriation flights. That the only new cases of Covid-19 in Thailand over the past 2 weeks have been returning citizens, all from Middle East countries, will be a niggling concern for authorities as they figure out how, or when, to re-open international borders.
Back to Phuket…
Even if the hotels are re-opening, where will these magic travellers be coming from. The biggest feeder market, weekenders from Bangkok, will be going to Pattaya or Hua Hin. They're unlikely to take a 12 hour drive to Phuket, no matter how cheap the hotels, or pretty the beaches. So as long as Thailand is closed to international tourists, and the airport's sealed off from international travel, the prospects for Phuket's hotel industry remain extremely limited.
Even if some domestic tourism provides a kick-start to the island's tourist economy, what will they do when they're here? All the hot spots are 'cold', there are few tours that are considering re-starting for now and it's wet season anyway.
Speaking to the GM of three hotels on the island, he told The Thaiger that they're not re-opening until October, at the earliest.
"There are plenty of difficult months ahead with our old staff mostly laid off. When we re-open, many of the staff will be new. The whole things a mess."
Any bets on June 16 for a re-opening of Phuket Airport to domestic flights?
Keep in contact with The Thaiger by following our
Facebook page
.