Surviving Phuket's rip currents: everything has changed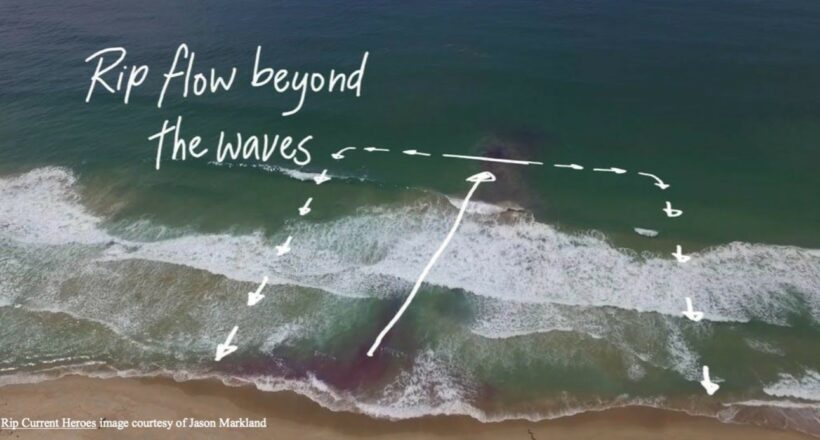 (12 minute read)
By Associate Professor Robert Brander, PhD, Coastal Geomorphologist, University of New South Wales, Sydney, Australia Daren Jenner, Marine Safety Officer, International Surf Lifesaving Association.
Rip currents are strong, narrow seaward flowing currents, like 'rivers of the sea', that exist on many beaches when waves are breaking across wide areas. These potentially deadly currents are also responsible for the vast majority of beach rescues by lifeguards around the world, and are the main cause of beach related drownings. Phuket is no exception, as rip currents exist on many beaches during the monsoon season from May to November, and numerous people, usually tourists, have been caught in rips and drowned.
Unfortunately, studies have shown that many people have a poor understanding of what rip currents are, and more than two-thirds of beachgoers can't identify what rip currents look like. In Phuket, due to the high transient tourist population, this number is likely much higher.
New information brought to light by recent scientific research and experiments in rip currents, now reveals that much of what experts used to believe about them is oversimplified, and has significant implications for how people should actually react if they find themselves caught in a rip current.
"…It's changed everything about what we thought we knew about rip currents." Dr. Robert Brander, PhD, aka "Dr. Rip".
What is a rip current?
"Rip currents are strong, narrow, seaward flowing currents, that extend from the shoreline, out beyond the breaking waves. They exist to bring all the extra water that is coming in with the breaking waves, back off- shore," explains Dr. Robert Brander, a coastal scientist from the Univeristy of New South Wales in Sydney, Australia.
"The traditional diagrams about how water flows and circulates in a rip have been in use for decades and typically show rip currents flowing straight out to sea, well offshore of the breaking waves. However, recent advances in measuring rips have shown that the old scientific view may not always be an accurate depiction of how rip currents actually work. Many rips in fact circulate within the surf zone and only extend beyond it occasionally. This suggests that floating, instead of swimming parallel to the beach, may be the best action to take if caught in a rip" says Dr Brander.
"With this new scientific information, we have learned that our old ideas, and the strategies we used to teach about effectively escaping rip currents, may need to be reconsidered. New rip current safety and escape advice is urgently needed. Getting this information right, and in the hands of the beachgoing public now, could save hundreds of lives every year," according to Daren Jenner, an ocean lifeguard and Marine Safety Officer for the International Surf Life Saving Association (ISLA).

Traditional diagram of rip current flow showing the accepted escape action of swimming parallel to the beach. New research shows that not all rips flow like this. (Image: NOAA).
Prevention
The first and best strategy for swimmers to use to survive rip currents is prevention. The only effective method to keep ocean users safe from rips one- hundred-percent of the time, is to avoid them completely. Swimming at a beach patrolled by certified ocean lifeguards, and knowing how to spot these currents yourself, are the two most important actions anyone can take to avoid drowning in rips.
Trained lifeguards in Phuket mark safe swimming areas with a pair of red-and- yellow flags. Staying in-between these flags while in the water is the best way to avoid rip currents on the Island. If a lifeguarded beach in Phuket does not have these flags flying, beach users are advised not to enter the water and if they do, not to go beyond waist depth.
Having basic rip current knowledge can definitely help those in distress choose the best escape strategy. Frequent beach swimmers, and those attending unguarded beaches, have a better chance of successfully rescuing themselves, if they have learned about rip currents before visiting the beach.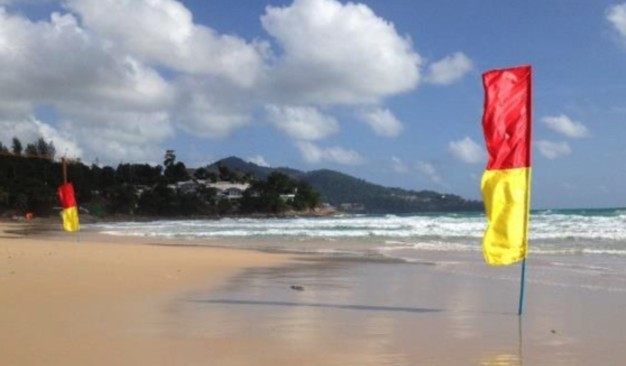 A safe swimming area is marked by red-and-yellow flags at Surin Beach, Phuket, Thailand. Photo: International Surf Lifesaving Association
"Rip currents are much more complex than we previously believed. Advising swimmers how to choose the best strategy to break the grip of the rip has also become more complex."
The challenges
Replacing outdated information with updated rip current escape strategies that are more effective poses a challenge for water safety experts. New scientific research has shown that rip currents are much more complex than previously believed, and advising swimmers how to choose the best strategy to break the grip of the rip has also become more complex.
The reality is that swimmers caught in a rip may need to make a series of decisions to escape, rather than simply remembering the old slogan of "swimming parallel to the shore in either direction." Escaping rips may require a combination of floating and swimming.
However, stress and panic can make it extremely difficult for a person in distress to assess their situation, and then make a series of correct decisions about what to do. Plus, respiratory impairment and resulting "air hunger" can negatively affect our decision-making abilities. A major contributor in rip current drownings is the natural panic response.
The challenge for beach users that need to self-rescue is they must remain calm, float to conserve energy, and assess their situation. It is imperative to avoid the natural urge to swim against the current back to shore. This is so important because it is panic that drowns people, not rip currents. Rips do not pull people under the water, or take them across the ocean, they simply take people for a ride.
If a beachgoer does enter the water at a secluded or unguarded beach, and finds themselves being pulled out by a rip, it may be necessary for them to try and help themselves.
If there are surfers or competent beach swimmers nearby, wave your hand and call for help. You can also try to signal people on the shore. For those on the beach who see someone in trouble in the water, it is important for them first to alert someone to seek help, or to phone an emergency number. If a person on the beach chooses to enter the water to help, it is essential that they bring a flotation device with them.
For many people caught in rip currents, however, often the only option is to perform a self-rescue.
How to self-rescue from a rip
Relax. The rip current won't pull you under, it just takes you for a ride
Stay afloat and think about your situation. If there are lifeguards or surfers around, signal for help. Or get the attention of someone on the beach who can go seek help
You can choose to keep floating as there is a chance the rip current flow may re-circulate back into shallow water in 5-10 minutes. You are also conserving your energy
If you want to swim out of the rip current, look around you for the nearest area of breaking waves and whitewater. Most rips are quite narrow and the whitewater means it's shallower and you may be able to stand up
Conserve energy by swimming slowly towards that area. If no progress is being made, swim in another direction towards the next-closest shallow area with breaking waves. Once the waves start to break around you, swim with them toward the beach. When you can touch the bottom, walk to shore, avoiding deeper water if possible.
Types of rip currents and how to spot them
You don't cross a road without looking both ways and you should never go to a beach with lots of waves without thinking about rip currents. Always spend five minutes looking at the surf trying to spot rips, or ask a lifeguard or surfer if there are any rip currents present and get them to point them out to you.
Rip currents sometimes circulate as rotating eddies, in which case floating is a good escape strategy. They can also extend well beyond the line of breaking waves, in which case a long swim along the beach is required to make it back to shore.
Always spend five minutes looking at the surf trying to spot rips, or ask a lifeguard or surfer if there are any rip currents present and get them to point them out to you.

LEFT: Channelised rip current with a rotating eddy circulation. RIGHT: Channelised rip that extends beyond the surf zone. Rip Current Heroes images courtesy of Jason Markland.
However, one of the reasons why rip currents are so complex and dangerous is that there are different types, and some look considerably different than others. Some are also easier to spot than others. Here is a quick guide on how to spot rips when you go to the beach.
Channelised rips
Many rip currents occupy deeper channels of water between shallow sandbars. These channelised rip currents can stay in the same place for days, weeks, or months, and are the easiest to spot. They appear as regions of darker, seemingly calmer, water between areas of breaking waves and whitewater. They can also erode large scalloped embayments along the beach.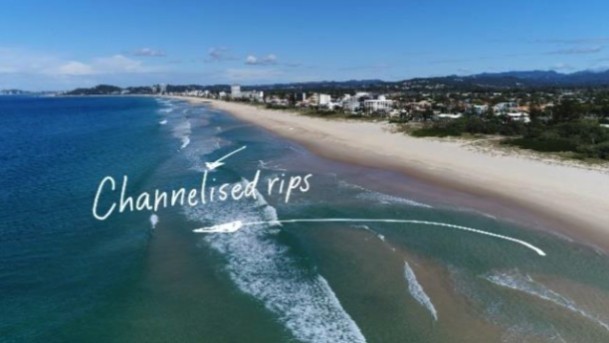 Two channelised rip currents flowing at different angles to the beach. Rip Current Heroes image courtesy of Jason Markland.
Boundary rips
Boundary rips are also channelised and flow alongside jetties, piers, groins, headlands, and other physical structures in the water. They also appear as darker gaps of water. These rips are particularly dangerous because they can be flowing in the same location most, if not all of the time.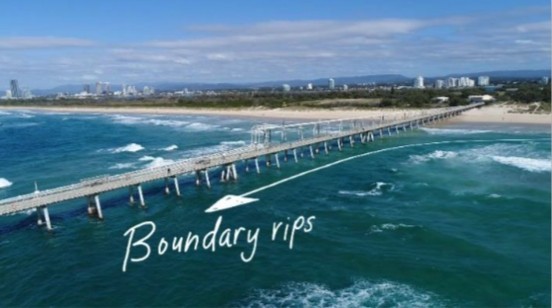 A boundary rip along a pier. Rip Current Heroes images courtesy of Jason Markland.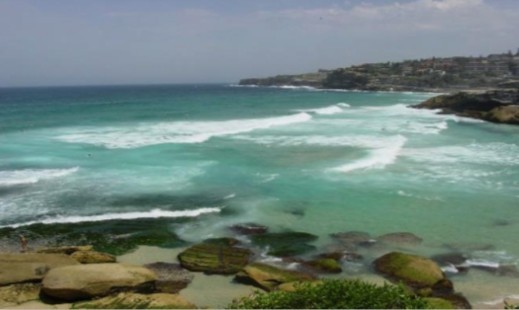 A boundary rip created by a headland. Image courtesy of Robert Brander.
Flash rips
One of the most dangerous and unpredictable types of rip are flash rips. Flash rips are not channelised and do not appear as dark gaps of water. They can occur suddenly and can be short-lived and are formed when a sudden group of larger (set) waves break causing the excess of water to flow seawards. Flash rips often pulse, and can vary in strength, depending on the size and number of set waves that occur. Once the set of larger waves diminishes, flash rips can suddenly disappear, only to reappear later in another location.
To learn more about flash rips, and to see a collection of images and descriptions of rip currents, visit www.scienceofthesurf.com/ripom.html
Take-away message
Beaches are beautiful places and should be enjoyed, but they can also be dangerous. It just takes a little bit of awareness to ensure a safe trip to the beach. First, always think about beach safety when you visit a beach. When you arrive on the beach, spend a few minutes asking yourself some questions. Are there lifeguards around? Are the waves big and breaking in many places? Are there any rip currents around? Am I a good enough swimmer for these conditions? You should never go in the water if there are lots of big waves breaking and you are not a confident swimmer. Second, if you are not a good swimmer, don't go in past your waist. Always make sure you've got your feet firmly planted on some sand.
Finally, always look after your family members and friends who are swimming. Stop them from getting into trouble before it happens.
About the Authors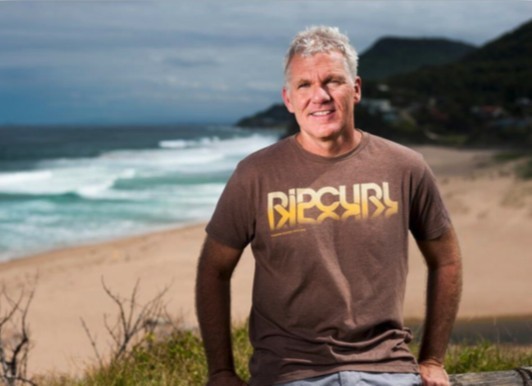 Dr. Rob Brander is a coastal geomorphologist and Associate Professor in the School of Biological, Earth and Environmental Sciences at the University of New South Wales in Sydney, NSW, Australia. He has been studying beaches and surf science since 1986.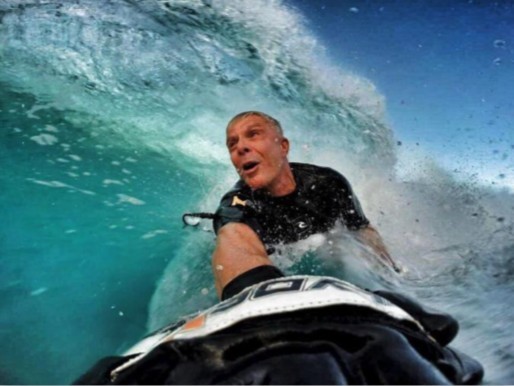 Are you considering a medical procedure abroad? With Thaiger Medical you can research hospitals and doctors, choose a destination in Thailand or abroad, and book an appointment today.

Read more headlines, reports & breaking news in Phuket. Or catch up on your Thailand news.
Top 10 things NOT to do in Phuket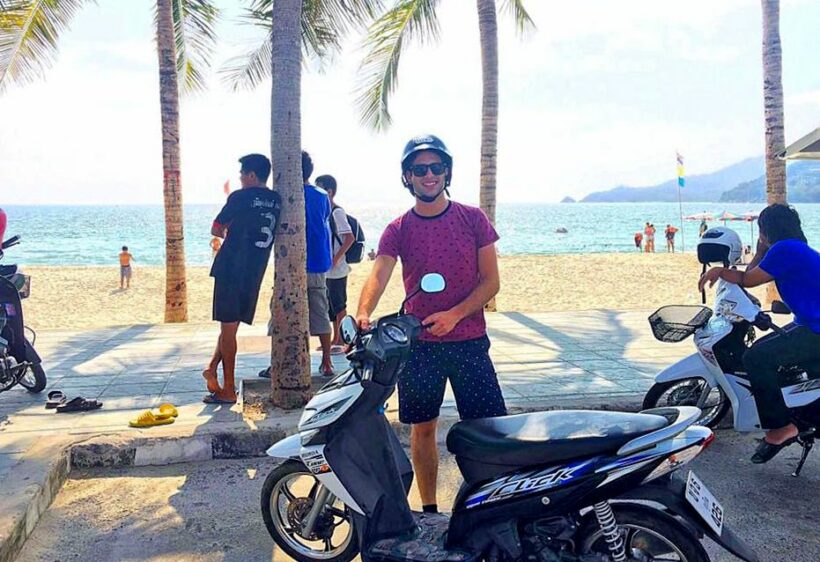 NB. There is a general tone of supporting western attitudes towards animal welfare throughout this article. The Thaiger does not condone the use of captive wild animals for the purpose of amusing tourists for profit but recognises that it is widely practiced in Thailand and other other Asian countries and is not against the law in those domains.
NB2. This isn't your usual list of dos and don'ts in Thailand – don't point with your feet, don't speak about the Royal family, don't whistle at night, etc. Whilst these still apply, they are not quite as cut and dried as they once were.
NB3. The VAST majority of people visit Thailand and have a perfectly wonderful time.
DON'T…
…Swim at the beaches in the low season
Every year about 50 or so people drown along Phuket's west coast. Mostly in the wet season with the south-western monsoon kicking up the waves washing onto the island's Andaman coast beaches. Sadly, it's mostly Chinese and Russian tourists who end up getting into trouble. There's a complicated litany of reasons for this carnage – many Chinese and Russian tourists can't swim, the lifeguard patrols on many of the beaches are 'patchy', not enough information is provided to tourists about the dangerous rips along the west coast during the monsoon and whatever signage and flags that actually exists do little to deter tourists who seem determined to go swimming. Most of the beaches have the red flags on display when the surf's up but many of the flags are not new and the colour red, which in some western countries denotes 'danger' isn't as effective in being a deterrent colour for the Chinese. In fact it's the lucky colour for Chinese. This is a long-term problem for tour groups, the TAT, airlines and hotels to do more and better education about the clear and present danger of swimming on Phuket's west coast during the May – November low season (which is also the most popular time for Chinese tourist arrivals).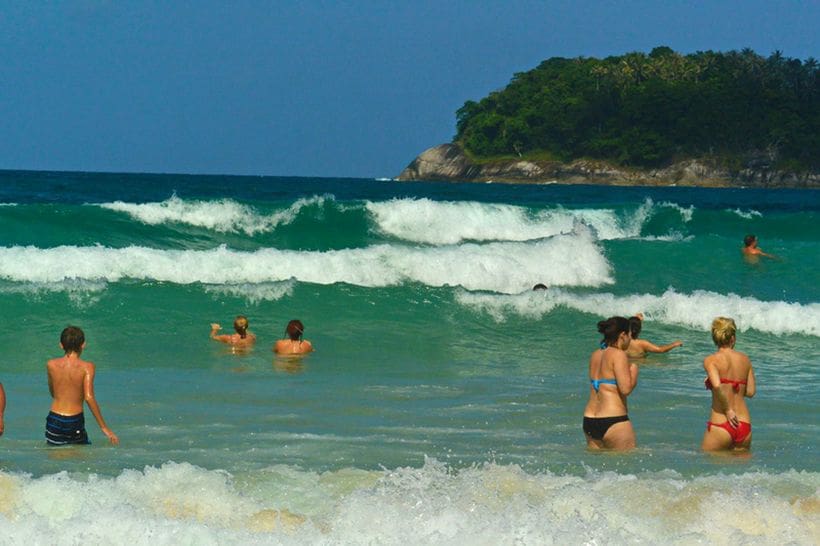 …Hire a motorbike
You get off the plane, catch your passenger van to your hotel, check the minibar and then head out to find the nearest motorbike hire shop – there are hundreds around the island. In most cases a passport will suffice (NEVER let your passport out of your sight, even when they're taking a photocopy of your passport front page) as ID to allow you to hire a motorbike and take it out onto Phuket's roads. The roads in Thailand are some of the most dangerous in the world. If you're under 30 years old, male and riding a motorbike your chances of having an accident are astonishingly high. Have you ever ridden a motorbike before? Probably not. Do you have a motorbike driver's license? Chances are slim. Were you taken for a short test to see if you can ride or handle a motorbike? Doubtful. Does your travel insurance cover you if you have an accident without having a valid motorcycle driver's licence? I bet it doesn't.
Still, it happens hundreds of time a day around the island and tourists, like lambs to the slaughter, head off into the craziness that is Phuket traffic – sometimes shirtless, sometimes after drinking and sometimes without even the basic protection of a helmet. Then we hear that the tourists have had some sort of horrific accident, end up in an international hospital, their insurance won't pay for their medical care and we have another report on our website.
Bottomline, if you don't have a motorbike driving license, have never driven a motorcycle or have been drinking just DON'T hire a motorbike in Phuket. Just don't!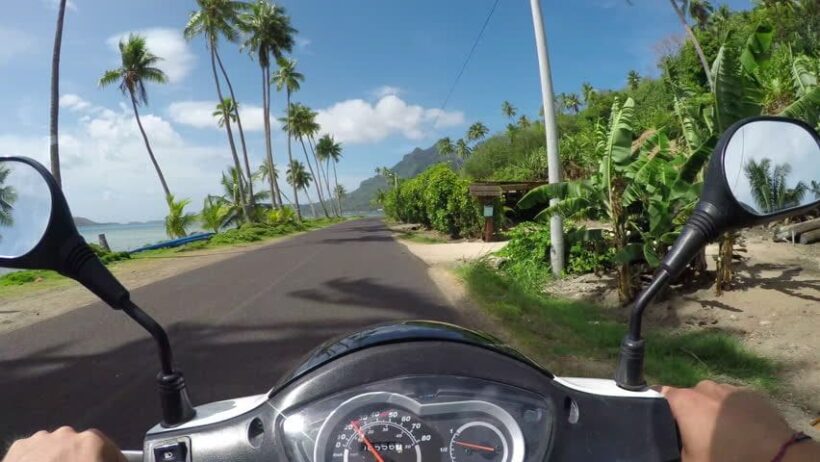 …Go to Tiger Kingdom
Tigers, of all wild beasties, are not born to sit, half drugged-up in chains, to have tourists patting them for selfies. Tigers are critically endangered everywhere in the world. Specifically, the Indochinese Tiger, the species we see in Thailand and surrounding south east asian countries, is a hunter and can inflict fatal injuries with a single swipe if you happen to be in the wrong place at the wrong time. An Australian was mauled at the Tiger Kingdom in Kathu in 2015. He survived his injuries which opened up the front of his chest. The only upside about these tiger zoos is that they conduct (for all the wrong reasons) breeding programs to keep the species alive but the gene pool is very shallow so, in the long run, is not a sustainable method of breeding tigers.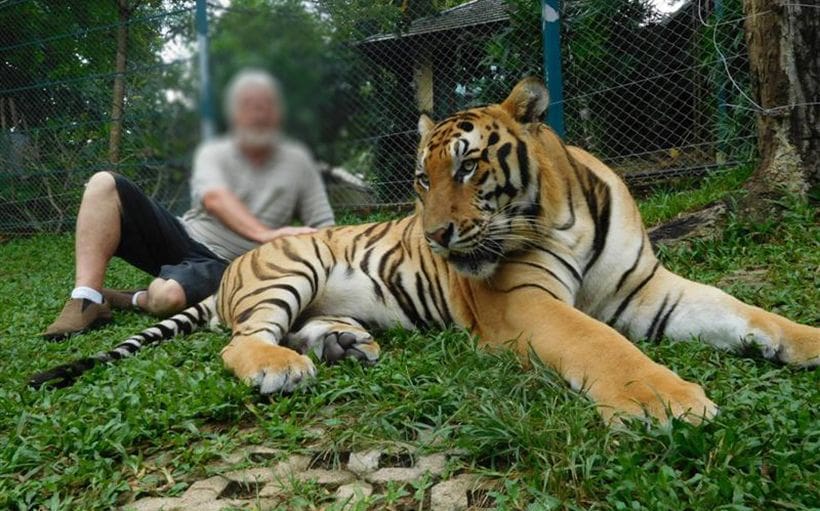 …Go to Phuket Zoo
Voted by many Trip Advisor readers as one of the worst tourist attractions in Phuket – it routinely scores either one or two stars with comments that sound like the visitors have just come from an abattoir rather than a modern zoo. The Phuket Zoo in Chalong leaps from one controversy to another but seems to stave off closure with slick PR and the support of officials who appear to turn a blind eye to the welfare of this place's animals. It's like visiting a zoo in the west in the 1950s when animals are crammed into unsuitable enclosures or cages with little care taken to keep the facilities clean. It smells, the animals don't appear to be in the best of health and it's simply a relic of a bygone era whereas modern zoos have changed dramatically to provide true educational opportunities and vastly superior, and more natural, enclosures for the animals. (I've witnessed an occasion when officials came to inspect the welfare of Milo the Orangutang after many complaints about poor Milo's condition. Whilst waiting for officials to arrive a team of hundreds were swarming around the zoo cleaning, painting and tidying up the mess to bamboozle the officials. And they did.)
You can put the Dolphin Show next door on the same list (this reporter has had a gun pointed at him whilst reporting about the contstruction of the Dolphinarium and been marched off the premises. We're sure the dolphins are reasonably well cared-for but whether they should be in there in the first place is another question.)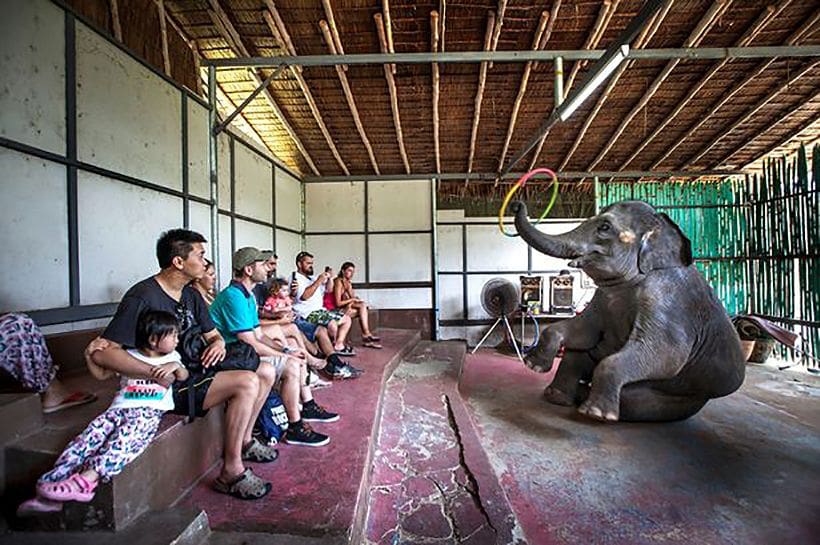 …Ride an elephant
Riding elephants in Thailand whilst you're on tour here is just one of those things tourists have on their bucket list. In Phuket there are many, many elephant camps where you can see these wondrous mammals and, if you want, ride on their back through the forests. Generally frowned upon by western values, it's still hugely popular in Asia and all the camps do a roaring trade.
The problem with elephants in Thailand is vexed with a well cared-for pachyderm living up to 60 years – the average age is 48 years. They used to work in the rainforests as beasts of burden but that work has now dried up with the banning of logging in most parts of Thailand so the elephants and their mahouts have gravitated towards the cities and tourist industry to make a living – elephants require quite a lot of food.
To say we should simply 'set them free' is an absurd suggestion and unpractical so a longer term solution needs to be found. There are now at least two elephant 'sanctuaries' in or around Phuket that provide a more natural environment for humans and elephants to interact although these are really just an alternative pay-to-visit 'zoo' albeit a huge step up from the majority of elephant camps on the island. We applaud their efforts.
There's now an even stricter code of conduct gaining popularity in wildlife circles whereby any contact between beast and human would be banned, even feeding and washing the elephants. We will see if this becomes a new norm. It may in other parts of the world. In Thailand? Probably not.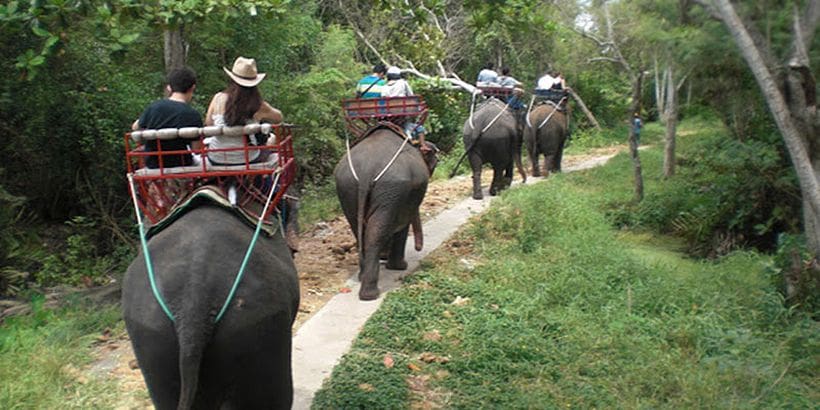 …Go running during the day
You like keeping fit, you run regularly in your home country and you're on holiday where you can get a few extra kilometres under your belt as you explore our pretty little tropical island. Except that it's hot, really hot, most of the year. And humid. A lot more humid than where you've come from. All the marathons and running events held in Phuket start at 4 or 5am in the morning for good reason. It's the only time of the day where you can run in relative safety. If it isn't abundantly obvious that running in the heat of day is just plain dangerous you are going to learn the hard way. People come to Phuket to sit on the beach, enjoy the warm weather and dine outdoors. Keep fit, by all means, but try your hotel's gym or get up really early if you want to pound the pavement.
Same goes for any other types of sport where you're going to exert yourself. You can get sick quite fast if you're not used to the heat and tourists do regularly.

…Get in a taxi or tuk tuk before negotiating your fare
Getting a taxi or tuk tuk to go anywhere around Phuket is expensive, compared to anywhere else in Thailand and even some western cities. There's a long history as to why taxis and tuk tuks are expensive and that's a report for another day. The words 'cabal', 'mafia' and 'extortion' could be used in such an article, but we'll leave all that for another day.
Your best bet if and when you're going to use a taxi is to negotiate the fare before you get in. By all means bargain the stated price down as much as you can but make sure there is a firm understanding with the driver about the price before he turns the key. By law Phuket's taxis are meant to use a meter. It never happens. Never. 'Meter not work', blah, blah.
There has been decades of efforts by Government authorities, the Army and any number of well-meaning officials that has had precisely ZERO effect of the notorious taxis and tuk tuks in Phuket. All you can do is accept that the prices are high and negotiate a fee, BEFORE YOU GET IN.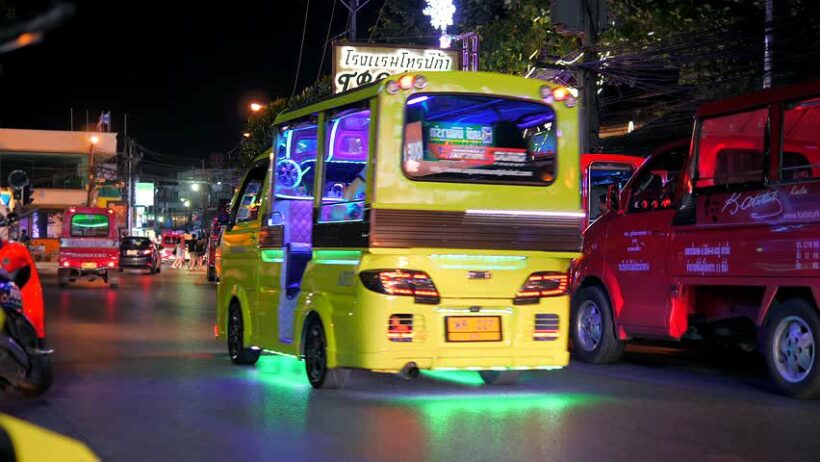 …Sign contracts without advice from a qualified Thai lawyer
DON'T SIGN ANYTHING in Thailand without getting it checked over by a trusted and qualified Thai lawyer and advice from a western lawyer. You are conducting business in a foreign country, in a foreign language and there are thousands before you who have fallen foul of hastily or poorly prepared legal documents. The list of stories over the years reporting on Phuket 'stuff' about foreigners getting burned over contractual problems has filled Phuket's newspapers and websites. Guy meets girl. Girl and guy move in together. Guy decides he wants to buy a villa. Guy buys property under Thai GFs name (because foreigners can't 'own' land in Thailand). Relationship goes sour. Thai GF vanishes and sells the house without telling ex-BF. And it gets worse from there.
Even if you're signing a basic rental lease, get it checked by people who know the ropes of the Thai legal system. Check, check, check. And then check again.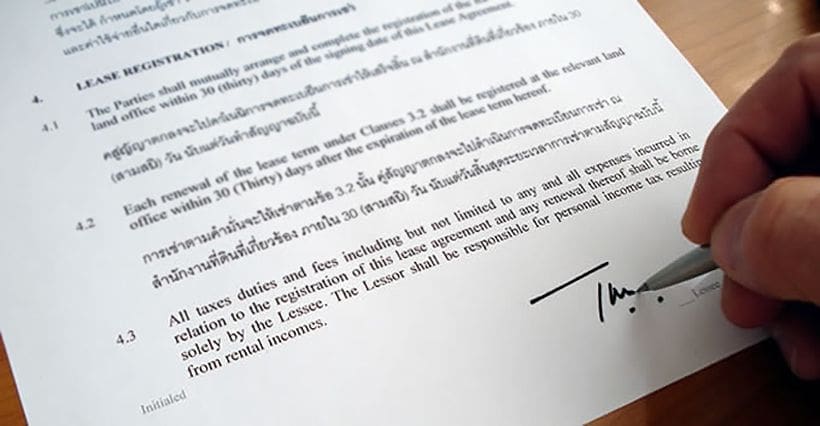 …Get in an argument with Thai police
You will always come off second best if you decide you're going to challenge the boys-in-brown. Thai police have a job to do and, in most cases, do a sterling job given that a lot of the time (especially in places like Patong) foreign tourists do some REALLY stupid things. They're also poorly paid and there is a generation of police who still work their way up the system 'buying' higher positions in the police ranks so they can get a larger proportion of the 'tea money' (bribes) that are still rife in the system. Whilst there are many, many efforts, made with the best intentions, the 'system' has been in place for many generations and corruption will still be around long after you've left the island. With all that said, if you get stopped for a minor indiscretion – not wearing your helmet or not carrying a valid license with you, etc – just pay up and go on your way. Yes, you are feeding the pyramid of corruption but your other option is not paved with happiness. Ramp up the situation by insisting that you 'speak to the superior' or go to the police station to voice your objection. You will come off second best, every time.
In a more serious situation, like a traffic accident or where someone's been injured, you are best keeping your cool and insisting that a member of the tourist police or a consular official come to the scene before you do anything. At least make sure you call them before agreeing to ANYTHING.
DON'T get angry or get into an argument with the local police. Their English-language skills will probably be limited and they represent a system that can get you into a mountain of trouble, costs or jail if you don't play your cards right.

…Get your gear off
It's hot and humid and you've come to a tropical island to swim. You've seen photos of bar girls in skimpy hot pants and a size-too-small singlets. You're used to western values where topless bathing is acceptable. Forget all this – you're in Thailand and, despite the outwards acceptance of showing some flesh, it is still a deeply conservative country when it comes to what you wear and where you wear it.
There are plenty of double standards when it comes to this issue and you only really learn the subtleties after living here for a few years. The Thais will generally tolerate you wandering around shirtless in tourist zones but you don't have to wander too far from Patong before the idea of 'acceptable' clothing changes quite quickly. This becomes acutely apparent when it comes to visiting temples or anywhere there are images of members of the Thai Royal family or Buddha.
If you're in any doubt about what the dress code is in any particular situation, ask a local. Don't, for example, wander down to the Patong Immigration office in your shorts, sandals and singlet and expect to get service – you won't. And going topless on the beaches will draw undue attention from the local constabulary, most likely resulting in a fine.

Checklist
1. Have a quick read about the places you're visiting and Thai customs on the internet. There are hundreds of sites that will spell out much the same mantra about behaviour, dos and don'ts. Here's ONE.
2. Do some homework about the places you want to visit, chat to other tourists and your hotel concierge about suggestions (although they're usually on commission too)
3. If you are going to get into any business transaction consult a local lawyer plus a lawyer who speaks your language with experience in the transaction. Especially buying property.
4. Think before you act in most situations. You are in a foreign country and they truly do things differently in Thailand. The longer you live here, the more confusing it can seem. Turn your brain on before you hand over your money.
5. If you wouldn't do it at home, don't do it in Thailand, even if you can.
If you are looking to book a hotel in Phuket check out THIS link first.
Phuket house keeper keeps 2,600 meth pills and 3kg of marijuana at house in Rawai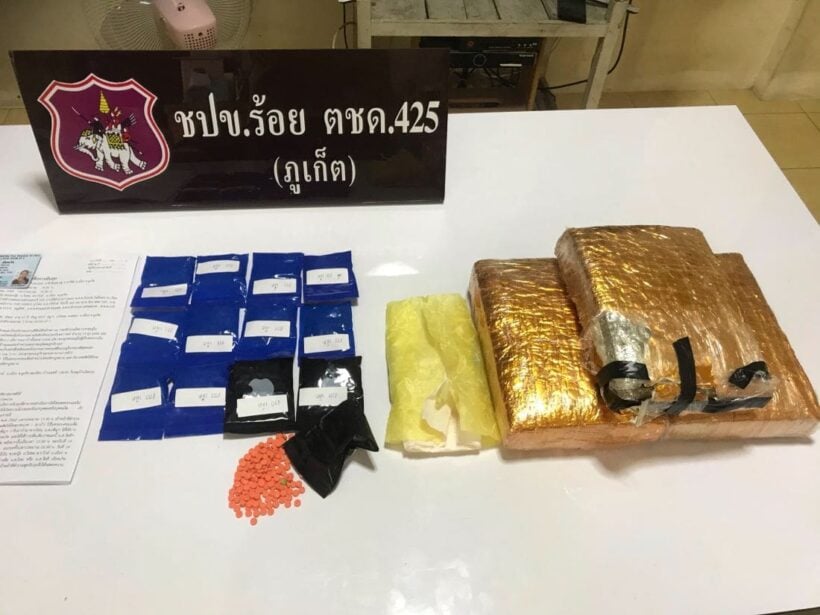 A Rawai house keeper has been arrested with 2,600 methamphetamine pills and three kilograms of marijuana.
A team of Border Patrol Police has arrested 47 year old Wanlee 'Mai' Eiadkerd. Police seized 2,600 methamphetamine pills and three kilograms of marijuana inside a house in Rawai.
The arrest follows police first arresting a Thai woman with methamphetamine pills in Chalong. She told police she got the drugs from a woman called 'Wanlee'. She said that Wanlee is a house keeper at a house in Soi Yanui, Rawai.
Police continued the investigation and found Wanlee at the house. Police didn't find any drugs in the house but Wanlee volunteered information that she kept drugs in another house in Sai Yuan, Rawai where she also works as a house keeper.
She was taken to Chalong Police Startion and charged with illegal possession of Category 1 and 5 Drugs with intent to sell.


Phuket police launch search for man in Facebook post pointing a gun at his head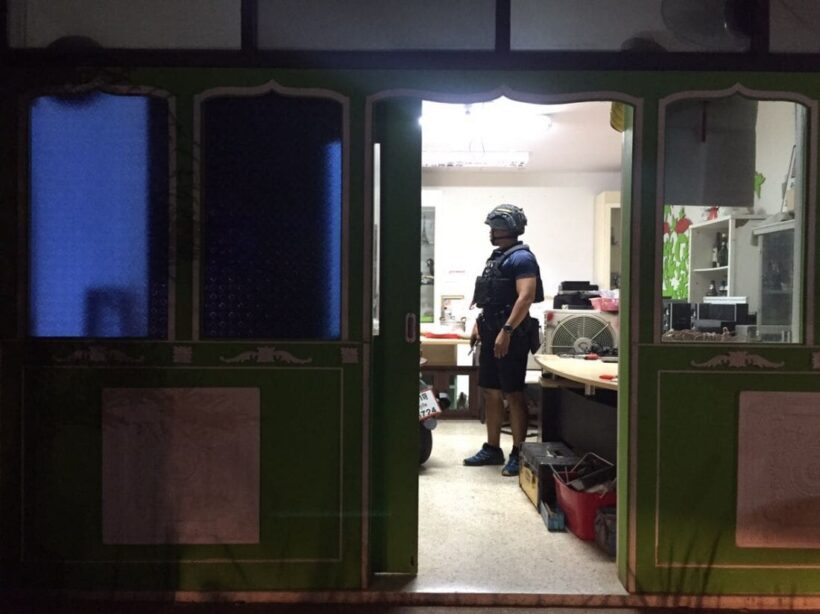 Last night Phuket Police launched a manhunt after a photo of a man pointing gun at his head went viral in social media.
The Phuket City Police took about five hours to find the house after the photo of the man, who was pointing a gun at his head, along with a depressing message, was posted on the man's social media page.
Police finally identified the house at Koh Sirey in Rassada, east of Phuket Town. Police found the man had already gone to sleep in his bedroom.
Today police will be questioning him and checking the legality and ammunition with his gun. They will also be urging him to seek help if he is having problems.