Witness: Debts Led To Tong Murder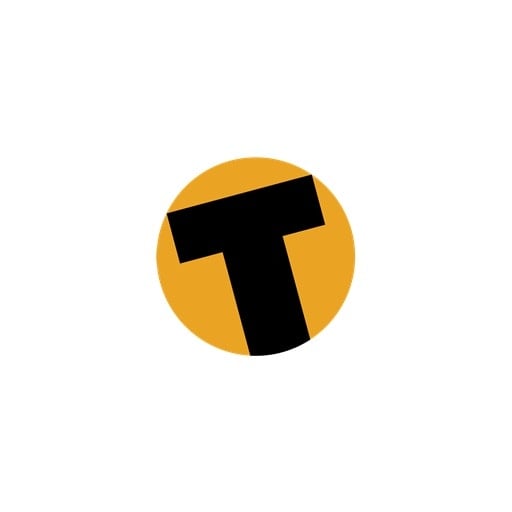 PHUKET TOWN: The investigator who headed the probe into the slaying of Danis Wayne Tong testified yesterday in Phuket Provincial Court that the five suspects on trial participated in a murder-for-hire scheme following a fallout between the victim and well-known local businessman Hugo Vandervelde. Pol Maj Preecha Kla-thanong, Chief of the Special Investigations Unit for Phuket Province, told the court that his investigation of the murder led him to conclude that a dispute over debts between the two men culminated in the plan to gun down the 47-year-old Tong shortly after he pulled up to his Rawai residence on the night of June 24, 1997. The witness testified that witness interviews along with evidence gathered during the probe revealed that Tong and Vandervelde were involved in loan arrangements and outstanding work-related compensation totalling 800,000 baht. Vandervelde, a Belgian, was an executive of Thai Flemish Trading Co, Ltd, a Phuket-based food wholesaler with which Tong had close business ties. He is standing trial along with four Thai suspects – Manit Panme, Prajuab Sukkong, Pairat Raksawong and Pratin Praktong – for their alleged roles in the murder. Under questioning by prosecutor Banthoon Thongtan, Pol Maj Preecha testified that Pratin, whom the witness identified as a "relative of Hugo's [Vanderdelde's] wife," brokered a deal on behalf of Vandervelde to hire three of the suspects – Manit, Prajuab and Pairat – to carry out the slaying. The witness said Pratin paid 200,000 baht as a partial payment to the trio, but did not provide the court with any other details of the arrangement. The police officer also testified that Manit, Prajuab and Pairat arrived in Phuket from their homes in Nakhon Si Thammarat to meet with Pratin and Hansa Ramdoung, a former Kathu district police corporal, prior to the alleged murder. During his testimony, the police major said Tong's common law wife Jamlong Yamsuwan and neighbors told investigators that two men – one trigger man and one getaway driver – had carried out the killing. Defense attorney Surasak Limpanitch, who is representing Manit, the suspected motorbike getaway driver, asked the investigator what led police to suspect that his client, Prajuab, and Pairat were involved in the killing. The witness responded by saying authorities probing the crime were able to establish a link with the suspects through a police source. The witness refused to identify the source when asked to do so by the defense lawyer. Nakin Themrat, the defense attorney representing Pairat, questioned the witness as to why investigators focused on a business conflict as the motive for the killing. Pol Maj Preecha said police first suspected either a business or love conflict, then focused on the former following interviews with key witnesses. A court session scheduled to have taken place this morning was postponed when prosecution witnesses failed to appear. Testimony is scheduled to continue on September 30 at the Nakhon Si Thammarat Provincial Courthouse, and on December 3-4 in Phuket.


Read more headlines, reports & breaking news in Phuket. Or catch up on your Thailand news.
Swiss man accused of overstaying visa and theft charges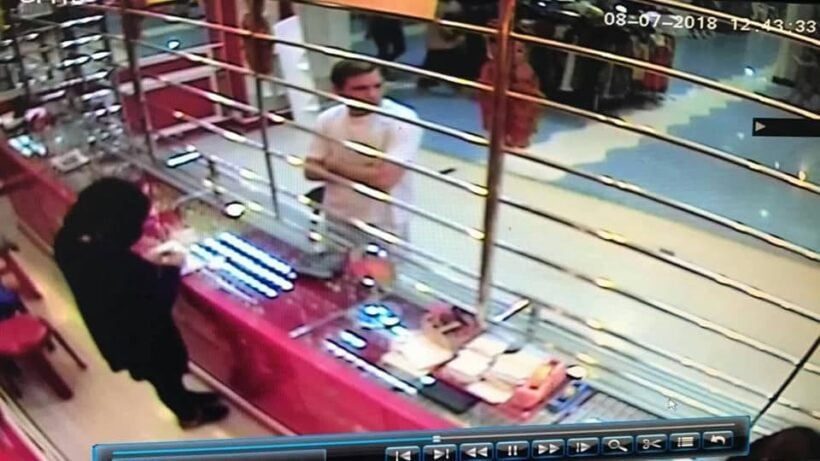 by Kamthon Kongsombat
PHOTO: Security footage from the Phuket jewelry store in December 2018 – Facebook
The Immigration Bureau says they're going to blacklist and deport a Swiss man who overstayed his visa and is also accused of series of thefts in Nongkhai and Phuket.
The Nongkhai deputy immigration police chief Colonel Prasit Somjaiprasong says that Julien Andre Junior Cotting, a 25  year old Swiss national, was arrested yesterday at a guest house near the Mekong River in Nongkhai on theft charge.
He was arrested after 42 year old Sai-arun Konwan, the owner of the Chorfah Gallery Hotel in Muang district, filed complaint with police that a foreigner had stolen her bag that she left in the hotel's lobby on January 8.
She told police that she noticed Cotting having coffee in the lobby. Security camera checked later showed the suspect picking up her handbag and leaving on a rented motorcycle.
The handbag contained 1,000 baht cash, an ATM and other credit cards as well as other important documents.
Sai-arun said Cotting was a regular customer at the hotel's coffee shop.
After the complaint, police searched for the suspect and noticed a suspicious-looking foreigner at a guesthouse. His passport revealed that he was Cotting and he had overstayed his visa.
After Sai-arun identified the suspect it was found that he had an outstanding arrest warrant on a theft charge in Phuket province where he allegedly stole a diamond ring in December, 2018.
Cotting faces charges of theft and overstaying his visa and will be prosecuted and deported, immigration authorities said.
ไชยยศ ไชยพฤกษ์ covered the story in Phuket last year. Here's one of the photos from that post…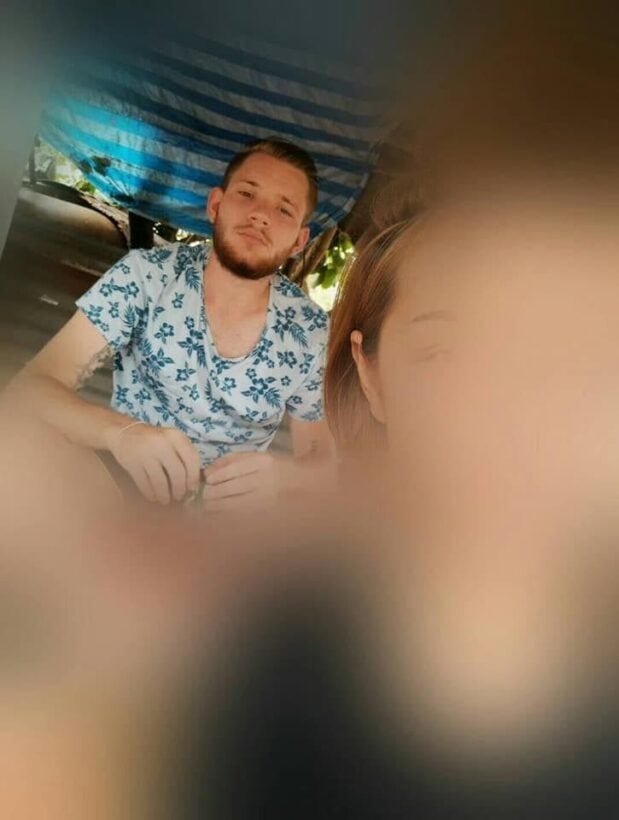 SOURCE: The Nation
What to do if a pet tests positive for Rabies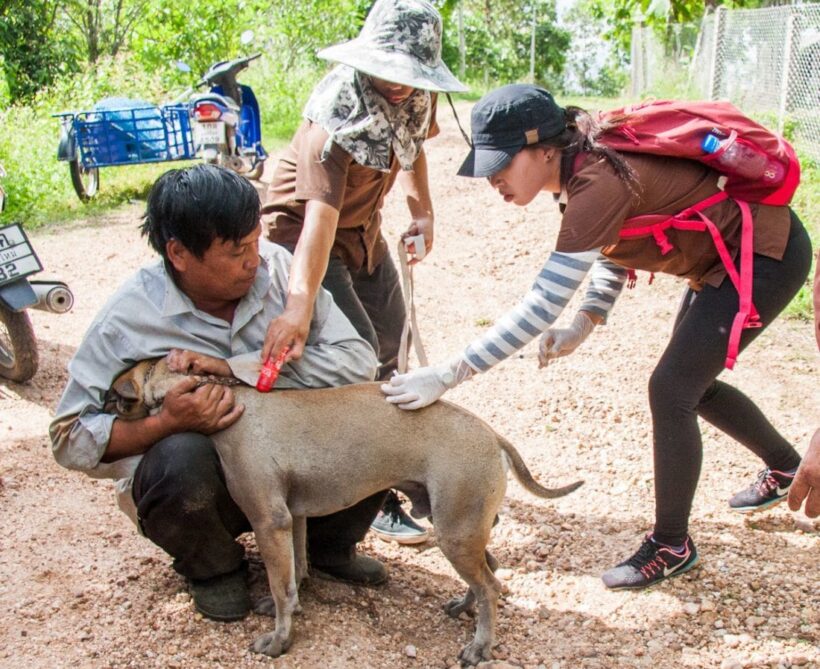 PHOTO: PR Department
An announcement about animals in a Rabies Outbreak Zone.
These are things that pet owners must do when it has tested positive for rabies.
• Pet owners must follow Animal Epidemics Act 2015.
• No person may move an infected animal or carcass specified in such announcement into, out of, through or within such zone unless they have written permission from the veterinarian who is responsible for such area.
• Anyone who does not follow the guidelines shall be fined up to 40,000 baht or jailed up to two years.
In any event, follow the guidelines of your local vet and consult the authorities in such a situation.
A district livestock development office in Phuket province has announced a Rabies outbreak zone in the Chalong area yesterday.
Read more about the establishment of the 'zone' HERE and a response from the Soi Dog Foundation HERE.
Soi Dog Foundation responds to Rabies outbreak zone in Chalong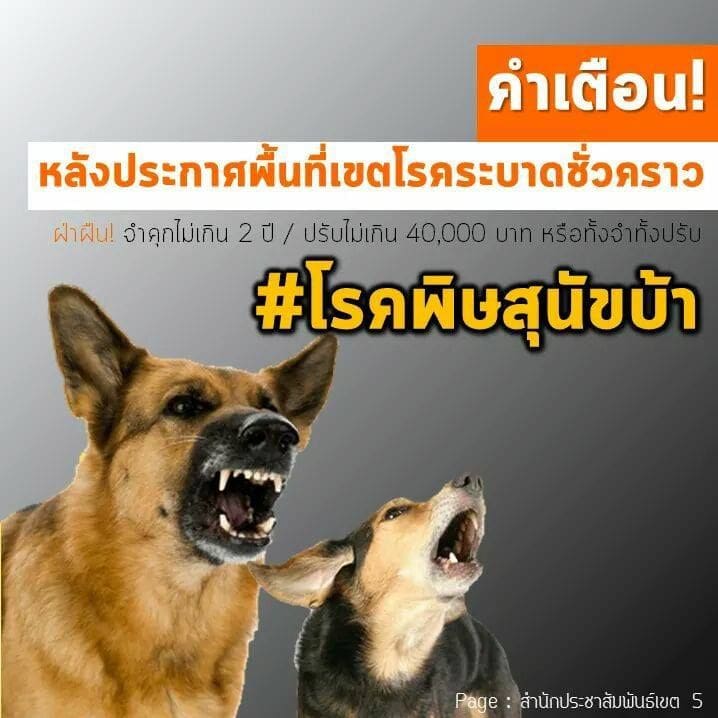 Following the announcement form the Phuket Livestock Development Office that a rabies outbreak zone was set in Chalong area yesterday (January 17), Soi Dog Foundation Co-Founder, John Dalley, explained about the incident as the dog, which was indeed infected with rabies, was sent to Soi Dog Foundation for treatment after it was found very sick. It is the first dog which was found positive for rabies after several years in the one and only 'Rabies Free' zone of Thailand – Phuket.
A district livestock development office in Phuket province has announced a Rabies outbreak zone in the Chalong area yesterday.
Read more HERE.
"A dog was brought into Soi Dog by our dog catchers after it was reported to be vomiting and unable to stand," said John Dalley.
"It received treatment for several days but did not respond, and symptoms of staggering and being unable to open its mouth, and head tilted to one side led our veterinary staff to suspect rabies as these are classic symptoms."
"The dog was euthanised and its body sent to the Government testing laboratory. The result indicated that the dog was positive to rabies, the first positive case seen in a dog on Phuket for many years."
Right after the rabies was detected, Soi Dog Foundation has worked closely with the local Livestock Development Office in order to control the situation.
"Soi Dog are working closely with the Department of Livestock to vaccinate all dogs within a 5 kilometres radius of where the dog was picked up. Soi Dog will focus on strays and the DLD on owned dogs."
He urged that people shouldn't be panicked about the situation but be always aware about the importance of vaccination if they get bitten (or scratched or licked on an open wound).
"There is no cause for alarm. We see numerous positive cases in dogs in Bangkok, but no human cases have occurred there in the past 12 months. The traditional picture of a rabid dog foaming at the mouth and attacking people is not a true picture, as with this dog. Anybody being bitten by a dog at any time should always immediately wash the wound with soap and water and go along to their local clinic or hospital to receive the necessary injections."
John also mentioned about the message that Soi Dog Foundation has been trying to tell government, entrepreneurs as well as people in general that importing unvaccinated puppies to the safe zone like Phuket can be the cause that brings rabies back in the area.
"Although this is likely an isolated incident it should be noted that Soi Dog has repeatedly, over the years, warned of the dangers and requested successive governors to stop the hundreds of very young puppies being imported to Phuket each year for sale at markets and pet stores, but nothing has ever been done. We hope the new Governor will take action. These puppies are generally coming from uncontrolled puppy farms in rabies endemic areas."
"Puppies cannot be vaccinated against rabies until they are at least 12 weeks old and are reliant on the mother's immunity providing she has some. The case of a puppy seller in Chatuchak market dying from a bite from a puppy shows the danger."
"In addition, removing vaccinated sterilised dogs from the street increases the chances of rabies spreading. The World Health Organistion, The Food and Agriculture Division of the United Nations, The World Organisation for Animal Health and The Global Alliance for Rabies Control have issued joint statements advising that the way to eliminate rabies in humans is to eliminate it in dogs first as much cheaper and more effective to do that.
If 70% or more of dogs in a country are vaccinated and strict controls on entry imposed, then you will eliminate rabies.
If you remove vaccinated dogs and put them in a pound, then you are reducing the number of dogs on the street that are vaccinated which allows for others to take their place that may not be vaccinated."
If a member of the public sees a dog that is staggering or unable to stand then they can call the Soi Dog Helpline on 076 681 029.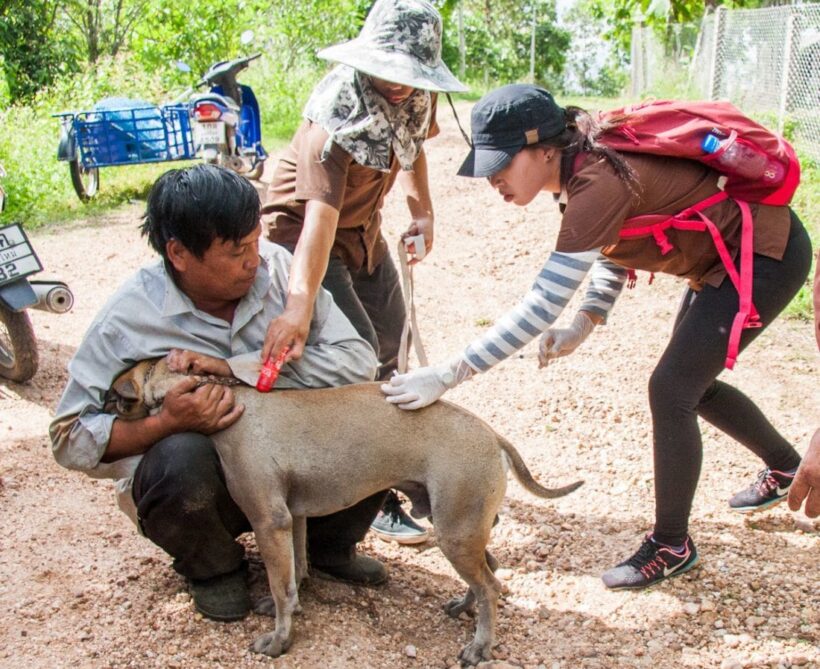 Rabies control in Chiang Mi last year