Phuket
Video Report: Pony Up – Phuket marine conservationists launch international seahorse specialty course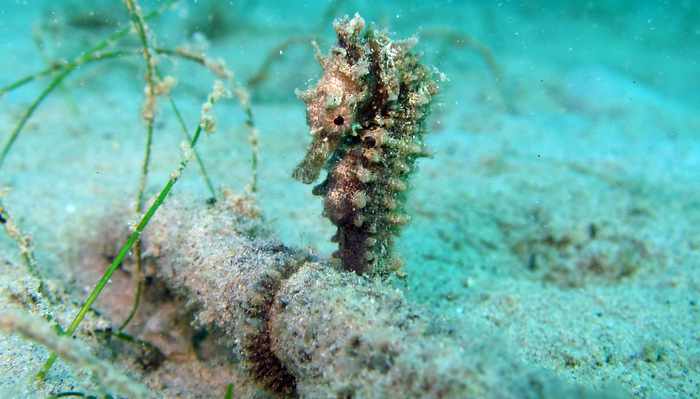 PHUKET: Marine conservationists in Phuket today announced the international launch of a seahorse diver specialty course to promote accurate crowdsourcing as Thailand, and the rest of the world, attempts to protect endangered populations.
The Professional Association of Diving Instructors (PADI) course will teach student divers the basics of seahorse biology and conservation, how to identify and search for seahorses and the many actions divers can take to maintain sustainable seahorse populations, explained Lindsay Aylesworth, lead author of the Seahorse Diver Specialty and PhD candidate at the University of British Columbia.
Trained divers can then help to protect seahorses by monitoring populations over time and reporting seahorse sightings to iSeahorse.org, a global citizen science program created by Project Seahorse with support from the John G Shedd Aquarium (story here).
"With the creation of this course we want to build a network of knowledgeable and passionate divers who will answer the call to protect seahorses," said Ms Aylesworth.
Seahorses were one of the first fish species to be added, in 2004, to Appendix II of the Convention on International Trade in Endangered Species of Wild Fauna and Flora (CITES), which demands that countries maintain sustainable trade and monitor populations, explained Ms Aylesworth.
"Of the 48 seahorse species listed on the International Union for Conservation of Nature (IUCN) Red List of Threatened Species, 26 are considered 'Data Deficient' – meaning there isn't enough information for us to know whether these species are thriving or disappearing."
However, many seahorse populations are in decline, mainly due to overfishing and habitat destruction. Millions of seahorses are captured accidentally in bottom trawl fisheries each year. The same type of fishing gear often causes substantial alterations to the marine environment that, along with coastal development, reduce the quality of seahorse habitats.
"Thailand is the world's largest exporter of seahorses and is taking pro-active steps to understand the sustainability of the trade. This requires basic information about the species that are in Thailand's waters. The specialty has a fantastic opportunity to make a real difference with on the ground conservation efforts here in Thailand," Ms Aylesworth told the Phuket Gazette.
"The information collected through the specialty course will be used immediately for the research we are doing, so it will have an immediate impact."
The PADI specialty course will be kick-started in Phuket on July 24 with an instructor certification course led by PADI Course Director Kevin Black from Kiwidiver.com with the support of PADI Regional Manager Andy Auer.
"We're always very happy to support events and great ideas like this," Mr Auer said.
Mr Auer noted that PADI would be providing a discount for the application form.
"With so many different species of seahorse found at our local Phuket beaches (story here) Kiwidiver.com is excited to be able to work with the team from Project Seahorse to learn more about this magnificent creature and help educate other divers about them," Mr Black told the Gazette.
"Kiwidiver.com was a natural partner to support Project Seahorse, as we were already conducting dives searching for seahorses on local Phuket beaches."
Mr Black was sure that the specialty course would be a popular one. His feelings were echoed by Tse-Lynn Loh, postdoctoral research associate at Shedd Aquarium and Project Seahorse, and co-author of the Seahorse Diver Specialty.
"This is an exciting program for recreational divers — with a cohort of trained surveyors, we can track vulnerable seahorse populations and inform management strategies for fisheries, seahorse trade and marine protected areas," said Ms Loh.
— Isaac Stone Simonelli