Tsunami Memorial: Phuket tourism shows world how to bounce back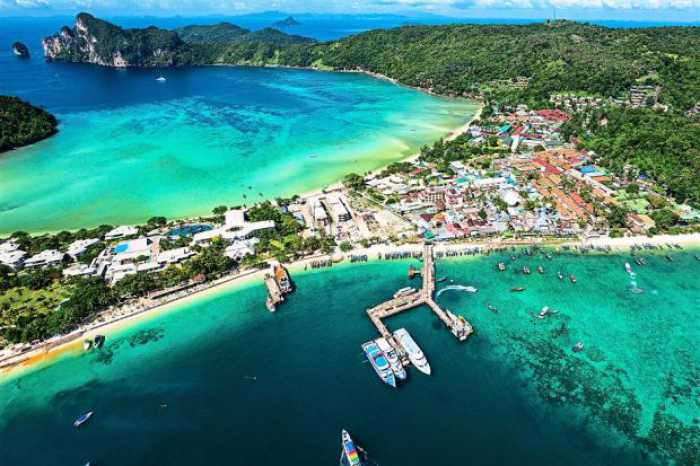 PHUKET: Tourism industry insiders who have monitored trends in the Phuket tourism industry over the past decade describe the recovery after the worst natural disaster to ever hit the region as "remarkable".
Few potential visitors these days are dissuaded from coming to the island out of fear of another inundation. The successful introduction of a tsunami early detection and warning system (story here), coupled with greater "tsunami awareness", has gone a long way in helping the island continue to grow and attract ever more visitors year after year, they say.
Tourism industry icon Wichit Na Ranong, managing director of the luxurious Indigo Pearl resort at Nai Yang Beach, said, "I would say we had a very fast recovery after the tsunami. In fact, I think it may be the fastest recovery ever anywhere after a disaster of this kind. I think the industry had almost recovered after two years and was fully back to normal after three, with continuous progress after that."
Asked if there were still fears among tourists of another tsunami, he said, "Not at all. After just a few years, any such fears just faded from peoples' minds."
A series of "tourism roadshows" abroad and good cooperation among local and national authorities also helped to assuage any such concerns, he said.
Mr Wichit told The Nation it was still difficult to think back on some of the things he had witnessed after what he described as a "tragic, tragic event".
Like most people in Phuket, he didn't even know what a tsunami was until he had the misfortune of experiencing one first-hand, he said.
"I felt the earthquake that caused the tsunami in Phuket that morning, but didn't think anything of it because I had felt tremors like that [in Phuket] before. Later that morning, I heard reports from some staff that something quite unusual was going on with the ocean water.
"I rushed down to look and we all watched as the first two waves came in and surged right over the normal high-tide mark and right across the road leading to the national park – destroying some bungalows there.
"At the Indigo Pearl we were lucky, however, because the curvature of the bay helped our resort to avoid the full impact. All we had was some damage to the landscaping and some other minor damage, such as to an air-conditioner condensing unit that was fixed at ground level," he said.
Operations at the Indigo Pearl continued without a single day lost, he added.
Mr Wichit, who was serving as Honorary Consul for Sweden at the time, quickly converted the resort's convention facility into a rescue and operations center, helping people who had lost their travel documents and needed other kinds of assistance.
The resort also served as a meeting place for rescue workers and media coming in from abroad to assist in, or report on, the recovery effort. The staff also used the center as a staging area from which shuttles were dispatched to Khao Lak in Phang Nga, where many Swedish tourists lost their lives.
"Looking back 10 years, I would say it is nice to stay in the present. I don't want to recall all of the things I saw… I just couldn't take it when I went to the airport and saw so many people crying; people who had lost loved ones that they had been on holiday with just a few days before. It almost drove me mad," he said with a quiver in his voice.
Tanan Tanpaibul, a well-known real-estate developer and managing director of Phuket's Rassada Harbor – the largest embarkation point for ferries to the Phi Phi Islands – said most of the effects of the tsunami on the tourism industry in Phuket had dissipated within a year.
"In my view, the effects of the tsunami on the island's tourism industry were quite short, only about six months. After about one year the recovery was practically complete."
The only notable exception was the drop in inbound visitors from Japan where the tsunami had originated from.
"Before the tsunami, our operations to the Phi Phi Islands were very popular with Japanese tour groups, but the recovery of this market has not been nearly as good as that of all other nationalities. The Japanese have changed their destination-of-choice and don't come to Phuket in large groups anymore.
"I think the Japanese are the only group to have disappeared since the tsunami," he added.
Bill Barnett, industry analyst and managing director of C9Hotelworks, told the Gazette that for tourism industry leaders the 10-year anniversary was more of an emotional day than a tourism-industry benchmark.
Describing the immediate aftermath of the tsunami as a "media circus", he recalled a number of erroneous reports, such as the one spread internationally by CNN that Laguna Phuket had been "completely destroyed", when in fact it was their resort in Khao Lak that had been devastated.
From the Novotel in Patong, he recalled photographers taking shots of a recently demolished building at a construction site nearby – thinking that all the rubble had been pushed there as a result of the tsunami.
Mr Barnett said he had received calls for people asking "Is there anything left in Phuket?", when in fact the tsunami surge only penetrated 300 or 400 meters inland, in the worst hit areas, such as in Kamala.
It took some time for the actual facts to emerge and reveal that while several-hundred people had died tragically that day, resorts on the island were not completely destroyed.
Another destination that was badly devastated by the tsunami waves were the Phi Phi Islands in Phang Nga Bay, especially the low-lying isthmus at Ton Sai Bay – the traditional center of commercial activity there.
But unlike Khao Lak, which took four or five years to recover, the Phi Phi Islands were a real anomaly – literally "roaring back" – to enjoy what was probably their most successful high season ever the following year, Mr Barnett said.
He attributed part of the quick recovery in Phuket and Phi Phi to what he referred to as a "legacy market", mostly comprising tourists from Scandinavia, Germany and other parts of Europe who wanted to support the recovery by making return visits as soon as possible.
"I think when we talk to tourists nowadays there is not that much recollection. We live in an era with so many problems in places such as Afghanistan, then Syria. It is really just one thing after another, so tourism here has not been dramatically dented by the memory of that event," he said.
Wolfgang Meusburger, who was the general manager of the Holiday Inn in Patong at the time of the tsunami, described the rate of the recovery in that town as "unbelievably quick".
"It really took everyone by surprise. I remember at the Holiday Inn in December 2005 we had 160 customers who were there a year earlier who came back. I think if anyone had told us back then that the recovery would be as fast as it was, we all would have said 'impossible', but the numbers speak for themselves," he said.
Mr Meusburger, who is currently managing construction of a new luxury Intercontinental brand resort in Rawai for the IHG Group of hotels that also operates Holiday Inn, noted that as a tourist destination Phuket has changed dramatically since the tsunami.
"Obviously, the destination has changed over the past 10 years, but I do not think that has anything to do with the tsunami. But the profile of the people visiting has changed, in large part due to the increased availability of low-cost airlines and charter flights."
Like most people The Nation spoke to, Mr Meusburger said the thing that struck him the most was the complete sense of shock that something like a tsunami could even happen.
"But a few other things also stand out, such as how everybody pulled together, taking people into their homes and things like that. Another thing was the official response. The government did a really decent job of cutting out all of the normal red tape, such as by flying victims directly to Bangkok free of charge," he said.
"Tsunami awareness is now greatly enhanced. The first real test came during an emergency evacuation following an earthquake during a Songkran Holiday weekend in April two years ago and it showed that most hotels and tourism-based businesses have plans in place to get their guests to safety."
Weerawit Khrusombat of the Patong Entertainment Business Association said that Patong Municipality had made great strides in ensuring that resorts and other tourist destinations in that town trained their staff in emergency evacuation procedures.
"We hold evacuation drills annually and Patong Municipality was even proclaimed a 'role model city' for disaster management planning by the United Nations in October 2010. This really serves to increase confidence that Patong is a safe destination for tourists where natural disasters are concerned," he said.
"Ten years later, 90 per cent of tourists have no fear of tsunamis or other natural disasters. They are much more worried about crime and things like that," he said.
He expressed concern that disaster management systems like the tsunami early-warning system, which has three sirens along Patong Beach, could fall into a state of disrepair if proper maintenance is not maintained and evacuation drills stop taking place.
While noting that National Council for Peace and Order (NCPO) had taken concrete steps to improve tourist safety during visits to Patong, he expressed concern that these efforts could possibly divert focus and attention from the dangers posed by natural disasters such as tsunamis.
"As someone who experienced the tsunami first-hand, I would like to tell the NCPO and other agencies that even though the likelihood of another tsunami is very small, we cannot afford to let our guard down and let our award-winning systems and procedures that are now fully operational, fall into a state of disrepair," he said.
— Stephen Fein
Phuket News

Join the conversation and have your say on Thailand news published on The Thaiger.
Thaiger Talk is our new Thaiger Community where you can join the discussion on everything happening in Thailand right now.
Please note that articles are not posted to the forum instantly and can take up to 20 min before being visible. Click for more information and the Thaiger Talk Guidelines.