Phuket
TAT, Phuket Tourist Police come to American tourist's aid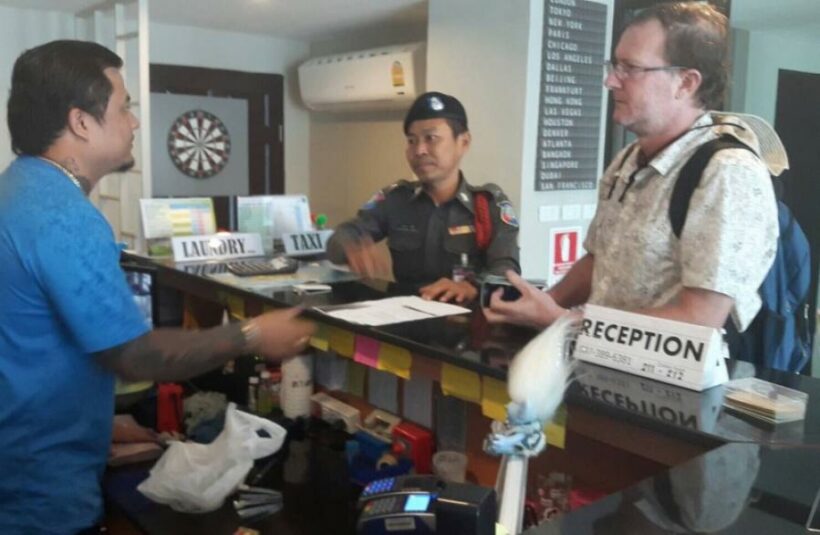 PHUKET: A lost American tourist, who could neither recall the name nor the address of the hostel he was staying at, was safely returned there by tourist police this morning.
Boyce Reid Brown, 48, was wandering around Phuket Town on foot when he happened to find the office of the Tourism of Thailand (TAT) and stepped inside to ask for help.
TAT Phuket officials then coordinated with tourist police for help.
"Mr Brown said that he had gone sightseeing on foot but could not find his way back," said Phuket Tourist Police Chief Naruewat Puttawiro.
"All he could tell us was that the hostel was located in Phuket Town and what it looked like. He had a keycard with a room number and picture on it, but since there was no name, it wasn't much help," he added.
Officers drove him around town to see if he could recognize any nearby landmarks.
"Finally, we found a hostel named 'Green Leaf' in Talad Yai which matched his description. Staff checked their records to show that he was indeed, staying there and had checked in on Tuesday," said Maj Naruewat.
"He went to his room and found all his belongings safely there," he added.
Phuket Tourist Police officers can be reached at 1155.
— Winai Sarot