Phuket
Phuket tiger's protective nature blamed for attack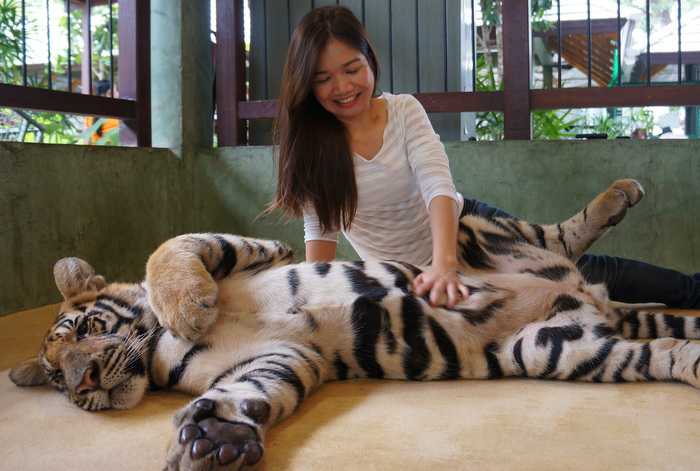 PHUKET: Tiger Kingdom staff blamed the protective nature of a tiger for the attack on an Australian tourist in Phuket on Wednesday.
"We believe the tiger was trying to protect our staffer, so it bit Mr Goudie. Notice that it attacked him instead of the staffer, who was standing closer to the tiger's head," Tanawin Boonpang, Phuket's Tiger Kingdom supervisor, told the Phuket Gazette in an exclusive interview today.
Paul Goudie, 49, was mauled by the tiger after he entered its cage to have his photograph taken with the animal (story here).
"We sat with two tigers, not a problem, as we moved around we sat with another tiger. My brother-in-law was taking a few pictures. And just as we proceeded to leave, I stood up, and the tiger turned and just decided to have a go. And just took a nice chunk out of one leg, and had a go at the other leg, had a go at the stomach," Mr Goudie said from his Phuket International Hospital bed after receiving stitches for the bite wounds.
Tiger Kingdom has covered all of Mr Goudie's medical expenses.
"The staff and everything was just fantastic, they were there straight away trying to get the tiger off me. It was really good," he said.
Mr Goudie came to the facility with family members, choosing a package that allowed them to be photographed with three different sizes of tigers: very small, small and medium.
"At the third tiger cage – the one with the medium-sized one – two people in his group had already finished taking pictures with the tiger, as had Mr Goudie. However, when he was getting up, it looked like he was about to fall. Our staffer, who is supposed to stand at the head of the tiger, quickly moved to support Mr Goudie – he was afraid Mr Goudie might fall on the tiger," explained Mr Tanawin, who was near the cage at the time. "It seems like the tiger believed Mr Goudie was attacking the staffer."
Staff quickly broke Mr Goudie free from the tiger and isolated the big cat to ensure that it didn't attack again. First aid was provided on-site as staff waited for an ambulance to arrive.
"I certainly bear no grudges to the tiger or to Tiger Kingdom because, as I said, the staff, management, everyone have been absolutely brilliant, and the hospital has been fantastic," Mr Goudie said.
The tiger is no longer available to the public, and will be retired, confirmed Mr Tanawin.
SAFETY
"It really was an accident; it could have happened at any tiger park in the world. We saved our customer and quickly had the situation under control," Mr Tanawin said.
Four times a year, Tiger Kingdom staff are trained in handling emergency situations at the facility.
"They know what to do if a tiger escapes or if it attacks a person. Their fast action on Wednesday is a tribute to this," Mr Tanawin said.
Tiger Kingdom remains open from 9am to 6pm. Though no changes have been made in its safety protocol as of yet, the company is considering changing its policy on allowing customers to enter cages.
"We have done our best to ensure the safety of our customers. We usually have one staff beside each tiger when a customer enters a cage. However, we will consider having more staffers working with a single tiger if a customer is elderly or overweight – this way we can better support them," Mr Tanawin said.
WARNINGS
When customers arrive at Tiger Kingdom, they are given the opportunity to go inside a tiger's cage to be filmed or photographed.
"If they want to go inside, we have them read and sign an agreement stating that they understand that there is a risk. We also provide insurance. Then, our staff explains what is allowed and not allowed," Mr Tanawin said.
Warning signs and reminders for proper conduct when dealing with a tiger are posted at the facility's entrance and on every cage.
"There is a notification when you walk in on how to approach the tiger, no running, and information like that… and to always listen to the instructor," Mr Goudie recalled.
The signs have pictures and are in English.
BREEDING
Tiger Kingdom breeds and raises its own tigers with the permission of the Bureau of National Parks, Wildlife and Plant Conservation (DNP), Mr Tanawin explained.
The facility has 46 tigers, but only 28 are currently on show for customers.
"The tigers are raised by people from when they are a just a cub. We are sure that they are close to people and not aggressive," Mr Tanawin said.
"When they are first born, we separate them from their mothers and feed them by hand. Then, when they are two months old, they start to meet more people so they can develop a close bond with us and think of us as friends."
Tigers more than three years old are retired to a 200-rai property in Chaing Mai, Mr Tanawin explained.
"If they are older than that, they are not as safe for humans to be around. However, we take care of them for the rest of their lives," he said.
Tiger Kindgom is in the process of securing three Royal White Bengal Tigers for the park.
"We expect them to arrive by the end of the year. It takes some time, because we do everything legally under the Convention on International Trade in Endangered Species of Wild Fauna and Flora (CITES).
COMING BACK
Mr Tanawin is encouraged that Mr Goudie is planning to return to the facility.
"I am very happy that he wants to come back and visit again. We are very comfortable with our safety precautions and would like everyone to have the opportunity to see these big cats," Mr Tanawin said.
"They really are like cats – they play, they sleep. Some people say that we use drugs to control them, but that is simply not true."
Though he is still waiting for his wounds to heal, Mr Goudie confirmed that he would like to return – but maybe to just observe from outside the cages this time.
"I certainly would like to go back there again at some stage, maybe not for photos, maybe just look through the cage. It might cost me my marriage if I try to go in there a second time," he said.
— Chutharat Plerin