Phuket to remember road-traffic victims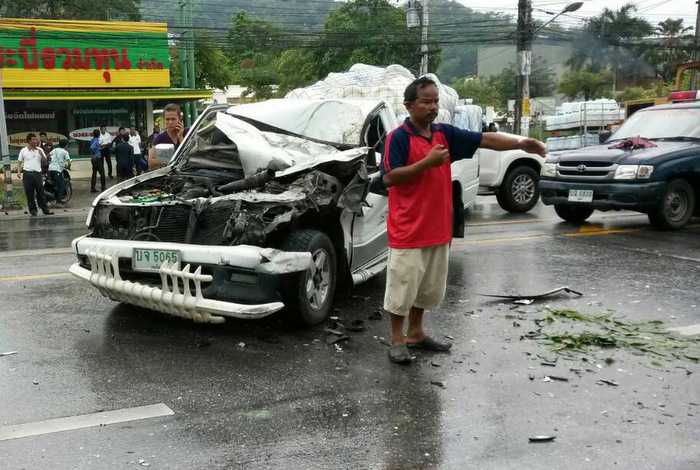 PHUKET: Phuket will remember victims of road traffic accidents on the island for the first time on November 25, as part of World Day of Remembrance for Road Traffic Victims, the Department of Disaster Prevention and Mitigation (DDPM) Phuket office confirmed today.
The event, which was adopted by the United Nations General Assembly in 2005, is observed around the world on the third Sunday of November – this year on November 16 (tomorrow).
"While Bangkok will hold World Day of Remembrance for Road Traffic Victims tomorrow on November 16, other provinces have been allowed by the Road Safety Directing Center [click here] to choose any date before the end of the month," Santhawat Riwleung, chief of the DDPM Phuket office, told the Phuket Gazette this morning.
"November 25 will be the first time that we have ever observed this special day in Phuket," he added.
The DDPM will also organize a road safety seminar on the day for students of Phuket Polytechnic College.
"The seminar for the students will be on November 25 to help raise awareness of road safety, therefore reducing the number of traffic accidents on our roads every year," said Mr Santhawat.
Poor awareness of safety issues was a main cause of traffic accidents among young people, he added.
"Students are our main target because teenagers do not really follow road safety regulations properly. We need to train them and open their minds to the importance of road safety," said Mr Santhawat.
According to the Road Safety Directing Center, Phuket averaged 119 deaths a year from 2008-2010. In 2011 the number reached 140 deaths and then declined in 2012 to 81 recorded deaths, while 57 deaths were recorded last year.
The Road Safety Directing Center's official website only records the number of accidents in Phuket each month – not the number of deaths. It was last updated in June.
"Phuket Provincial Police send statistics of roads accidents to the Road Safety Directing Center in Bangkok every month, but we cannot control what the center does with the information after that, said Mr Santhawat when asked why the website had not been updated since June.
He added that the reason for moving the remembrance day to November 25 was because of the Asian Beach Games.
"We just do not have the manpower right now to be able to mark the road traffic remembrance day on November 16, as the majority of police officers are on duty ensuring public safety during the Asian Beach Games," he said.
"But even though we are not holding this global event on its correct day, I would like to urge motorists to respect traffic laws as they have been put in place to keep you safe," he added.
To mark World Day of Remembrance for Road Traffic Victims, the British Embassy in Bangkok has also issued a plea for all travelers in Thailand to observe road safety traffic regulations in a bid to eliminate the deaths and casualties.
In its statement (click here), the embassy pointed out that: "Thailand ranked number two of road fatalities in the world, with 44 road deaths per 100,000 people. Fatalities from road accidents made up 5.1 percent of Thailand's overall deaths."
"According to the Royal Thai Police, there were 6,185 deaths in Thailand as a result of road traffic incidents between October 2013 and September 2014 (4,610 males and 1,575 females)…
"In comparing statistics it should be noted that there is a difference in the method of calculating statistics for road deaths in Thailand (at the scene of the accident) and the WHO (within 30 days of the accident)," the statement added.
The statement also mentioned the issue in Thailand of tourists renting motorcycles without having the correct license or undertaking any training, and also riding motorcycles without wearing any safety equipment.
"People would not ride a motorcycle in the UK without a helmet and proper clothing, yet many do so when on holiday in Thailand," said British Ambassador Mark Kent.
— Chutharat Plerin
Keep in contact with The Thaiger by following our
Facebook page
.
Transport Company interprovincial bus services to the South remain suspended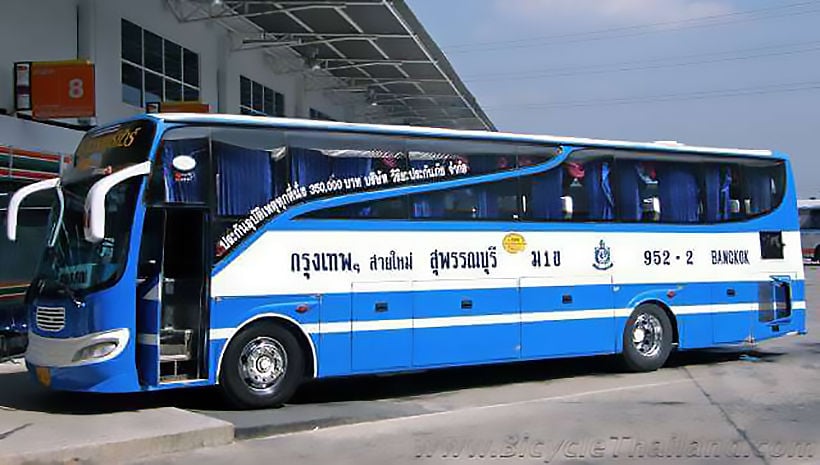 Transport Company, Thailand's interprovincial bus company, announced this week that it is continuing its suspension of all services to the southern provinces as the country will be under the state of emergency until June 30.
It did not say when services will resume. The company was expected to resume services from Bangkok to Koh Samui, Phuket and Trang from June 1.
The Cabinet decided on Tuesday to extend state of emergency in line with measures to control the spread of Covid-19.
Transport Company announced in April, when the national curfew came into force, that services on routes longer than 300 kilometres would remain halted nationwide until further notice.
Services on routes under 300km operated by minibuses are still allowed, from 5am-4pm, and parcel services can operate from 5am-8:30pm.
The decision is in line with the decision of the Centre for Covid-19 Situation Administration to maintain the night curfew, from 11pm-3am, and discourage travel between provinces to restrict the spread of the virus.
SOURCE: Nation Thailand
Keep in contact with The Thaiger by following our
Facebook page
.
Chiang Rai quarantines 26 returnees from Phuket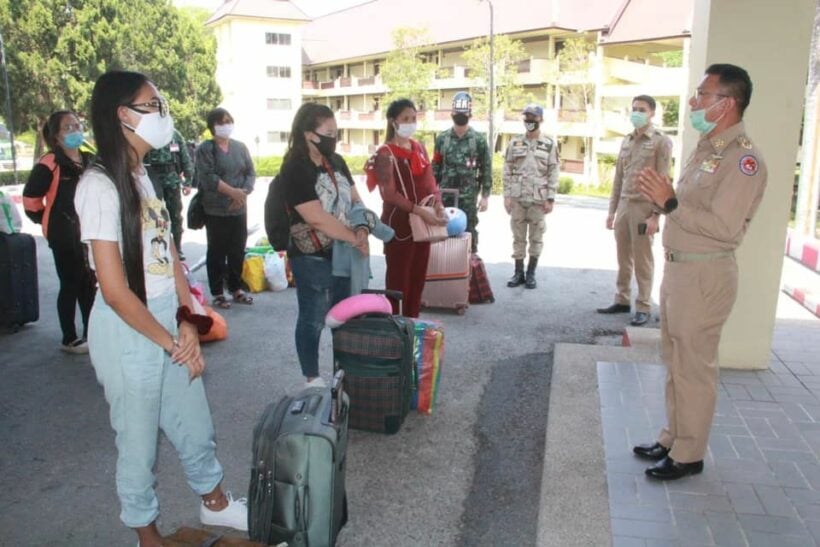 26 returnees from Phuket back to Chiang Rai arrived home on 2 passenger coaches today and were immediately placed in 14 day quarantine. The 26 arrived at the Wiang Indra Riverside Resort in Chiang Rai province (by the way, it looks VERY nice!).
The Deputy provincial governor of Chiang Rai welcomed them and asked them to adhere to the precautionary measures set by the health department. Thorough screening was reportedly conducted by Chiang Rai health officials and they were also reminded to eat only well cooked food, use a personal serving spoon when eating, wash their hands regularly, practice social distancing and most importantly wear face masks at all times.
Meanwhile a group of 400 Thais returnees from foreign countries were placed in state quarantine facilities in Chonburi province yesterday. 7 hotels in Pattaya City have been designated state quarantine facilities. The hotels have been approved by the health department for Thais returning from abroad. Around 2,000 returnees are now being quarantined there. Yesterday's 400 returnees, that had been stranded in Italy, Malaysia, Japan and Taiwan, arrived at Suvarnabhumi Airport before travelling to the quarantine facilities in Chon Buri.
Health officials today reported 11 returnees from overseas tested positive for Covid-19. The 11, 5 of them masseurs, raised Thailand's total cases to 3,065 since the outbreak began.
"We can say that there are no new locally infected Covid-19 cases as far as official reports are concerned. Even more, all the new cases reported daily were infected in other countries."
Of the 3,065 accumulated cases, 2,945 (96%) have recovered, with 14 more patients released over the previous 24 hours. Just 63 patients remained in hospital. The death toll remains at 57.
SOURCE: Chiang Rai Times
Keep in contact with The Thaiger by following our
Facebook page
.
Mayor's statement sparks hope Chonburi beaches may reopen soon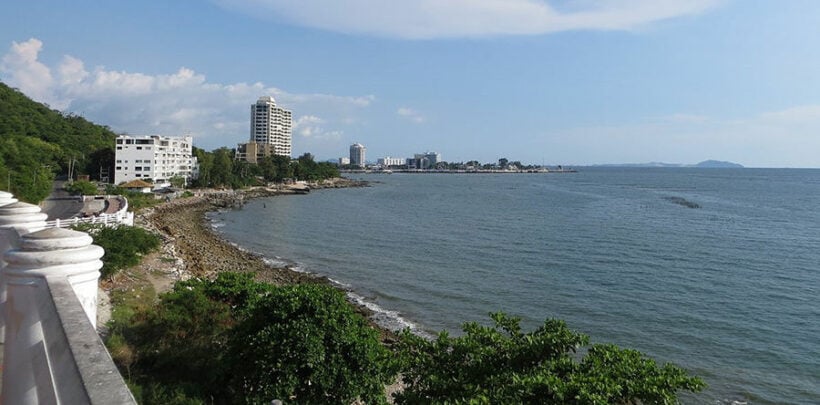 A Facebook post from the mayor of Saen Suk, home to the renowned Bangsaen beach, says beaches "may" reopen from June 1. (Before you ask, there is currently no official information on when Bangsaen, Pattaya or Phuket's beaches may actually reopen.)
Beaches in the eastern province of Chonburi were closed nearly two months ago as authorities enacted strict lockdown measures to control the spread of the Covid-19 virus. Chonburi has now had no new reported cases of the virus for more than 30 days and residents are getting antsy over the ongoing beach closures.
Authorities continue to state that the closures are to prevent unlawful gatherings and the risk of people travelling from nearby provinces, such as Bangkok, thereby causing a second wave of infections. Bangkok has the highest number of Covid-19 cases in the country. Despite this, local expats and Thais are demanding that Chonburi's beaches be reopened, particularly in light of this happening in other resort areas such as Hua Hin.
The Pattaya News reports that Bangsaen beach reopening does not necessarily mean Pattaya's beaches could also reopen as that decision lies with Pattaya's civic officials. Despite Pattaya not having any new reported cases of the virus for over 40 days now, Pattaya City Hall authorities remain concerned about mass gatherings, the consumption of alcohol and the risk that social distancing measures would not be adhered to were they to reopen the city's beaches.
SOURCE: The Pattaya News
Keep in contact with The Thaiger by following our
Facebook page
.