Phuket prepared for floods with B433.5mn budget, officials say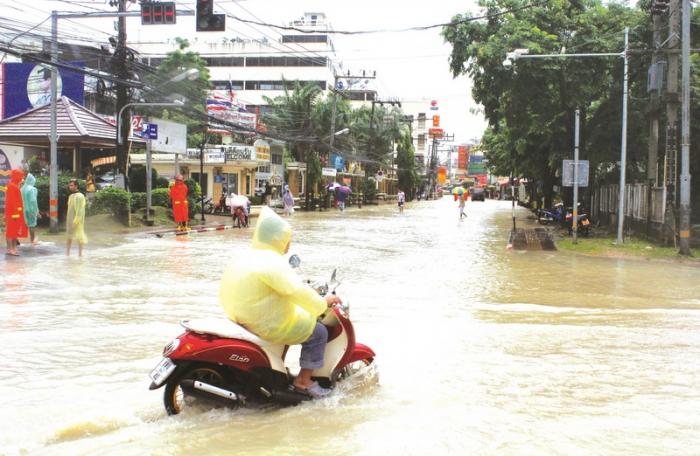 PHUKET: There will be no flooding in Patong this year, Mayor Chalermluck Kebsup told the Phuket Gazette last week following approval of a 420-million-baht budget for flood prevention in densely developed Patong.
Ms Chalermluck said she was confident that the implementation of several short-and-long-term flood prevention measures currently underway will ensure that Patong is not inundated with runoff during the monsoon rains, as it has been over the past 20 years.
Patong Police Station has been regularly inundated with flood water more than a meter deep, damaging equipment and files at the station and often crippling its operations.
"This year, the police station will not be affected by any flooding following approval of the budget from the Phuket Provincial Public Works and Town & Country Planning Office, which is to be used over the next two years to undertake a variety of flood prevention initiatives. A construction company was contracted in April to carry out the work," Mayor Chalermluck said.
"The municipality has been dredging canals and removing obstructions, such as trash blocking drainage pipes. These temporary measures have been successful and there has not been any flooding in Patong so far this year," said Mayor Chalermluck.
"However, continually clearing blockages has been costly and we are looking at better, longer-term solutions, such as building a pond in which to collect trash to prevent it from clogging up waterways," she said. "That would make dredging the canals no longer necessary."
Phase two of the flood-prevention project for Patong Municipality is to build a new culvert leading from Bang Ton Khao Khlong, in the north of Patong, directly out to the sea, Mayor Chalermluck said. The municipality will also build a flood barrier at Pak Bang Canal in the south to prevent sea water from flooding the city.
"Currently, runoff is directed down a small drainage pipe that is already 10 years old," she said. "It's too small to cope with the excess water, so a much larger underground culvert is to be built, running under Phra Baramee Road and out to sea, instead of flowing through town."
"The flood barrier at Pak Bang Canal, at the southern end of the municipality, will prevent sea water from flowing into Patong. We will also build up hillside walls along the canal in order to help prevent landslides. As an extra precautionary measure, additional water pumps will be installed across the municipality to help drain any excess water," she added.
The mayor said the municipality is planning to build a new road alongside the renovated canal, which she said would become a "local tourist attraction".
The mayor blamed old, crooked pipes leading to the water treatment plant near 200 Pi Bridge as contributors to Patong's flooding woes. Those pipes will be replaced with wider and straighter passageways as part of the two-year improvement plan.
Mayor Chalermluck assured the Gazette that the entire operation will be completed by 2018. "Some things are still in the planning stages, but construction will begin soon," she said.
Following a heavy downpour on July 19, neighboring Karon village experienced the worst flooding of the city in decades. Shops and houses opposite hillside construction sites along Patak Road were inundated with mud and water up to one meter deep.
Following the Karon flood, Phuket Governor Chamroen Tipayapongtada convened a meeting of authorities across the province to discuss flood prevention measures. Governor Chamroen ordered local authorities to monitor areas at risk of flooding.
Karon Municipality Acting Chief Administrative Officer Wanchai Saetan told the Gazette this week that village workers were still in the process of shoring up flood-prone spots.
Mr Wanchai blamed last month's flooding on a damaged water pump that sucked in trash and could not function properly.
"A large water pump has already been installed where the flooding was most severe on July 19 and three more pumps have been ordered at a cost of 500,000 baht. The new pumps should be installed within the next three months," said Mr Wanchai.
"Four other water pumps have already been installed in other locations and we have widened the drainage pipes in some areas. However, flooding is still a problem, due to trash clogging the waterways," Mr Wanchai said.
"Another problem is new housing and hotel developments filling in land with topsoil, which often blocks our natural waterways."
Mr Wanchai said municipal workers will soon install grills over drainageways to prevent floating trash from getting into the pumps, as well as dredging canals across the municipality to allow runoff to flow more freely.
The municipality is also running a public awareness campaign, explained Mr Wanchai. "We are encouraging locals not to throw rubbish into the canals and waterways. People caught doing so can be fined as much as 2,000 baht," he said.
In August last year, flash floods in Chalong caused long tailbacks and left many motorists pushing their scooters through deep water on Chao Fa West Road, in front of the TOT office.
Chalong Mayor Samran Jindaphol told the Gazette this week that his municipality was "100 per cent" prepared for flooding this year.
"We have solved almost all of the flood issues in Chalong," Mayor Samran said. "The canals in the area are constantly dredged and we have been focusing our efforts on building retaining walls to prevent landslides in potential hotspots along both Chao Fa East and West roads."
Mr Samran said some of the walls had already been built and that more are to be constructed, along with a large water drainage center to be completed by 2018.
"There will be no flooding outside of the TOT office this year," he said. "We have spent about 13 million baht on building three culverts to carry runoff. They should be completed within a week."
"Another major trouble spot in Chalong has been at Chalong Temple, where three drainage channels converge. However, those channels have now been split up, so there will be no more flooding there," he added.
While the three municipal heads admitted that heavy rains would still cause flooding in some spots, all three said they were confident that any flood waters would take no more than 10 to 20 minutes to drain away.
— Kongleaphy Keam
Keep in contact with The Thaiger by following our Facebook page.
Never miss out on future posts by following The Thaiger.
Phuket police officer charged with attempted murder for shooting and critically injuring a noodle vendor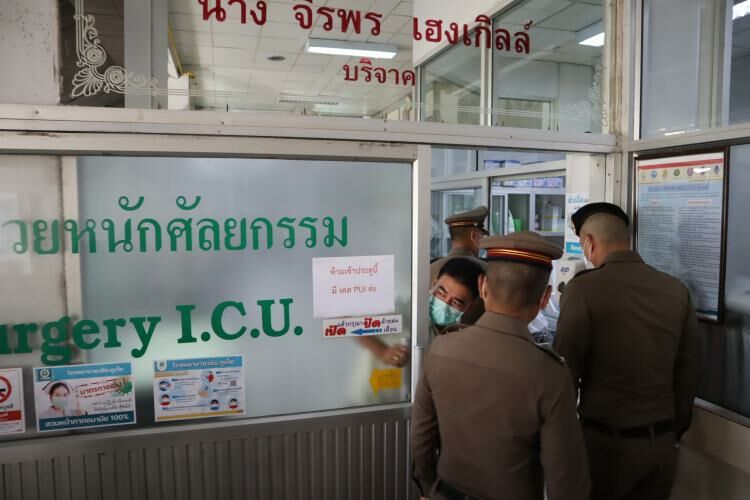 The drunk, off-duty police officer in Phuket who has caught on camera shooting and beating a noodle vendor on Bangla Road is now facing attempted murder charges as well as charges of carrying a firearm in public without a necessary reason and firing a weapon in a public area. The commander of the Phuket police station said he ordered investigators to prosecute the officer Pornthep Channarong with every criminal charge that can be applied.
The officer had gotten into an altercation just before dawn yesterday and shot a young vendor who was walking by. Surveillance camera footage show the 25 year old suddenly falling to the ground after being shot. The officer walks up and shoots the vendor at a close range, but it appears the second shot did not hit the vendor. The officer also slapped the vendor in the face, picked him up and shoved him over, and then kicked him as he lay on the ground.
The vendor has a 4 year old daughter and 3 month old son. His wife says normally he works as a motorbike driver, but he was helping his mother selling noodles. He was shot while he was walking back from collecting a noodle bowl, she says. The vendor is in critical condition and being cared for at Vachira Phuket Hospital's intensive care unit. He's in need of Type B blood.
"For his condition, the doctor told me that the bullet went through his lung. He lost a lot of blood. We need a lot of Type B blood for him."
A disciplinary investigation into the incident was launched by police and Pornthep was officially dismissed from the Royal Thai Police force. Region 8 Police Commander Kitrat Panpetch says the incident does not reflect the police force in Phuket.
"The incident was caused by an officer who did something wrong that our organisation does not want. We are a big organisation with more than 200,000 officers under our control. Our officers are not all bad like this."
Phuket Provincial Police Commander Pornsak Nuannu says he has reminded the police chiefs across the island to discuss reasons for carrying firearms in public.
"Carrying firearms is to prevent any type of crime that may happen, not to commit a crime by themselves like this incident. If I see any police doing such a thing, I will decisively proceed in terms of both officer discipline and criminal charges."
SOURCE: Phuket News
Keep in contact with The Thaiger by following our Facebook page.
Never miss out on future posts by following The Thaiger.
Thai Vietjet resumes Phuket-Chiang Rai flights, launches promotion on air fare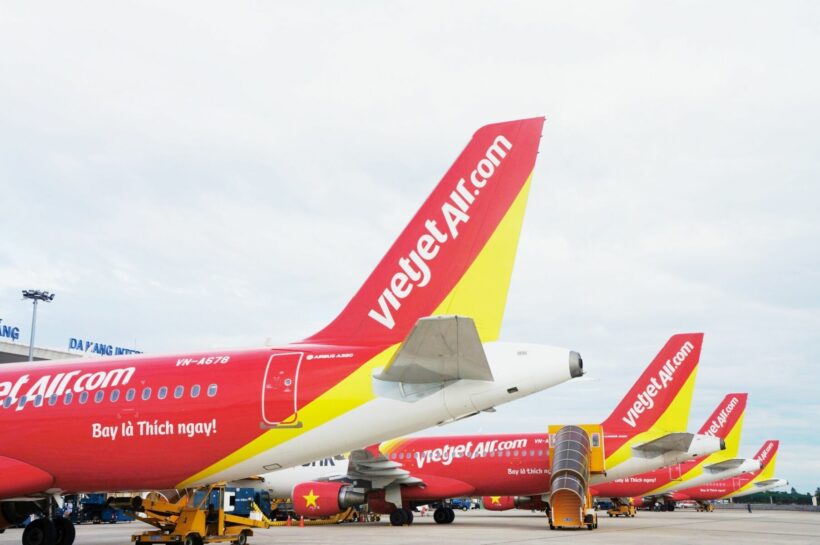 The following is a press release from Thai Vietjet on its new promotion "Welcome Back to the Sky" and the resumption of Phuket-Chiang Rai flights.
Thai Vietjet today announced the flight resumption of its domestic cross-regional service between Phuket – Chiang Rai, in response to the increasing travel demand after the government began relaxing travel measures in each province. The airline will resume the service for four (04) round-trip flights a week on Monday, Wednesday, Friday and Sunday, with the flight duration around 2 hours and 5 minutes, starting from 26 February 2021 onwards. The flight details are as follows:
| | | | | | |
| --- | --- | --- | --- | --- | --- |
| Flight No. | Departure from Phuket | Arrival at Chiang Rai | Flight No. | Departure from Chiang Rai | Arrival in Phuket |
| VZ400 | 8:15am | 10:20am | VZ401 | 10:50am | 12:55pm |
In addition, the airline also announced the resumption of other domestic cross-regional services including the flight between Hat Yai – Chiang Rai and Chiang Mai – Nakhon Si Thammarat from 19 March 2021 onwards.
Following the service resumption announcement, the airline launched special promotion "Welcome Back to the Sky", offering special fares from just THB 99 (not inclusive of taxes, fees, surcharges, and add-ons) for Thai Vietjet's flights between Phuket – Chiang Rai and the flights to/from Bangkok (Suvarnabhumi). The special fares are available for booking from 24 – 28 February 2021, with travel period between 8 March – 30 June 2021 on SkyFUN.vietjetair.com
As the COVID-19 situation is under control, Thai Vietjet has been adding flight frequency in line with the increasing demand for travel. The airline has also recently introduced its new product on SkyFUN, the 'TRIP EASY PLUS' – travel insurance with coverage of COVID-19 starting from THB 180, which provides further convenience and travel confidence to passengers to travel with the highest level of safety during the pandemic. For more information, please visit https://skyfun.vietjetair.com/insurance.
The promotional fares are available on SkyFUN.vietjetair.com, applied to Thai Vietjet's domestic flights in Thailand from Bangkok (Suvarnabhumi) to Chiang Mai, Chiang Rai, Phuket, Krabi, Udon Thani, Hat Yai , Khon Kaen, Nakhon Si Thammarat, Ubon Ratchathani and the domestic cross-regional flight Phuket – Chiang Rai. The tickets are also available on all other distribution channels including www.vietjetair.com, mobile app "Vietjet Air", via Facebook at facebook.com/VietJetThailand by clicking "Booking" tab, as well as travel agencies and booking offices. Payment can be easily made with 'True Money Wallet' and international debit/credit cards.
Thai Vietjet is committed to providing on time scheduled flights with the highest safety complied with the standards and regulations of the relevant authorities. Thai Vietjet was named the fastest growing low-cost airline in Thailand 2020 by The Global Business Outlook Award. The airline also owns one of the world's newest and most modern fleet with an average age of only 2.7 years and was awarded the highest ranking for safety with 7 stars by the world's only safety and product rating website airlineratings.com. The carrier has been strictly performing aircraft disinfection dailythroughout its fleet in compliance with Thai Ministry of Public Health.
Keep in contact with The Thaiger by following our Facebook page.
Never miss out on future posts by following The Thaiger.
4 top tourist destinations to be prioritised for Covid-19 vaccine distribution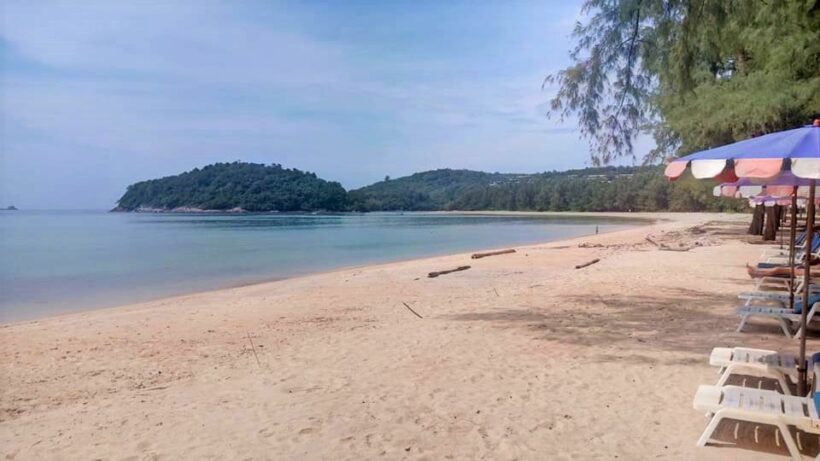 The Centre for Covid-19 Situation Administration says 4 of Thailand's major tourism destinations are to be prioritised in the distribution of vaccines. They are Phuket, Chon Buri, Chiang Mai and Surat Thani. In addition, a further 9 provinces with significant infection numbers are being prioritised in the rollout of the first vaccine doses arriving in the Kingdom today.
Taweesin Visanuyothin from the CCSA says 70,000 doses will go to the hard-hit "highest control" area of Samut Sakhon, where Thailand's second outbreak began late last year. 8,000 doses are being set aside for medical officials in the central province, along with 6,000 for frontline healthcare workers, 46,000 doses for seriously ill patients, and 10,000 doses for migrant workers and local residents.
Another 105,000 doses will be distributed to similar groups in Bangkok, in the central provinces of Pathum Thani, Nonthaburi, Nakhon Pathom, Samut Songkram and Samut Prakan, and in the western province of Ratchaburi and the Mae Sot district of Tak.
The Pattaya News reports that 14,700 doses will be sent to 4 major tourist destinations, with 4,700 going to the eastern province of Chon Buri, 4,000 to the southern island of Phuket, 3,500 to the northern province of Chiang Mai, and 2,500 going to the island of Samui in the southern province of Surat Thani.
In the case of the vaccines going to tourism spots, it is not yet known which groups will be vaccinated first, with that decision being left to the Provincial Communicable Disease Committee and other related authorities.
Meanwhile, the CCSA says other plans for the 4 tourism destinations are being considered, including the possibility of "area quarantine", which would allow vaccinated foreign arrivals to remain within certain boundaries during their quarantine period. The Tourism Authority of Thailand has been pushing for a vaccine passport policy for vaccinated visitors, while PM Prayut Chan-o-cha says the government may consider lifting quarantine restrictions for vaccinated tourists.
SOURCE: The Pattaya News
Keep in contact with The Thaiger by following our Facebook page.
Never miss out on future posts by following The Thaiger.