Phuket to host 'Global Ad Awards', maybe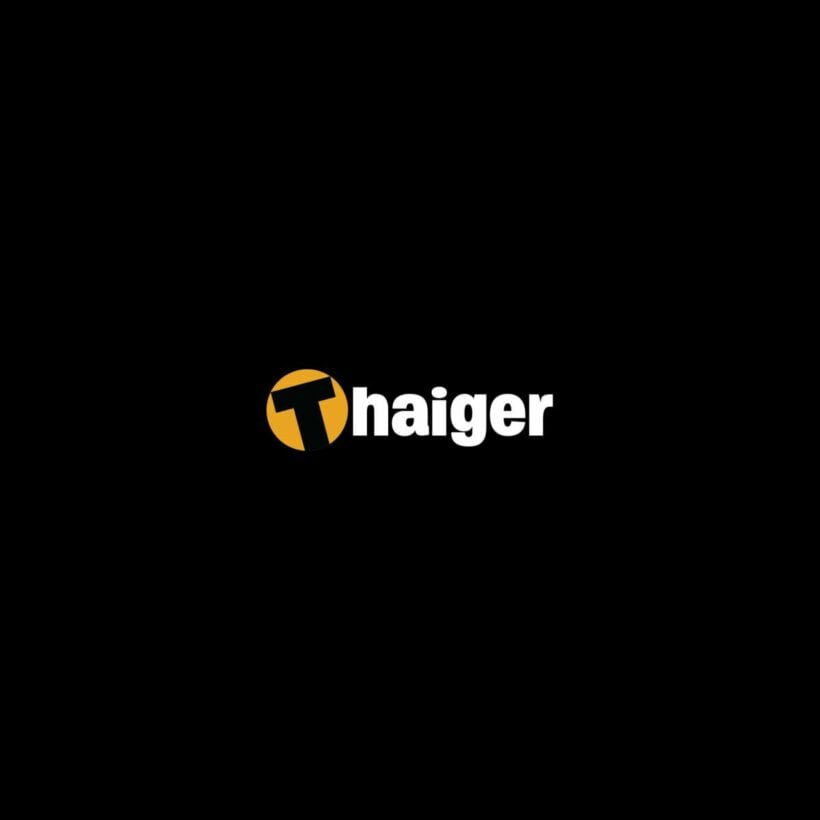 Phuket NEWS Hound
– A daily digest of news from around the world compiled by Gazette editors for Phuket's international community
PHUKET: Adman Patrick Ferrara has launched a campaign to promote 'Global Advertising Awards', to be held in Phuket in Febuary 2011, and he claims it will outdo, and eventually overtake, the 2010 Cannes Lions advertising fest.
According to Advertising Age, Mr Ferrara is holding out the prospect of the new Phuket event becoming the 'world's most coveted award' within three to five years.
The cost of entry will be lower than Cannes, and the judges will be clients instead of peers, with awards covering print, television, radio, the Internet and other media he said.
The Ad Association in Thailand is supposedly committing 16 million baht in funding to the cause.
But Advertising Age, the benchmark ad industry publication in the United States, points out that this sum would hardly make a dent in the cost of hosting the representatives of "50 of the world's top advertisers and 50 of the world's top agencies" that Mr Ferrara says he wants to bring to Phuket.
And the journal asks, "So just who is Mr Ferrara anyway?"
He apparently claims he'd be able to outdo the Cannes Lions because he helped to start them. But a Cannes Lions spokeswoman, Ad Age says, states they've never heard of him.
For more information, but not much, see the event's official website at theglobaladvertisingawards.com
But, hey – regardless of the hype, and despite the skepticism of Advertising Age and the anorexia of the official website, Phuket could benefit from the glitz, glamour, publicity and panache that could radiate from an event such as this. So why not give it a chance?
Kidnapper nabbed in Phuket
WYFF4.com
An American man accused of taking his 3-year-old to Thailand in violation of a custody order more than a year ago has been taken into custody in Phuket.
Samuel Lee Horton, 38, of Greenville, South Carolina, is being escorted back to the United States by FBI special agents. He was arrested in Phuket on Monday. Horton is expected to arrive in Los Angeles tonight (June 9) and is expected to make a court appearance on Thursday.
Investigators said Horton was charged by the Greenville County Sheriff's Office with violating a custody order involving his child on May 5, 2009.
After investigators learned that Horton had taken the child out of the country, a federal warrant for his arrest for 'unlawful flight to avoid prosecution' was issued.
Further investigation into the matter led to the issuance of a federal grand jury indictment for fraud in connection with a passport he secured for the child.
Horton faces a sentence of up to 10 years imprisonment if convicted of these offenses.
Assistant U. S. Attorney David Stephens commended FBI Special Agent Lisa Quillen for her efforts in locating Horton and insuring the safe return of the child.
Expat deals at Panwa Phuket
Focus on Travel News
The Bel Air Resort & Spa at Cape Panwa in Phuket, which says it offers "the largest and most spacious ocean view suites in Phuket", is offering a 'Thai Resident Promotion' (for Thais and expatriates based in Thailand) with rates starting at just 1,900 baht per suite per night.
The offer is for a two-bedroom Luxury Suite with two bathrooms, a living room, kitchen and large terrace for the entire family. The rate is valid until Oct 31 and requires a minimum stay of two nights.
The Thai Resident Promotion also offers two-bedroom Plunge Pool Suite or a two-bedroom Pool Access Suite for 2,900 baht per night, and a 3-bedroom Suite for 3,500.
All rates include breakfasts for 4-6 persons.
For more information or to book, see res@belairpanwa.com
Media sensationalized protests
Travel Daily News
Following the political tensions on the streets of Bangkok, the challenge for the Thai tourist industry now is to help travelers distinguish between the perceived threat and the actual threat.
"Protests in Thailand are very compartmentalized and very contained, but that impression is difficult to convey when headlines suggest the worst. And the headlines from May are still with some travelers," says Mark Siegel, CEO of Bangkok-based tour operator GolfAsian Co Ltd.
The Sydney Morning Herald also suggests media headlines surrounding the event were sensationalized, reporting in a June 5 story from Phuket: "The Australian government's travel warnings to the whole of Thailand seemed overkill at best."
Tourism stats suspect
TTRWeekly
The Ministry of Tourism and Sports has released details of tourist arrivals at all checkpoints for the month of May, as well as the first five months of the year.
Despite a curfew and violent clashes in Bangkok, Thailand still welcomed 821,090 visitors last month, representing a 11% decline on 923,916 visitors recorded in May 2009.
Overall, the country's performance improved 16% in the first five months of the year, with 6,563,099 visitors compared to 5,654,541 visitors during the same period in 2009.
Based on the ministry's data, May was the only month showing a significant decline, with April down just 0.16% and March up 16.35%.
However, private sector representatives are critical of the ministry's data, claiming it is inaccurate and out of date.
— Gazette Editors
Want more from the Thaiger family?
📱 Download our app on Android or iOS for instant updates on your mobile
📧 Subscribe to our daily email newsletter
👍 Like/Follow us on Facebook
🔔 Subscribe to or Join our YouTube channel for daily video updates
Phuket restrictions and bans to stay in place until end of May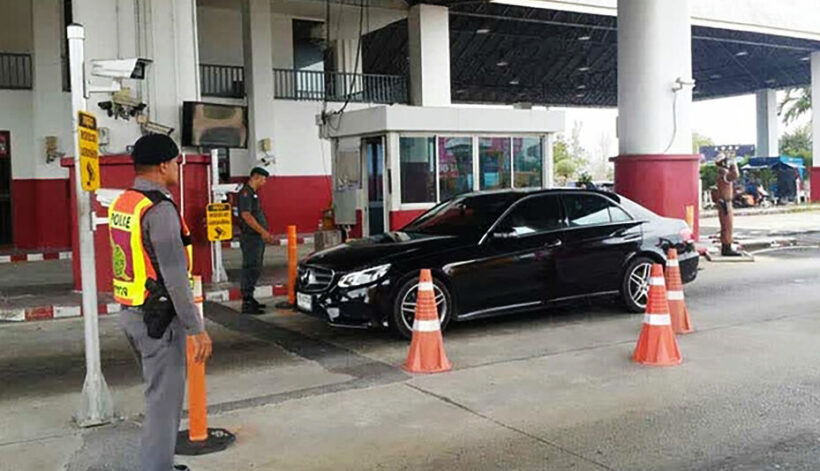 Phuket's list of current 'Covid' restrictions have been extended until at least May 31. All the current levels of restrictions will remain until the end of the month after the Phuket Governor announced the continuation of restrictions this afternoon.
Daily new infection numbers continue to add to the island's total of 556 since the start of April. The island's latest wave started after a series of events, mostly Bangkok partygoers flying down for parties at Café Del Mar in Kamala, Illusion and Shelter, both in Bangla Road. The parties were organised by a Thong Lor based events company called Kolour. The daily numbers, whilst relatively stable, have not been going down as officials were hoping.
The announcement also puts any hope of a July 1 'quarantine free' tourism opening in severe doubt. The island's vaccine roll out has also slowed since the initial flurry of enthusiasm. Only 22% of Phuket's population has currently been vaccinated (a long way ahead of the rest of the country) whilst the minimum vaccination level has to reach 70% according to the Government before they will entertain the 'Sandbox' opening proposal.
Entry to the island, by road or air, will remain restricted and anyone without proof of vaccination or a current PCR Covid test (within 72 hours) will have to do a full 14 day quarantine period (after May 15). The rapid Covid tests that were being conducted at the airport and Tha Chatchai Checkpoint are being stopped from this Saturday.
Notably, following the story of foreigners in Cherngtalay being fined 6,000 baht each for hosting a party at their home on Sunday night, the ban on gatherings and parties will continue.
Meanwhile, the island has reported its first death during the third wave of cases since the start of April, and a new cluster of infections in the Phoon Pon district in Phuket Town. The man that died was a 71 year old man who died yesterday morning.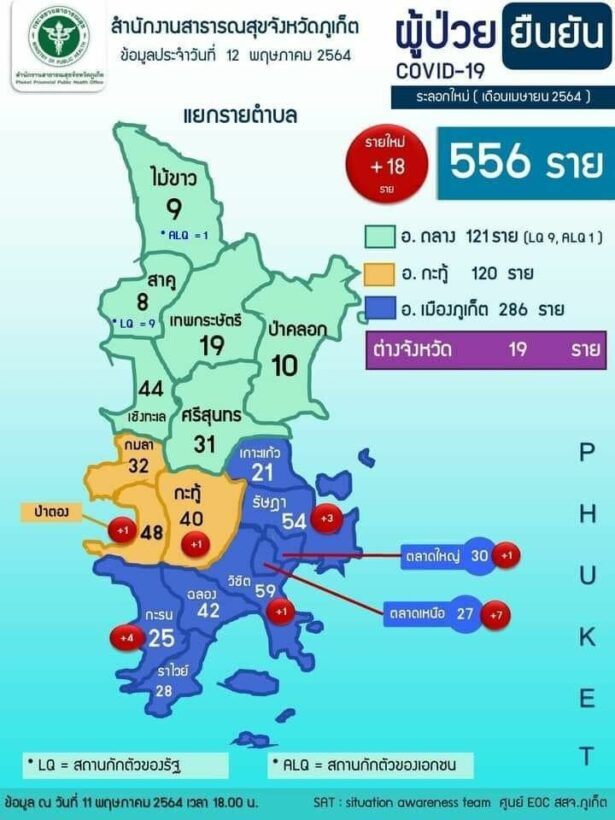 Want more from the Thaiger family?
📱 Download our app on Android or iOS for instant updates on your mobile
📧 Subscribe to our daily email newsletter
👍 Like/Follow us on Facebook
🔔 Subscribe to or Join our YouTube channel for daily video updates
Covid-19 infections cast doubt on plan to reopen Phuket July 1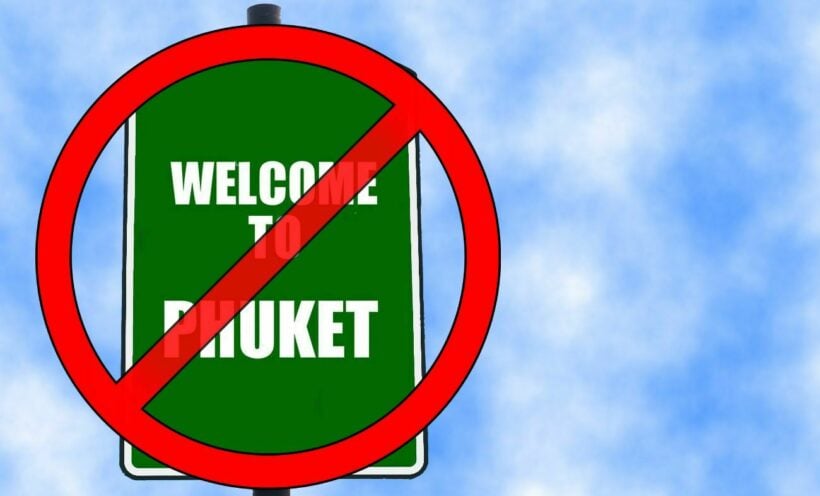 With surging Covid-19 infections, the original plan for Phuket to reopen the international border to tourism on July 1st without quarantine may be unlikely. The governor warned today that the plan may be in jeopardy if they don't reach the proposed May 15 goal of reducing infections to less than 10 each day. Governor Narong Woonciew called on everyone to work together to keep the infections down as the current rate of 10 to 15 per day will almost definitely delay the sandbox plan for international visitors to arrive in Phuket without quarantine in July.
Daily infections are on the rise in Phuket and high-risk people in local quarantine are still spreading infections, according to the provincial health officer's assessment of the Covid-19 situation. During proactive screening an active case finding, new clusters of infections continue to be uncovered, a problem that has been attributed to continued partying and social gatherings that violate current Covid-19 restrictions. The health officials warned that, as a result, more aggressive actions may be necessary to control the spread of the Coronavirus in Phuket if it is to reopen in July.
Under the current restrictions of the Covid-19 emergency decree, even two people that aren't from the same household joining together for socializing or mingling could be considered a gathering and punishable with legal action. Officials are speaking out about the threat of more Covid-19 outbreaks due to large gatherings, citing several events that were broken up recently.
One such group in Phuket garnered a lot of attention online with many people surprised that it was considered a gathering and busted up. A group of six British and Thai people that the police raided yesterday at a home in Thalang were reportedly drinking and celebrating. This is a violation of the disease decree and local Covid-19 safety measures, and 2 British nationals were charged a 6000 baht fine each.
SOURCE: The Pattaya News
Want more from the Thaiger family?
📱 Download our app on Android or iOS for instant updates on your mobile
📧 Subscribe to our daily email newsletter
👍 Like/Follow us on Facebook
🔔 Subscribe to or Join our YouTube channel for daily video updates
30 year old Thai woman found dead in car in Patong from apparent suicide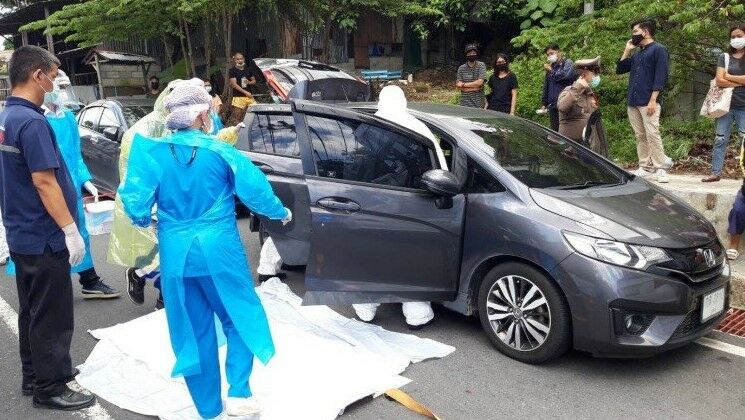 The Thaiger acknowledges that the names of the family and the contents of a suicide note were published in error in an earlier version of this story. We have spoken to the writer and can assure readers that this will never happen again. We apologise for the distress caused.
A 30 year old Thai woman has been found dead in her car, in Patong, from an apparent suicide. The woman's car was parked by the side of the Sirirat Road, which links Patong and Karon. Police and rescue workers arrived at the scene to find the body of 'Kanokwan' (surname withheld), slumped in the driver's seat of a Phuket-registered Honda Jazz.
Police say they found an electric pan with burnt charcoal behind the driver's seat in the back. They say this was the cause of death as she likely died from asphyxiation. They also say they found a suicide letter.
The woman's mother 'Boonlap' says that she has accepted her daughter's death was from a probably suicide. Her body was taken to Patong Hospital for further examination before being released to her relatives for a funeral.
It is not known whether the Covid pandemic had any effect on Kanokwan but job losses, bankruptcies, sickness and fear are just a few of the side-affects during the Covid-19 pandemic.
For many in Thailand and all over the world, this has a profound impact on the mental health of everyday people. The suicide rate in Thailand has also seen a spike, with 22% more suicides recorded in the first half of 2020 when compared to the same period in 2019. A sharp increase not witnessed since the 1997 Asian Financial Crisis.
Even before the pandemic struck, Thailand was on record as having the most suicides of any country in SE Asia. As per WHO data, in 2019 Thailand's suicide rate was 14.4 per 100k population, compared to a global average of 10.5 per 100k population.
If you or anyone you know is in emotional distress, please contact the Samaritans of Thailand at their 24-hour hotline 02-713-6791 (English), 02713-6793 (Thai) or Thai Mental Health Hotline at 1323 (Thai).
SOURCE: The Phuket News
Want more from the Thaiger family?
📱 Download our app on Android or iOS for instant updates on your mobile
📧 Subscribe to our daily email newsletter
👍 Like/Follow us on Facebook
🔔 Subscribe to or Join our YouTube channel for daily video updates