Phuket Police vow to protect voters, despite manpower shortage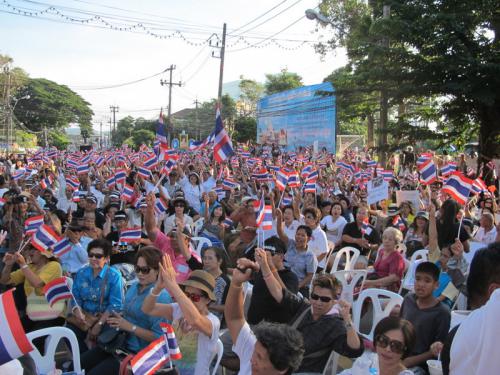 PHUKET: Despite a shortage of officers, the Phuket Provincial Police have vowed to protect voters from any violence on election day with a special task force.

The group of 41 officers will be made up of five fast-response inspectors, 18 undercover officers and 18 officers on standby.

"Officers manning the polling stations have been instructed not to interfere with peaceful protesters, even if they are blockading the polls. However, should an emergency break out, backup officers will be ready to respond," said Phuket Provincial Police Commander Ong-art Phiwruangnont.

Last Sunday, protesters marched on advance voting stations (story here), causing Phuket Election Commission (PEC) Director Kittipong Thiengkunakrit to close the polls to avoid any violent confrontations.

"We don't want any problems at the polls, and we will avoid any possibility of a fight," Mr Kittipong said.

Though Thai law requires two police officers per polling station on election day, Phuket stations will only have one.

"We asked for two officers per station, but there are 363 polling areas on the island and not enough available officers," said Mr Kittipong.

Anyone defying the law – for example, selling alcohol during prohibited times (story here) or buying votes (story here) – will be arrested, Mr Kittipong said, adding that it was against the law for candidates to provide transportation for voters to polling stations.

"It is also illegal to prevent people from voting in the elections. The penalty for doing so is five years imprisonment, up to 100,000 baht fine or both," said Mr Kittipong.

Mr Kittipong is in a meeting today with Phuket Vice Governor Somkiet Sangkaosuttirak to strategize a response to potential blockades by anti-government protesters.

"At this stage we are not ready to reveal any further information about our plans," Mr Kittipong told the Phuket Gazette.
— Saran Mitrarat
Keep in contact with The Thaiger by following our
Facebook page
.
Phuket university's safe-sex campaign attracts 390 volunteers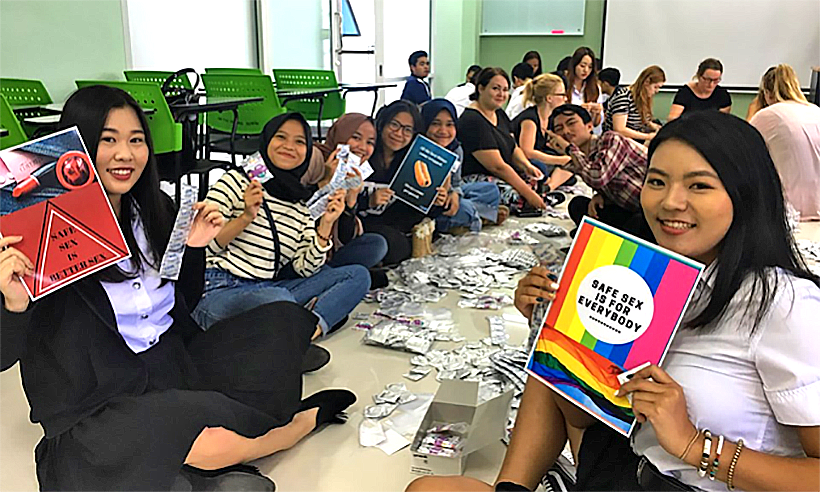 Yesterday, saw the return of Prince of Songkhla University's Safe Sex Campaign. Now in its third year, some 390 PSU students turned up to support the campaign by making safe sex packs, which are then distributed free to bars in Patong. The safe sex packs include a condom and lubricant.
It was the biggest turn-out of students since this corporate social responsibility program began 3 years ago. It was supported by students from all over the world, including many students studying the University's intercultural communications course. 
Carex, the company who very kindly donate the condoms, shipped 60,000 condoms to PSU for the big day yesterday. Students then worked together to put the condoms together with lubricant and information on HIV testing, into packs for distribution. In the past this activity has always been well attended but yesterday saw the highest number of students taking part.
A whopping 40,000 safe sex pack were completed with 2 hours as 6 rooms on the campus were taken over as the students kept turning up to be involved.
The organisers would like to thank the PSU students for helping promote safer sex on the island of Phuket.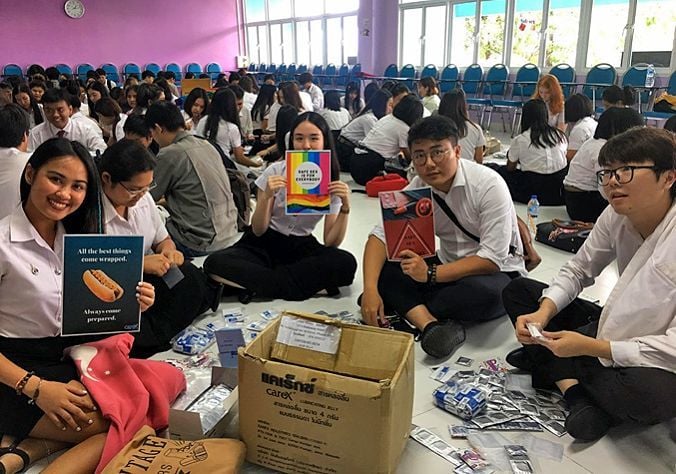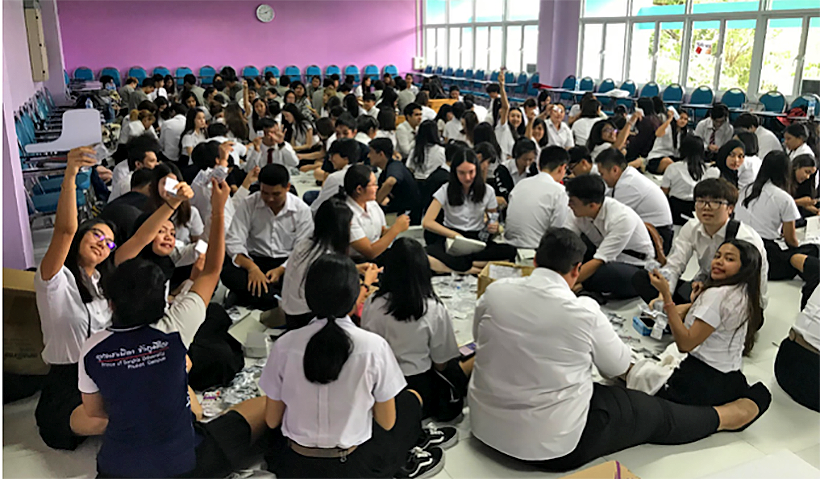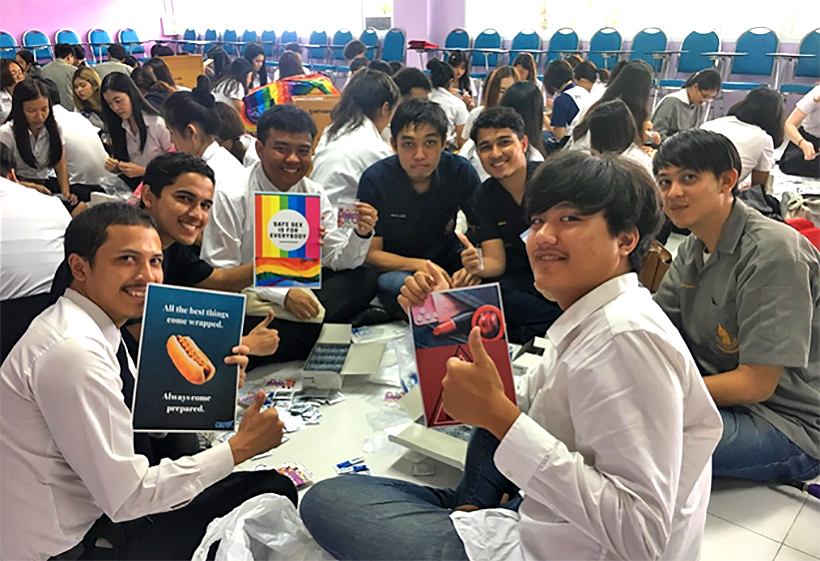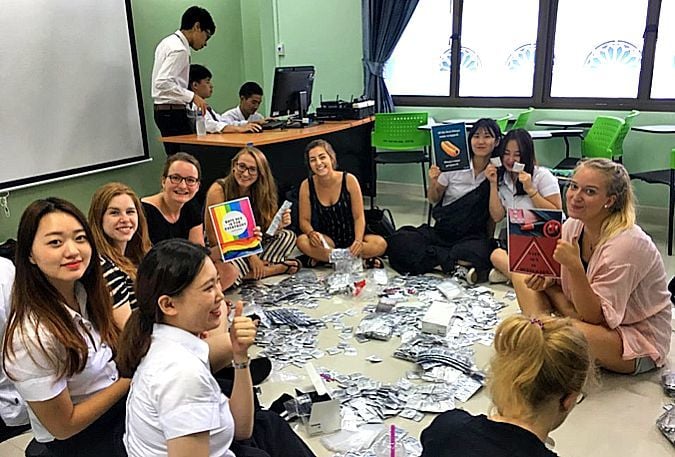 Keep in contact with The Thaiger by following our
Facebook page
.
New branding for the old town – tweaking Phuket's Old Town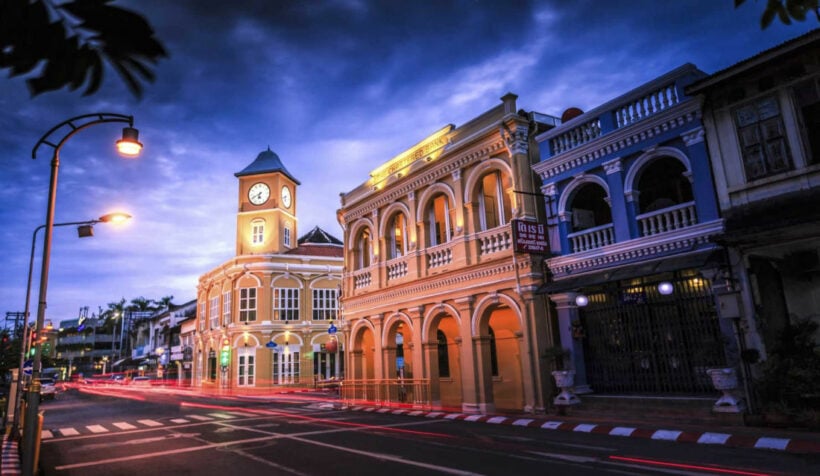 PHOTO: Many renovated buildings and putting the crappy overhead cabling underground  is bringing the old town alive
Though Phuket remains among the world's most popular tourist destinations, injecting some 477 billion baht to the Thai economy, with its "Pearl of the Andaman Sea" branding, its future status is being questioned due to competition from Indonesia and Vietnam.
In response, Phuket is making a move to focus on the city's "Old Town" to attract more tourists, along with an "Endless Discovery" branding campaign to highlight the variety of local tourist options.
Don Limnantapisit, the president of the Phuket Old Town community, says most tourists have visited just about everywhere in Phuket but often bypass the Old Town.
Though the Old Town area has for 15 years encouraged tourist visits so that it wouldn't disappear from Phuket's map, only in the past two years has it seen much success in attracting tourists – thanks to the power of social media.
As well, CNN recently included Old Town on its list of Asia's 13 most picturesque towns (it's also in The Thaiger's list of Asia's Top 10 Prettiest towns).
Thailand's Fine Arts Department and Phuket are working on a plan to register Old Town as a UNESCO World Heritage Site. The new "Phuket Endless Discovery" branding aims to tease the curiosity of travellers, said the president of the Phuket Tourism Association, Bhummikitti Ruktaengam
Statistics show a significant growth in travellers for meetings, incentive travel, conventions and exhibitions (MICE)  in Phuket. The figure for 2018 showed an increase to 2,216,230, up 168% from 2017, bringing in 19.5 billion baht.
SOURCE: The Nation – Pornpilin Julapan

PHOTO: phuketoldtownhostel.com
Keep in contact with The Thaiger by following our
Facebook page
.
And the new Phuket mascot is 'Nong Joong'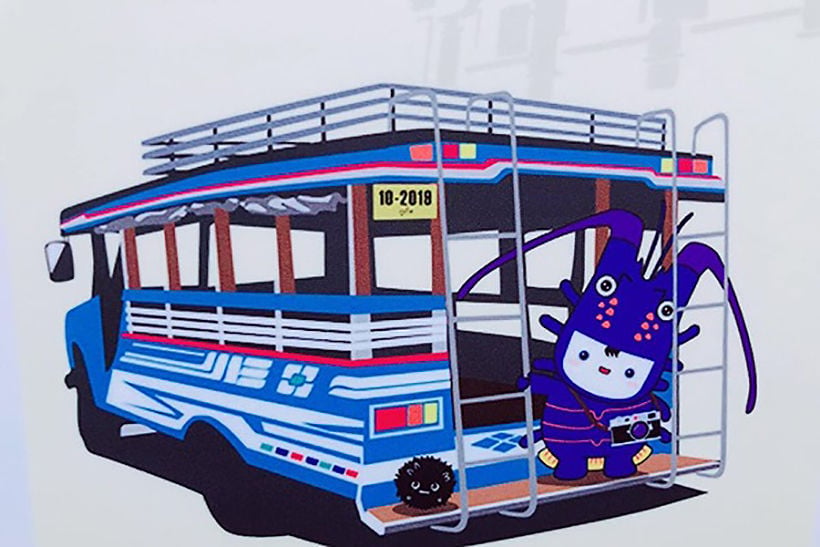 PHOTOS: Phuket Hot News
The Phuket mascot has officially been announced and the winning mascot is 'Nong Joong' – a baby lobster created by Jin Sataponsathitsuk, who received 100,000 for his efforts.
The baby lobster mascot represents a naughty kid who loves eating, exploring, and loves learning new things. His goal is to discover Phuket through fun activities, delicious food and great experiences. His best friend, Umi, a baby sea urchin, keeps calling him Joong, instead of Goong (that means prawn in Thai).
The mascots are expected to be the representative and symbol for Phuket tourism and will welcome tourists from all around the world. The organisers laid out the concept of the mascot, saying that it had to be "outstanding, beautiful, charming, impressive and approachable".
The event was organised by the BIC Event Group. Earlier when the contest opened, there were more than 200 pieces of art submitted from many provinces across Thailand.
Phuket's Governor chaired the award ceremony and handed out the prizes to the winners. Apart from first prize winner, Nong Joong, the second prize went to 'Nong Ang Lai' created by Panatratha Sae-Eung – a 12 year old girl who has pineapple head. The pineapple represent the 'lucky fruit' and also Phuket signature fruit. Nong Ang Lai is a playful and friendly character and wears a Chinese red dress, considered a lucky colour in Chinese culture.
The second place winner received a 20,000 baht prize, who also won the popular vote prize by Phuket Tourism Association.
The winner of the competition received a Bangkok Airways round trip ticket for Bangkok – Phuket and 3 nights complimentary stay at Baba House Phuket. The third place winner was 'Andaman Boy' created by Thani Muannut, who received a 10,000 baht prize.
SOURCE: Phuket Hot News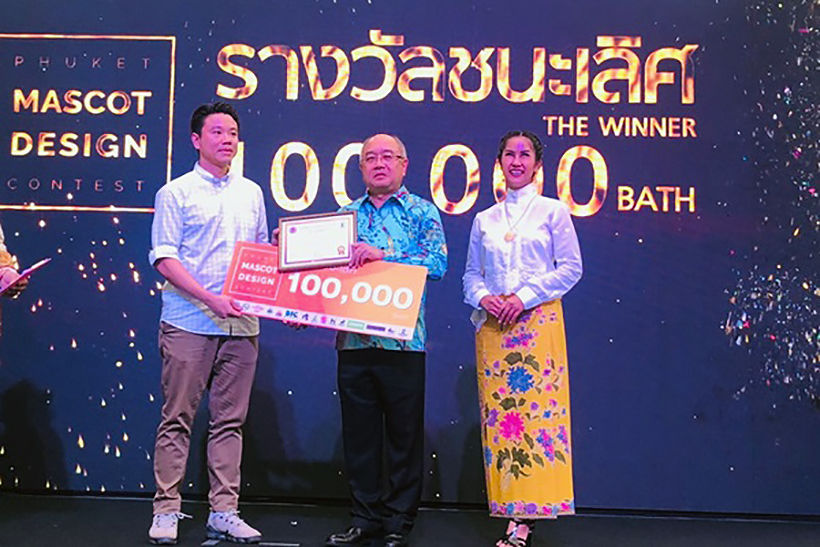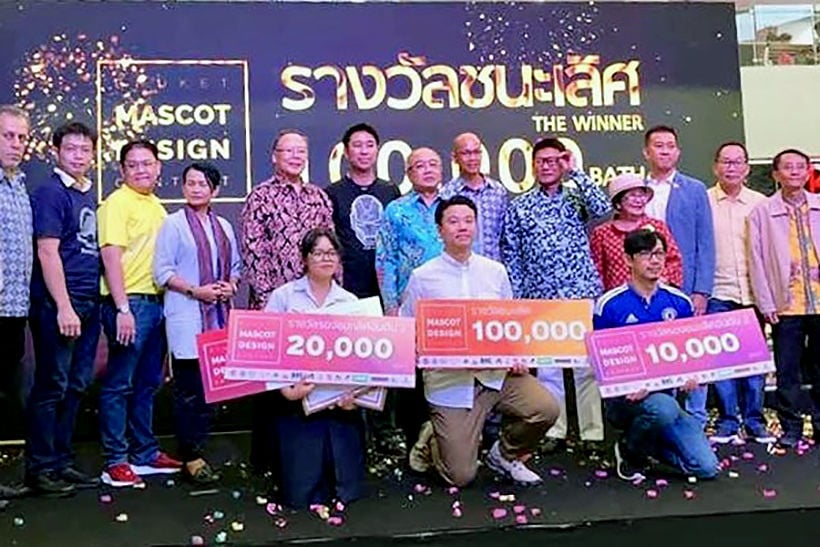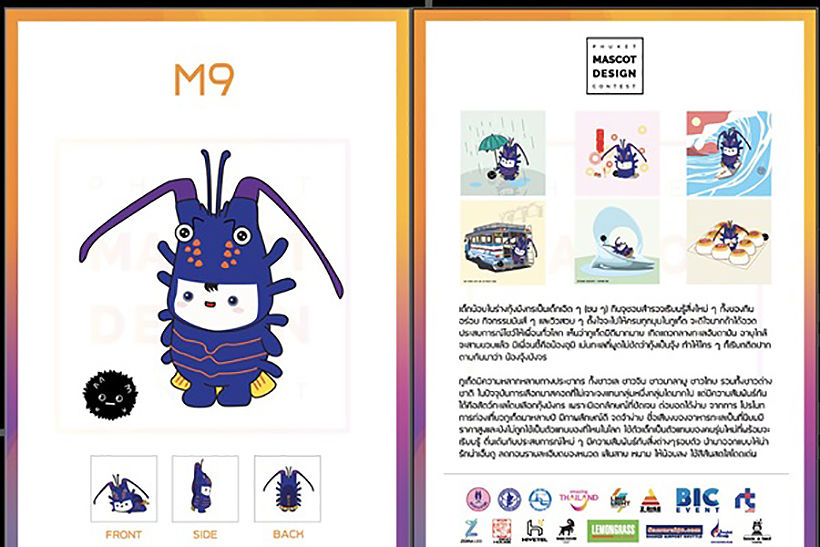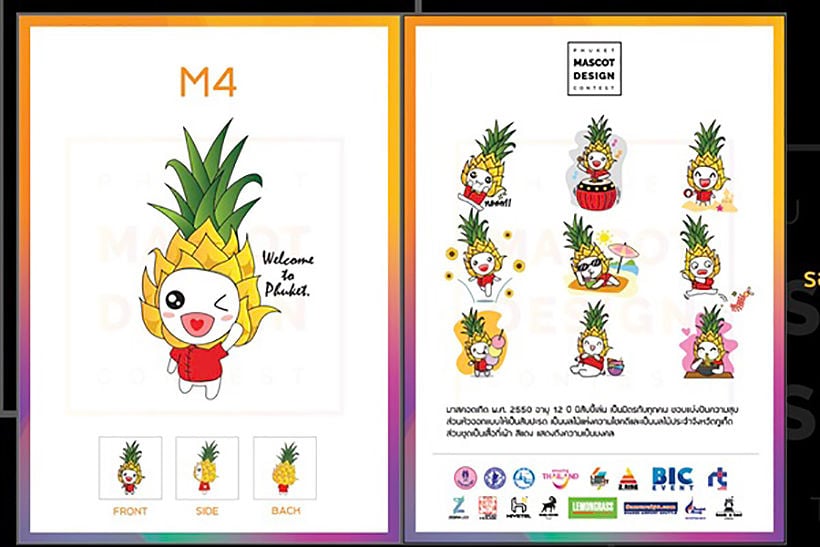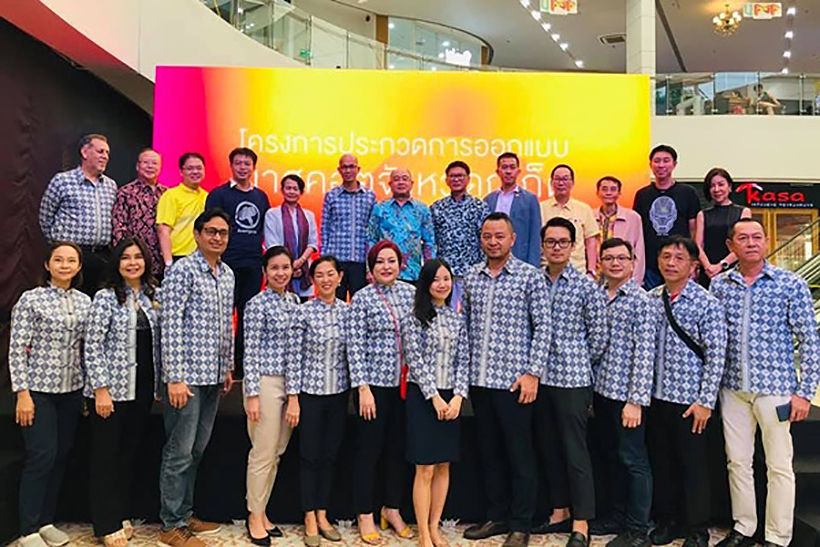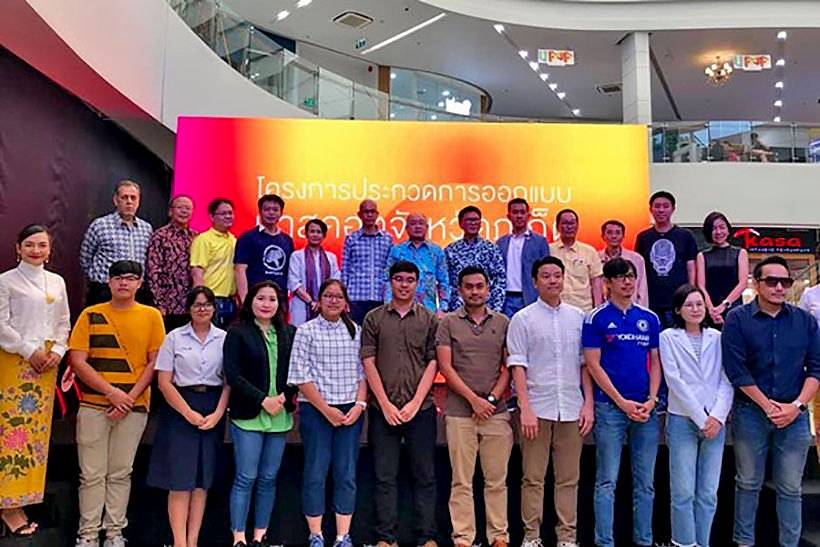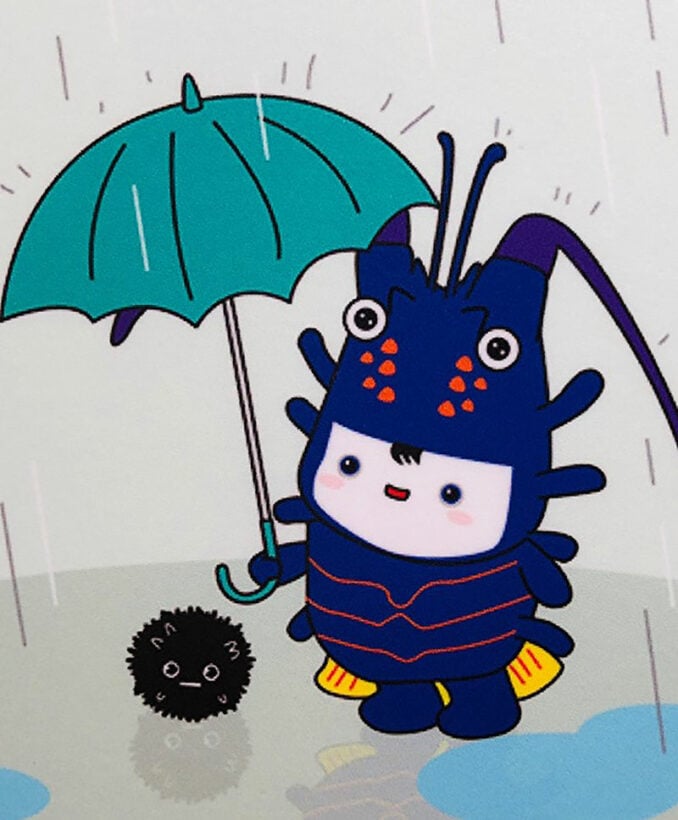 Keep in contact with The Thaiger by following our
Facebook page
.