Phuket Live Wire: An update on international download speeds in Phuket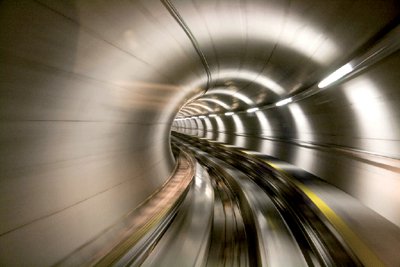 PHUKET: Time for an update on how Phuket's doing for real world, measured international internet speeds. I'm not talking about the advertised 10 megabits or 100 megabits-per-second lines that only exist in marketing drivel and a few internet service provider's fantasies. I'm talking about speeds that you and I are measuring, in the wild, right here, every day.
The short headline: we're doing well, but you can waste a lot of money if you aren't careful.
The crowdsourced internet speed site, PhuketInternetSpeed.com, is unique in all of Asia, I believe. Hundreds of people all over the island have signed up, and take a minute or so to measure and post their international internet download speeds. We all use the same test, to the same location, so the results are more-or-less replicable. The graph you see on this page is indicative of the 3,000 observations that were posted between November 1, 2011 and February 19, 2012.
I say "indicative" because there are a few gotchas, which I'll describe below.
First, I downloaded the database. You can download the entire database, too, any time – just click on the link that says Download. There are more than 25,000 recorded observations.
Then, I removed items that were obviously not intended for this analysis – mostly measured download speeds to Bangkok, conducted by people who are using the ISP's speed test sites and other sites hosted by a company called OOKLA. As I've explained before any test you run that uses the OOKLA speed test engine is really just going to Bangkok, even if you think it's going to London or Oslo or Madrid.
I also took out a fair number of tests conducted from places other than Phuket. It's interesting to see how people in Bangkok and other upcountry locations are doing with the same internet service providers, but they aren't included in these figures.
I also removed the "0" posts – ones that indicate the service wasn't working at the time. We're still seeing sporadic outages, but most of them are local (for example, a telephone pole gets whacked by a car). The widespread outages involve wireless services, and they're not common.
Then I tallied up the average download speeds reported for the most popular internet service packages, with one exception. I didn't include any reports for 3BB. Why? Because 3BB has gone to great pains to make its speed test results in our tests faster than their typical international speeds.
If you look at the data, here's what you'll see:
The first two speeds reported are wireless. AIS's "3G" HSPA system continues to deliver the fastest 3G international download speeds on the island, at about 1,000 Kbps. TrueMove-H shows disappointing results, around 800 Kbps. Why disappointing? The technology TrueMove uses, called HSPA+, is capable of running much faster than AIS's HSPA. Unfortunately, True isn't working hard enough (or spending enough money) to open up its international data lines. Yet another case of bigger and better technology getting knee-capped by inadequate infrastructure.
There are two more wireless services offered in Phuket: DTAC HSPA+ and CAT's new HSPA+. We've had very few reported speeds from DTAC and CAT connections, but the few we've seen have been very good. Both TrueMove and DTAC use the CAT towers and equipment, so it's likely that more data points will make DTAC and CAT look more like TrueMove, and less like AIS.
CAT's old EV-DO wireless system is still kicking at around 600 Kbps (not on the graph). There are lots of old EV-DO customers on the island, but you can't buy it any more. CAT's much more interested in selling you a new 3G+ account.
The next two speeds are new to my published reports. Island Technology's reputation for reliability is quite good though their international download speeds, averaging 900 Kbps, aren't anything to write home about. Rawai Cable, at 400 Kbps, is the slowest land line in this report. We don't have enough data from Patong's PA Cable to draw a comparison, but I believe both use CAT as their internet supplier.
The TOT numbers reinforce what I recently wrote about TOT's apparent throttling of all of its international data lines at the same speed. That Live Wire column explained why it isn't worth paying extra for expensive TOT fiber optic lines if you're using the internet primarily for international access. In fact, TOT still seems to be throttling all of its lines at the same speed.
More than any other ISP, TOT has come up with a plethora of packages, promotions and prices. At this moment, as best I can tell, they don't offer a 4 Mbps or 8 Mbps or 10 Mbps package – all of which have been discontinued – but they do offer 6, 7, 9, 12, and 15 Mbps packages. Apparently consumers are being switched from one package to the next without being notified.
In our island-wide tests, there's very little difference among the TOT ADSL packages: all of them deliver about 1,200 Mbps on international downloads. The wireless/wired AirMax Winet package is doing quite well, at 1,400 Kbps, if you're trying to get a connection inside the areas where it's available.
TOT is now advertising a High Speed 2 package rated at 7 Mbps for 390 baht per month. Our speed tests show it's running about 800 Kbps, which isn't bad at all for the price. Of course, if the package proves popular, TOT may start throttling the cheapie package. But if they're throttling all of the other packages at the same rate, maybe they'll just let the 7 Mbps package get swept up by the same broom.
The biggest disappointment continues to be TOT's Fiber Optic line. Back in May, we were seeing download speeds in the 10,000 and above range. Now it's down to 1,200 Kbps average international download, and there's very little difference between the 10Mbps/1Mbps package (at 1,490 baht per month), the 20 Mbps/2Mbps package (at 2,420 baht per month), and the "Corporate" versions of both of those packages ( 5,290 baht and up). It's worth emphasizing that the speeds to Bangkok are very fast, from what I've seen. But if most of your work is with international sites, there's very little difference between a 2,420 baht Fiber 2U line and a 390 baht one.
True's 10 Mbps ADSL line continues to offer good speeds, 1,500 Kbps on average, at a decent price. True's Ultra DOCSIS – the service that's delivered over coax cables, like TV, is holding its own at about 1,200 Kbps, but it isn't available everywhere.
If you aren't yet reporting your internet speeds, join us! The only way we can all keep tabs on the internet situation in Phuket is if everybody – yes, even those of you with 390 baht/month lines – take a few minutes every day to check and post your speed. It's easy. Sign up at PhuketInternetSpeed.com, and if you have any questions, email me at [email protected].
With Woody hunkered down writing a book, the weekly Computer Clinics are taking a new turn. Until Woody emerges with an 860-page copy of "Windows 8 All-In-One For Dummies" under his arm, around May or June, Seth Bareiss will hold computer sessions every-other Wednesday afternoon, from 1 to 3pm. If you have a Windows problem that needs to be solved, drop by one of Seth's free afternoon sessions at the Sandwich Shoppes. Details in the Phuket Gazette Events Calendar.
The sessions are sponsored by the Phuket Gazette and Khun Woody's Sandwich Shoppes.
Live Wire is Gazette columnist Woody Leonhard's weekly snapshot of all things internet in Phuket.
Follow him on Twitter: — Woody Leonhard


Read more headlines, reports & breaking news in Phuket. Or catch up on your Thailand news.
Swiss man accused of overstaying visa and theft charges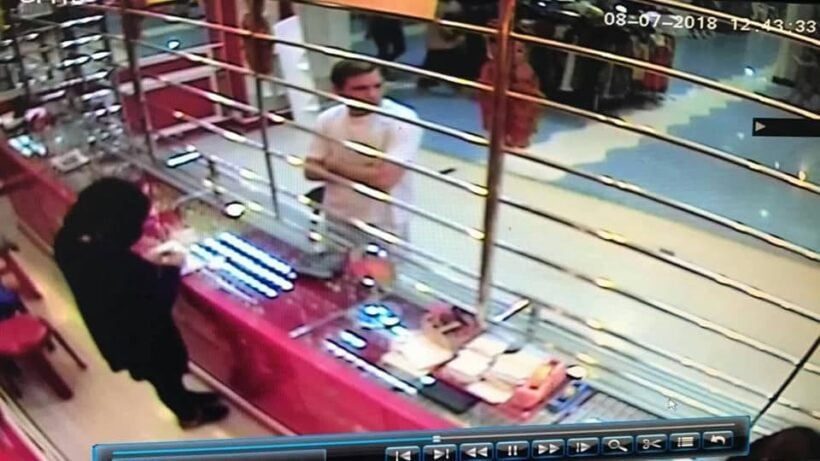 by Kamthon Kongsombat
PHOTO: Security footage from the Phuket jewelry store in December 2018 – Facebook
The Immigration Bureau says they're going to blacklist and deport a Swiss man who overstayed his visa and is also accused of series of thefts in Nongkhai and Phuket.
The Nongkhai deputy immigration police chief Colonel Prasit Somjaiprasong says that Julien Andre Junior Cotting, a 25  year old Swiss national, was arrested yesterday at a guest house near the Mekong River in Nongkhai on theft charge.
He was arrested after 42 year old Sai-arun Konwan, the owner of the Chorfah Gallery Hotel in Muang district, filed complaint with police that a foreigner had stolen her bag that she left in the hotel's lobby on January 8.
She told police that she noticed Cotting having coffee in the lobby. Security camera checked later showed the suspect picking up her handbag and leaving on a rented motorcycle.
The handbag contained 1,000 baht cash, an ATM and other credit cards as well as other important documents.
Sai-arun said Cotting was a regular customer at the hotel's coffee shop.
After the complaint, police searched for the suspect and noticed a suspicious-looking foreigner at a guesthouse. His passport revealed that he was Cotting and he had overstayed his visa.
After Sai-arun identified the suspect it was found that he had an outstanding arrest warrant on a theft charge in Phuket province where he allegedly stole a diamond ring in December, 2018.
Cotting faces charges of theft and overstaying his visa and will be prosecuted and deported, immigration authorities said.
ไชยยศ ไชยพฤกษ์ covered the story in Phuket last year. Here's one of the photos from that post…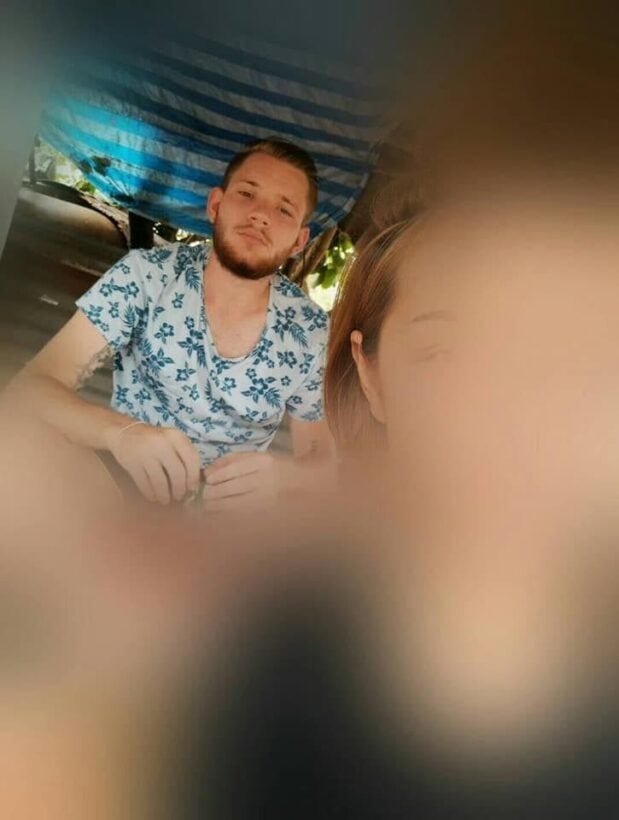 SOURCE: The Nation
What to do if a pet tests positive for Rabies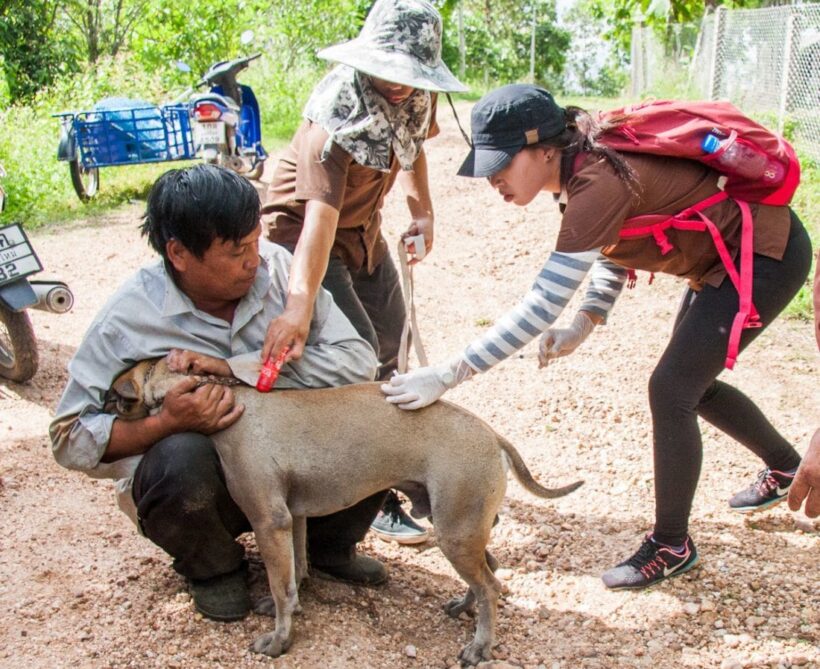 PHOTO: PR Department
An announcement about animals in a Rabies Outbreak Zone.
These are things that pet owners must do when it has tested positive for rabies.
• Pet owners must follow Animal Epidemics Act 2015.
• No person may move an infected animal or carcass specified in such announcement into, out of, through or within such zone unless they have written permission from the veterinarian who is responsible for such area.
• Anyone who does not follow the guidelines shall be fined up to 40,000 baht or jailed up to two years.
In any event, follow the guidelines of your local vet and consult the authorities in such a situation.
A district livestock development office in Phuket province has announced a Rabies outbreak zone in the Chalong area yesterday.
Read more about the establishment of the 'zone' HERE and a response from the Soi Dog Foundation HERE.
Soi Dog Foundation responds to Rabies outbreak zone in Chalong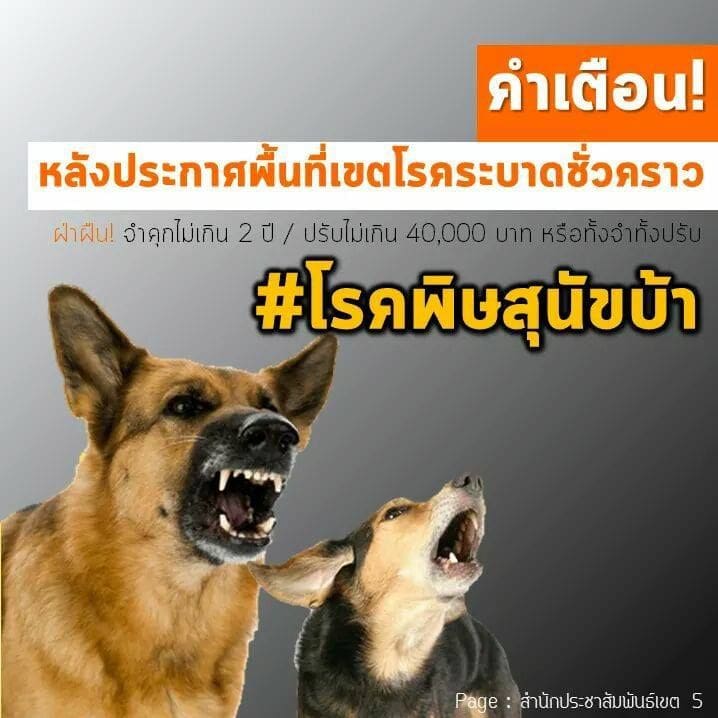 Following the announcement form the Phuket Livestock Development Office that a rabies outbreak zone was set in Chalong area yesterday (January 17), Soi Dog Foundation Co-Founder, John Dalley, explained about the incident as the dog, which was indeed infected with rabies, was sent to Soi Dog Foundation for treatment after it was found very sick. It is the first dog which was found positive for rabies after several years in the one and only 'Rabies Free' zone of Thailand – Phuket.
A district livestock development office in Phuket province has announced a Rabies outbreak zone in the Chalong area yesterday.
Read more HERE.
"A dog was brought into Soi Dog by our dog catchers after it was reported to be vomiting and unable to stand," said John Dalley.
"It received treatment for several days but did not respond, and symptoms of staggering and being unable to open its mouth, and head tilted to one side led our veterinary staff to suspect rabies as these are classic symptoms."
"The dog was euthanised and its body sent to the Government testing laboratory. The result indicated that the dog was positive to rabies, the first positive case seen in a dog on Phuket for many years."
Right after the rabies was detected, Soi Dog Foundation has worked closely with the local Livestock Development Office in order to control the situation.
"Soi Dog are working closely with the Department of Livestock to vaccinate all dogs within a 5 kilometres radius of where the dog was picked up. Soi Dog will focus on strays and the DLD on owned dogs."
He urged that people shouldn't be panicked about the situation but be always aware about the importance of vaccination if they get bitten (or scratched or licked on an open wound).
"There is no cause for alarm. We see numerous positive cases in dogs in Bangkok, but no human cases have occurred there in the past 12 months. The traditional picture of a rabid dog foaming at the mouth and attacking people is not a true picture, as with this dog. Anybody being bitten by a dog at any time should always immediately wash the wound with soap and water and go along to their local clinic or hospital to receive the necessary injections."
John also mentioned about the message that Soi Dog Foundation has been trying to tell government, entrepreneurs as well as people in general that importing unvaccinated puppies to the safe zone like Phuket can be the cause that brings rabies back in the area.
"Although this is likely an isolated incident it should be noted that Soi Dog has repeatedly, over the years, warned of the dangers and requested successive governors to stop the hundreds of very young puppies being imported to Phuket each year for sale at markets and pet stores, but nothing has ever been done. We hope the new Governor will take action. These puppies are generally coming from uncontrolled puppy farms in rabies endemic areas."
"Puppies cannot be vaccinated against rabies until they are at least 12 weeks old and are reliant on the mother's immunity providing she has some. The case of a puppy seller in Chatuchak market dying from a bite from a puppy shows the danger."
"In addition, removing vaccinated sterilised dogs from the street increases the chances of rabies spreading. The World Health Organistion, The Food and Agriculture Division of the United Nations, The World Organisation for Animal Health and The Global Alliance for Rabies Control have issued joint statements advising that the way to eliminate rabies in humans is to eliminate it in dogs first as much cheaper and more effective to do that.
If 70% or more of dogs in a country are vaccinated and strict controls on entry imposed, then you will eliminate rabies.
If you remove vaccinated dogs and put them in a pound, then you are reducing the number of dogs on the street that are vaccinated which allows for others to take their place that may not be vaccinated."
If a member of the public sees a dog that is staggering or unable to stand then they can call the Soi Dog Helpline on 076 681 029.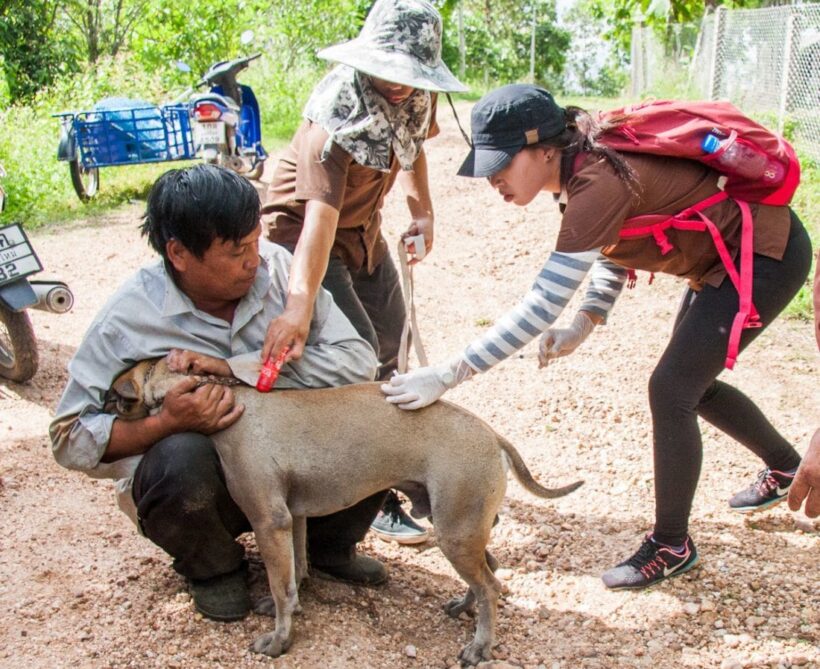 Rabies control in Chiang Mi last year