Phuket Live Wire: An update on international download speeds in Phuket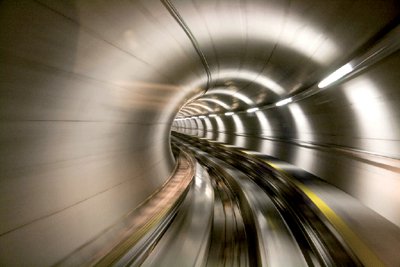 PHUKET: Time for an update on how Phuket's doing for real world, measured international internet speeds. I'm not talking about the advertised 10 megabits or 100 megabits-per-second lines that only exist in marketing drivel and a few internet service provider's fantasies. I'm talking about speeds that you and I are measuring, in the wild, right here, every day.
The short headline: we're doing well, but you can waste a lot of money if you aren't careful.
The crowdsourced internet speed site, PhuketInternetSpeed.com, is unique in all of Asia, I believe. Hundreds of people all over the island have signed up, and take a minute or so to measure and post their international internet download speeds. We all use the same test, to the same location, so the results are more-or-less replicable. The graph you see on this page is indicative of the 3,000 observations that were posted between November 1, 2011 and February 19, 2012.
I say "indicative" because there are a few gotchas, which I'll describe below.
First, I downloaded the database. You can download the entire database, too, any time – just click on the link that says Download. There are more than 25,000 recorded observations.
Then, I removed items that were obviously not intended for this analysis – mostly measured download speeds to Bangkok, conducted by people who are using the ISP's speed test sites and other sites hosted by a company called OOKLA. As I've explained before any test you run that uses the OOKLA speed test engine is really just going to Bangkok, even if you think it's going to London or Oslo or Madrid.
I also took out a fair number of tests conducted from places other than Phuket. It's interesting to see how people in Bangkok and other upcountry locations are doing with the same internet service providers, but they aren't included in these figures.
I also removed the "0" posts – ones that indicate the service wasn't working at the time. We're still seeing sporadic outages, but most of them are local (for example, a telephone pole gets whacked by a car). The widespread outages involve wireless services, and they're not common.
Then I tallied up the average download speeds reported for the most popular internet service packages, with one exception. I didn't include any reports for 3BB. Why? Because 3BB has gone to great pains to make its speed test results in our tests faster than their typical international speeds.
If you look at the data, here's what you'll see:
The first two speeds reported are wireless. AIS's "3G" HSPA system continues to deliver the fastest 3G international download speeds on the island, at about 1,000 Kbps. TrueMove-H shows disappointing results, around 800 Kbps. Why disappointing? The technology TrueMove uses, called HSPA+, is capable of running much faster than AIS's HSPA. Unfortunately, True isn't working hard enough (or spending enough money) to open up its international data lines. Yet another case of bigger and better technology getting knee-capped by inadequate infrastructure.
There are two more wireless services offered in Phuket: DTAC HSPA+ and CAT's new HSPA+. We've had very few reported speeds from DTAC and CAT connections, but the few we've seen have been very good. Both TrueMove and DTAC use the CAT towers and equipment, so it's likely that more data points will make DTAC and CAT look more like TrueMove, and less like AIS.
CAT's old EV-DO wireless system is still kicking at around 600 Kbps (not on the graph). There are lots of old EV-DO customers on the island, but you can't buy it any more. CAT's much more interested in selling you a new 3G+ account.
The next two speeds are new to my published reports. Island Technology's reputation for reliability is quite good though their international download speeds, averaging 900 Kbps, aren't anything to write home about. Rawai Cable, at 400 Kbps, is the slowest land line in this report. We don't have enough data from Patong's PA Cable to draw a comparison, but I believe both use CAT as their internet supplier.
The TOT numbers reinforce what I recently wrote about TOT's apparent throttling of all of its international data lines at the same speed. That Live Wire column explained why it isn't worth paying extra for expensive TOT fiber optic lines if you're using the internet primarily for international access. In fact, TOT still seems to be throttling all of its lines at the same speed.
More than any other ISP, TOT has come up with a plethora of packages, promotions and prices. At this moment, as best I can tell, they don't offer a 4 Mbps or 8 Mbps or 10 Mbps package – all of which have been discontinued – but they do offer 6, 7, 9, 12, and 15 Mbps packages. Apparently consumers are being switched from one package to the next without being notified.
In our island-wide tests, there's very little difference among the TOT ADSL packages: all of them deliver about 1,200 Mbps on international downloads. The wireless/wired AirMax Winet package is doing quite well, at 1,400 Kbps, if you're trying to get a connection inside the areas where it's available.
TOT is now advertising a High Speed 2 package rated at 7 Mbps for 390 baht per month. Our speed tests show it's running about 800 Kbps, which isn't bad at all for the price. Of course, if the package proves popular, TOT may start throttling the cheapie package. But if they're throttling all of the other packages at the same rate, maybe they'll just let the 7 Mbps package get swept up by the same broom.
The biggest disappointment continues to be TOT's Fiber Optic line. Back in May, we were seeing download speeds in the 10,000 and above range. Now it's down to 1,200 Kbps average international download, and there's very little difference between the 10Mbps/1Mbps package (at 1,490 baht per month), the 20 Mbps/2Mbps package (at 2,420 baht per month), and the "Corporate" versions of both of those packages ( 5,290 baht and up). It's worth emphasizing that the speeds to Bangkok are very fast, from what I've seen. But if most of your work is with international sites, there's very little difference between a 2,420 baht Fiber 2U line and a 390 baht one.
True's 10 Mbps ADSL line continues to offer good speeds, 1,500 Kbps on average, at a decent price. True's Ultra DOCSIS – the service that's delivered over coax cables, like TV, is holding its own at about 1,200 Kbps, but it isn't available everywhere.
If you aren't yet reporting your internet speeds, join us! The only way we can all keep tabs on the internet situation in Phuket is if everybody – yes, even those of you with 390 baht/month lines – take a few minutes every day to check and post your speed. It's easy. Sign up at PhuketInternetSpeed.com, and if you have any questions, email me at [email protected].
With Woody hunkered down writing a book, the weekly Computer Clinics are taking a new turn. Until Woody emerges with an 860-page copy of "Windows 8 All-In-One For Dummies" under his arm, around May or June, Seth Bareiss will hold computer sessions every-other Wednesday afternoon, from 1 to 3pm. If you have a Windows problem that needs to be solved, drop by one of Seth's free afternoon sessions at the Sandwich Shoppes. Details in the Phuket Gazette Events Calendar.
The sessions are sponsored by the Phuket Gazette and Khun Woody's Sandwich Shoppes.
Live Wire is Gazette columnist Woody Leonhard's weekly snapshot of all things internet in Phuket.
Follow him on Twitter: — Woody Leonhard


Read more headlines, reports & breaking news in Phuket. Or catch up on your Thailand news.
Power outage in parts of Chalong tomorrow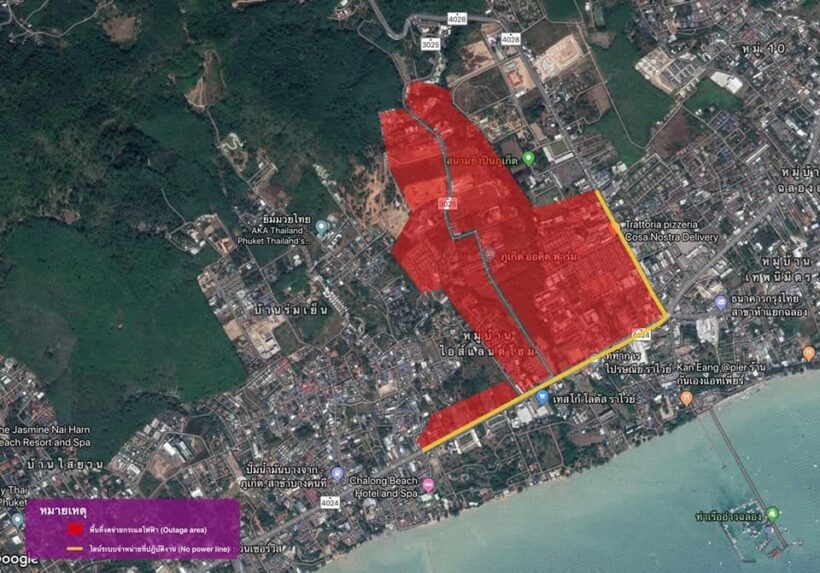 PHOTO: PEA
Residents of Chalong should be aware that there is a scheduled power outage from 9am to 4.30pm tomorrow (Tuesday) as the Provincial Electricity Authority (PEA) continues its work on high power voltage systems in the area.
The blackouts will affect the areas from the Shell petrol station on Patak Road to Bayshore law office opposite Chalong Beach Hotel on Wiset Road.
As always, the PEA apologises for the inconvenience.
For more information contact the Operations and Maintenance Department of the Provincial Electricity Authority on 07 652 1099 (24 hr)
Free water schedules for residents in Patong and Rassada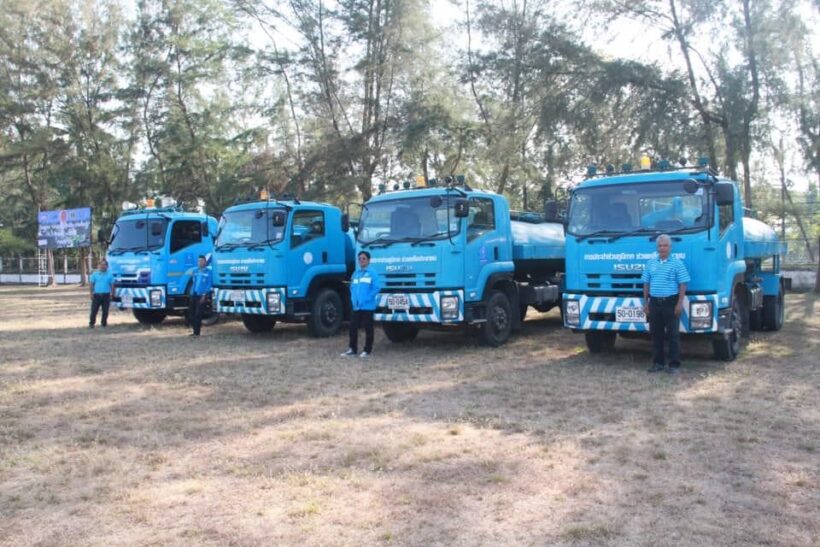 PHOTOS: PWA
Authorities have announced schedules of free water distribution for residents in Patong and Rassada.
In Rassada by the Phuket Waterworks Authority (PWA)
Koh Siray, from 8pm to midnight every day at Supitcha housing estate
Soi Kingkaew and Soi Honsaithong, from 9am to 3pm every day.
Nattakamon housing estate, one time per three days.
Thep Buri housing estate, one time per three days.
Sri Suchart 2 housing estate , Rock Garden housing estate and Kietsin hosuing estate, one time per three days.
In Patong by Patong Municipality
Free water is available on Phra Baree Road, Phisit Koranee Road and Nanai Road on Monday, Wednesday and Friday from 10am, onward starting today.
Residents are told they need to bring water buckets.
Alleged Greek murderer of Phuket beautician remains at large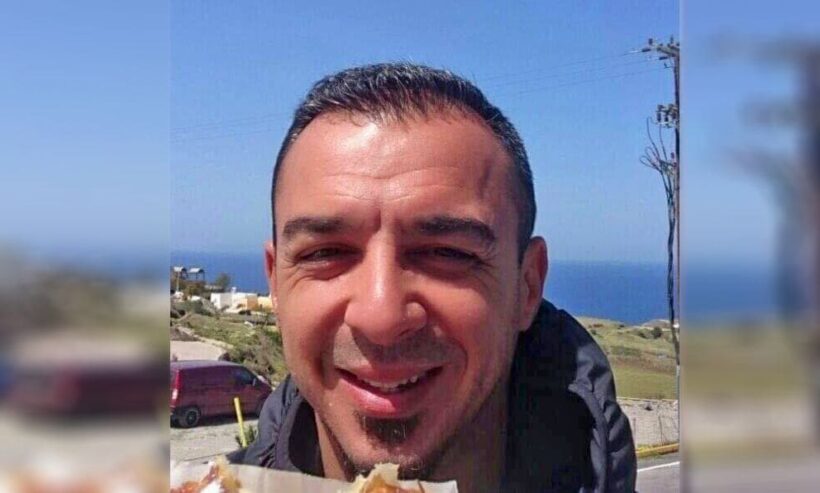 PHOTO: Dimitrios 'Dim' Chairopoulo, wanted and believed to be living in Greece
Local Phuket police are yet be informed of the latest in an international hunt for a Greek alleged murderer Dimitrios Chairopoulos. He remains wanted as a suspect in the murder of local beautician 43 year old Niramon 'Bea' Aewkaew in Phuket during February.
Cherng Talay police say they want an Interpol Red Notice issued so that they can track down and arrest 42 year old Dimitrios 'Dim' Chairopoulos, wanted for the murder. Bea and Dim were seen leaving their accommodation on February 11. It was the last time Bea would be seen alive.
Mr Chairopoulos was recorded as clearing Immigration at Phuket International Airport to board a flight to Dubai in the hours after Ms Niramon was last seen alive. He boarded an Emirates flight EK0379 to Dubai, departing Phuket at 2am. Police also confirmed that he arrived in Dubai on the same day.
"If he comes back to Thailand he will be arrested," said Chief Col Sen Kwannimit of the Cherng Talay Police.
A request for a Red Notice was submitted with the Foreign Affairs Division of the Royal Thai Police on February 19 but, for now, no formal international's notice has been published..
Cherng Talay Police confirmed that Dim was seen leaving the room at a guesthouse in Bang Tao where Ms Niramon's body was found on Saturday, February 16.
In the days leading up to her murder her family had been desperately trying to contact her.
'Bea' was the eldest of 5 children from Phatthalung province and had been working in Phuket as a beautician at the time.
One of her sisters, May' was contacted on February 15 by one of Bea's workmates trying to locate her.
Neither May or Bea's other sisters, relatives or friends were able to contact her. Bea had just moved to a new house so nobody knew where she was living. Another sister, Pichy, spoke to friends and was able, using Google Maps, to locate the guesthouse she was staying.
The owner of the room told the family that the air-conditioning was on in the room but there was no response. When the owner returned with a key he informed the family that Bea was found on the bed with a black cloth stuffed in her mouth and her hands and feet bound.
CCTV footage shows the couple leaving the room in the afternoon of February 11, the last time that Bea was seen alive.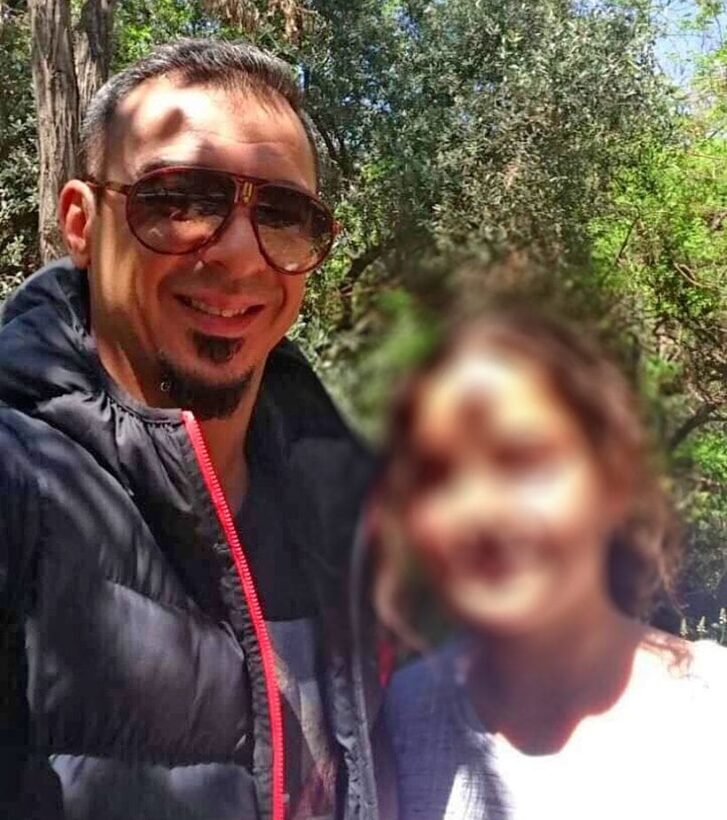 Dimitrios 'Dim' Chairopoulos with his daughter from another relationship
What we know about the alleged murderer?
Dimitrios 'Dim' Chairopoulos, who remains at large and thought to be in Greece, worked as security in a night club in Athens. He already had a daughter to another woman in Greece.
During his relationship and marriage with Bea he was said to be 'controlling' and 'jealous' by members of Bea's family. A close family friend told The Thaiger that the family had concerns for Bea's safety and were 'uncomfortable' with her ongoing relationship and marriage with Dim.
"We tried to get to know him at family functions but he was not easy to know and seemed very possessive of Bea," said one of the close family members who asked not to be named.
"He did threaten to kill her if she ever left him and Oh, another of her sisters, went with Bea to file a report of the threats at the Cherng Talay police station at the time," they explained.
That report was made to police in 2016. A year later the pair married and were still married at the time of the murder.
"He would drive past the beauty shops that Bea worked at and spy on her."
The family claim that, apart from his own possessions, he also stole Bea's phone before he headed to the Phuket International Airport on the evening of the murder.
So where is Dimitrios Chairopoulo?
At this stage the Greek Embassy has made no comment about the case or followed up with Greek Police about the pursuit for the fugitive man.
There are currently approximately 58,000 valid Red Notices worldwide of which only 7,000 are public. An Interpol Red Notice has not been issued to alert international police or Immigration officials to be on the look-out for Dim.
For now, the alleged murderer of Bea – an innocent Phuket beautician, beloved sister and family member – remains at large, most probably in Greece.
If anyone has any information about Dimitrios 'Dim' Chairopoulo's whereabouts or information that may lead police to arrest him, please send a confidential message to The Thaiger.