Phuket Live Wire: What to do if your email is blocked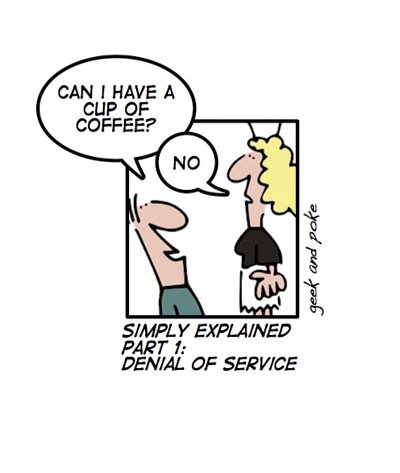 PHUKET: I send out a lot of email – many dozens of pieces every day. Lately, I've been having more and more problems with the email being rejected at the receiving end.
Here's a message I just received in response to a message I sent to a reader in the US last night:
"SMTP error from remote mail server after initial connection: host relay.verizon.net [206.46.232.11]: 571 Email from 96.127.180.74 is currently blocked by Verizon Online's anti-spam system. The email sender or Email Service Provider may visit https://www.verizon.net/whitelist and request removal of the block. 120609."
I've sporadically received messages like that for years, but it's been getting much worse in the past few months.
I've even started hitting "spam" blocks when going to web sites. A screen appears that says the web site's blocking my access because of identified problems with my IP address: I have to type in a CAPTCHA code (where the computer shows a very-hard-to-read picture and expects a typed response) to prove I'm a human before I can see the site.
If you hit either of those problems, you might be tempted to think that you did something wrong. It's possible that you did, but more likely the problem is due to some other person with an infected computer. Let me explain what's going on.
Every time you log on to the Internet you get an IP address – a number that's similar to a phone number.
Right now, for example, I'm connected to the internet on a True ADSL line and my IP address is 58.8.93.20. As long as my router's connected, I keep that same IP address.
If I turn off the router and turn it back on, or the power goes out or something goes "bump" with the line, I get a different IP address. I just reset my True router and, a few minutes later, my IP address is now 61.90.11.31. (You can check your IP address at askwoody.com/testdntflash.)
IP addresses are assigned in blocks, and the blocks are assigned to Internet Service Providers, so it's possible for a computer to look at an IP address and tell, more or less, where it came from.
If you use Outlook or Mac OS X Mail or Outlook Express or Windows Mail or iPad Mail (or Eudora, Thunderbird or any other email program that lives on your PC or tablet), your mail sits on a computer, called a mail server, on the Internet until you go out and retrieve it.
Usually when you get your mail, you send mail out, too – and the mail that's sent out goes from your PC to the server, then from the server to the intended recipient's server. The mail servers know your IP address – that's how you communicate with the server.
The message at the beginning of this column says that the offending message came from 96.127.180.74. That could have been my IP address when I sent out the message last night, or it could be the IP address of my mail server. Either way, I'm shafted.
Why? Because the gatekeeper at the Verizon mail server has decided that mail coming from 96.127.180.74 is probably spam. Since that IP address (or perhaps a group of IP addresses) has such a bad reputation, the spam blocker at Verizon basically says, "You're probably a spam message and we don't want to hear from you."
Yes, you can log on to the web site and plead your case to have your IP address unblocked. In my experience, the people who maintain the blacklists couldn't give a furry rodent's posterior whether one specific individual (which is to say, me) has been blocked unfairly. They get a lot of spam, and a solitary complainer in Phuket is just collateral damage.
The solution? For years I've been using a Gmail account to circumvent the problem. When a message gets bounced, I fire up Gmail, copy the message, and send it from Gmail. When you send mail from Gmail, it gets branded with a Gmail IP address, and no blacklister in their right mind would block all Gmail mail.
Once I've got the message out through Gmail, I turn off my router, wait a minute, and turn it back on again. That's kind of Russian roulette – sometimes the new IP address is better than the old one, sometimes it's worse.
Usually IP addresses get blacklisted because someone who has been using the IP address (or possibly a whole bunch of people have been using the IP addresses from the same Internet Service Provider) have infected computers.
The infected computers send out hundreds or thousands of email messages an hour.
I once had a TT&T ADSL line that was blocked from accessing Slashdot, one of the most popular Web sites, because other TT&T ADSL users with similar IP addresses were flooding Slashdot with thousands of hits per hour.
Chances are very good that a bunch of TT&T ADSL users had been "zombified" and were responding to remote commands orchestrating them into a DDoS (Distributed Denial of Service) attack against Slashdot.
I complained, but in the end had to wait a week until the pinging stopped. Only then would Slashdot allow my IP address to access their site.
Many people, …er, IP addresses, can be tarred by the same brush. The spam blocking routines or web site blocking routines can take out a whole range of IP addresses, if they start getting hit by more than one address.
Some of my friends recommend that you pay extra for a "dedicated IP" line. That will help some of the time, but it won't work all of the time, simply because of the guilt by association.
It may just be me, but I'm seeing more and more blocking on both my 3BB and True lines, and I wonder if it's because a whole lot of people using 3BB and True have PCs that are infected. Yes, I use the term "PCs" quite deliberately because the only widespread Mac virus so far doesn't work this way – and iPads/iPhones/Android phones and tablets don't get infected this way either. Yet.
In fact, I'd be so bold as to say that 90% of the infected PCs in Phuket are running pirate versions of Windows – most likely XP – and the vast majority are running Internet Explorer 6, with versions of Flash and Acrobat Reader that haven't been updated recently.
If your PC is running a pirate copy of Windows – especially pirated Windows XP – and you haven't kept Windows, your browser, Flash and Reader updated, you might as well just point a gun at it right now.
But that's a topic for next week.
Woody's Sandwich Shoppes hold computer sessions under the tutelage of Seth Bareiss every other Wednesday afternoon, from 1 to 3pm. If you have a Windows problem that needs to be solved, drop by one of Seth's free afternoon sessions. Details in the Phuket GazetteEvents Calendar.
Live Wire is Woody Leonhard's weekly snapshot of all things internet in Phuket.
Follow him on Twitter: @PhuketLiveWire, and "like" the pages at facebook.com/SandwichShoppe and facebook.com/phuketgazette.net.
— Woody Leonhard
Keep in contact with The Thaiger by following our Facebook page.
Never miss out on future posts by following The Thaiger.
Phuket Monopoly game creators need your help with token designs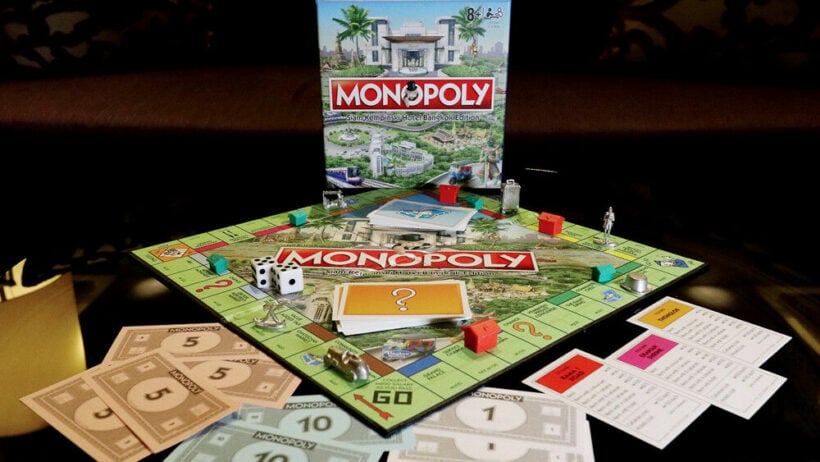 Phuket is set to get its own version of the popular game MONOPOLY and its creators want your help with ideas for the specialised tokens. 'MONOPOLY: Phuket Edition' was announced last month which will see the street art on the board game replaced with that of famous places around Thailand's famous tourist destination. Such art will include beaches, hotels, shops, markets and other popular attractions.
Jennifer Lau from Winning Moves UK, is producing the game under official license from Monopoly brand owners, Hasbro. Lau says the tokens will feature a holiday theme. The token's departure from the original theme of wheelbarrows, boots, iron, and thimbles as well as popular sports cars and hats.
"We have had a wealth of emails and suggestions coming in for Phuket, so thank you for each and every single one of them! We are taking them all into consideration whilst putting together the design of the game."
"We wanted to change the tokens so that they would be more suitable for an island like Phuket, where so many people like to go on holiday to."
"There will be six themed tokens that replace the original and we want to hear your suggestions for what these tokens should be!"
Bangkok has already been featured in the Monopoly game as it came out for purchase back in 2018.
SOURCE: The Phuket News
Keep in contact with The Thaiger by following our Facebook page.
Never miss out on future posts by following The Thaiger.
Phuket holds vaccine administration rehearsal as it waits for green light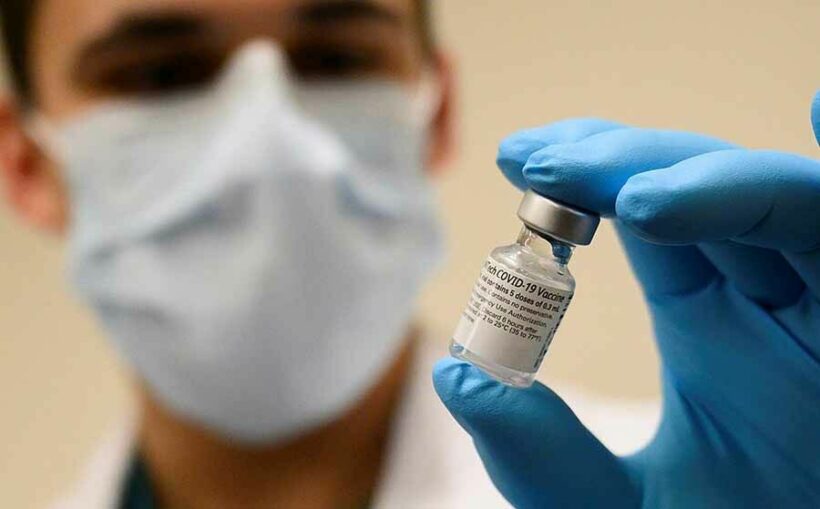 Phuket is rehearsing procedures to ready themselves for the Covid‐19 vaccine administration green light. A rehearsal at Vachira Hospital's Lan Muang Khao open area was held late yesterday to iron out any kinks in the administration process. Phuket Vice Governor Pichet Panapong watched over the procedures along with other health officials.
Pichet says the first vaccine round of 4,000 doses should arrive early in March, with the 2nd and 3rd set of doses, 16,000 and 48,000 respectively, to arrive in April and May.
"The government recognises the importance of the affected areas of the economy where the epidemic situation of COVID-19 must be stopped and has allocated the COVID-19 vaccine to Phuket Province to build herd immunity, restore the economy, return a smile to Thailand."
"We are preparing to COVID-19 mass vaccination to build confidence among the people that they will receive a quality, safe vaccine and to receive follow-up care after it has been administered."
Pichet says Phuket's first target groups to receive the vaccine include medical and public health personnel, with others on the frontlines to come next.
Then, workers aged 18-59 years old, people with underlying diseases including chronic respiratory disease, cardiovascular disease, chronic kidney disease, cerebrovascular disease, cancer, diabetes and obesity will follow.
"People with severe neurological conditions and pregnant women should be wary of taking the vaccine, as well as women who are breastfeeding and people with immunodeficiency."
The procedure to get vaccinated starts by recipients undergoing screening by having their temperatures taken, and then sanitising their hands before entering the administration area. Then, they will move their way through a series of steps, detailed below:
Step 1: Register
Step 2: Record weight and blood pressure
Step 3: Pass the screening process by have their medical history and risk assessment recorded and then signing a consent to receive the vaccine
Step 4: Wait for vaccination
Step 5: Vaccination
Step 6: Rest for 30 minutes, while being observed for symptoms. Then scan the official Line account "หมอพร้อม" ("Doctor Ready")
Step 7: Pass a final check before receiving a document confirming vaccination
Pichet says health workers will follow up with vaccine recipients after 1,7, and 30 days from being vaccinated to monitor any adverse reactions.
Those who are set to receive their second jab will have appointments made for them. Those who receive the Sinovac vaccine will be scheduled to have their second doses 2 to 4 weeks after the first. AstraZeneca vaccine receivers will be scheduled for their second doses 10 to 12 weeks after the first.
SOURCE: The Phuket News
Keep in contact with The Thaiger by following our Facebook page.
Never miss out on future posts by following The Thaiger.
Phuket police officer charged with attempted murder for shooting and critically injuring a noodle vendor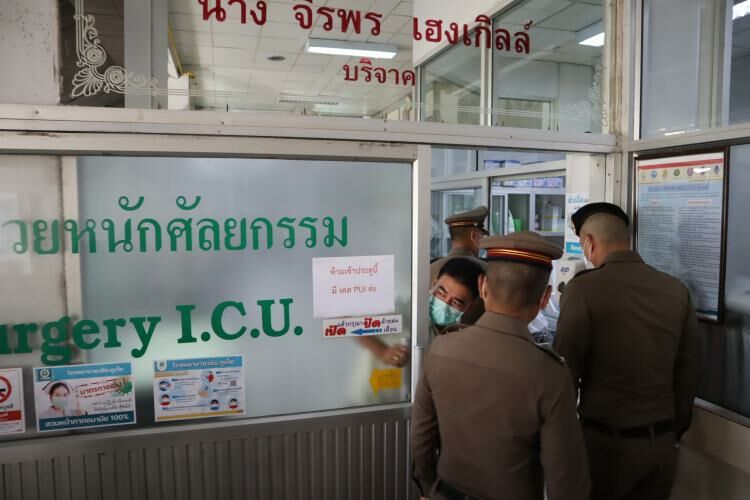 The drunk, off-duty police officer in Phuket who has caught on camera shooting and beating a noodle vendor on Bangla Road is now facing attempted murder charges as well as charges of carrying a firearm in public without a necessary reason and firing a weapon in a public area. The commander of the Phuket police station said he ordered investigators to prosecute the officer Pornthep Channarong with every criminal charge that can be applied.
The officer had gotten into an altercation just before dawn yesterday and shot a young vendor who was walking by. Surveillance camera footage show the 25 year old suddenly falling to the ground after being shot. The officer walks up and shoots the vendor at a close range, but it appears the second shot did not hit the vendor. The officer also slapped the vendor in the face, picked him up and shoved him over, and then kicked him as he lay on the ground.
The vendor has a 4 year old daughter and 3 month old son. His wife says normally he works as a motorbike driver, but he was helping his mother selling noodles. He was shot while he was walking back from collecting a noodle bowl, she says. The vendor is in critical condition and being cared for at Vachira Phuket Hospital's intensive care unit. He's in need of Type B blood.
"For his condition, the doctor told me that the bullet went through his lung. He lost a lot of blood. We need a lot of Type B blood for him."
A disciplinary investigation into the incident was launched by police and Pornthep was officially dismissed from the Royal Thai Police force. Region 8 Police Commander Kitrat Panpetch says the incident does not reflect the police force in Phuket.
"The incident was caused by an officer who did something wrong that our organisation does not want. We are a big organisation with more than 200,000 officers under our control. Our officers are not all bad like this."
Phuket Provincial Police Commander Pornsak Nuannu says he has reminded the police chiefs across the island to discuss reasons for carrying firearms in public.
"Carrying firearms is to prevent any type of crime that may happen, not to commit a crime by themselves like this incident. If I see any police doing such a thing, I will decisively proceed in terms of both officer discipline and criminal charges."
SOURCE: Phuket News
Keep in contact with The Thaiger by following our Facebook page.
Never miss out on future posts by following The Thaiger.