Phuket Live Wire: Keeping malware at bay for free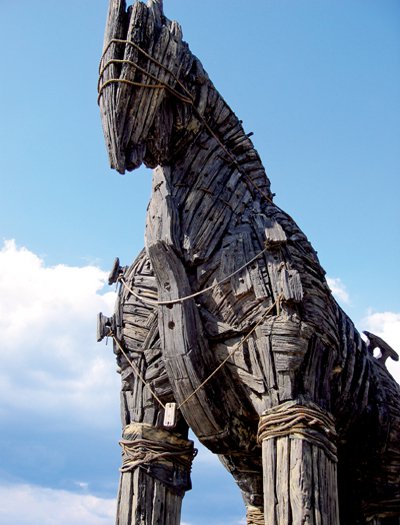 PHUKET: Continuing the series answering questions I hear most often from PC users here in Phuket, I have a very unpopular choice for antivirus (AV) software. Here's the question:
"Woody, I got a copy of (one of the major antivirus products) when I bought my new PC. It worked fine for six months, but now it wants money. I tried installing a pirate copy, but it won't download updates – and as you know an out-of-date antivirus program is about as useful as an out-of-date bottle of milk.
What antivirus product(s) do you use? What do you recommend for people who aren't particularly interested in PCs, but know that they need to protect themselves?"
All of the major antivirus/antimalware products work very well. It's getting harder and harder to draw a distinction among them.
The one I like best is the one that costs the least: Microsoft Security Essentials. MSE is absolutely free, and it will never, uh, bug you to upgrade or spend more money. If you don't trust Microsoft to protect its own software, there's always AVG Free. I talk about AVG Free briefly in my Windows books. But for most people, most of the time – and for me, my PCs at home, and at the Sandwich Shoppes – Microsoft Security Essentials does it all.
Whatever you do, dump the bloated anti-everything-ware program that came with your PC. There's no reason to pay for protection over and over again. Get MSE or AVG Free and break the pay-pay-pay habit.
Although it's a relative newcomer to the AV game, MSE consistently rates highly in head-to-head tests. It installs easily, runs like the wind. It never, ever tries to get you to spend more money on a different version. And it doesn't cost a satang. I've converted all of my PCs to MSE – Windows XP, Vista and Win 7 – and never looked back.
To get your copy, go to microsoft.com/security_essentials and watch the installation video. Click the Download Now button, and you're on your way to using one of the best pieces of software Microsoft has ever made.
If you're already running an antivirus products – even if it's out of date, or begging for more money – you'll have to uninstall it before you can install MSE. Here's how:
Step 1: Download Microsoft Security Essentials.
Step 2: Disconnect from the Internet.
Step 3: Uninstall your current antivirus program. Uninstalling a well behaved antivirus program is as simple as clicking Start, Control Panel, Add or Remove Programs, finding the program in question and double-clicking on it.
Some antivirus programs, though, are notorious for being hard to uninstall. Norton was one of the worst, up until a couple of years ago. If you have to uninstall Norton, download and use the Norton Removal Tool. Some people report having problems getting rid of McAfee completely. If you're using McAfee and want to switch to MSE, download and run the McAfee Removal tool.
Step 4: No matter how you get rid of your old antivirus product – with Windows Add/Remove, or with a specialized removal tool from Norton or McAfee – reboot your computer once the uninstall is complete.
Step 5: Run the Microsoft Security Essentials installer. It will ask to connect to the internet to get updates. Don't do it just yet.
Step 6: Reboot your computer once again.
Step 7: Hook your computer up to the internet. Click on the MSE icon down in the system tray – next to the clock at the bottom. Click the Update tab (see screen shot on this page), then click the Update button.
Step 8: On the MSE Home tab, choose the button marked "Full" and click "Scan Now".
Step 9: Your computer's going to slow down for a while – maybe ten minutes, maybe a couple of hours – while the scan finishes. Once it's done, you may have to click to delete any bad stuff that MSE has found. I suggest you be merciless, and delete anything that looks even vaguely suspicious.
Step 10: That's it. You don't have to do anything more, and MSE will keep itself updated and running non-stop.
I've had many people ask if MSE will update itself, even if you turn off Automatic Updates for Windows (which I recommend at my website, AskWoody.com). The answer is yes: although MSE uses the Windows Update mechanism and programs to keep itself updated, your Automatic Updates setting doesn't hold any sway over Microsoft Security Essentials.
Microsoft Security Essentials checks to make sure you're running a "genuine" copy of Windows before it'll install. I've heard rumors that some of the "not so genuine" versions of Windows available in Phuket are good enough to trick the MSE installer. Thus, if you aren't quite sure about the pedigree of your copy of Windows, it'd be a good idea to download MSE and see if it will install. If it doesn't, the installer will tell you that you don't have "genuine" Windows. That's it. No Pirate Police will appear at your door.
Locking down Windows 7 computers isn't all that difficult. You need a genuine copy of Windows 7 (which shouldn't cost much more than 2,000 baht ). You need to use a "Standard" not an "Administrator" account. You need to apply updates once a month (details and timing, which vary each month, are on my website), and you need Microsoft Security Essentials, which is free. If, in addition to all of that, you don't do anything stupid – like installing a program that says it'll remove 114 infections on your computer, or intentionally allowing a program to change your browser's home page – you should be quite safe.
I run about twenty different PCs that way, with users that span the gamut from grizzled veteran to abject newbie, and I've never had an infection under Windows 7.
Yes, some people have installed smiley icons and gotten their browsers tied up in knots. Occasionally the default search engine gets changed, or the home page gets switched. Minor problems. I've never seen a keylogger, rootkit or data stealing program on any of those PCs. The combination of genuine Windows 7 and MSE really does work.

With Woody hunkered down writing a book, the weekly Computer Clinics are taking a new turn. Until Woody emerges with an 860-page copy of "Windows 8 All-In-One For Dummies" under his arm, around May or June, Seth Bareiss will hold computer sessions every-other Wednesday afternoon, from 1 to 3pm. If you have a Windows problem that needs to be solved, drop by one of Seth's free afternoon sessions at the Sandwich Shoppes. Details in the Phuket Gazette Events Calendar.
Sponsored by the Phuket Gazette and Khun Woody's Sandwich Shoppes.
Live Wire is Gazette columnist Woody Leonhard's weekly snapshot of all things internet in Phuket.
Follow him on Twitter: @PhuketLiveWire; "like" pages at facebook.com/SandwichShoppe; and facebook.com/phuketgazette.net.
— Woody Leonhard


Read more headlines, reports & breaking news in Phuket. Or catch up on your Thailand news.
Slow loris released back into Phuket forest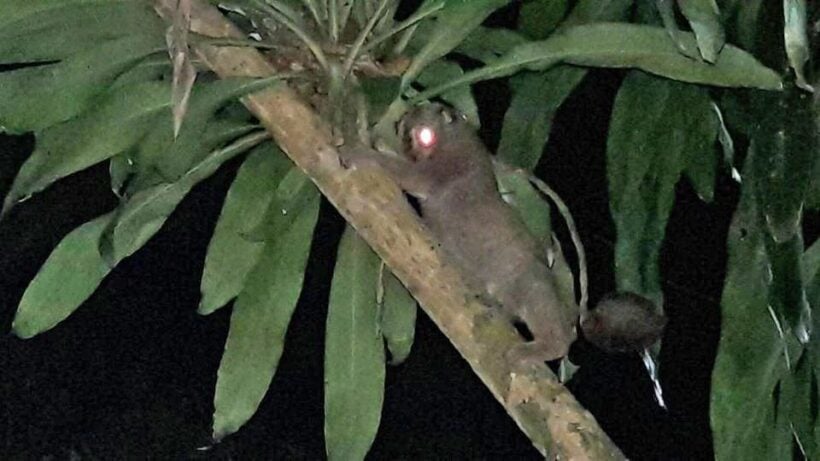 PHOTOS: Department of National Parks
Officers from of the Khao Phra Thaeo Non-Hunting Area have helped in the release of a slow loris back into the wild yesterday.
The Department of National Parks, Wildlife and Plant Conservation reports that the head of Khao Phra Thaeo Non-Hunting Area, Pongchart Chueahom, yesterday released the slow loris to the Khao Phra Thaeo Non-Hunting Are in Thalang.
The slow loris was found near a furniture factory in Thalang last week. It was being treated at a pet hospital before being handed over to Khun Pongchart when it was ready to be set free.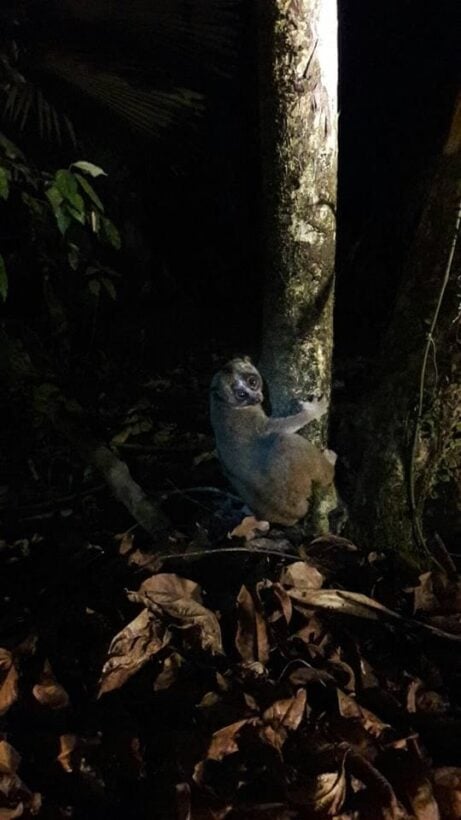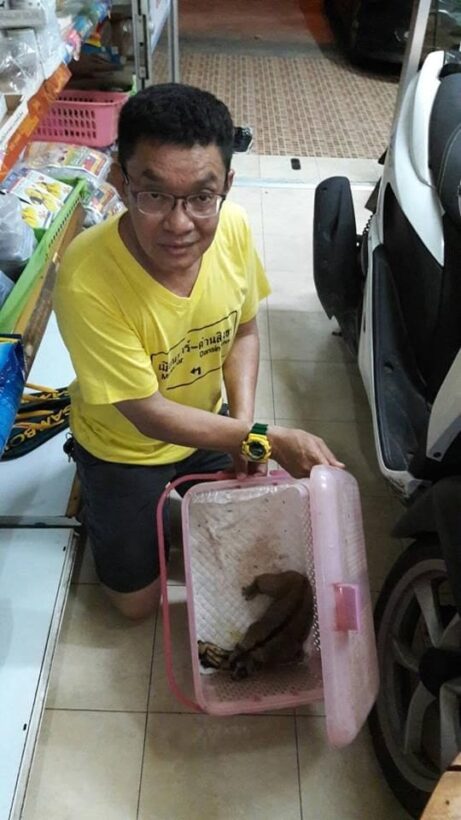 Seastead structure dragged back to shore by Royal Thai Navy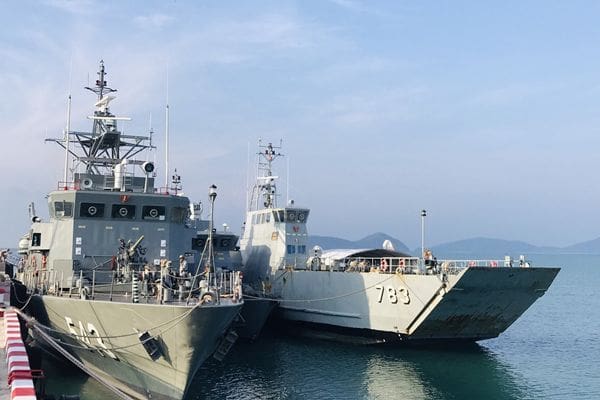 A floating seastead has today been towed by a naval vessel back to the Port of Phuket in Cape Panwa. Meanwhile the Deputy PM Wissanu Krea-ngam is challenging the owners and builders of the structure to take the Thai Government and Navy to the International Court of Justice.
The Royal Thai Navy's Third Fleet ventured out with a group of reporters on Saturday to inspect the floating seastead, the first of about 20 planned Ocean Builders for the open waters about 22km from Phuket's Koh Racha Yai.
Nothing valuable was found on board the octagon-shaped steel and aluminium structure which was attached to a floating platform.
Two vessels were used in today's operation. The living quarters were detached and placed on the first vessel and the second towed the floating platform to the shore for safe keeping pending legal action against its owner as well as the builder, Ocean Builders Company.
Dr. Wissanu said yesterday that Thai authorities were authorised to remove or dismantle the floating housing unit with or without the consent of its owner after finding the structure could pose a threat to Thai national security and sovereignty in accordance with Article 119 of the Criminal Code.
He said that the structure also posed an obstacle to vessels and was located not far from an oil rig.
Regarding the threat by Ocean Builders Company to sue the Thai government in the International Court of Justice for the removal, the deputy PM says he welcomes the move, noting that no government anywhere would allow a seastead settlement near their maritime territory.
Seasteader Chad Andrew Edwartowski and his Thai wife, Mrs. Nadia Summergirl, are wanted by the Thai police for questioning after Thai immigration revoked the American's non-immigrant visa and blacklisted him.
SOURCE: Thai PBS
Phuket taxi slams into tree in Phattalung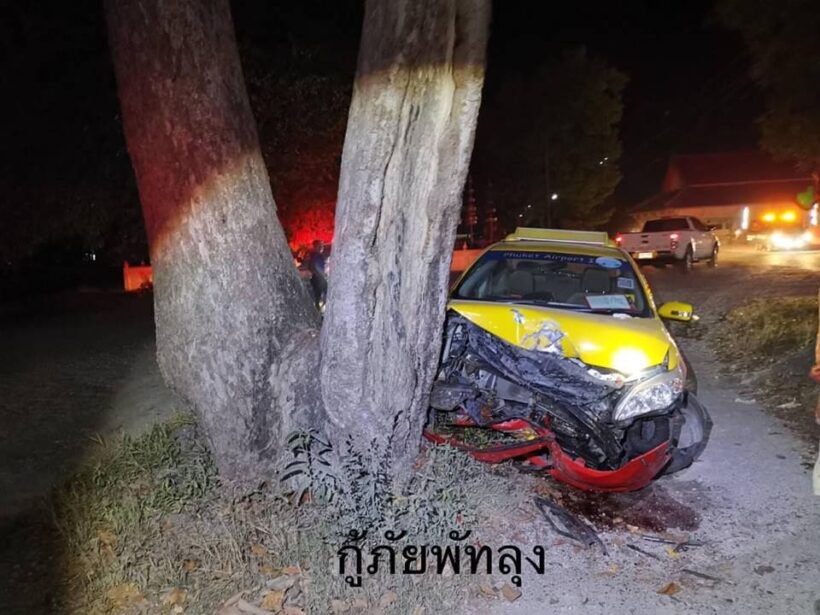 PHOTOS: Phattalung Rescue
Two people have sustained serious injuries after a Phuket taxi slammed into a tree in Phattalung last night.
Phattalung rescue workers were notified of the accident in Mueang Pattalung District at 7.57pm last night (Sunday).
They arrived at the scene to find the Phuket registered taxi resting in front of the big tree on the side of the road near a temple. The front of the vehicle had extensive damage following the collision.
The two people who sustained serious injuries were 58 year old Wanchai Srithong and 64 year old Jamras Srithong. They were both taken to the Phattalung Hospital.
Pattalung City Police are continuing their investigation. There has been no explanation given at this stage as to why a Phuket taxi was in Phattalung.