Phuket ICT a "no show" at Chinese expo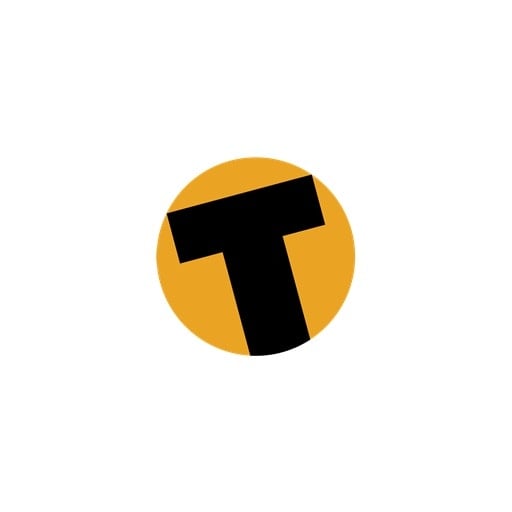 PHUKET: The project to have representatives from Phuket businesses and other organizations promote Phuket's information and communications technology (ICT) prowess at the 5th China-ASEAN Expo (CAEXPO) in Nanning City, Guangxi, China, next month has failed due to lack of interest.

The Department of Export Promotion (DEP) aimed to run 69 presentation booths at the event (click here for earlier report).

However, at a Provincial Hall meeting chaired by Phuket Vice-Governor Smith Palawatwichai on August 28, it was reported that the project had attracted very little interest from Phuket businesses.

Indeed, even the local branch of the Software Industry Promotion Agency (SIPA) had withdrawn from participation due to lack of budget.

So far, only three Phuket businesses will join the event. Phuket FantaSea will send 10 staffers, including management and performance actors, to man two booths at the expo.

The Phuket Exportation and Manufacturing Association (PEMA) will occupy five booths, presenting local produce, including fresh and dried seafood, cashew nut products, abalone products and fish balls.

Silk Idol Co Ltd, which produces Thai silk and cotton, will occupy one booth for displaying its wares.

The Tourism Authority of Thailand (TAT) Southern Region 4 Office will promote tourism to Phuket by distributing 10,000 brochures printed in Chinese and 1,000 copies in English at the event.

DEP Deputy Director-General Niramol Charoenphao still hopes that Phuket will be better represented, especially in the "City of Charm" zone, where Phuket spas, hotels, travel agents and hospitality businesses can pitch their sales to mainland Chinese.

Khun Niramol said that she will invite the Phuket Spa Association to join the event, and that she also aims for Phuket FantaSea to perform at the event's opening celebrations.

The DEP has reserved 12 booths at the expo, but only eight will be occupied. Interested business operators can join by contacting the Phuket Provincial Commercial Office (Tel: 076-212017) before Friday.

"We are still missing Phuket's prominent point, which is tourism. We expected spas, travel agents and hospitals to join, but as the economy has slowed down, businesspeople are being more wary about the potential returns.

"Not only are Phuket operators like this, business operators in Bangkok and other regions are also having the same problems," K. Niramol added.
Keep in contact with The Thaiger by following our
Facebook page
.
Phuket chef hands out over 2,000 free meals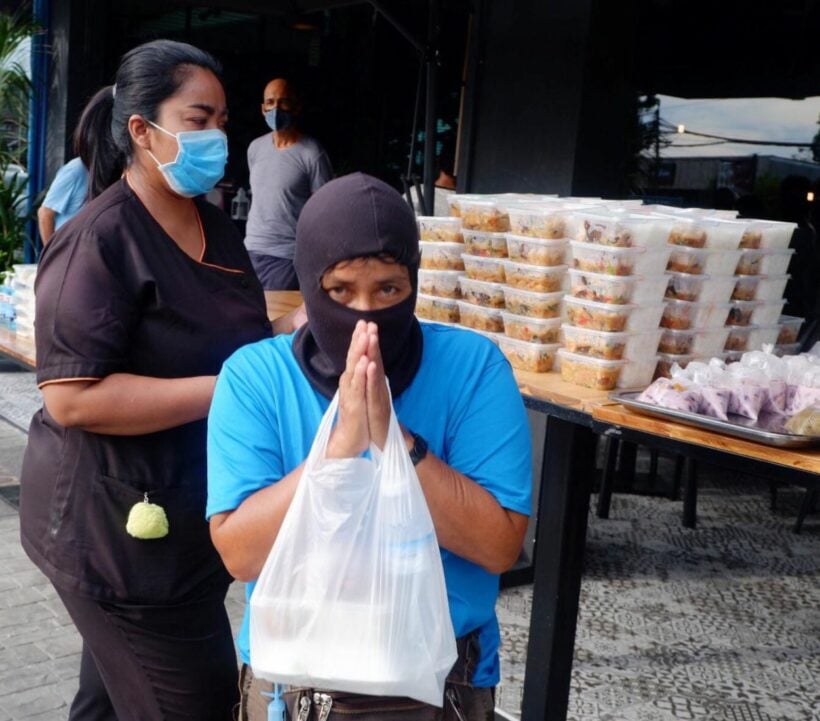 The Covid-19 pandemic has seen many heartwarming outpourings of charity, with a lot of businesses, both Thai and foreign, handing out free meals and essential goods to those affected by the crisis. The southern province of Phuket is no exception, with many pubs and restaurants joining in. But people in the island's Bang Tao district might be surprised to learn that their meals were prepared not only by a career chef, but a student and disciple of legendary Chef Paul Bocuse.
Pablo Blattman, owner of Dedos restaurant, and his crew hand out more than 160 free meals a day and have now donated well over 2,500 meals to the community. Blattmann, born and raised in La Paz, Bolivia, by a Swiss mother and Bolivian father, says the two cultures gave him insight in different universes of flavours.
At a time when most neighbouring restaurants are shuttered (or crippled by the ban on alcohol sales), Blattman says he wants to "give something back to the community which has given me so much."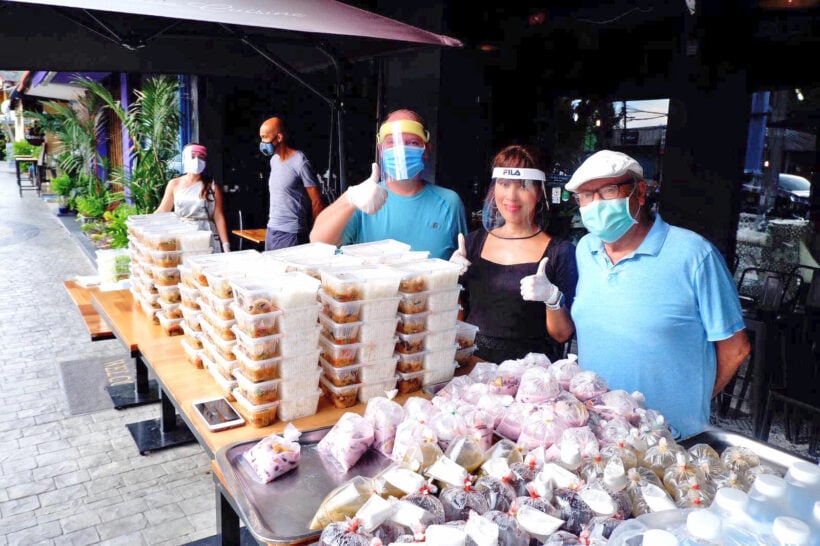 Although the crisis means Blattman must temporarily close the restaurant (again) at the end of May, he intends to go on giving back to the community.
"Our commitment to our community is still here, and we will keep our efforts up, but in a different way: dry food, going to workers' camps, going upcountry… be assured that every penny donated will reach people in need. We are keeping a strict accounting on all our expenses and any donor is welcome to check it."
Those wishing to support Dedos's charitable efforts may visit its Facebook page.
Keep in contact with The Thaiger by following our
Facebook page
.
2 new cases of Covid-19 reported in Thailand with one additional death (May 25)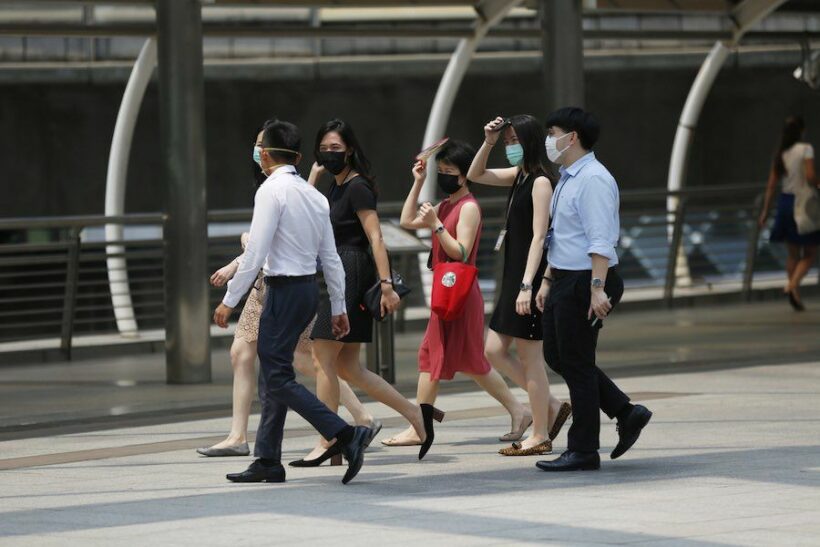 Today the Centre for Covid-19 Situation Administration announced 2 new confirmed cases of Covid-19 in Thailand with 1 additional death. The 2 new cases consist of 1 imported case, a Thai woman repatriated from Russia last Wednesday who is currently under state quarantine in Chon Buri province.
The other is a 49 year old Chinese citizen, the wife of an Italian who has been confirmed infected. She travelled from China to Phuket on March 9 and remained on the island due to the lockdown. She lives in Cherngtalay with her husband and 3 children aged 15, 10 and 7. She shows no symptoms at this stage. Cherngtalay is the tambon bordering Bang Tao, a hotzone for new cases during April and early May.
Thailand's total number of confirmed cases is now 3,042 with 57 deaths since the outbreak began in January. 2,928 of those have fully recovered and been released from hospital, with an additional 7 new discharges overnight.
Only 57 people remain under medical care for the disease nationwide, and the recovery rate is 96%.
The additional death was a 68 year old Thai woman in Chumphon, southern Thailand. She was reported to have "many personal health issues and the cause of death was due to failure in her lungs and an infection in her bloodstream."
"She had been in the hospital fighting Covid-19 for about a month and she finally passed away yesterday, minutes after midnight."
Chon Buri province has had no new confirmed cases in 31 days, with Pattaya 10 days further ahead with no new confirmed cases for 41 days.
SOURCE: Bangkok Post | The Pattaya News
Keep in contact with The Thaiger by following our
Facebook page
.
Phuket's lost summer – looking to 2021 for tourism recovery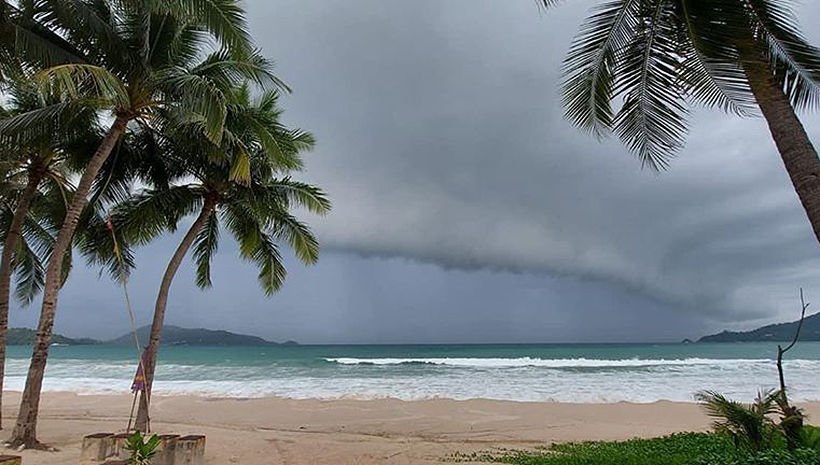 In a solemn recognition of the reality of Phuket's stalled tourist industry, a spokesperson for the southern chapter of the Thai Hotels Association is saying most of the west coast hotels are unlikely to reopen until the last quarter of this year. And that's just the start of the problems for the popular island beach resort.
For now, Phuket's International Airport remains closed to scheduled flights, and the Tha Chatchai road checkpoint at the top of the island is heavily curating who comes in and out with red-tape and paperwork. Nationally, the Civil Aviation Authority of Thailand has already banned international travel into Thailand until at least the end of June – it could be extended further.
Phuket's issue, as an economy that revolves almost completely around tourism, is that, even if it throws open the immigration gates at the airport and the doors of its almost 100,000 hotel and accommodation rooms, there are few options for incoming tourists at this stage. Where will they come from? Europe (including the UK), the US and now South America, are mired in their own pandemic outbreaks, and whilst trying to reopen their economies, are facing imminent second waves of Covid-19. It's unlikely the risk-averse Thais will willingly welcome 'at risk' countries back any time soon.
It's only a few regional customers that are likely to be given approval to fly their businesspeople and tourists into Thailand anytime soon, but even that is going to be a trickle at best, at least in the short to medium term. Even these tourist markets have seen their economies hit hard by the pandemic and will be less likely to prioritise travel at this early stage – China, Malaysia, South Korea, Singapore.
Whilst other parts of Thailand have opportunities to reopen their businesses – manufacture, agriculture, IT, and large chunks of populations visit shops and general trading – Phuket has little of that. Some 50,000+ of the island's 450,000 permanent population have already departed the island, either before the borders were closed in mid-March, or as soon as they were able to return to their provinces when the road border re-opened for repatriating people at the start of May.
Even survey respondents, testing the opportunities for the island to reopen to domestic traffic to kick-start the stalled tourist economy, have shown little interest in heading to Phuket as the rest of Thailand has, well frankly, more important things to worry about. Since Phuket's own lockdown restrictions have been lifted, early 'staycation' promotions, attracting locals for a bit of post-lockdown leisure, have fallen flat. For now, Phuket's beaches remain closed anyway.
c9hotelworks' Bill Barnett, says "Phuket's hardest yards for tourism are still in front of us and the loss of jobs will be enormous. No candy coating here."
"Hotel operators and owners, are now reassessing the need for a quick return to reopen and from our talks, many are looking at pushing back to October or even later given the economics simply do not add up."
"Even the domestic thrust of staycations are unlikely to provide the traction larger hotels need to scale up. Domestic business for island hotels on a broad basis is sub 10% of the market mix. For smaller hotels, targeting domestic is fishing where the fish are, and makes absolute sense."
Suksit Suvunditkul, CEO of Deevana Hotels and the vice-president of the Thai Hotels Association southern chapter, says that hotels along the beach that target international guests will reopen in September at the earliest. Speaking to Bangkok Post, he says that the situation remains unpredictable.
"….but as July and August are low season, resuming operations is not worth the effort while guest demand is still weak. With some hotels not reopening until the fourth quarter, they cannot expect to profit."
Forecasts from the Tourism Authority of Thailand say that the rest of 2020 will be mostly limited to domestic tourism, "with the Asian market starting to recover at the beginning of next year and the European market to follow much later".
But, for now, hotels are still shuttered as management wait in hope for signs that they are, firstly, allowed to reopen and, secondly, the barriers are removed to international travel. The other main hurdle is the paperwork or restriction that will be imposed on inbound tourists. It's hard to imagine tourists will be wanting to pack their flowery shirts, hats and suncream to end up having to submit long lists of paperwork and health checks before they arrive.
Keep in contact with The Thaiger by following our
Facebook page
.