Phuket Gazette Special Report: Thai military unveils plan to stop Rohingya landings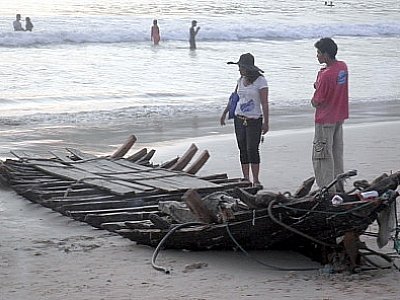 PHUKET: Region 4 of the Internal Security Operations Command (ISOC) has formulated a "Protecting the Andaman" strategy to prevent Rohingya boat people from illegally entering Thailand in Ranong, Phuket and other Andaman Coastal provinces.

Maj Gen Manas Khongpanin, director of the ISOC region, revealed that the security plan is to stop the Rohingya from entering Thailand, especially along the coastline of Ranong province.

ISOC region 4, together with at least 17 other government and private sector organizations in Ranong, collaborated on the plan.

The strategy is aimed at preventing the stateless Rohingya people from entering Thai territory, and helping those who are able to enter to get back into international waters in a humane way.

"This has been happening for more than 10 years. Since November last year, 2,522 Rohingya illegally entered Thailand, arriving in Ranong by boat," he said.

"Rohingya always sneak into our country by sea along the Andaman coast. The first time was in 1998, when we caught 104 Rohingya who illegally crossed our border. After that there were a lot more Rohingya arriving every year, especially from November to April," said Gen Manas.

November to April typically sees a weakening of the monsoon over the Andaman Sea, making sea conditions calmer offshore – although heavy seas are a possibility year-round due to storm activity.

"The Rohingya usually travel by old fishing boats from Rakhine State, on the western coast of Myanmar, or the southern part of Bangladesh. It is a journey of about 780 miles to reach the Thai border, and typically takes them about 15 days," he said.

"In 2006, a reported 1,225 Rohingya entered our country. In 2007, the figure more than doubled to 2,763. In 2008 it reached a high of 4,886 people. In 2009, the number fell to 1,477 people, then dropped again in 2010 to just 93," he said.

"Last year 351 Rohingya arrived on our shores," he added.

"I believe there will be more Rohingya coming this year. They are trying the find safe places to land, especially in Ranong and nearby provinces. Their main motive for leaving their country is the poverty and difficulty of life there. The Rohingya people are not considered citizens of Myanmar," he noted.

In recent years the Rohingya had improved their tactics, making them more difficult to track, he said.

"Before, Rohingya typically came in large groups, choosing the mainland as their initial landing point. Now they have changed their tactics. They travel in smaller groups and land on islands first, then plan the trip to the mainland from there," said Gen Manas.

"Normally they are assisted by human smugglers in Thailand, so we have to try to intercept them both at sea and on land," he added.

Thailand's National Security Council tasked ISOC, a military unit dedicated to national security issues, with the difficult job of developing an integrated and humane solution to the Rohingya problem.

"We call our two-part plan 'Protecting the Andaman'. The first part involves educating government officers likely to be involved on how to react when they encounter people who illegally enter Thailand by sea. In this way they can apply that knowledge as events are happening," said Gen Manas.

The effort also involves preparedness by the public-at-large, he said.

"We will educate people in areas where Rohingya are known to land, asking for their help in the monitoring effort. If they see Rohingya approaching, they will know to report directly to us. We have already trained 400 people living in coastal areas and the islands off the Ranong mainland," he said.

"We will also coordinate with fishing vessels working further out to sea to receive early warning of Rohingya as they approach our territorial waters. We plan to install radios on every island so islanders can inform us if they see any Rohingya approaching," he said.

The second part of the plan is the reaction effort. Those who have been trained can be deployed to use "appropriate means" to stop Rohingya from entering Thailand.

"Locations where we expect to intercept Rohingya are Takrut Island, Sinhai Island, Chang Island, Phayam Island and Kangkow Island," he said.

"Any of the trainees who see Rohingya attempting to land must first try to persuade them not to come ashore. They must provide them with enough food, water, medication, fuel, and other necessary supplies so that they may continue their journey for another 15-20 days to their desired destination," he said.

In 2009, Thailand faced harsh international criticism when authorities arrested Rohingya refugees and sent them back out to sea with limited provisions. In February of that year the Lawyers' Council of Thailand (LCT) released a statement demanding the government "tackle Rohingya trafficking organizations".

The statement followed a series of conflicting reports of transfers and possible human rights abuses by the Thai authorities on a group of 226 Rohingya migrants.

In February 2011, following appeals from the international community and local organizations, the United Nations High Commission on Refugees (UNHCR) visited 33 Rohingya men in custody at Phuket Immigration who had come ashore at Rawai the previous month. The UN team then went to Phang Nga to check on the well-being of another group held there.

Efforts to "repatriate" migrants is always difficult, but even more so when they are stateless. Burmese caught working illegally in Thailand are typically repatriated at Kawthaung, across the strait west of Ranong Town.

This is not an option for the stateless Rohingya.

On November 24, 2011, when a boat full of Rohingya were detained on an island off the Phang Nga coast, all 95 were transported to the 2nd Infantry Battalion, 25th Military unit, at Rattanarangson Camp in the Ratchakud District of Ranong province.

On that occasion, the Gazette, which has been monitoring and reporting on Rohingya developments closely for many years, was informed by an official from the camp that the Rohingya had been provided with a new boat, engine, fuel and enough food and water to take them on to their unspecified destination. Military personnel even went so far as to give the Rohingya 20 baht each from their own pockets before escorting them back out to international waters, the official said.

In one of the latest incident reported by the Gazette, Chalong Police rounded up 90 starving Rohingya who came ashore at Nai Harn Beach. The Rohingya, all males, were on their way to Malaysia when they ran out of food and their wooden boat began to fall apart at sea, forcing them to come ashore, they said.

However, not all of the refugees were accounted for. One member of the group said that more than 100 Rohingya were aboard when the vessel beached.

Despite media reports that Muslim Rohingya invariably try to make it to Malaysia, there is a small Rohingya community living in Phuket, the head of the Police Special Branch told the Gazette several years ago.

Many make a living selling roti, the Indian-style crepe popular across the South of Thailand.
Keep in contact with The Thaiger by following our
Facebook page
.
Phuket police arrest meth dealer, discover drugs valued at 15 million baht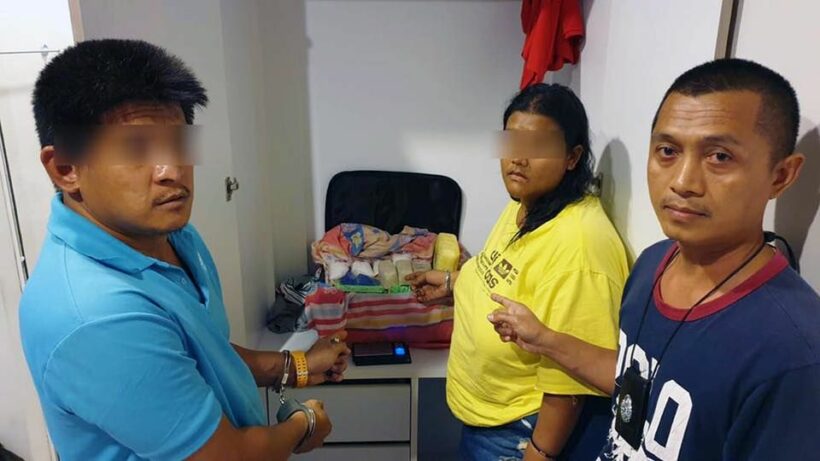 PHOTO: Newshawk Phuket
Drugs valued at 15 million baht have been seized in a drug crackdown in Phuket. On October 22, Phuket police, along with Phuket Governor Pakkapong Tawipat, reported to the media about a drug crackdown that ended up with a total seizure valued around 15 million baht.
Earlier, the police received a report from an undercover agent that a woman named 'Ying' or 'Suthicha Thirawut' was a local drug dealer trading drugs in Phuket area, so police planned to purchase drugs from the woman. They contacted Ying through another woman named 'Noina', Ying's close friend. Around 10pm on October 20, police bought 1 gram of crystal methamphetamine from Noina before arresting Ying and another man, Thanet Thongtan, at the Naka Condominium.
The two confessed that they receive the drug from a man who they weren't able to name, in order to sell in Phuket. They were paid 40,000 – 50,000 baht per time and admitted to police that they have done this for the man three times already. This time, the drugs hadn't been sold to customers as they were arrested before being able to make a sale.
Apart from 2.4 kilograms of crystal methamphetamine, valued around 4.8 million baht, the police also discovered 76,800 methamphetamine pills, worth around 11 million baht.
The three are now assisting Phuket police with their enquires related to the case.
SOURCE: Newshawk Phuket
Keep in contact with The Thaiger by following our
Facebook page
.
30 dolphins greet visitors to Similan Islands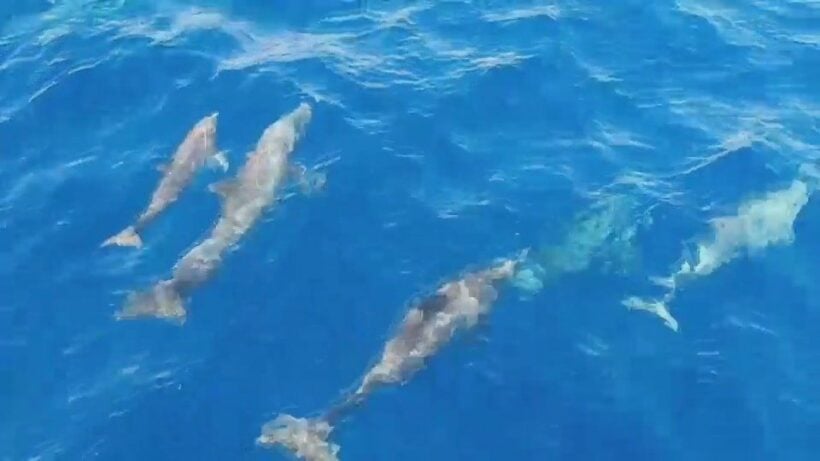 Tourists were treated to the sight of a school of dolphins in the Similan Islands off the Phang Nga coast on Sunday.
Tour organisers said that around 30 dolphins swam close to the boat six or seven miles offshore, creating excitement for passengers. It was the first time dolphins had been seen in the vicinity since October 15.
The Similan Islands National Park director said they were bottlenose dolphins and were among several species now returning to the area following a five-year closure of the park for environmental rehabilitation. Food is again plentiful there for them, he said.
Tourists are forbidden to feed wildlife lest the free handouts alter the animals' natural behaviour, and the park's waters are also very sensitive to contamination from human disease and marine debris, according to the director.
SOURCE: nationthailand.com
Keep in contact with The Thaiger by following our
Facebook page
.
Phuket hotels slashing the price of rooms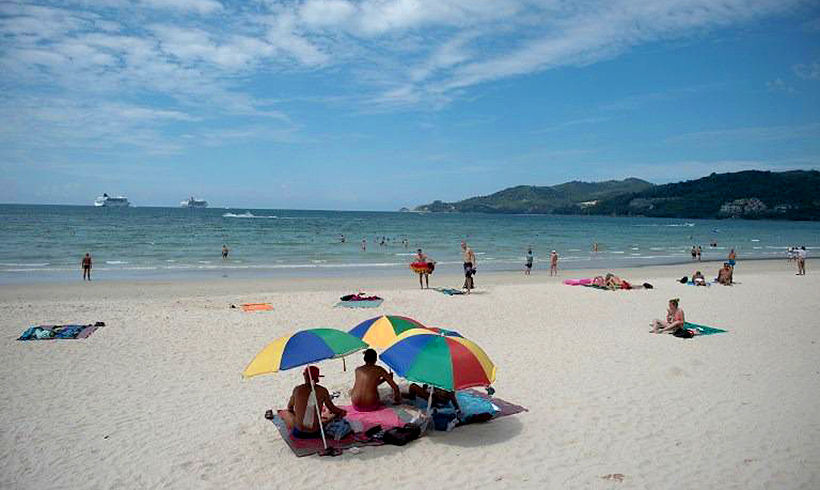 by Sophie Deviller
Hotels on Thailand's most popular holiday island are being forced to slash prices, with rooms left vacant and beaches sparse as Thailand's tourism chiefs struggle with a plunge in Chinese visitors caused by the US trade war and a stronger baht. Phuket was the most visited destination in the country last year, after Bangkok, and a good gauge of the state of its crucial travel industry.
Tourism accounts for 18% of Thailand's gross domestic product and Chinese holidaymakers make up more than a quarter of total arrivals. But while 2.2 million people from the country visited in 2018, according to official figures, the numbers for January-September were down almost 20% year on year.
Claude de Crissey, the French Honorary Consul in Phuket and owner of about 40 rooms in the Patong Beach area, says Chinese tourists are usually present even during the current low season.
"That was not the case this year," he said, adding he had to lower his prices by as much as 50%.
The problem is not only in Phuket, with hotels also struggling to fill rooms in the seaside resort of Pattaya on the mainland and on Koh Samui.
Trade tensions with the US have already made some Chinese reluctant to take holidays owing to uncertainty back home, while the Thai baht has risen about 10% against the yuan this year.
A boating disaster off Phuket's coast that killed 47 Chinese holidaymakers in July 2018 also scared some off.
"We are worried," said an industry insider, declining to be named due to the sensitivity of the topic in a country where tourism provides tens of thousands of jobs. Adding to the headache is the fact that more than 3,000 new hotel rooms are being constructed on the island, raising the question of who will fill them.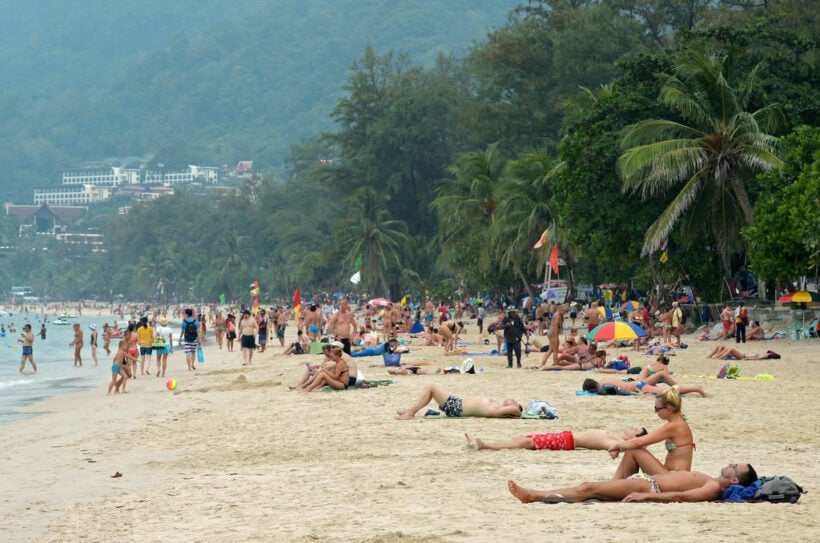 "In terms of business, it's not good," said Kongsak Khoopongsakorn, vice-president of the association of hotels in Thailand and director of Vijitt Resort.
"Because … we have more hotels, more rooms to sell, we have more restaurants, more coffee shops."
Still, tourism authority chairman Yuthasak Supasorn said he remained "optimistic."
"We should reach our goal of 39.8 million foreign visitors."
However, that is only up from 38.2 million in 2018, much less than the jump seen from the previous year's total of 35.6 million.
Counting on India
Now hoteliers and tour package operators are targeting visitors from elsewhere, particularly India, which experts see as a huge untapped market.
"We are counting on the Indians to revive the sector," Kongsak said.
A rapid expansion of the middle class in India, increased direct flights and visa-free travel have prompted Thailand to revise forecasts upwards.
It now expects two million Indian tourists this year, after an increase of nearly 25% on-year in the first seven months. But for now, the lower arrivals is evident on the streets of Phuket.
"I've never seen anything as bad as what it is at the moment," said Paul Scott from Australia, who said he has been coming to Thailand for 15 years.
He mainly blamed the stronger baht for the drop-off but also the fact that Thailand wasn't the untouched vacation paradise it once was. "Now it's not so new … and it's not cheap," he said.
SOURCE: AFP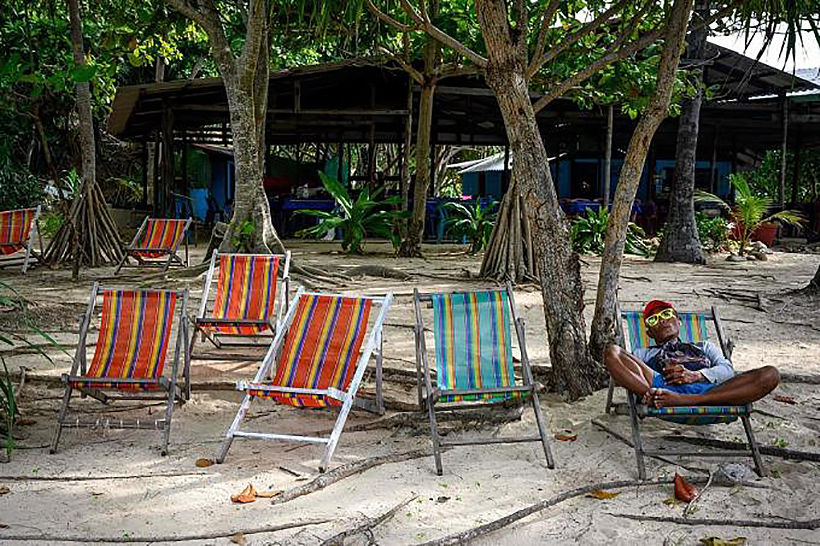 Keep in contact with The Thaiger by following our
Facebook page
.