Phuket
Minister battles devastating illegal fishing practices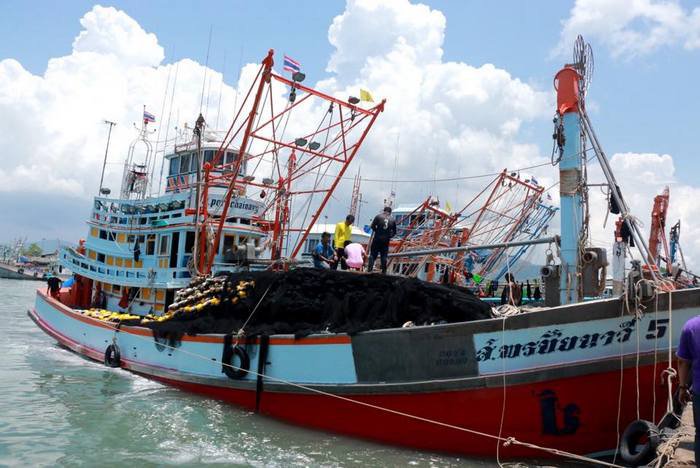 PHUKET: New fishing regulations are to hit Phuket as Thailand looks to close legal loop holes and enforcement issues being abused by illegal, unreported and unregulated (IUU) fishers.
Experts estimate that the global value of economic losses from IUU fishing range between $US10 billion and $US23.5bn annually, reported US-based National Oceanic and Atmospheric Administration (NOAA) in 2011.
"IUU fishing poses a direct threat to food security and socio-economic stability in many parts of the world. Developing countries are most at risk from IUU fishing… Fishermen who operate in accordance with all regulatory requirements can also be affected by reduced availability of target stocks due to poaching by IUU fishing operators and reduced revenues as a result of competition with lower-priced IUU product," reported NOAA.
The Ministry of Agriculture and Cooperatives, which is leading the push in Thailand, launched the anti-IUU campaign in Phuket, Chumphon, Ranong and Songkhla following the seizure of Atlantic toothfish vessel Taishan in Phuket last month.
The ship had already fled from the navies of New Zealand and Australia, as well as global conservation organization Sea Shepherd, before passing through Indonesian waters and mooring near Phuket (story here).
The captain, Jose Alberto Zavaleta Salas, reported the cargo as 182 tonnes of grouper, valued at about 15 million baht (story here). However, experts have confirmed that the ship had in fact offloaded 182 tonnes of Antarctic toothfish, valued at about 179mn baht.
"I came here to listen to a report about the fishing industry in Phuket, following our launch of a crackdown on IUU fishing in the region," said Minister of Agriculture and Cooperatives Petipong Pungbun Na Ayudhya during his visit to Phuket yesterday.
"During our 10-day blitz against human trafficking, we have been able to gather a lot of useful information about Phuket fishing boats – everyone has been very cooperative."
Though the blitz (story here) was designed to tackle human-trafficking concerns that were brought to a head when the United States downgraded Thailand to tier three in its annual Trafficking in Persons report last year, the information gathered helped paint a better picture of how IUUs are operating in Thailand.
"We are now working on collecting data in order to assess what legal loop holes there are and what needs to be done to better regulate the fishing industry," Mr Petipong said.
"We aim to establish laws to directly resolve issues with IUU fishing vessels operating out of Thailand. This will give a positive boost to our fish-product export industry."
The new fishing regulations are expected to be drawn up and implemented on May 6, but not officially signed into law until July.
— Kritsada Mueanhawong