Live Wire: A tale of internet worry and woe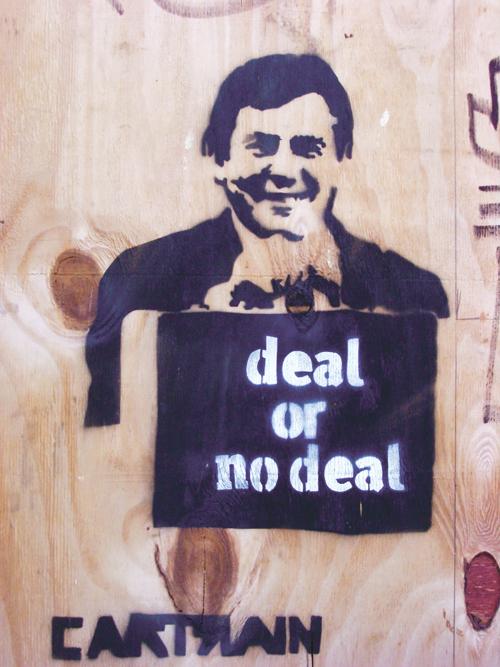 PHUKET: TWO weeks ago in Live Wire, I produced a list of all the available internet packages in Phuket – at least, all of the packages I know about (click here).
Last week, I explained that most people in Phuket will want to get a "3G" (I still hate that term, because it's meaningless!) package for their phone(s). Most probably don't need to get wireless 3G for their tablets/iPads, as long as they can tether the tablet from their phones – a process that's fairly easy from most phones. And most folks need some sort of landline – ADSL, Fiber, DOCSIS, Airmax – for their homes or offices, although 3G can work in a pinch, particularly if you buy a MyFi box.
This week, I want to drill down on one particular internet service that you don't want. I've mentioned the new TOT 3G service – TOT calls it "3.9G," thus reinforcing my contention that the term 3G doesn't mean anything here. I've never recommended it, because I don't have any experience with it, haven't seen any speed tests reported for it (phuketinternetspeed.com), and don't know anyone who's actually used it.
That all changed, very abruptly, a few days ago, when I received an anonymous copy of a letter sent from a reader in Phuket to TOT's Senior Executive VP, in Bangkok. Here's what the letter says, with a few minor edits:
"I recently tried to become a customer of TOT's 3.9G service, with very unhappy results. I hope this letter will help you to improve the success of TOT's 3.9G product, and to improve TOT's public image in the process.
On December 22, I sent this information to TOT's director of customer service, but I have had no response. Please forward this to the correct executive for prompt action.
My complaint is that I have been excessively overcharged for TOT's 3.9G service under false pretenses. My attorney thinks this may constitute illegal coercion under section 'A' violation of section 341, Chapter 3, Title XII of the Penal Code of Thailand.
On October 8, my assistant, acting on my instructions, signed a contract for TOT 3.9G service. The contract specifies a monthly charge of 850 baht. The contract also refers to a service level called LOAD PLATINUM, which includes 6 GB of download data per month. There were no other marketing or explanatory 3.9G materials provided to us on that date or since.
Shortly thereafter, I started to use the 3.9G service to access the internet from my home computer. I expected to start receiving invoices for 850 baht per month, as per the original contract. Instead, on November 30, I received an invoice for 4,555 baht. On December 20, I received a second invoice for an additional 8,907 baht.
After receiving the November 30 invoice, I eventually figured out that TOT was billing me for 3.9G usage that exceeded the 6 gigabyte cap. This was a great surprise, because TOT had never informed me that there would be additional charges for usage beyond the 6 gigabyte cap. There is certainly nothing written in the contract or in the TOT brochures that specifies any such additional charges. The contract and brochures are completely silent about what happens when the 6 gigabyte cap is exceeded.
Several days after receiving the November 30 invoice, I stopped using the 3.9G service entirely. I also attended a series of meetings with TOT staff and the director of the main TOT office in Phuket, the most recent of which, was on December 19.
During those meetings, I was told for the first time that there was a usage charge of 0.5 baht for each megabyte that exceeded the 6 gigabyte cap in any calendar month.
I assert that these 0.5 baht/megabyte charges are unfair and unjustified because they were never specified in any paperwork provided to me by TOT – and they still have not been provided to me in writing. I do not believe it is acceptable for TOT to bill for charges which have never been explained to or agreed by me.
Please note that (according to the Phuket TOT office) my October 8, 2012 contract was the very first sale of 3.9G service in Phuket – so it is not surprising that there was confusion within TOT and between TOT and customers of the new service.
Also, please note that TOT has not provided 3.9G customers with any way to tell when they are approaching (or have exceeded) the monthly 6 gigabyte cap. It does not seem like fair business practice to charge customers for stepping over an invisible line.
I have called the 1711 number on multiple occasions concerning this problem. After waiting several minutes on each occasion, I spoke to a customer support person who was entirely unfamiliar with the new 3.9G service, and who could tell me nothing about my usage so far that month.
Furthermore, I have determined that TOT sends a steady stream of unsolicited "administrative" traffic down the 3.9G connection. I have no control over this traffic, nor do I have any way of knowing if it is counted toward the 6 gigabyte cap. I do know that the administrative download traffic happens about once per second, 24 hours a day, 7 days a week. That adds up to about 0.4 gigabytes per month."
The reader goes on to propose a (very reasonable!) solution to the problem.
My first reaction upon reading the letter – in addition to the usual TIT (This is Thailand) observation – was to compare the price charged for additional data with industry norms. TOT charged the reader 500 baht per gigabyte (GB) for additional data. Singtel in Singapore charges 120 baht. Verizon in the US charges 450 baht for each 1GB overage, although customers can buy 2 GB in advance for 300 baht. Prepaid 3G in Cambodia works well, by all accounts, and costs 450 baht for 5 GB per month or 90 baht per GB.
Which begs the question: How much is one GB? Of course, there's no definitive answer (this is the computer industry, after all), but a good rule of thumb goes like this: If you download or stream a one hour TV show, it'll run about 1GB, or less if you go with a lower
quality (720p) picture. Full high definition movies can run 3GB to 5GB each. If you receive good quality photos in your email, 1GB is about 200 pictures – or just a handful of video clips, if they're incessant. For downloaded music in typical MP3 format, figure on 200 songs. Your email, minus pictures and huge attachments, won't even put a blip on the counter. Same for web browsing, if you don't click to play videos.
You can go for about 50 hours with Skype "talking heads" video calls and stay under about 1GB – but if your camera is following something that's moving, the data stream goes way up. YouTube videos vary not only in length, but in quality – from the lowest quality videos being sent to the smallest screens, up to 1080p high def going to desktop computers. On a tiny screen, you can watch about 10 hours of YouTube videos and stay under 1GB. But if you run at full HD, that goes down to about one hour before you exceed 1GB.
Put another way, if you have a 3GB data cap on your 3G account, and you use the account to watch full-screen TV, you'll get about three hours of TV per month before blowing the data cap. Watch YouTube videos on your iPhone or Galaxy, and you can go for 30 hours per month. If you talk on Skype all the time, you can run video calls 24 hours a day, 7 days a week, and still stay within your limit – but there won't be much room to do anything else with the account.
Most internet service providers in Phuket offer "unlimited 3G" packages. While the ads say they're unlimited, they aren't really. In this case "unlimited" means you can go up to a specific amount of data in a monthly billing cycle – typically 3 or 4GB – and after you hit the cap, your line is throttled way, way back, so it's painfully slow, until the end of the billing cycle.
Cavea
— Woody Leonhard
📱 Download our app on Android or iOS for instant updates on your mobile
📧 Subscribe to our daily email newsletter
👍 Like/Follow us on Facebook
🔔 Subscribe to or Join our YouTube channel for daily video updates
Pattaya, Phuket and Hua Hin brace for increased restrictions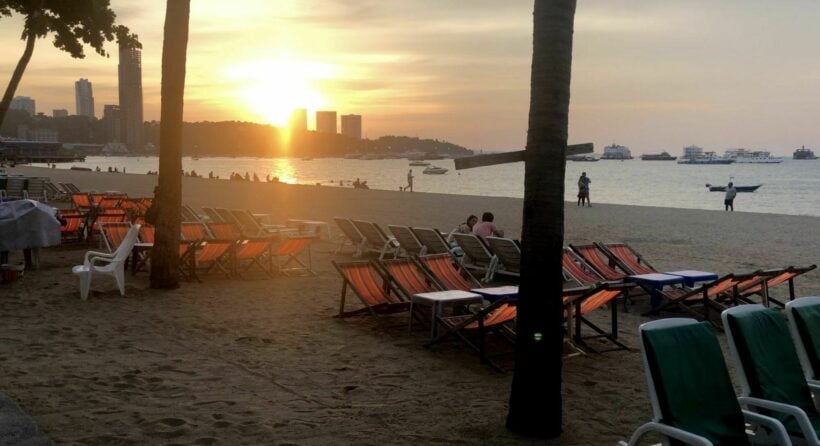 Three of Thailand's biggest expat areas are seeing sharp rises in new infections, partly from pre-Songkran traffic. The Songkran holidays, now officially over (but will see many people taking today off and making a weekend Songkran extension), and the government says they are expecting to see a rise in the cases numbers reported in the popular holiday locations.
Chon Buri Public Health office says they now have a total of 910 infections since April 1. They have 103 new cases in the past 24 hours. Most new cases are in Bang Lamung district which includes Pattaya City with 47, Siracha with 12) & Chon buri City with 8.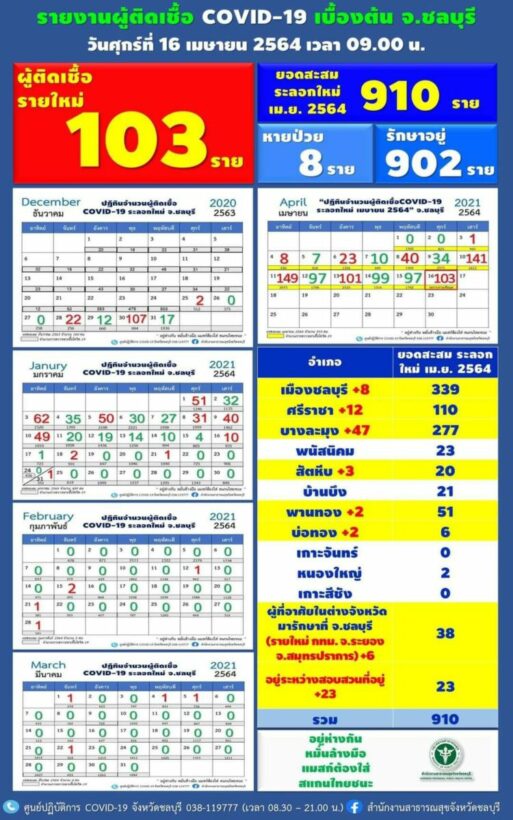 Meanwhile Phuket has a total of 142 infections recorded on the island with the Governor still insisting there will be no need for a lockdown. Here's a breakdown of the areas and the numbers of recorded infections so far (below).
Governor Narong announced that the Phuket Infectious Disease Control Committee won't be implementing an official lockdown, but will "strictly raise the intensity of public health measures to counter the spread of Covid-19″.
"Everyone should wear a face mask, maintain social distancing, wash their hands frequently and install the Mor Chana app (available for free from App Store and Google Play Store)."
A meeting of the CCSA, chaired by PM Prayut Chan-o-cha is expected to upgrade restrictions in red zone areas around the country, which includes Phuket and Pattaya. Read more about the latest red and orange zones HERE.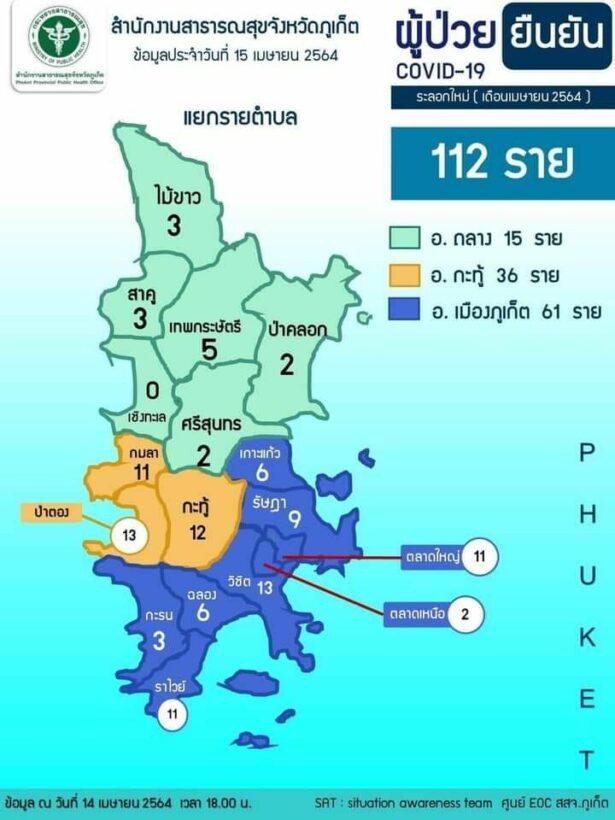 For Hua Hin expats, there's been 100 new Covid-19 infections announced in Prachuap Khiri Khan in the past 24 hours, 75 cases from Hua Hin. This takes the total in the province since April 1 to 625. Hua Hin accounts for nearly 90% of the district's total cases.
📱 Download our app on Android or iOS for instant updates on your mobile
📧 Subscribe to our daily email newsletter
👍 Like/Follow us on Facebook
🔔 Subscribe to or Join our YouTube channel for daily video updates
Footbridges stop luxury yacht travelling from Phuket to Samui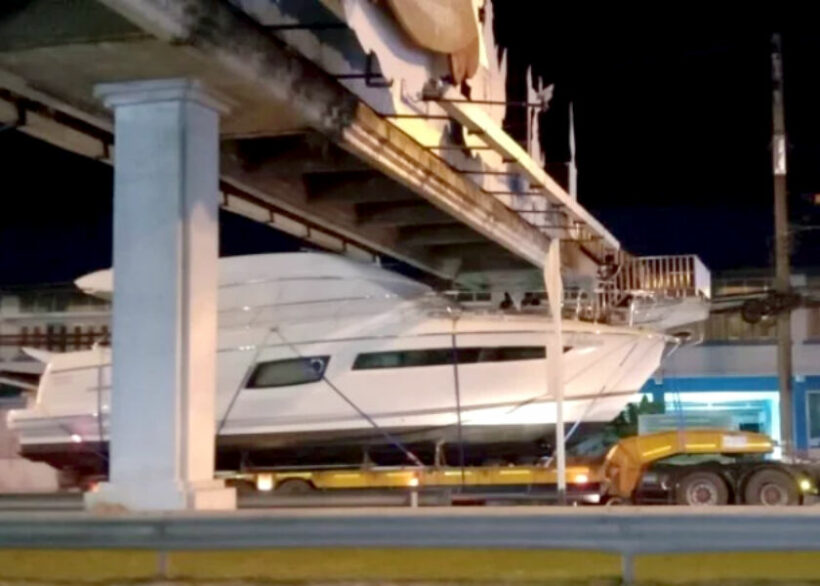 Footbridges in Phuket stood in the way of a luxury yacht travelling from its home in Phuket to Koh Samui when the boat was too tall to pass. Police received a call around 8 pm last night from the truck driver after his trailer carrying the yacht had trouble getting under one of several bridges for walkers to pass over the highway. The boat was travelling down Thepkrasattri Road, where it was stopped by the bridge near Baan Tha Reua School. The boat also had trouble at the pedestrian bridge at the Provincial Electricity Authority Thalang Branch and the bridge at Baan Lipon School in Srisoonthorn.
All the bridges were supposed to have a 5-metre clearance, though one observer speculated that all the repaving of the road over the years may have raised the road and lowered the clearance. Traffic police responded to the first bridge incident by sending officers to direct traffic and make sure bikes and cars didn't pass and impeded progress on freeing the boat. The second incident about 30 minutes later was resolved by letting air out of the truck's tires to lower it just enough to pass under the bridge. The third snag prompted the driver to go in person to the Thalang Police station to request help yet again.
This time police were less amused and suggested the truck driver try to resolve the issue himself and call back to the police only if he was unable to free the luxury yacht. A traffic police officer went to follow up with the stranded boat at the end of his shift and found the driver had given up and decided to return the yacht to its Phuket origin at Boat Lagoon Marina in Koh Kaew. The boat, now damaged from the bridge bumps, wasn't going to make it to Surat Thani to be sailed to Koh Samui on this journey. The boat radar had broken off on one of the bridges. No word on any major damage to the pedestrian bridges.
SOURCE: The Phuket News
📱 Download our app on Android or iOS for instant updates on your mobile
📧 Subscribe to our daily email newsletter
👍 Like/Follow us on Facebook
🔔 Subscribe to or Join our YouTube channel for daily video updates
Hotel blog suggests Phuket should push ahead with July reopening despite Covid surge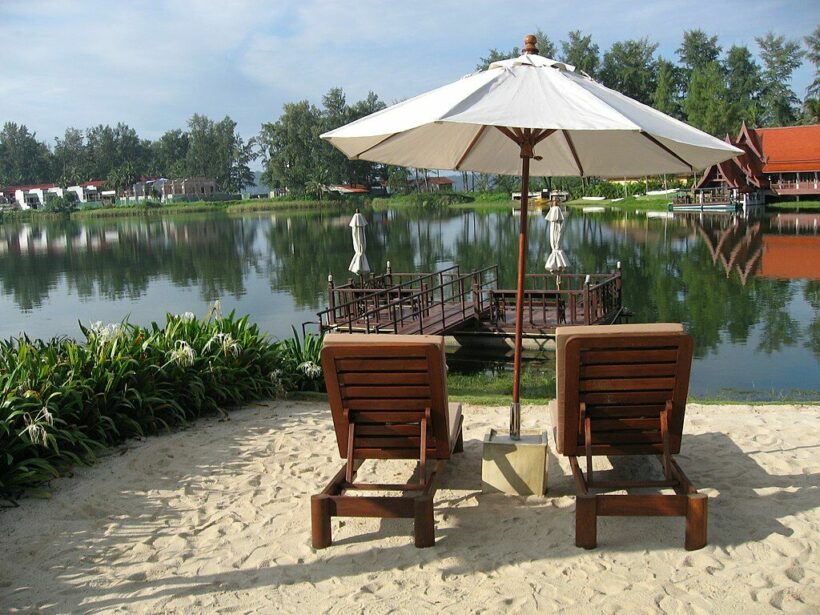 A hotel information blog is claiming that, despite growing Covid-19 numbers, Phuket should stick to its schedule in reopening to travellers without quarantine in July. That's only 2 and a half months away.
In an interview with the Director of Travel and Tourism Consulting at GlobalData, they stressed that while it is crucial to rein in the spread of Covid-19 and the B117 strain now menacing Thailand, the risk must not overshadow the need to push forward with vaccinations and the march towards eliminating the quarantine by July in order to save the tourism industry and all those dependent on it.
"The Phuket pilot program is essential in creating a path towards economic recovery for Thailand, a country heavily dependent on tourism. More than 17% of Thailand's gross domestic product is attributed to tourism and the Covid-19 pandemic has lead to the worst economic free-fall in over 20 years"
The blog acknowledges the inherent risk and possible appearance of foolishness to prioritise the plans to reopen and carry on with the same rollout schedule. But they urge Thai authorities to consider that July 1 is still 2 and a half months away, leaving ample time to recover and make progress towards the approaching Phuket reopening. A vital aspect of the reopening plan lies in vaccinating over 70% of Phuket's provincial residents, a sizable task, but one that brings great benefit with or without the scheduled reopening.
"Pushing ahead to achieve this goal puts Phuket on track to welcome back tourists, perhaps in a "bio-bubble", and restart the economy. The economy is desperate with household debt growing, pushing the government to enact emergency decrees to provide relief. These households need the return of tourism and the influx of cash international tourists will bring."
The blog hopes that Thai authorities can balance the necessary Covid-19 safety measures in Phuket to protect the Thai population with the economic need to bring back tourism. They believe that with sufficient measures in place, vaccinated locals could welcome vaccinated international tourists back to Phuket reopening safely in July.
SOURCE: Hotel News Resource
📱 Download our app on Android or iOS for instant updates on your mobile
📧 Subscribe to our daily email newsletter
👍 Like/Follow us on Facebook
🔔 Subscribe to or Join our YouTube channel for daily video updates