EXCLUSIVE: One-on-one in Phuket with Bob Sinclar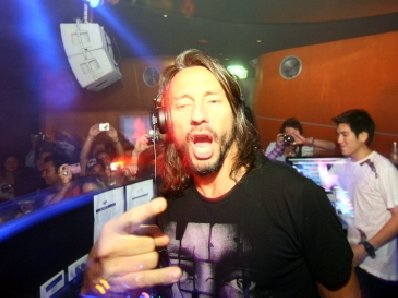 PHUKET: More than 3,000 music fans flocked to Famous Nightclub in Patong last Tuesday to see French DJ Bob Sinclar – the man behind the worldwide hits Love Generation and World, Hold On. Here's the Phuket Gazette's exclusive interview with the man himself.

If one DJ has stood out from the rest over the past decade it would be Bob Sinclar. With two Grammy nominations for his 2007 single World, Hold On and with his most recent album "Made in Jamaica" on the shortlist for a Best Reggae Album Grammy, Sinclar is no stranger to plaudits.

He stamped his mark on the world with Love Generation in 2005, selling over two million copies and reaching Number One in seven countries.

The track was also the official anthem for the 2006 FIFA World Cup, and although his beloved French team crashed out of the final against Italy – yes, the infamous Zidane head butt – Sinclar ticks off that year as his career high to date.

The self-styled, image-conscious 41-year-old accredits the rise of the "Superstar DJ" to a French movement in the '90s.

In fact, Sinclar (real name Chris Le Friant) is one of a handful of French DJs who pioneered the dawn of the "French touch" – the use of Euro disco with a sampling of distorted beats and instrumentals in the early '00s.

As he looks to the next decade, Sinclar is optimistic about the future, eagerly awaiting the opening of his 2,000-capacity club in Miami, confident in the ever-rising demand for DJs to play at clubs around the world, and, of course, coming back to Phuket.

The Frenchman tucked his hair behind his ears and put down his iPhone long enough for Phuket Gazette Features Editor Fraser Morton to have a chat with him.

Fraser Morton: More than 3,000 people saw you perform at Famous nightclub in Patong (January 4). How did it go?

Bob Sinclar: I really enjoyed playing at Famous. It was a great atmosphere and good crowd. Hopefully I will be back soon, and I'm sure there will be more big-name DJs wanting to play too – especially when they hear about the roof-top swimming pool! (He's talking about the glass-bottomed pool in which bikini-clad girls frolic at the club.)

FM: Let's go off-the-wall a bit here. Who do you think is the hottest woman in the world?

Bob: Easy, Monica Bellucci.

FM: What's on your iPod right now?

Bob: Kings of Leon, Bob Dylan, Bob Marley, A Tribe Called Quest, Swedish House Mafia. It's 180 degrees, but they all have soul.

FM: Who do you think was the world Person of the Year 2010. Time magazine said Facebook's Mark Zuckerberg. Were they right?

Bob: No, they should have chosen the jailed Nobel Peace Prize winner Liu Xiaobo.

FM: French Bread or French Cheese?

Bob: (Arms raised) You cannot have one without the other.

FM: A holiday in Thailand or a holiday in the UK?

Bob: (Laughs, almost hysterically) There is no holiday in the UK, my friend. Thailand, for sure.

FM: In the past few weeks you've played in Pattaya, Bali and Australia, how did the gigs compare?

Bob: It's great to play in different countries. The atmosphere is different and the music scene is more established in Australia, but the support here has been fantastic.

FM: Your most recent album, "Made in Jamaica", has just been nominated for a Grammy. Do awards mean a lot to you?

Bob: For sure, it means a lot. It's special because I did it for myself. I worked with legendary Reggae musicians and I am very proud of it. (Chuckles, slaps FM's knee) I think it is the first time a white guy has been nominated for a Grammy in the Reggae section.

FM: You're on tour non-stop. How do you find time to make records and play gigs at the same time?

Bob: I only play on weekends when I tour, but this is where the money is now. Music is free. Musicians have to accept this now. The only way to make money in music is to produce videos and produce your own albums. All of this, I do myself.

FM: So you're pro-free music?

Bob: At the beginning it was a bit strange to see music free, but today I cannot believe how many people know my name around the world. This is because music is now accessible for everyone. The fact that I'm here (in Phuket), which is a holiday resort, where you would think nobody cares about international DJs, shows the power of accessibility. It reaches places and people you would never have imagined.

FM: Have you seen pirate copies of your music here for sale?

Bob: I saw bootleg copies of my albums for sale at one stall here. I said to the guy selling them, "Hey! That's me! Thank you for selling my music!" It's a great way for people here to see my music.

FM: You have an interesting nickname: "Chris the French Kiss". Where did that come from?

Bob: It was given to me when I started out in the early '90s. There were no DJs that had an image or identity. The only examples were the Americans like David Morales or Masters at Work or Roger Sanchez. No-one had created an identity of their artist image. The French guys made the DJ image I think, like Daft Punk.

FM: And what's yours?

Bob: Mine is like a disco superhero. In 1997, I took the name Bob Sinclar from a French movie star. It caught on.

FM: Do people often ask you to take your clothes off, as you appear half-naked in many photos?

Bob: I'm not like a gay icon or like Kylie Minogoue or something.

FM: How do you stay in shape? You're a DJ and you have a six pack.

Bob: You are what you eat (laughs). I just don't eat fat. Lots of protein, fruit and vegetables, and no cigarettes and no alcohol – ever.

FM: What do you class as your career-defining moment?

Bob: Easy. This was in 2005: Love Generation. It was a beautiful accident that I built towards. I created all the melodies, and I'm not a musician. I studied music in creating recycled sounds with a sampler, that's it. That's all I know in music.

FM: So what's next?

Bob: I've sold millions of tracks around the world. Two million with Love Generation, and five albums. Just now, I'm just happy to be here.

FM: Do you think you'll ever want to do something else?

Bob: Not until I get bored of it, but the travel is killing me. I am opening a club in Miami this year. Only a DJ can make a club.

FM: What are the best and worst things about being famous?

Bob: Being famous is very perverse. It makes you believe that you are something, but one day, fame will take me back down to Earth. It's good to be loved for what you do.

FM: Love Generation was the anthem of the 2006 FIFA World Cup, but wasn't it a shame about France's result in the final that year?

Bob: That song spread the right message to football fans, but it was a shame Zidane did something wrong, but what do you want me to say? We got to the final!

Join the conversation and have your say on Thailand news published on The Thaiger.
Thaiger Talk is our new Thaiger Community where you can join the discussion on everything happening in Thailand right now.
Please note that articles are not posted to the forum instantly and can take up to 20 min before being visible. Click for more information and the Thaiger Talk Guidelines.