Deadly roads: The fight to make island roads safe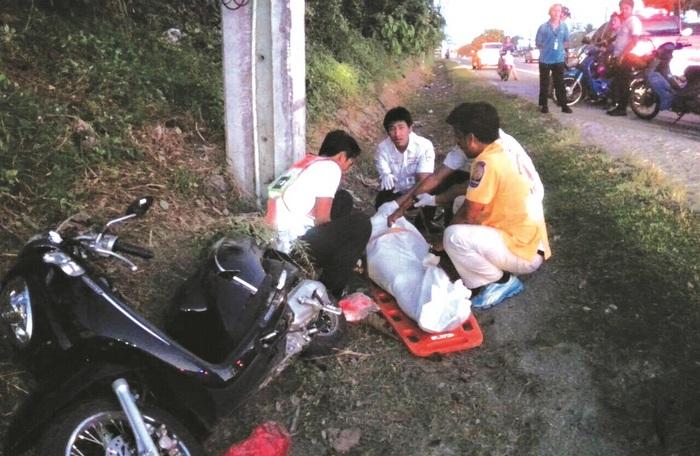 PHUKET: Despite the devastating death toll during the 'Seven Days of Danger' annual road-safety campaign – reaching seven this year, more than triple last year's total – the number of fatalities from road accidents on the island have gradually declined throughout the last seven years, confirmed the Thai Road Safety Network (RSN).
The number of road deaths has reduced from about 200 in 2008 to just over 100 in 2014, explained Wiwat Seetamanotch, the deputy chair of RSN and an executive adviser to the National Institute of Emergency Medicine.
Despite efforts to reduce accidents, Thailand annually has an average of more than 26,000 traffic-accident deaths and remains, on a per capita basis, home to the second most dangerous roads in the world behind Namibia.
In comparison, Thailand's fatality rate is 15 times higher than the UK, which has a similar population but only yields about 1700 deaths annually.
"There are three main factors leading to these fatal crashes: roads, vehicles and drivers," said Mr Wiwat. "We are doing our best to tackle the core problems festering in each factor in an effort to see a further 50 per cent reduction in road deaths in the next five years."

HOW YOU DRIVE
Efforts in the battle against drunk driving received much-needed additional ammunition when Michael Woodford, the executive chairman of Safer Roads Foundation (SRF), and his wife Anunciacion Somavilla, presented 39 Lion alcolmeter SD-400s breathalyzers to then-Phuket Governor Nisit Jansomwong on August 27.
"I've been utterly consumed in a whole range of road-safety endeavors in the UK and around the world, so many of which are literally life-and-death issues," Mr Woodford said. "Even on holiday, I spend several hours a day dealing with urgent issues, which – as they often relate to life-and-death – simply can't be put on hold until I return.
"The problem for me is that if you can't change things, then in a way you resign yourself to that fact and don't worry, but when you realize that you have an ability to address some of the dangers on the world's roads, then it becomes a lifelong obligation."
The increased presence and support from SRF is not taken for granted, assured Phuket Provincial Police Commander Teeraphol Thipjaroen.
"The 39 breathalyzers have been very useful in our crackdown on drunk driving; they are allowing our limited number of officers to be more efficient and effective," Col Teeraphol said. "In October and November, we arrested 416 people for driving under the influence – that's more arrests than all of 2014."
Col Teeraphol vowed to maintain the campaign against drunk driving on the island, which was launched well ahead of the nationwide 'Seven Days of Danger' campaign.
"We know people will continue operating motor vehicles while under the influence. However, I would like to encourage everyone to think twice before drinking and driving – you're not only risking your life, but the lives of others," he said.
The colonel's focus for road safety, however, isn't just on drunk driving.
"We will continue to be on the lookout for people breaking all types of traffic laws."
Mr Wiwat of RSN is empathetic to the difficulties facing police as they attempt to enforce traffic laws.
"There are simply not enough officers," said Mr Wiwat. "However, enforcement continues to be very soft for traffic violations. Those who are caught must be dealt with strictly, so people learn to respect traffic laws."
Failure to wear a helmet, drunk driving, speeding, running red lights, ghost driving and illegal u-turning are just a few of the numerous traffic violations regularly witnessed by motorists on Phuket.
"Starting in 2010, we increased our enforcement of wearing a helmet," Mr Wiwat said. "From that initiative alone, we saw a reduction of 30 deaths per year."
In 2014, Phuket was ranked the top province for highest rate of helmet use in Thailand. The three previous years, the province was ranked number two.
"In addition to carelessness or disregard for the law, the quality of drivers on Thailand's roads is very low," Mr Wiwat said. "The quality of drivers who are able to pass the test and get a driver's licence is still very low – they just aren't necessarily good, safe drivers."

WHERE YOU DRIVE
The conditions of Phuket's roads also play an enormous factor in the accident rate on the island, Mr Wiwat said.
"In developed countries, there are clear differences between inner-city roads and highways – like an expressway – which connect one city to another. However, in Thailand, small communities are strewn along major roadways, which creates a dangerous mix of slow and fast traffic," Mr Wiwat explained. "Thepkrasattri Road is a perfect example of this. In areas that the road bisects a community, there are people trying to cross the road, make u-turns and make other maneuvers on the road, which creates a very dangerous situation."
However, perhaps a greater concern are specific unsafe areas on roads, such as dangerous u-turns, particular curves, slippery roads, dust and gravel, and the lack of enough signage to warn motorists of dangerous sections of the road ahead.
"My wife Nancy and I are spending millions of pounds of our own money over a three-year period to fund more than a hundred remedial schemes at the country's worst accident 'black spots'," Mr Woodford said. "And the engineering and traffic management systems (speed and red light cameras) will bring an immediate and dramatic reduction in casualties."
Last year, SRF formally opened a 14-kilometer safety corridor with an automated speed enforcement system in Khon Kaen. It was the first time that such an integrated project had been introduced in Thailand, and was fully funded by SRF.
"In 2013, on this short section of carriageway, there were over 500 reported accidents, with speed being a principal factor in most of these… The initiative is anticipated to reduce this number by at least 20 per cent," Mr Woodford said.
Over the last seven years, RSN has worked with local authorities to rectify more than 40 'black spots' on Phuket alone.
"We have installed more necessary traffic lights, improved safety at u-turn points, created more road medians, fixed slippery roads and so on," Mr Wiwat said. "Just between 2008 and 2010, we fixed about 20 black spots and found that our remedies decreased the number of traffic accidents on the island by about 30 per cent."
Next year, more than 10 deadly sections of Phuket's roads are set to be fixed.
WHAT YOU DRIVE
The fact that the vast majority of those travelling on Thailand's roads do so on motorbikes is another factor to the country having some of the most deadly asphalt in the world.
"Motorbikes are cheaper than cars, but also more risky. According to our statistics, 80 per cent of road deaths in Thailand are motorbike riders," Mr Wiwat said.
However, Thailand's weak control over the safety standards of vehicles is also an issue, Mr Wiwat explained.
"In Europe, they have the European New Car Assessment Program (Euro NCAP) and in Japan they have the Japan NCAP. However, Thailand does not have similar standards," he pointed out.
In fellow Asean Economic Community member country, Vietnam, SRF recently hosted a workshop for the CEOs of the country's motorcycle/moped manufacturers, senior government ministers and NGO members in order to gain a consensus to introduce 'Automatic Headlights On' (AHO) at the earliest possible opportunity.
"The improved conspicuity reduces fatalities and serious injuries by between 10 per cent to 20 per cent and is a simple wiring change during manufacture and costs absolutely nothing. If we are successful with the introduction of AHO, it will save hundreds of lives a year," Mr Woodford said.
"Disturbingly, 108 people were killed on your small island [in 2014] and many hundreds more seriously injured, which brings home the need to do everything we possibly can to reduce this pointless carnage.
"What impressed me was the sincerity and positive attitude of the governor, and also the police commander, who both clearly care passionately about acting quickly to reduce fatalities and injuries on the island's roads."
Speaking with the Phuket Gazette, Phuket Governor Chamroen Tipayapongtada urged the public to take road safety seriously and to personally ensure the safety of yourself, as well as those around you.
"There are more and more vehicles on the our roads every year and we must take responsibility for our safety and the safety of other motorists. At the provincial level, I have tasked relevant authorities to tackle this issue head on," Governor Chamroen said. "Please follow the traffic laws set in place."
Mr Woodford assured the Gazette that SRF was fostering an important relationship with the local government and was eager to assist in improving road safety on the island.
"SRF always wants to work in a way where the local people are involved and supportive, and it was clear from our visit in August that the local government and the police are fully committed," he said.
"With this background, we believe that this is just the start of a long-term working partnership, where together we will be able to dramatically reduce the futile loss of life and injury, and have agreed on an initial target of less than 50 deaths annually by 2020… a 50 per cent reduction in five years."
— Kongleaphy Keam
Phuket News

Join the conversation and have your say on Thailand news published on The Thaiger.
Thaiger Talk is our new Thaiger Community where you can join the discussion on everything happening in Thailand right now.
Please note that articles are not posted to the forum instantly and can take up to 20 min before being visible. Click for more information and the Thaiger Talk Guidelines.