Phuket King's Cup – Racing Day One. Plenty of wind!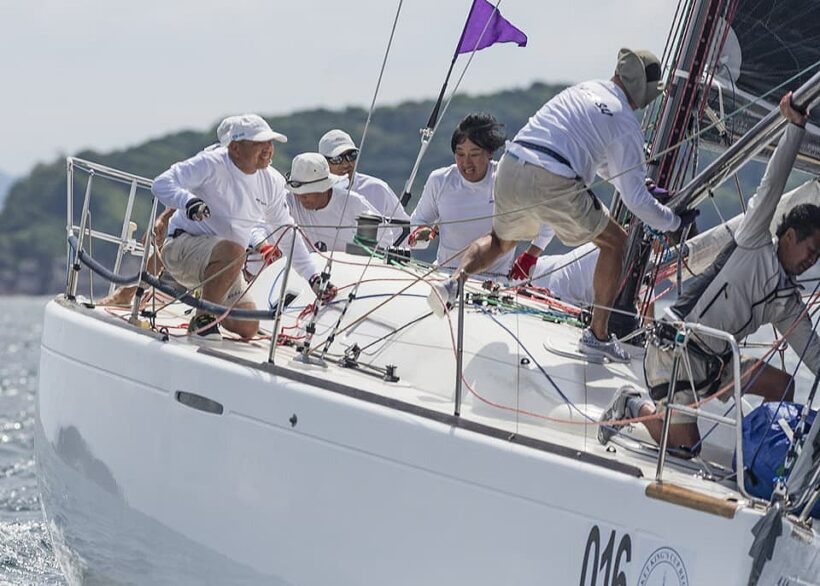 Plenty of wind on Day One and the rest of the week is shaping up well in the wind department.
Race Day One kicked off with some of the best conditions seen at the PKCR in recent years, winds around 19 knots and more of the same anticipated tomorrow. A total of 83 keelboats and multihulls took to the waves, which at times bordered on straight-up rough 'n' tumble with a few collisions.
Making hay while the sun shines, every class put in as many runs as possible. Many teams also put their faith in fast running today, and it was a gamble that paid off. Kevin Whitcraft's THA72 Thai team won the opening three races in IRC0. In IRC1, Japanese team Karasu and Singapore-sailed Loco shared a win each, before Yasuo Nanamori's team took the third race. IRC2, this year incorporating Open Charter, saw Peter Dyer's Kata Rocks (Madam Butterfly) winning all three races. Full classified results are available here.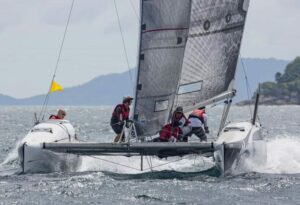 Jaray Tipsuk, Helmsman of Thai boat THA72, was still beaming after an exhausting day, saying, "Winds were very good, conditions were extremely fast all day. We've just bought a new jib so we're set up for very high speed, but we never tested it before! It's obviously performing well for us. Our team is very ready following an exhaustive practice schedule at similar speeds. We're fast reaching downwind, not so much when running."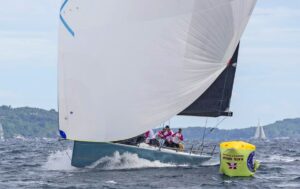 Ithinai Yingsiri, Skipper of Pine Pacific, which finished second in Premier Class behind rivals Antipodes, said, "This is the sixth year that Pine-Pacific, an X-Yachts X-55, has raced in the PKCR. However, most team members raced with 'Lawana', another famous Thai team boat for many years. We've won 1st in Premier Class for the last 4 years but were expecting a competitive year this year as we are racing against many good teams".
Kevin Whitcraft, speaking in his role as President of the Phuket King's Cup Regatta Organizing Committee, said, "The opening of the 31st Anniversary will be remembered for its gusting wind conditions which lasted throughout the day. In fact, you could say that today's opening day wind conditions were the stuff of dreams for sailors and spectators alike. On behalf of our officiating and organising teams, it's massively rewarding to be able to see such a large fleet made up of some of the biggest racing sailboats giving it their all in these challenging conditions".
Today's racing followed festivities last night wherein the flag was hoisted and the bell was rung marked the beginning of an epic week of King's Cup racing. Over 83 keelboats and multihulls from 20 countries split via 11 classes (and 71 dinghies) have joined the 31st Anniversary race, with more than 700 sailors and support crews joining the opening evening event following the ceremony.
In the Dinghy fleet competition, Jedtavee Yongyuennarn was quickest in the Optimist Boys, with Patcharee Sringam fastest of the girls. Keerati Bualong was victorious in Laser Standard, with Patteera Meeyousamen taking the 4.7 Class. Manat Photong achieved success in the Laser Radial while Adisak Kingkaew and Kanchai Wongpaduang won out in the 420's.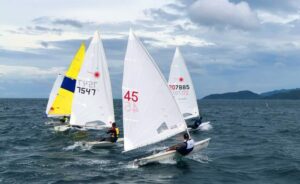 Keep in contact with The Thaiger by following our
Facebook page
.
Thailand and South Korea partner on development of electric buses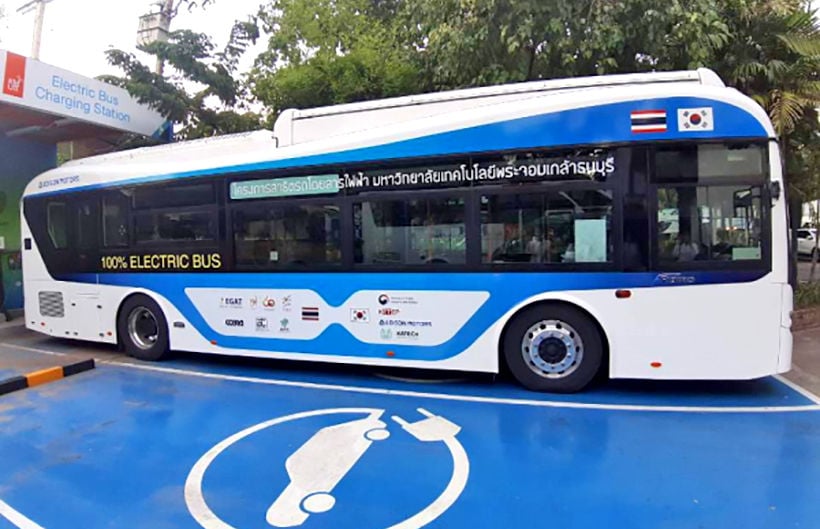 Original story by Shin Ji-hye
An all-electric bus sits on the campus at King Mongkut's University of Technology in Thonburi, Bangkok. The electric bus is a joint project between Korea and Thailand, led mainly by Korean automaker Edison Motors, which currently provides public transport services with eco-friendly buses at Namsan in Seoul and on Jeju Island.
The project involves 11 organisations from both sides, including Korea's Industry Ministry and Korean Energy Technology Evaluation and Planning. The Thai side includes the Bangkok Mass Transit Authority, the Electricity Generating Authority of Thailand and King Mongkut's University of Technology Thonburi, where the bus is being tested.
Kitchanon Ruangjirakit, a lecturer at King Mongkut's University of Technology Thonburi, says they are testing if the all-electric bus is suitable for the hot climate and traffic congestion of places like Bangkok.
"We are jointly working on traffic data collection, standards, energy consumption and battery capacity with Edison's electric bus,."
They plan to share the results of their research with the Bangkok Mass Transit Authority and the Ministry of Transport there, so the government can use the information in its future electric bus purchases.
When the systems have all been fully tested, the bus will be able to run 200 kilometres on a single charge. It uses an LG Chem battery.
The project, however, is only for research and not for commercial use at this stage. If Edison wants to produce electric buses in Bangkok, it has to take part in a bidding process. The Thai government plans to bid on 35 electric buses in the near future. Edison is willing to join the bidding, according to the government official.
Narit Therdsteerasukdi, deputy secretary-general of the Thailand Board of Investment, says Thailand is in the beginning stage of the EV industry and there is a long way to go.
"Thailand is the biggest exporter of cars (as an assembler) in ASEAN. We have 1,000 local parts suppliers. We are ready for the next step of the automotive industry. The Thai government intends to encourage its agencies to use electric vehicles in the future to create demand."
"Some companies like Samsung, LG, Posco and Hanwha have invested in Thailand for more than 30 years. We hope more Korean investors are coming in the near future."
"We are also trying hard to attract Korean battery makers, LG Chem and Samsung SDI, because we would like to build a whole supply chain of electric vehicles in Thailand. Not only car assembly, but we also want to build key parts of EVs like battery and motors."
SOURCE: The Nation | The Korea Herald
Keep in contact with The Thaiger by following our
Facebook page
.
Central opens first luxury outlet at Suvarnabhumi on August 31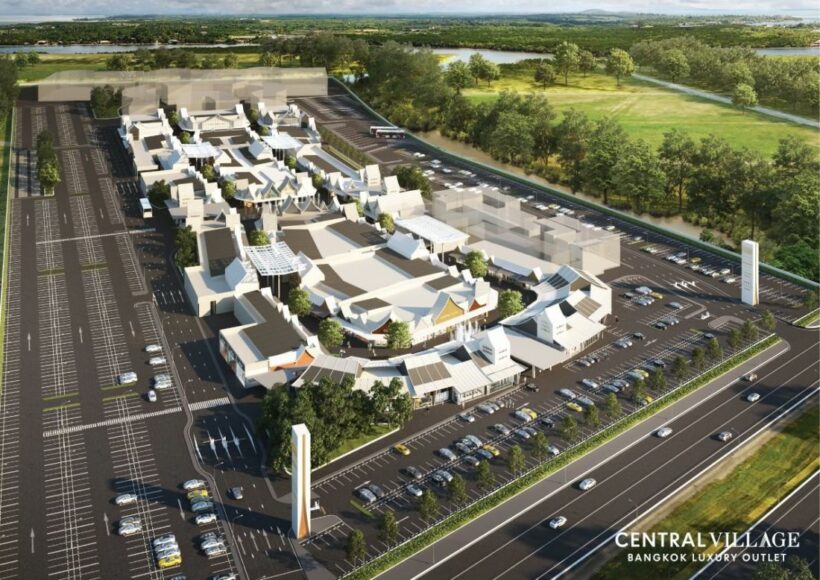 Central Village, "Thailand's first international luxury outlet", located near Suvarnabhumi Airport in Bangkok, will officially open on August 31.
The Nation reports that the design of the 5 billion baht facility, owned by the Central Pattana group, will "highlight Thai architecture and cultural identities" and shoppers will find at least 130 well known international luxury and lifestyle brands.
"More than half of the brands are opening their first outlet shop in Thailand, and over 60 have chosen to open their exclusive outlet store only at Central Village, with discounts of 35-70% every day."
Dr Nattakit Tangpoonsinthana, the executive vice president for marketing at CPN, says that Central Village is pioneering the new segment of 'Luxury Outlet' for the first time in Thailand.
"We intend to establish this new retail platform, filling the gap in the market, by making it one of the world's leading shopping destinations, similar to other popular tourist cities such as Japan, South Korea and Hong Kong, which also have leading outlets in Asia."
"We are expecting to attract 6-10 million customers per year, which can be divided into 65% domestic, focusing on the young and mass affluent nationwide, and 35% international tourists, focusing on those who fly into Bangkok."
The facility will also boast restaurants, a Tops Market, a children's playground and tourist service points.
CPN also plans to promote creative Thai brands at the Thai Pavilion Zone, where Thai products and contemporary art fairs will be held throughout the year, promoted as "Thai Signature Cultural Events". CPN will join hands with governmental organisations led by the Ministry of Culture and the Department of Internal Trade to hold events in a modern Thai theme presenting gifts and souvenirs, and local handicraft or OTOP items will be on sale.
Central Village will also provide convenient transportion to and from the facility, which located near Suvarnabhumi Airport, using a shuttle-bus service available at three pick-up points: CentralWorld, Udomsuk BTS Station and Novotel Suvarnabhumi Airport Hotel. Tourists will be at ease in dropping by at Central Village on their way to and from the airport, according to a release on Wednesday.
SOURCE: The Nation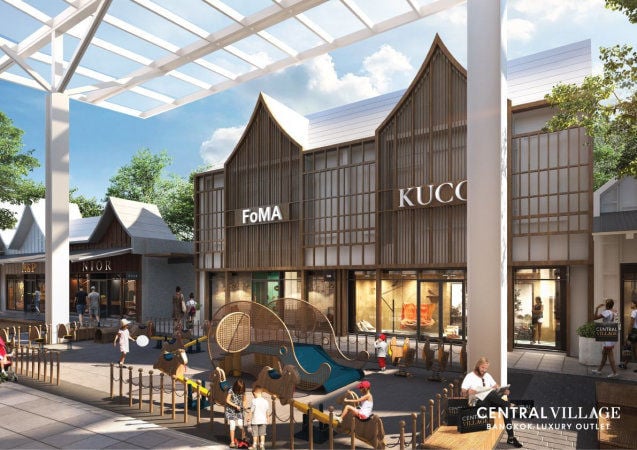 Keep in contact with The Thaiger by following our
Facebook page
.
Phuket Governor and Vice Governor deny million baht bribe accusation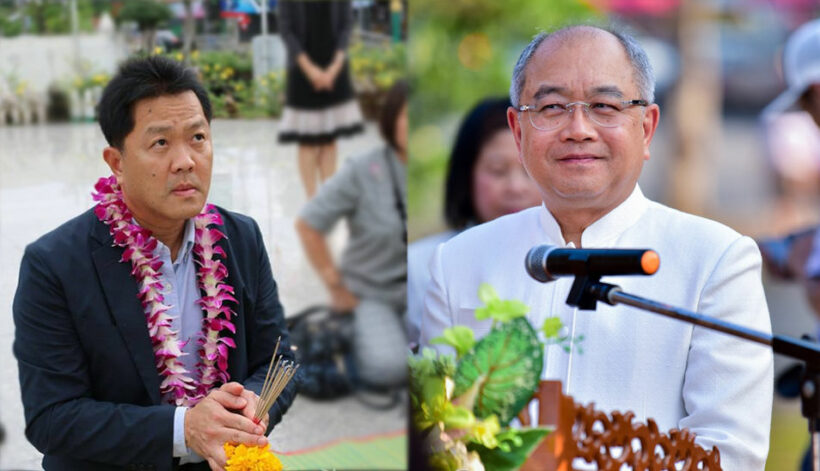 Recently, an audio clip went viral, claiming to have recorded a conversation between an anonymous man and an employee from a project accused of having encroached on Sirinat National Park (in Phuket's north west).
Phuket Governor, Pakkapong Tawipat, says that he had nothing to do with the voice recording, which detailed a 7 digit negotiation deal to end an encroachment case over the encroachment case.
Phuket Hotnews reports that, in the recording, the voice of an anonymous man can be heard calling the employee of a project owner, who had been charged over land encroachment.
The man on the phone asked for a 7 digit amount in order to drop the case, mentioning that the person who would sign on the case would be the Vice Governor Supot Rodruang Na Nongkhai, and that the Governor was aware of the matter as well.
The voice clip reveals the conversation between the anonymous man and the female employee of the illegal project, "Have you reached a conclusion? Everyone is waiting for the answer", while the employee replied that she already informed her boss that the money they wanted is in the millions, but her boss questioned why do they have to pay and where the money is going to go.
"Is it for the Governor? And who sign the papers?"
The man replied that Vice Governor Supot is the one who signs and that he knew about the negotiation and that there were 2 documents drafted in different ways.
The man also mentioned the name of a Phuket provincial Prosecutor and claimed that the prosecutor is very powerful as he had extended powers from the new laws enacted by the National Council for Peace and Order (NCPO).
The man also said that if they face any issues, the owner of the project would be blacklisted and it would be difficult for him to travel to and out of Thailand.
The woman on the line proceeded to make an appointment for her boss to meet with the 'prosecutor'.
After the voice clip went viral, Governor Pakkapong said that he was made aware of the recording of the conversation earlier this month and that he had asked Vice Governor Supot, who was accused of bribery in the clip as well, to make a report to the police on August 6, in order to prove their transparency. He also reported the matter to his commander.
"I insist that the Vice Governor and I have nothing to do with the voice recording and we were falsely accused as being involved. This could have come from an individual from a "certain organisation" (un-named) that has called for bribes and used Governor's and Vice Governor's names for their benefits.
"After reporting the matter to the police we are waiting for an investigation and to see whether I have to take part as an informer," said the Governor.
He said that the encroachment case is an old case from 2013. The Thalang District Chief has an agreement to prosecute the encroacher but when the case went to the provincial prosecutor, the prosecutor declined to prosecute the case and sent it back to Police Region 8.
The Police Region 8 sent the case back to Phuket provincial attorney office who would have to file the case to the Phuket Governor, but he insists that the case has not been filed yet.
The Phuket Governor said that he also informed the company that owns the project that he has never learned about the bribe and in any case, if anyone uses his name to ask for bribe, please contact him immediately because he has never asked for bribes and is ready to work on every case openly.
Meanwhile, Phuket Vice Governor Supot said that he has already reported to the police about the accusations in the voice recording and insists that he has nothing to do with it either.
SOURCE: Phuket Hotnews
Keep in contact with The Thaiger by following our
Facebook page
.