Phuket King's Cup – Racing Day One. Plenty of wind!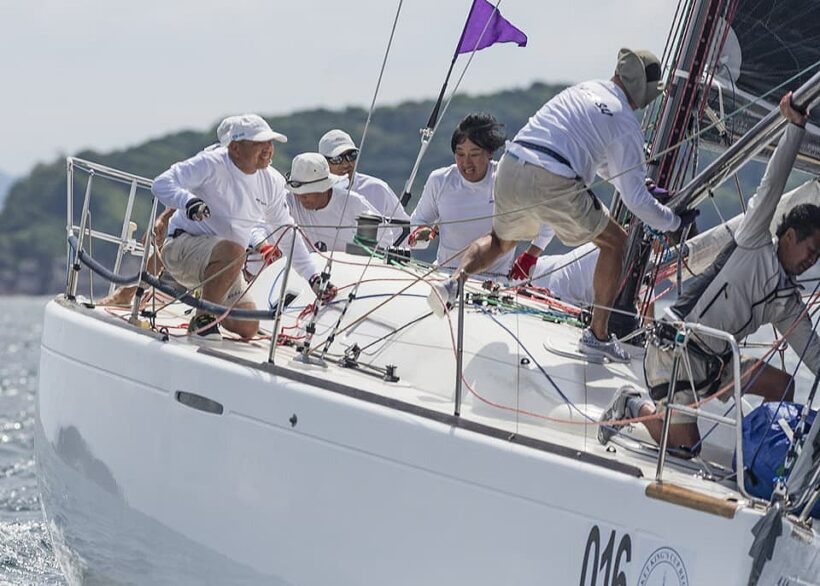 Plenty of wind on Day One and the rest of the week is shaping up well in the wind department.
Race Day One kicked off with some of the best conditions seen at the PKCR in recent years, winds around 19 knots and more of the same anticipated tomorrow. A total of 83 keelboats and multihulls took to the waves, which at times bordered on straight-up rough 'n' tumble with a few collisions.
Making hay while the sun shines, every class put in as many runs as possible. Many teams also put their faith in fast running today, and it was a gamble that paid off. Kevin Whitcraft's THA72 Thai team won the opening three races in IRC0. In IRC1, Japanese team Karasu and Singapore-sailed Loco shared a win each, before Yasuo Nanamori's team took the third race. IRC2, this year incorporating Open Charter, saw Peter Dyer's Kata Rocks (Madam Butterfly) winning all three races. Full classified results are available here.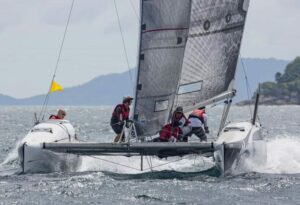 Jaray Tipsuk, Helmsman of Thai boat THA72, was still beaming after an exhausting day, saying, "Winds were very good, conditions were extremely fast all day. We've just bought a new jib so we're set up for very high speed, but we never tested it before! It's obviously performing well for us. Our team is very ready following an exhaustive practice schedule at similar speeds. We're fast reaching downwind, not so much when running."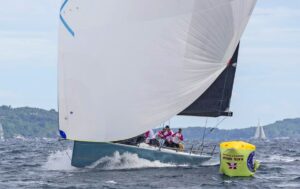 Ithinai Yingsiri, Skipper of Pine Pacific, which finished second in Premier Class behind rivals Antipodes, said, "This is the sixth year that Pine-Pacific, an X-Yachts X-55, has raced in the PKCR. However, most team members raced with 'Lawana', another famous Thai team boat for many years. We've won 1st in Premier Class for the last 4 years but were expecting a competitive year this year as we are racing against many good teams".
Kevin Whitcraft, speaking in his role as President of the Phuket King's Cup Regatta Organizing Committee, said, "The opening of the 31st Anniversary will be remembered for its gusting wind conditions which lasted throughout the day. In fact, you could say that today's opening day wind conditions were the stuff of dreams for sailors and spectators alike. On behalf of our officiating and organising teams, it's massively rewarding to be able to see such a large fleet made up of some of the biggest racing sailboats giving it their all in these challenging conditions".
Today's racing followed festivities last night wherein the flag was hoisted and the bell was rung marked the beginning of an epic week of King's Cup racing. Over 83 keelboats and multihulls from 20 countries split via 11 classes (and 71 dinghies) have joined the 31st Anniversary race, with more than 700 sailors and support crews joining the opening evening event following the ceremony.
In the Dinghy fleet competition, Jedtavee Yongyuennarn was quickest in the Optimist Boys, with Patcharee Sringam fastest of the girls. Keerati Bualong was victorious in Laser Standard, with Patteera Meeyousamen taking the 4.7 Class. Manat Photong achieved success in the Laser Radial while Adisak Kingkaew and Kanchai Wongpaduang won out in the 420's.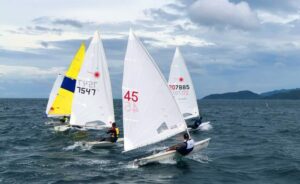 Read more headlines, reports & breaking news in Phuket. Or catch up on your Thailand news.
Crisis meetings in Bangkok today over smog solutions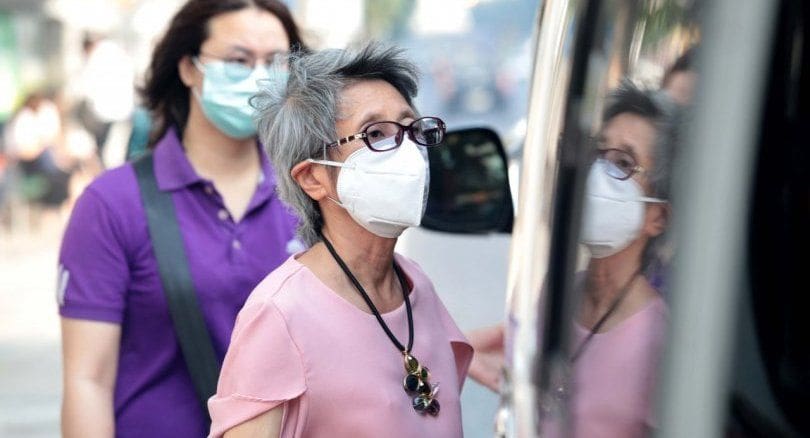 PHOTOS: The Nation
Urgent meetings are being held in Bangkok today to address the acute smog problems in the capital.
The Pollution Control Department and Bangkok Metropolitan Administration are gathering today in their latest efforts to battle with the persistent smog while dust particles continue to blanket the capital with smog levels alarming locals and causing tourists to cancel their holidays.
The meeting was organised after the authorities concerned rushed rushed to find solutions to help ease the problem, including cleaning roads more often, spraying water over Greater Bangkok's sky (useless), trying to produce artificial rain with cloud-seeding and enforcing strict laws against vehicles emitting excessive exhaust fumes.
PM General Prayut Chan-o-cha "has instructed relevant authorities to introduce additional measures to deal with this situation", Government Spokesman Puttipong Punnakanta said.
The Bangkok Metropolitan Administration (BMA) and the Army's efforts to spray water to ease the pollution on Monday night and yesterday morning did not appear to help much.
For instance, pollution was marginally brought down to 90 from 96 on Monday and to 71 yesterday on Phaholyothin Road in the capital.

Baby elephant dies from horrific wounds after being caught in hunter's trap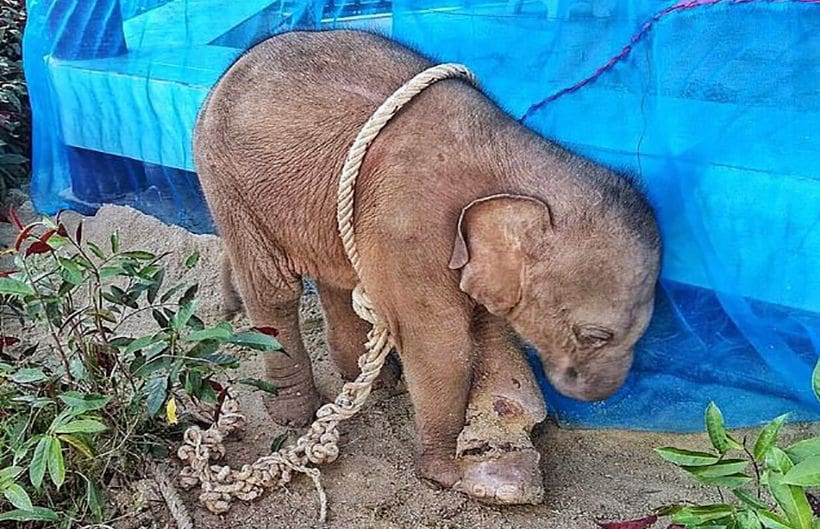 A baby elephant has died after a hunter abandoned her, tied up to a fence in a forest in Rayong. The little elephant died after suffering from horrific wounds.
The elephant, only one month old, was found by villagers in Rayong tied up to a fence with a rope cutting deep into her ankle.
Read the story of her discovery and rescue HERE.
When she was found she was barely able to stand and in obvious pain. Villagers named her Baitong. Nothing is known about Baitong's mother.
She was rescued on December 18, but despite constant expert vet care and an emergency amputation of her infected foot, she succumbed to her injuries.
A vet from the Bureau of Conservation Area Management says that amputating her her foot was necessary to prevent her from dying of infection. The vets report that last Thursday, Baitong was playing with some of her carers when her condition suddenly worsened and she collapsed during the evening. Several vets worked through the night to treat Baitong but she passed away on Friday morning.
Bangkok smog: Oil refineries being asked to upgrade quality of diesel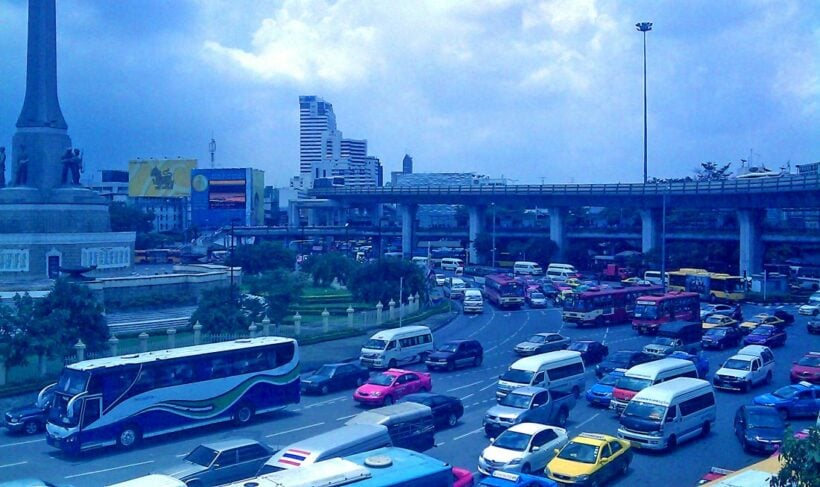 It won't be a short-term solution but it is a worthwhile long-term part of the important changes that will have to be made.
But nothing concrete yet.
In yet another attempt to ease the health hazards posed by PM2.5 dust particles in Bangkok's air, the Energy Business Department plans to hold a meeting with oil refineries this week about the possibility of upgrading the quality standard of diesel from Euro 4 to Euro 5.
The department director-general Ms Nanthika Tungsupanich says that the meeting was intended to sound out the opinions of the six oil refineries about when they will be ready to upgrade the quality standard of oil products, diesel in particular, to Euro 5 level.
Diesel of Euro 4 standard contains 55 ppm sulfur while the Euro 5 standard sets the amount of sulfur at 10 ppm.
In 2017, the Department of Pollution Control Department held discussions with the six oil refineries and automobile manufacturers about upgrading fuel quality to Euro 5 standard, but the plan was opposed by some of the refineries claiming the high investment costs estimated at about US$400 million for each refinery.
Euro 4 standard has been put into practice since 2012 and it was initially planned that Euro 5 standard would be enforced last year so that all the refineries could go into production in the year 2022.
Ms Nanthika said that the new quality standard could not be introduced without the Pollution Control Department first seeking an approval from the cabinet.
With substantial investment costs, the price of diesel might have to be adjusted up from .50-one baht per litre.
SOURCE: Thai PBS