TUESDAY MORNING BRIEFING – All your news in 3 minutes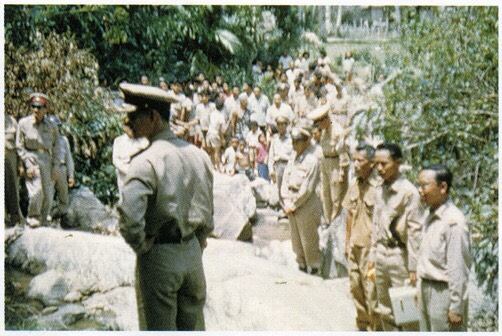 It's a public holiday today. It's Father's Day and National Day in Thailand, both proclaimed as celebrations of the birthday of the late King Bhumibol Adulyadej. It's also the World Soil Day, named by the United Nations as a day to commemorate the late King's work in the area of land conservation and crop development. All public offices are closed but if you need a bank, head to one of the shopping centres where they will still be open. It's also Day Two for the Phuket King's Cup with plenty of wind guaranteeing some excellent racing for the 83 reacts competing.
62 schools in Songkhla remain closed, whilst Narathiwat clears
A total of 62 schools in Songkhla's seven districts around Songkhla Lake will remain closed until the floodwaters recede.
Authorities say 62 out of 86 schools were closed yesterday and would remain closed until the situation improved. They say the flooding around Songkhla Lake had been the worst since 2005.
Floodwaters kept rising yesterday as canals continued to feed excess water into the system. Several thousand people in Trang lost their water supply yesterday after the Provincial Waterworks Authority pumping station ended up flooded and shut down.
Meanwhile, floodwater levels were dropping in several areas of Narathiwat after two days without rain, but the situation remained unchanged in other southern provinces.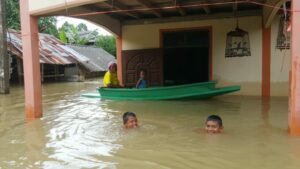 Don knows nothing about it
Foreign Minister Don Pramudwinai is denying reports that Britain has granted fugitive ex-premier Yingluck Shinawatra a passport.
Don says that his ministry had no such information and that the British Embassy had not informed the Thai government of any such action.
The Foreign Ministry in late October revoked all four Thai passports Yingluck owned after she was sentenced in absentia to five years in jail for failing to prevent irregularities in her government's controversial rice-pledging scheme.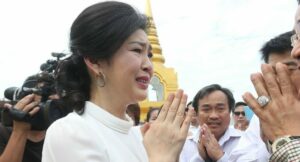 Finance Ministries being urged to back small-medium businesses and agriculture
The cabinet is stacking on the workload of Deputy PM Somkid Jatusripitak who will now oversee the activities of 11 economic agencies, following the recent reshuffle of the Cabinet.  If you really need to know the names of the ministries, here they are…
The Finance Ministry, the Foreign Ministry, the Tourism and Sports Ministry, the Transport Ministry, the Commerce Ministry, the Science and Technology Ministry, the Industry Ministry, the National Economic and Social Development Board, the Board of Investment, the Thailand Convention and Exhibition Bureau (TCEB), and the Ministry of Agriculture and Cooperatives.
Part of the direction for the Finance ministries is to collaborate more closely with smaller to medium business and community outlets to support the sales of local products. The PM says that the ministry will have to find new markets for agriculture produce in support of Thai farmers.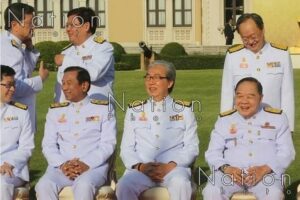 PHOTO: The Nation. Frivolity during a group pic of the new Thai Cabinet (is that guy in the background doing a fist pump?)
Thailand's philanthropic leader meets Thailand's self-elected leader
Rock star philanthropist Artiwara "Toon" Kongmalai yesterday visited the PM General Prayut Chan-o-cha at Government House.
While the epic run, which aims to raise funds to purchase medical equipment for 11 hospitals, is premised on Thailand's chronic medical budget crisis, the ruling government has been responding by repeatedly calling for donations to Artiwara's project, oblivious to the irony.
Several government bodies, including Parliament, have run matching donation campaigns in support of Artiwara's run while Prayut personally gave an undisclosed sum to the rocker yesterday.
Holding the singer's hand, Prayut praised Artiwara for participating in the government-promoted schemes, from Thailand 4.0 to volunteering in tribute for the late King Rama IX.
While claiming there is not enough money to fund public healthcare, the military-installed government has been criticised for finding funds for substantial spending increases on security, in particular military hardware. Meanwhile, the government has encouraged people to voluntarily donate to charities that keep essential programmes, such as healthcare, on life support.
Artiwara has so far completed 1,300 kilometres in his record-setting cross-country run, which started on November 1 in Yala. He made it to Bangkok on Sunday before taking two days off on medical advice. Donations have reached over 530 million Baht.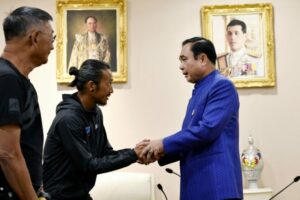 A sanctuary in the middle of the party town
The Wang Kee Aon waterfall is being re-opened today in the middle of Patong on the backroad. The waterfall had been smothered for years, blocked by development and new roads heading up the hill. But Patong Mayor, Chalermluck Kebsup has been raising funds to purchase the land in front of the waterfall. The area has now been reclaimed and the waterfall cleaned up to provide a little natural sanctuary in the middle of the party town. HRH King Bhumibol Adulyadej also paid a visit in 1959, which was an important early part of putting Patong on the domestic map for Thailand tourism.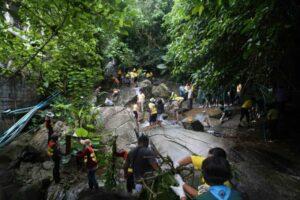 Do good deeds, donate blood
The Public are being urged to do good deeds for King Rama IX's birthday, it's a traditional day for people to turn out to donate blood. More than 300 policemen donated their blood yesterday morning and alms-giving ceremonies are taking place across the country as people follow in the footsteps of the late monarch who helped others throughout his life.
The National Blood Centre director says… "Donating blood is a selfless act. It's giving without expecting anything in return."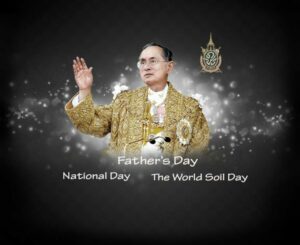 Your Daily Briefing is compiled from The Nation, Phuket Gazette and VOA.
- The Thaiger & The Nation
Machete-wielding BKK motorist jailed for threatening woman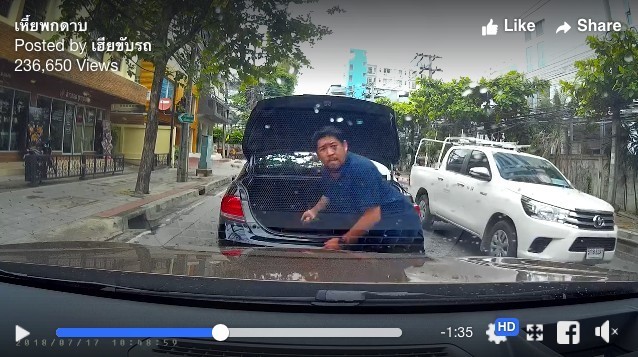 The South Bangkok district court has handed down a sentence today on a male driver. He's been sentenced to 2 months and 15 days behind bars.
The sentence follows the man's indiscretion caught on a dash cam (video and story below), threatening a female driver with a knife on July 18, after he drove against the traffic to cut in front of her car.
Read the original story and watch the video HERE.
42 year old Sitthiporn Suayngarm was arraigned in court by officers from the Thung Mahamek Police Station this morning (Saturday) and the court swiftly handed down the sentence after the defendant pleaded guilty. The video clip was used in evidence.
The court declined to suspend the jail term despite Sitthiporn pleading guilty, as the court regarded his act as a serious crime. Sitthiporn turned himself in to police on Friday and issued an apology to the woman, saying he was in a bad mood after quarrelling with his girlfriend.
The man was slapped with five charges: damaging another person's asset, intimidating another person, carrying a knife in a public place without licence, parking car in a prohibited area and changing lane unlawfully.
The crime took place on Tuesday morning at an intersection on Suan Plue Road in Bangkok's Sathon district near the Bangkok Technical College and was recorded by the dashboard camera of the 64 year old woman.
The clip from the dashboard went viral and had more than a 1 million views. The clip shows a man at the wheel of a black Toyota Camry repeatedly trying to cut in front of a car whose dashboard cam recorded the incident, by driving against the traffic. The man finally managed to complete the illegal overtaking manoeuvre after they drove through an intersection. He then stopped his car, exited, opened the trunk and pulled out a long knife.
The dashboard video showed him walking towards the woman's car before he disappeared from the clip.

STORY: The Nation
Singapore Airlines back on top. Thai Airways in 10th place.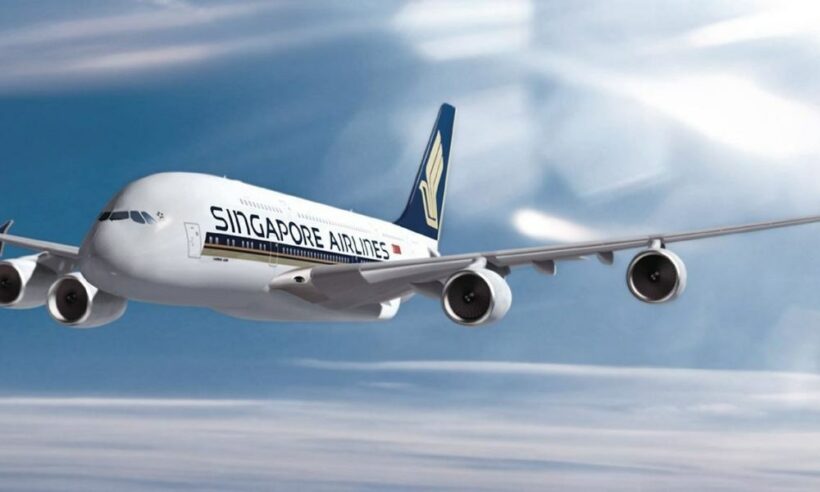 PHOTO: Flyer Talk
Singapore Airlines is back on top after a decade held out of the top airline position by middle-eastern competition. It's their fourth win since the Skytrax World Airline awards started back in 2001.
The island nation's national carrier was named Airline of the Year at the 2018 Skytrax World Airline awards. Singapore Airlines was last top of the list in 2008. This year it forced out last year's top honours winner, Qatar Airways, into second place.
Yeoh Phee Teik, Singapore Airlines's senior vice president of customer experience, said "We're very ecstatic."
The airline  also claimed best airline in Asia, best first class and best first class seat.
Asian airlines made a return to the winner's list this year with ANA All Nippon Airways receiving third place, Taiwan's EVA Air in 5th position, Cathay Pacific in 6th, Hainan Airlines in 7th, Garuda Airlines in 9th (an extraordinary achievement considering their reputation only a decade ago) and Thai Airways in 10th place.
Singapore's victory marked a resurgence in Asian carriers in the annual UK-based aviation industry review. Skytrax began its awards in 2001 and is recognised for its fairness due to passengers voting in all categories. Aside from a win by Hong Kong's Cathay Pacific back in 2014, all past seven years have all gone to middle east based airlines.
"We're glad that our work has been recognised and our customers have voted for us to be the world's best," said Yeoh.
Garuda Airlines, which has turned its service around since the early days of Skytrax, when it was banned from flying into European airspace, was presented with the prize for best cabin staff along with its 9th place overall.
Not one US airline picked up a single award.
Locally Air Asia picked up an award for Best low coast airline – Asia, Thai Airways won the award for best airline catering in Economy Class (The Thaiger thinks the voters weren't flying on the same flight when Thaiger experienced the economy class 'food') and Bangkok Ailines won Best Regional Airline – Asia.
The top 10 world's best airlines for 2018
1. Singapore Airlines
2. Qatar Airways
3. ANA All Nippon Airways
4. Emirates
5. EVA Air
6. Cathay Pacific
7. Lufthansa
8. Hainan Airlines
9. Garuda Indonesia
10. Thai Airways
Best airlines by global region
Northern Europe – Finnair
Western Europe – Lufthansa
Eastern Europe – Aeroflot Russian Airlines
Africa – Ethiopian Airlines
Australia / Pacific – Qantas Airlines
Central Asia / India – Air Astana
China – Hainan Airlines
Central America / Caribbean – Copa Airlines
South America – Avianca
North America– Air Canada
Asia – Singapore Airlines
Middle East – Qatar Airways
Europe – Lufthansa
Best low-cost airlines
Africa – Mango
Australia & Pacific – Jetstar Airways
Asia – AirAsia
Central Asia / India – Indigo
China – West Air
South America – Sky Airline
North America – WestJet
Middle East – Flynas
Europe – Norwegian
Best airline catering
Economy – Thai Airways
Premium economy – Aeroflot Russian Airlines
Business – Austrian Airlines
First class – Air France
Best airline seats
Economy – Japan Airlines
Premium economy – Air New Zealand
Business – Qatar Airways
First class – Singapore Airlines
Best regional airlines
Africa – Royal Air Maroc
Asia – Bangkok Airways
South America – Azul Brazilian Airlines
Central Asia / India – Azerbaijan Airlines
Europe – Aegean Airlines
Best airline lounges
First class – Qatar Airways
Airline alliance lounge – Star Alliance Los Angeles
Independent airport lounge – Plaza Premium Heathrow Terminal Two
First class lounge dining – Air France
Airline lounge spa facility – Thai Awards
Best airlines staff service by global region
Africa – South African Airways
Australia / Pacific – Qantas Airways
Central Asia / India – Vistara
China – Hainan Airlines
Central America / Caribbean – Copa Airlines
South America – Azul Brazilian Airlines
Asia – ANA All Nippon Airways
Middle East – Emirates
Europe – Austrian Airlines

Burmese maid returns bag containing $11,000 to tourist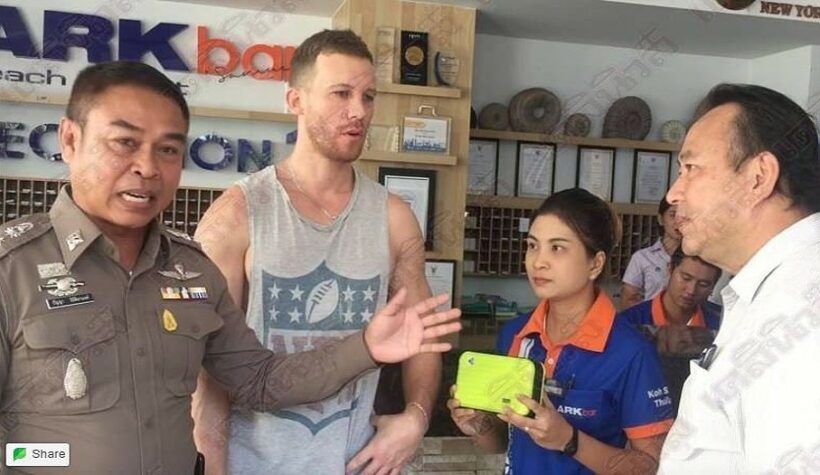 Daily News is reporting that a tourist from the Netherlands has thanked a Burmese maid at his hotel on Koh Samui. 37 year old Sawee Let Mau showed it was not just the Thais who are high up in the honesty stakes.
Sawee found the green bag under some stairs – it contained AUD$ to the tune of 280,000 baht – several years wages for a maid.
Police were called to the Ark Bar Hotel in Chaweng and CCTV was checked before 31 year old Alexander Joseph was confirmed as the rightful owner.
He gave the honest maid $100 as a reward. Daily News praises the maid for helping the tourist image of Thailand.
SOURCE: Daily News