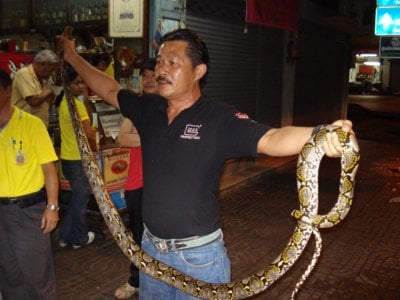 YALA: Being a teacher in the Deep South during these troubled times takes a certain amount of bravery and acceptance of personal danger. It was perhaps these qualities that helped one teacher from Yala Province keep his head while all those about him were losing theirs when faced with a very real threat.

The threat, however, was not a rifle-toting youth, but an angry 10-foot python that appeared in a Bangkok restaurant during a rainstorm.

At 9:30 pm on September 11, Preechai Lochai, a teacher at a school in Yala's Bannang Sata District, was enjoying a morning bowl of khao tom (rice soup) on Samsen Rd in central Bangkok. K. Preechai, together with two fellow teachers from other provinces, sat calmly watching the pouring rain and rising floodwaters on the city streets.

Suddenly, all hell broke loose in the kitchen. The cook, who was just about to fry some phak bung fai daeng (spicy aquatic morning glory) screamed. Throwing down his spatula, he ran from the kitchen screaming to the owner that a huge snake had just popped its head out of a hole.

In a panic, the owner and wait staff dropped what they were doing and ran after the cook until they were a safe distance away. K. Preechai's friends looked on in shock as they saw the cause of the commotion.

It was a thick-set python approximately three meters long – and it was slithering straight towards their table.

The snake made a course for K. Preechai. Before the teacher could take evasive action, the serpent wrapped itself around his leg with all the constricting power that pythons are famous for.

Rather than descending into hysterics as the staff had done, presumably due to his dealings with some tricky customers in his day job, K. Preechai bellowed out, "Southerners aren't afraid of snakes," before launching into battle with the legless reptile.

K. Preechai used all his energy trying to unravel the beast from his leg, but found it rather hard to balance with a 10-foot reptile around one of his limbs. The man and the snake ended up rolling round the restaurant in a closely-fought dual that sent chairs and tables flying in all directions.

Neither man nor beast was able to get the upper hand until a passer by, Narongthat Patharathitikul, waded in to the aid of K. Preechai and grabbed the snake's head. With the fight now two on one, the snake soon begin to tire and lose stomach for the battle.

The combined force of K. Preechai and K. Narongthat was enough to untangle the snake from K. Preechai's leg and stuff it into a fertilizer sack that a helpful spectator had provided.

The police and animal services were then called in to take the snake away and release it back into the wild where it wouldn't be able to cause any more mischief.
Keep in contact with The Thaiger by following our
Facebook page
.
Man stung by scorpion hiding in bag of fruit
PHOTO: Wikiwand
A Bangkok man has taken to social media to warn fruit lovers to check fruit thoroughly before eating it, after he was stung by a baby scorpion hiding in a bag of langsat fruit.
Pennung Chaiyachit says he put his hand in the bag, which contained about 2 kilos of the fruit, when he felt a sharp pain as if his thumb had been cut.
Mr Pennung washed his thumb and poured some rubbing alcohol on it but, despite there being no visible wound or any bleeding, his pain began to get worse and he decided to drive to hospital.
While waiting to see a doctor, Mr Pennung did an internet search which revealed a breed of tiny scorpion that can live on langsat fruit and has particularly powerful venom.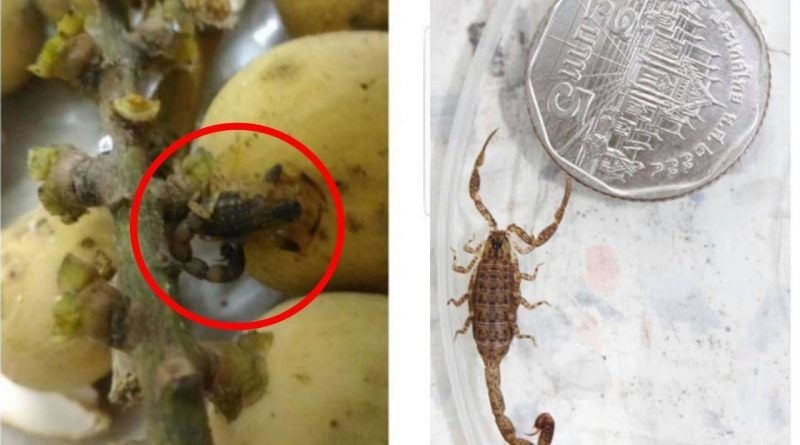 The doctor decided to keep Mr Pennung in overnight as a precaution, giving him antibiotics and administering pain relief through IV.
Mr Pennung documented his experience on Facebook as a warning to others, advising them to always check bags of fruit thoroughly and always wash fruit before peeling.
SOURCE: Thai Residents
Keep in contact with The Thaiger by following our
Facebook page
.
Pet leopard not a hit with neighbours in Chonburi, Thailand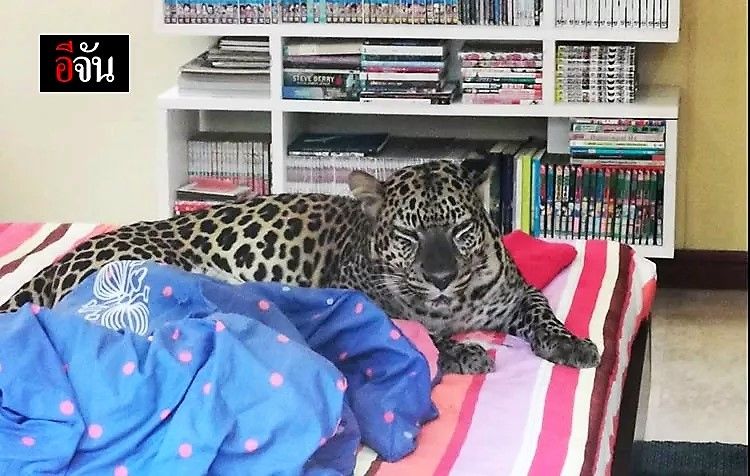 A couple in Chonburi, eastern Thailand, have not ingratiated themselves with neighbours after it was revealed they're keeping a pet leopard in their home.
It's understood that a Thai woman known as Nittiya, and her foreign husband, nationality unconfirmed, have just recently moved to the area from Chiang Mai, and news of their unusual pet has put neighbours very much on edge.
The couple have just had a visit from the Thailand Wildlife Enforcement Network (Thailand-WEN) after anxious villagers notified officials, saying they believed the leopard had been acquired illegally.
They added that the leopard was living in the couple's home and being treated as a pet, expressing concern that it could escape and attack people.
Yesterday, officials visited the home, which is surrounded by a 3-metre-high wall. Nittaya explained that the couple have had the leopard – named Typhoon – since it was born 4 years ago, producing the required documentation for inspection.
Officials agreed that the couple have the right to keep the leopard, but will need to apply for a new licence to keep it in its new location.
SOURCE: Thai Residents
Keep in contact with The Thaiger by following our
Facebook page
.
JetSki crashes into shop in Kamala, Phuket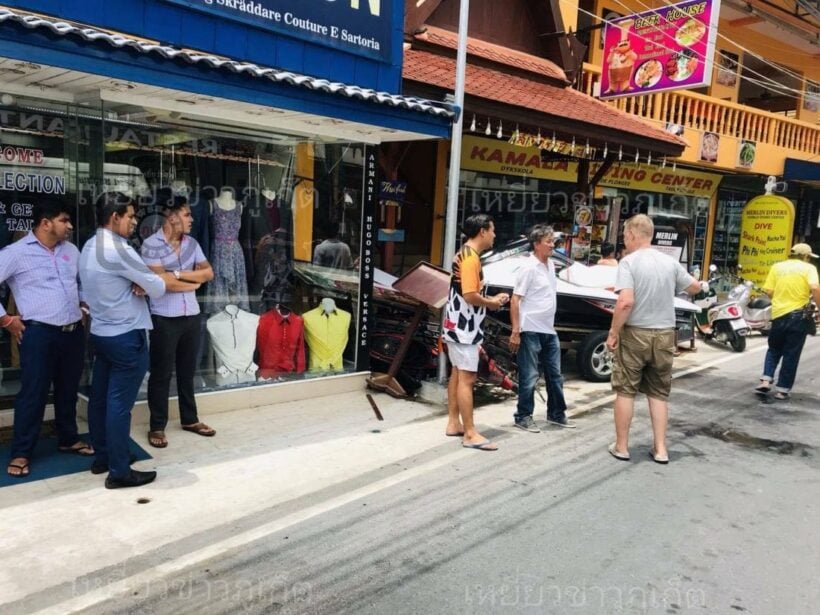 PHOTOS: Newshawk Phuket
Not often we get to write this headline… "JetSki crashes into shop in Kamala".
The jetski was being towed by a Saleng (motorcycle and side-car) through the streets of Kamala this afternoon when, for reasons we don't yet (probably brake failure), the whole shebang went AWOL and ended up running into the front window of some tourist shops.
The jetskis are a common sight going through the backroads of the various west-coast shopping areas at the start and end of each day, on their way to the beach to hire to tourists, usually in a convoy with the jetski staff riding shotgun on top.
This time it was a lone JetSki, being towed by a saleng, that somehow veered off the street and into the roadside Kamala shops.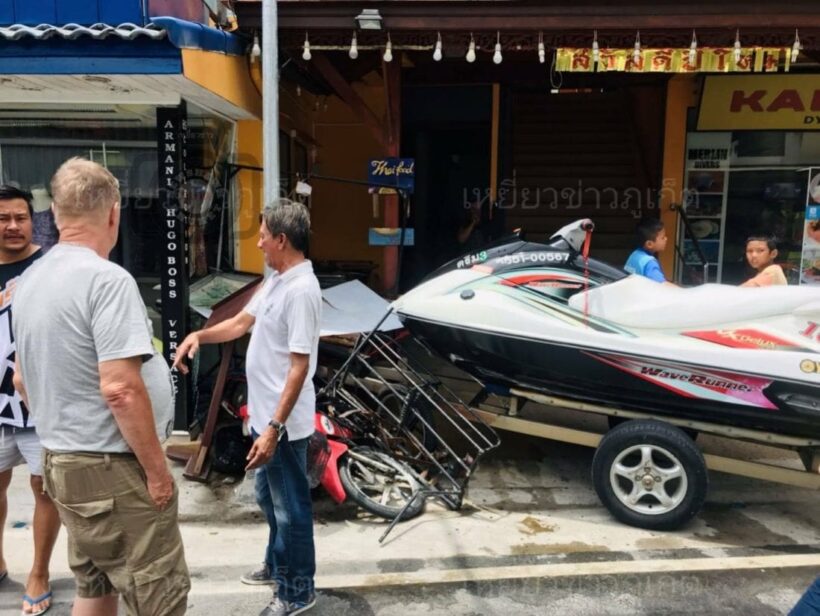 Keep in contact with The Thaiger by following our
Facebook page
.