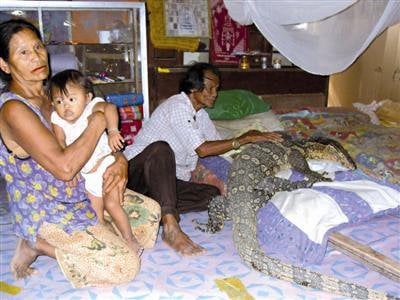 RATCHABURI: Do huge monitor lizards make strange bedfellows? One family in Ratchaburi doesn't seem to think so.
Bunchoo Rotchum, 75, his wife Somya, 65, and their two-year-old granddaughter Donlaya are sharing their bed with a 2.5-meter water monitor, causing a sensation in their village in tambon Pikunthong.
The creature, which the family named "Jaothong", wandered into their home on November 17 and never left. They found Jaothong curled up in their wardrobe.
Mr Bunchoo said he'd heard that it was good luck if a monitor lizard walked into a house, so rather than chase Jaothong out, the family lit candles to welcome it.
Joathong crawled out of the wardrobe and onto the family's bed. Since then he has spent every night inside the mosquito net with his three lizard loving friends.
Jaothong is perfectly safe and decidedly low-maintenene, Mr Bunchoo insists.
The lizard eats with the family, enjoying all the same food as his human companions. Mr Bunchoo said he thought Jaothong might have had a connection with the family in a past life. The family live in a wooden shack next to a canal inhabited by many monitor lizards.
One of the creatures once walked into house number 59 on the same street. The family reportedly bought lottery tickets with "59" as the final two digits – and won.
Villagers are said to be waiting for the next draw so they can buy tickets with the digits "127" in them – the number of the Rotchum family home.