Opinion
Opinion: Article 17 brings long awaited relief from unscrupulous tour operators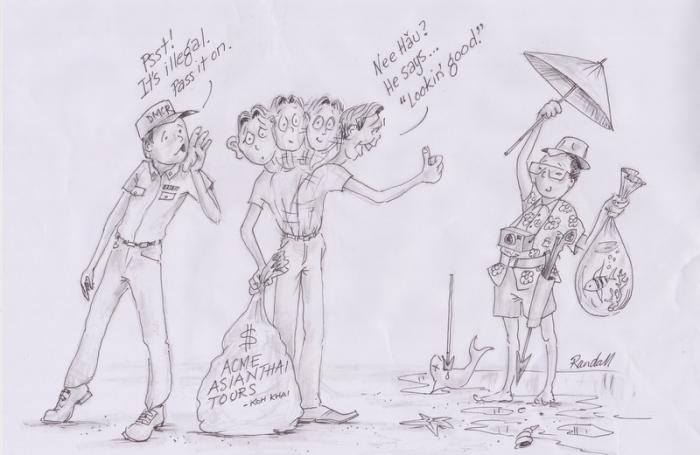 PHUKET: The Department of Marine and Coastal Resources (DMCR) was correct to invoke Article 17 of the Marine and Coastal Resources Management Act (2015) to afford greater protection to the Koh Khai island group, which for too long has been exploited by unscrupulous tour operators.
Located just five kilometers off Phuket's lower east coast, the islands are perfectly situated to serve as money spinners for tour operators offering cheap tours to large groups of novice snorkelers and other environmentally unsound practices, such as 'sea walker' tours that are a threat to the sea floor.
The islands are far enough from Phuket to have maintained relatively healthy coral populations, even decades after the reefs off Phuket's coastline disappeared.
The most convenient aspect, at least from the tour operators' perspective, is that the islands lie just outside the confines of Ao Phang Nga National Park. Thus, there are no associated entry fees or special environmental measures in place.
For these reasons, the Koh Khai group has increasingly become a victim of its own success, falling under threat from hordes of package tourists that seem to have little regard for the environment other than as a source of entertainment.
A recent Facebook post that went viral in Thai social media shows images of East Asian tourists capturing reef fish and corals in plastic bags accompanied by signs in Chinese lettering and the plea: "Help! Anybody! Save Koh Khai!".
The Thai-language media was quick to vilify East Asian tourists as the culprits. In reality, the culprits are greedy Thai tour operators who ferry them there and provide little or no instructions about how they can and should behave while there.
The DMCR and Department of National Parks (DNP) were correct to take advantage of the powerful new legislation allowing them to effectively 'adopt' the islands as 'environmental emergency areas' allowing for the enhanced ability to prosecute perpetrators of environmental crimes. However, enforcement efforts need to focus first on tour operators rather than the ignorant tourists they cater to.
In closing, the Phuket Gazette notes that the many two-year 'score cards' of the current government that appeared in the international media recently made little or no reference to Article 17 or any other of the other unprecedented measures undertaken by the current government to protect our marine environment. Issues of democratic development aside, the current government deserves greater recognition for its efforts in this regard.