Bangkok Deputy Governor's bad case of foot-in-mouth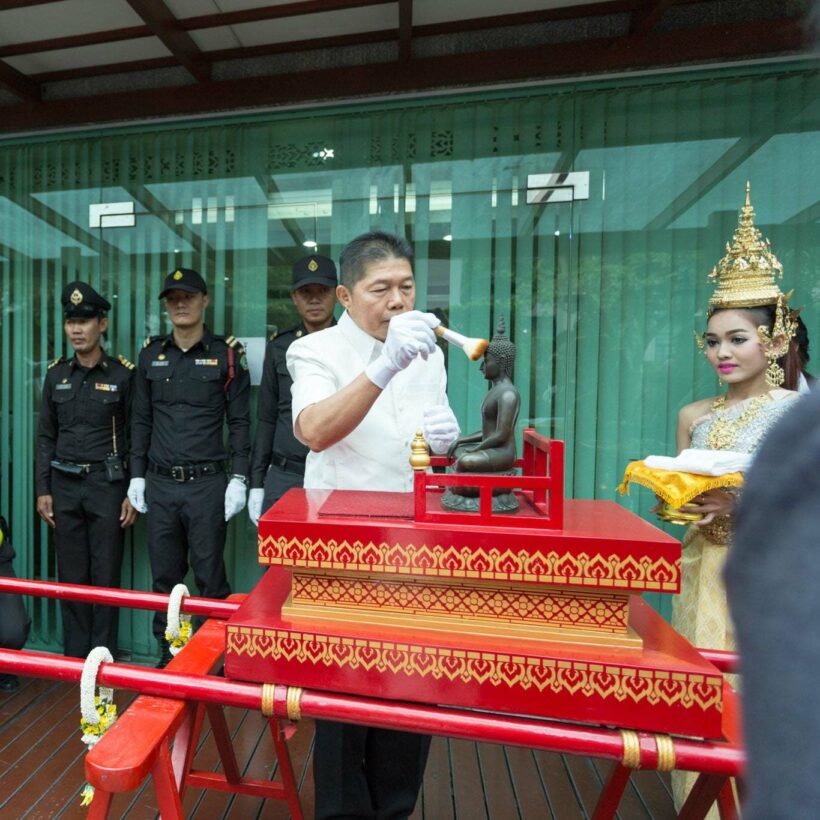 EDITORIAL
Yesterday we reported on the current figures relating to HIV infection in Bangkok. Although the statistics look bad, in isolation, the general trend is of reduced new infections. The 2,000 new infections of HIV in Bangkok over the past year are not significant when compared to the city's population of (probably) over 10 million.
But getting the story completely wrong, whilst at the same time pushing his own anti-gay prejudices, a deputy Governor of the Bangkok Metropolitan Authority has displayed a delightful case of foot-in-mouth by suggesting that more young men are becoming infected with HIV because 'there are more gay characters on Thai TV'. We believe he came up with this remarkable piece of deduction all on his own at a government health conference on Tuesday in Bangkok.
Thaweesak Lertprapan went on to say young men are imitating gay television characters.
Not surprisingly he's getting a pasting from members of Bangkok's LGBT community criticising him for making ignorant and unfounded claims.
"I'd recommend the deputy governor study this more before making assumptions," researcher-activist Paisarn Likhitpreechakul wrote in a message. "This kind of negative mentality is what makes the risk of contracting HIV risks high."
Nimit Tienudom, director of the AIDS Access Foundation, said Thaweesak's comments amounted to 'groundless opinion'.
The statistics do show that the majority of new HIV cases in the capital, 68% to be precise, are among 14-24 year old teenagers and men who identify as homosexual or who have engaged in M2M sex (man to man).
But the trend for new infections is down over the past two decades according to figures compiled by UN AIDS. A long way down.
But none of this was going to stop Khun Thaweesak from digging a deeper hole for himself.
"The risk to HIV is increasing among gay men more than other group because of men imitating behavior from TV soap operas and social media. This has made being gay fashionable and hastened the coming-out process among youths," he said at the event.
His comments were published verbatim by several media outlets without any commentary suggesting that his comments are not only inaccurate but carved out of the 1950s.
But Thaweesak has followed up his comments from the health conference…
"You see, gay characters shown on TV and in the media hasten the youth's coming-out process. Their behavior is viewed as fashionable and influences the youths to imitate it."
Let's check the facts.
According to UNAIDS, the number of new HIV patients has declined since peaking in 1992, with approximately 8,700 new cases reported in 2014, 7,300 in 2015 and 6,400 in 2016. New HIV infections are still mostly found in men who have sex with men and transgender women.
Danai Lonjongrat, director of the Rainbow Sky Association, says that while Thaweesak was right that young men in Bangkok are most at risk of infection, he was wrong to blame the media.
"Actually, TV and the media these days are making the environment more gay-friendly. As I've worked in the field for many years, it used to be difficult to study HIV/AIDS among gays in Thailand because they were still in the closet. But today, partly because of the media, they come out and are encouraged to get tested and get medication to prevent AIDS in time", says Danai.
With a Deputy Governor of the BMA like Khun Thaweesak Lertprapan it's easy to understand the exasperation of campaigners and volunteers who fight hard against the stigma of HIV and work actively towards better education and positive moves to lower HIV rates.
SOURCES: Khaosod English, The Nation, Rainbow Sky Association, UNAIDS
PHOTO: Bangkoktourist.com

Join the conversation and have your say on Thailand news published on The Thaiger.
Thaiger Talk is our new Thaiger Community where you can join the discussion on everything happening in Thailand right now.
Please note that articles are not posted to the forum instantly and can take up to 20 min before being visible. Click for more information and the Thaiger Talk Guidelines.