Sunday Opinion: Swift actions to regulate Phuket crime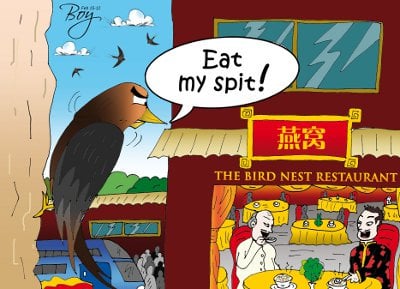 PHUKET: Efforts by the Phuket Provincial Office and related agencies to tackle the problem of unregulated "swiftlet ranching" are admirable in their foresight, but regrettable in approach. (See here to read "Tourism finds swiftlet avaries difficult to swallow").
As many residents of this island are aware, mainland Chinese are one of the largest and most rapidly growing segments of the inbound tourism market. The increase in this market has led to a growing number of bird's nest soup restaurants, as well as heightened demand for the key ingredient: the saliva produced nests of Aerodramus Fuciphagus, also known as the "white nest swiftlet", "edible-nest swiftlet" or nok nang ane in Thai.
To some it may seem premature to worry about a profusion of swiftlet barns in Phuket, which certainly has a number of more pressing tourism-related concerns.
As its name suggests, Aerodramus swiftlet (Fuciphagus) is spectacular in flight and, in addition to hacking up threads of saliva reportedly fit for the consumption of emperors, is interesting in many other respects. For example, it is one of the very few bird species to have developed echolocation to navigate through the darkness of caves, its natural habitat.
At the risk of sounding anthropocentric, swiftlets are much easier to have around than pigeons, crows, buzzards or seagulls. They sleep most of the day and feed by night on insects, populations of which they help to keep in check.
The Phuket Gazette was unable to find any tourism business operators in Phuket who had specific complaints about swiftlets, including the management at one of the most popular restaurants on the island that is a stone's throw away from one of the largest swiftlet barn complexes on the island.
All that said, the government is right to restrict where swiftlet barns are permitted: many of us enjoy the birds' aerial acrobatics in the twilight sky, but few would want to live right next door to a swiftlet complex.
Most of the regulations that forbid swiftlet ranching are based on the bird's threatened status in the region, which is hardly the case anymore thanks to the ranching boom. Unfortunately, rather than try to change existing legislation to legalize swiftlet farming and then regulate the industry, the authorities have instead opted to take the easy route by setting up "zones" where an illegal practice will effectively be permitted.
In this sense, there is little difference between this and the way the jet-ski rental business and other technically-illegal industries are "regulated" in Phuket. Worse yet is the fact that local administration organizations, not all of which have stellar reputations for transparency or fairness, will now be in the business of deciding who can ranch swiftlets and where they can do it.
Opinion

Join the conversation and have your say on Thailand news published on The Thaiger.
Thaiger Talk is our new Thaiger Community where you can join the discussion on everything happening in Thailand right now.
Please note that articles are not posted to the forum instantly and can take up to 20 min before being visible. Click for more information and the Thaiger Talk Guidelines.