Tiger kills, eats man in Nakhon Ratchasima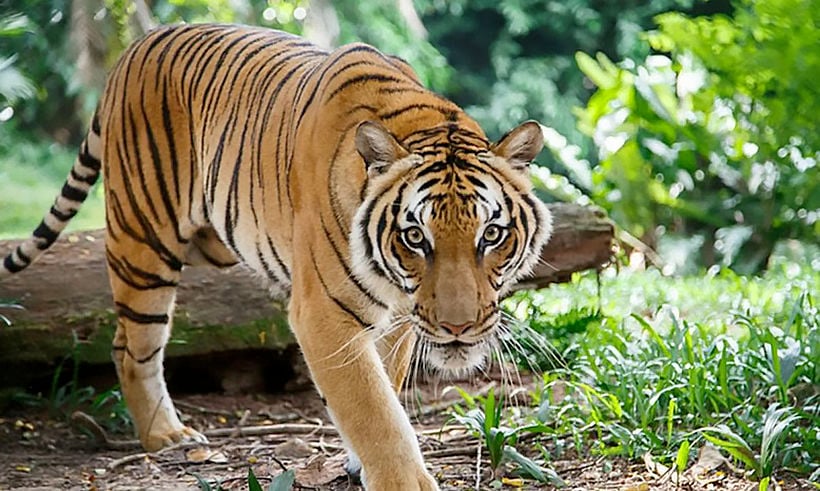 A tiger has killed and partially eaten a man in Thap Lan National Park in the northeastern province of Nakhon Ratchasima. Local villagers have been warned not to enter the park after a man was mauled to death.
46 year old Jamras Phumwaengkuang was in the forest with two friends searching for plants and herbs when he reportedly split from the group when they heard the noise of an animal they assumed to be a tiger. According to the other men, he never rejoined the group. A group of park officials and a rescue team were sent to look for him. They soon came across the wild tiger guarding the man's body, and a dead monitor lizard.
The man's right leg was bitten off and missing, presumably eaten, and there was a huge wound on his head. Officials spent about 15 hours bringing the body out of the forest. The remnants of the corpse were taken to Wang Nam Khiew Hospital for an autopsy.
Thap Lan National Park's chief Prawatsart Chanthep says wild tigers have recently reappeared in the park after a 20 year absence.
Thap Lan National Park is in the Sankamphaeng Range and spans both Prachinburi and Nakhon Ratchasima provinces, north east of Bangkok. Established as a national park on 23 December 1981, it's one of Thailand's 40 national parks.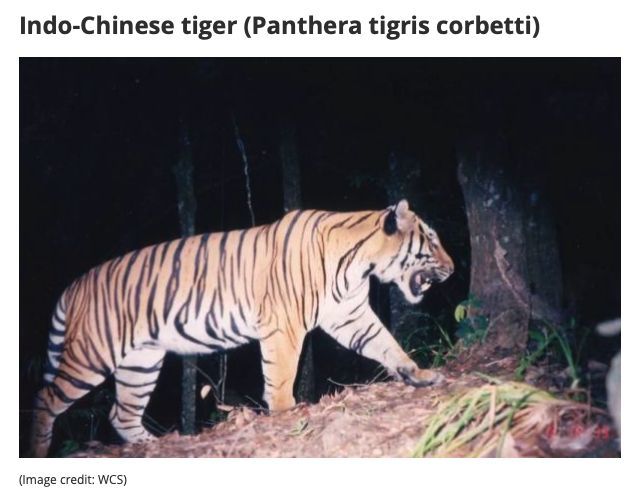 From Live Science…
Also known as Corbett's tiger, after British hunter and naturalist Jim Corbett, the Indo Chinese tiger subspecies is found in Cambodia, Laos, Burma, Thailand, and Vietnam and formerly in China. They are listed as endangered on the IUCN Red List.
Indo-Chinese tigers are a bit smaller and darker than Bengal tigers, with shorter, narrower stripes. Males average 9 feet (3 m) from head to tail and weigh about 400 pounds (180 kilograms). Females are smaller, measuring about 8 feet (2.4 m) in length and weighing approximately 250 pounds (115 kilograms), according to the Save the Tigers Fund.
These tigers live in remote forests in hilly and mountainous terrain, which makes it difficult for scientists to gain access to their habitat. As a result, relatively little is known about the status of these tigers in the wild. A 1998 assessment put the number of Indo-Chinese tigers in the wild at an estimated 736 to 1,225 individuals… plus one in the Thap Lan National Park.
Genetic analyses in 2004 showed that Indo-Chinese tigers were a separate subspecies from Malayan tigers.
SOURCE: Chiang Rai Times
📱 Download our app on Android or iOS for instant updates on your mobile
📧 Subscribe to our daily email newsletter
👍 Like/Follow us on Facebook
🔔 Subscribe to or Join our YouTube channel for daily video updates
Brake system failure blamed for fatal incident in Khon Kaen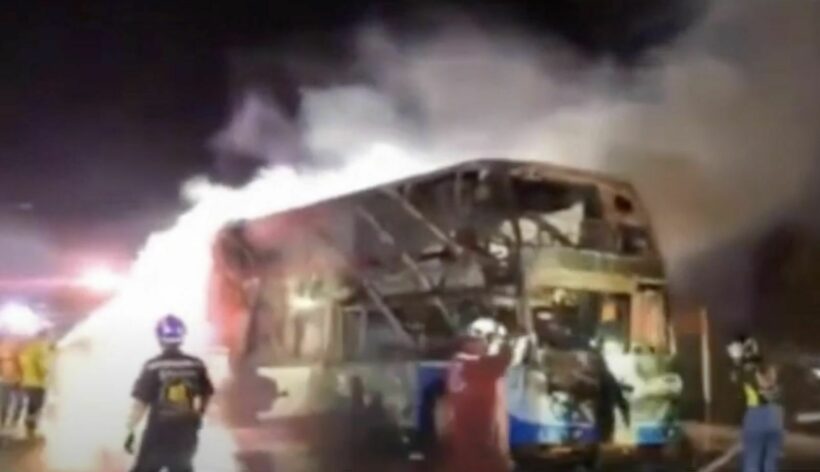 Checking your brakes regularly is something that could save you from a fatal accident, yet a lack of routine maintenance seems popular when it comes to accidents. The latest victims from a brake system failure, include 5 fatalities and 12 injuries after a bus in northeastern Thailand's Khon Kaen province crashed.
The horrible accident happened last Tuesday at about 12:30am on Mitraphap Highway near Nong Kham in tambon Non Sombun. A double-decker bus headed towards Bangkok, erupted in flames with survivors saying a back tyre burst and caught fire. The, the fire spread to the engine area which then saw the bus burst into flames.
A Department of Land Transport accident investigation report says the brake system failed, overheated and caused the tyre to explode. Hot rubber pieces then landed on the valve of an NGV cylinder causing a gas leak.
The bus' driver, 48 year old Patsadee Kham-on, is being charged with reckless driving causing death and injuries, for assumingly not checking the vehicle's brakes before setting off. The Khon Kaen governor says the provincial land transport office has also fined the bus owner, 407 Pattana Tou Co, for using a sub-standard bus.
In November of last year, a cement truck driver in Banglamung, blamed faulty brakes for not being able to stop the truck, resulting in it running off the road and flipping. The 61 year old driver, luckily, made it out with only minor injuries. Sadly, this type of accident is quite common and likely will grace the news again, if routine maintenance is ignored.
According to directasia.co.th website, "Checking your brakes at least every year will give you advanced warning on brake pad breakdown. Putting off the less costly pad change can lead to much more expensive brake rotor repairs and even failure when driving. A major component in the Thai driving test is gauging how quickly you can slam on your brakes….for good reason."
Thailand conducts routine checks on public transportation vehicles, with the news usually not being up to par with what one would expect when paying to be transported. The Department of Land Transport just 2 years ago, in one of its annual checks, revealed 1 in 7 public transport vehicles failed the inspection checks.
SOURCE: Bangkok Post
📱 Download our app on Android or iOS for instant updates on your mobile
📧 Subscribe to our daily email newsletter
👍 Like/Follow us on Facebook
🔔 Subscribe to or Join our YouTube channel for daily video updates
5 killed, including 2 children, in north east Thailand bus disaster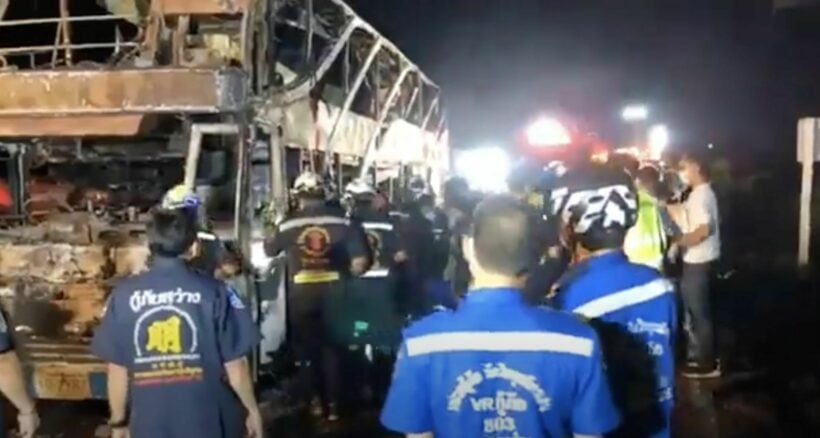 5 people are dead, including 2 children, and another 12 seriously injured after a double-decker interprovincial bus caught fire near Khon Kaen. It was heading to Bangkok. The bus erupted into flames just after midnight on the Mitrapap highway. There were 33 passengers on the bus. The bus driver was also injured.
The 407 Pattana Company bus left Bung Kan province on the Laos border, near Vientiane, last night, stopping in Udon Thani before making its way to Bangkok.
Witnesses say a rear tyre burst and then caught fire just after the bus had left Khon Kaen. The fire then spread to the engine compartment in the back of the bus. The bus soon became engulfed in flames, according to the Bangkok Post. Fire units got to the burning bus soon after but it took an hour to extinguish the flames.
12 people suffered serious burn injuries whilst 16 others were able to get out of the bus before it was engulfed in flames.
Police have spoken to the bus driver and will continue with their investigation.
SOURCE: Bangkok Post
📱 Download our app on Android or iOS for instant updates on your mobile
📧 Subscribe to our daily email newsletter
👍 Like/Follow us on Facebook
🔔 Subscribe to or Join our YouTube channel for daily video updates
Girl in a coma after being struck by skyrocket launched from temple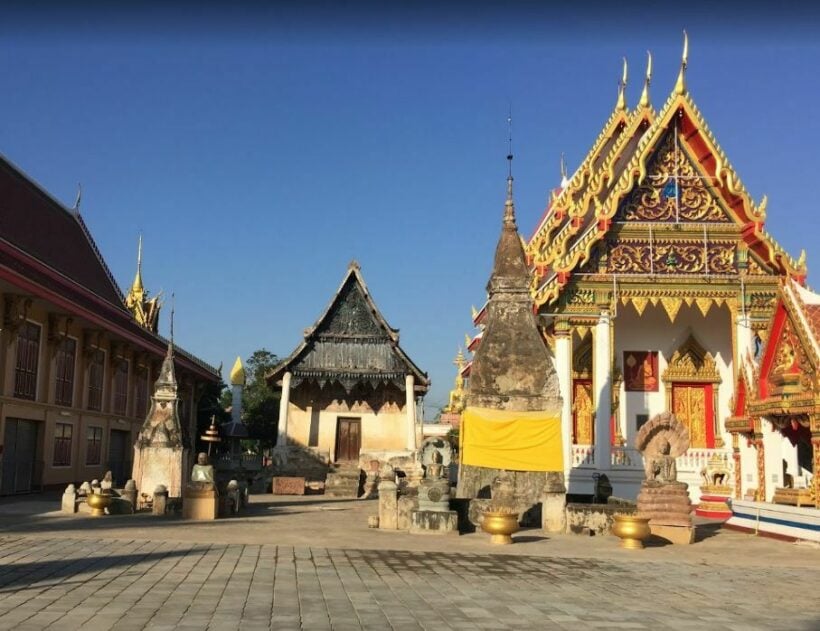 A 10 year old girl is in a coma and in critical condition after a piece of a wooden skyrocket struck the girl in the head. The firework was launched during a cremation ceremony at a temple in the Pak Thong Chai district of the Isaan province Nakhon Ratchasima. The girl was waiting to be picked up at the nearby Ardwitthaya School when part of the wooden firework hit her head.
Natcha "Nong Milk'' Sawasdee hit the ground, bleeding profusely. She was rushed to the local hospital and then transferred to the intensive care unit at Maharat Nakhon Ratchasima Hospital. The wood penetrated her skull about 10 centimetres deep, a recent scan shows.
Other students were hit by pieces of the exploded wooden skyrocket, but their injuries were minor.
The men who launched the skyrocket are facing charges for recklessness causing serious injury. They say they launched rockets at the cremation ceremony, but aimed toward rice paddy fields where there were no people. Due to the wind, pieces of the exploded rocket flew back into town, they say.
Wat Na Phrathat often lights fireworks during cremation ceremonies, residents say. But this time they used a different firework made from wood and PVC.
SOURCE: Bangkok Post
📱 Download our app on Android or iOS for instant updates on your mobile
📧 Subscribe to our daily email newsletter
👍 Like/Follow us on Facebook
🔔 Subscribe to or Join our YouTube channel for daily video updates