Thailand News Today – Wednesday, May 13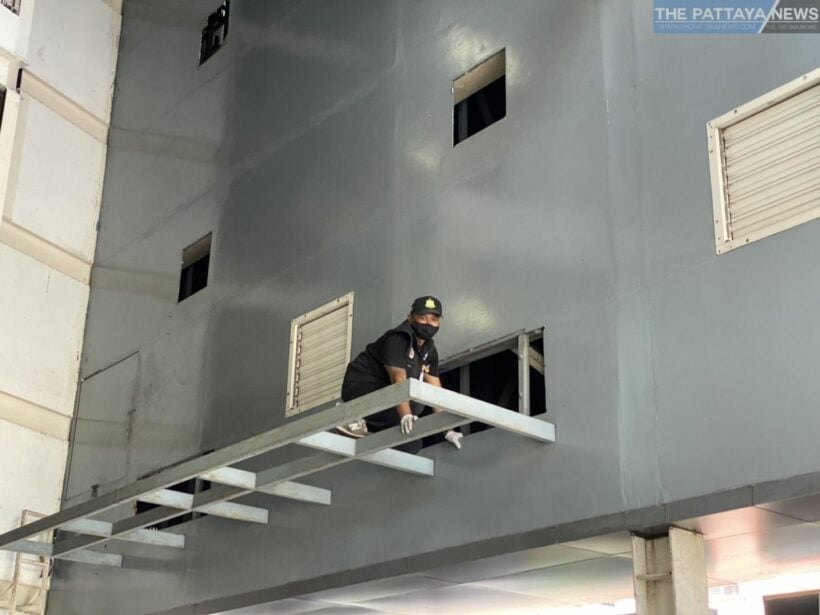 Zero new cases. Covid-19 update, first time since March
Very happy to announce another milestone in Thailand's own battle with the Covid-19 virus. No new cases announced for today, the first time that's happened since March 9.
This keeps the country on track for the second phase of reopening and easing of Emergency Decree restrictions scheduled for this Sunday, but yet to be confirmed.
Thailand has a total of 3,017 cases and 56 reported deaths since the outbreak began in January.
44 arrests at Pattaya pool party, drugs and firearm seized
44 people have been arrested at a birthday party after police raided a pool villa in central Pattaya at 1:30 this morning.
It's understood 3 of the people arrested were Chinese tourists; the remainder were Thai. All face charges of breaking curfew and violating the Emergency Decree. 1 of the people arrested had an outstanding warrant for drugs and money laundering.
The raid took place at the Amazing Pool Villas and several bags of drugs, including methamphetamine, were seized. Officers also discovered an illegally-registered firearm in a Bangkok-registered truck parked on the property.
'Vongfong' heads northwest along Philippines coast
The first potential typhoon for this year's typhoon and storm season in the western Pacific now has a name.
It's been called 'Vongfong' and is is quickly becoming a threat to the Philippines.
Meteorologists say that this is the eigth-latest start to the typhoon season since 1950. The last time we had a later start was 2016 when the first named storm of the season didn't arrive until the first week of July.
Vongfong is believed to steadily strengthen as it tracks northwest and closer to the Philippines' coast. It's expected to make landfall sometime during Friday.
Thieving monkey safely caught in Chon Buri
A mischievous, and clearly hungry macaque has been caught after stealing food from local residents in Chon Buri province's Banglamung district.
Department of National Parks, Wildlife and Plant Conservation staff arrived at the scene to find the male monkey, estimated to be around 2 years old, eating and stealing durian, eggs and other food inside a surprised local resident's home.
The animal dashed into ventilation ducts until officials were able to shoot it with a tranquiliser dart. After two hours the monkey was safely recovered and taken back to the Banglamung Wildlife Breeding Centre for treatment. He was not injured during the incident and will be released when he has regained his strength.
Naked man steals motorbike in Nakhon Si Thammarat
Last Sunday a completely naked man seized a motorcycle from a shocked woman in the southern province of Nakhon Si Thammarat. But it's taken until yesterday to track the man down.
The incident occurred in broad daylight and in full view of witnesses. The man, aged around 30, was sitting naked on a road divider.
He then walked toward a female motorcyclist who was waiting at the red light. As the man approached, she jumped off her bike and ran away. He tried to ride away but was pursued unsuccessfully by a by-stander.
But yesterday police arrested the man at Kimsong market, still naked, in the same district. He was taken to Tha Sala Hospital for assistance… and hopefully some clothes.
Keep in contact with The Thaiger by following our
Facebook page
.
Tourist and environment groups share concerns for new access piers for Maya Bay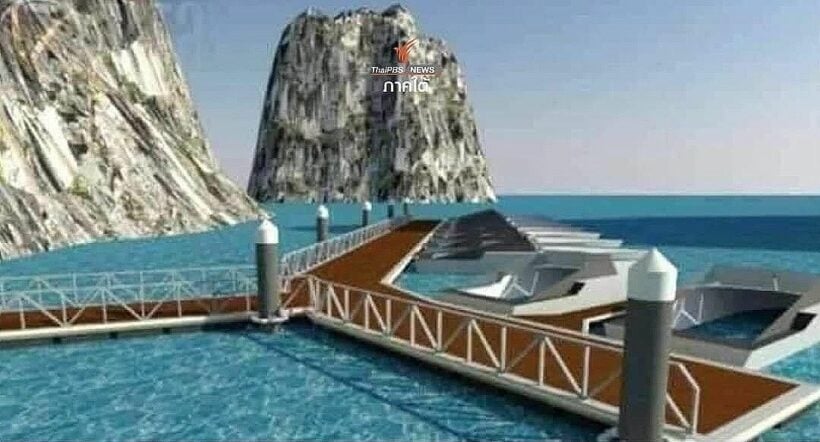 The Chairman of Krabi Tourism Industry Council has shared his concerns about new piers and landing facilities on Koh Phi Phi Ley after being made aware that the Department of National Parks had the initiative to build a pier so tourist can travel by foot to Loh Samah Bay area behind Maya Bay, Ao Nang Subdistrict, Muang District, Krabi.
Maya Bay remains closed to all visitors and access confined to boats passing by the entrance to the bay for a photo opportunity instead. The bay was attracting up to 6,000 people per day at the height of its popularity before authorities closed down access in June 2018.
The idea of the floating piers would allow tourists to disembark then walk from the rear of the island across raised boardwalks to arrive on the back of the beach. In the past tourists had arrived on boat and jumped ashore with the boats waiting either along the shore or anchoring in the bay.
Maya Bay was made famous in the 2000 movie "The Beach" with Leonardo diCaprio.
Even though Koh Phi Phi Ley, the smaller of the two Phi Phi islands, is in the Krabi province, most tourists accessed the island group from Phuket by either speed boat or scheduled ferry.
The Chairman says… "I am concerned about the impact on nature and the environment, where Loh Sama Bay is a dive site that consists of both shallow and deep corals, complete with beautiful, diverse species including soft corals, hard corals, sea anemones. Previously, tourists have consistently come to dive and inspect the beauty of coral reefs there."

A Koh Phi Phi conservation group consisting of tour operators and local villagers have also previously submitted a proposal to the Department of National Parks voicing their concerns about the construction of the new infrastructure.
Pankham Kittithornkul, Chief of Ao Nang sub-district, says that he and local villagers have come to a conclusion to proceed with the construction to service Maya Bay with the exception during low season, closing the famous bay for nature to recover.
"The Department of National Parks has closed off the area to preserve the wide life but there is no news of the reopening of the bay, causing local people to lose revenue."
"Previously the start of installation of the piers was recalled."
SOURCE: One31 | Phuket People Voice
Keep in contact with The Thaiger by following our
Facebook page
.
New rules for Thai cinemas to re-open in Phase 3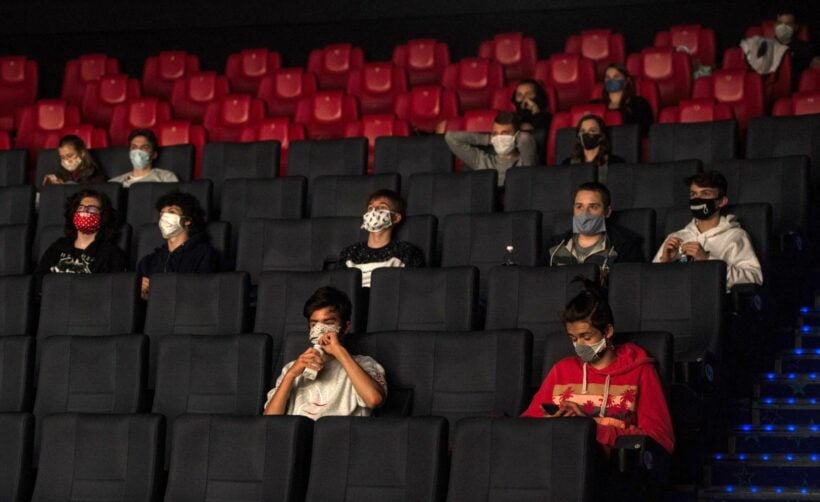 As part of Phase 3 of the easing of Emergency Decree restrictions enacted to fight the spread of Covid-19, cinemas will be allowed to reopen on June 1 (though many operators are unlikely to do so as food and drink are their main revenue source and the movie companies say there are currently no new movies to release…)
The Centre for Covid-19 Situation Administration has released the rules for the reopening, designed to help encourage social distancing and prevent any possible spread of the virus
The rules are…
No eating or drinking in the movie theatre. Patrons can eat concession food outside the viewing room, but the cinema must have a properly spaced eating area that encourages social distancing, with partitions
A maximum of 2 people can sit next to each other. Others must be spaced out at least 3 seats apart. People must not be seated directly in front or behind others
Film festivals and nonstop screenings are prohibited
Cinemas must be fully sanitised and cleaned after every viewing
Masks must be worn at all times during a film
Cinema staff will be asked to enforce the rules about eating, drinking and social distancing
SOURCES: The Pattaya News | Nation Thailand
Keep in contact with The Thaiger by following our
Facebook page
.
6 guidelines issued for schools to re-open in July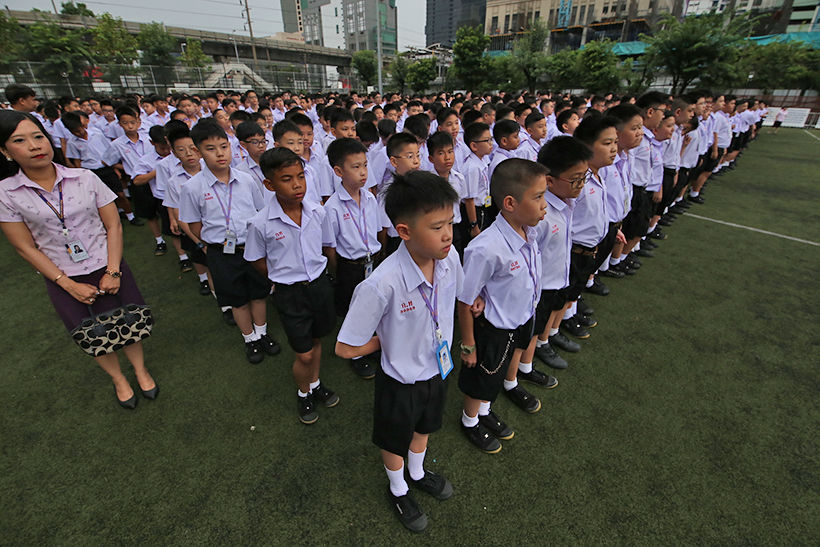 The government is considering allowing schools in Covid-19 infection-free areas to open in July, and the Public Health Ministry has issued 6 guidelines to schools nationwide on how to guard against the spread of virus among students and faculty once they reopen. The Department of Health's director-general made the announcement yesterday.
"The first point that must be emphasised is preventing the spread of Covid-19 and other germs by setting up screening checkpoints at all entrances to check for fever and other symptoms. Furthermore, schools must stick to strict rules on wearing face masks and washing hands frequently, as well as providing adequate alcohol gel or handwashing stations."
She says that classes should have no more than 20-25 students in order to maintain a distance of at least 1 metre between students.
"This will pose a challenge for schools as normally each classroom has around 40 students. Schools may employ an alternate study schedule where half of the students study online at home while the other half attend the school, and then switch at a suitable interval."
"The second point is to prepare lessons and learning materials that are suitable for both classroom and online learning, to ensure that no student's education is hindered during the Covid-19 crisis. The third point is to give underprivileged and disabled children the same learning opportunities as other students by providing suitable protection equipment or specialised tools to facilitate their education both at home and in school."
The fourth point is to protect the health and welfare of children from families who have fallen ill with or are under investigation for the virus. Measures must be taken to ensure that affected students are not excluded from their peer groups.
The fifth point is to provide infrastructure to prevent the spread of the virus in schools, including additional handwashing sinks, partitions in cafeterias, and rearrangement of classrooms, hallways and communal areas to maintain social distancing.
"The sixth point that school should focus on is administration of their budgets, as these measures will increase the financial burden on the school and possibly on parents. Schools must make sure they are financially sound before reopening so they can ensure uninterrupted operation until the end of the semester."
SOURCE: Nation Thailand
Keep in contact with The Thaiger by following our
Facebook page
.