Thailand News Today | Protesters v Police, Quarantine reduction, VietJet passenger arrest | Nov 17
A busy day of news with the protests underway as we were preparing today's program. We will keep you up to date with the latest at thethaiger.com
Police use tear gas and water cannons against protesters outside Thai parliament this afternoon
Police in riot gear and gas masks have deployed water cannons and tear gas on protesters out the front of the Thai Parliament this afternoon.
Police were directing protesters to move back from a formidable 3-layer concrete barricade along the road outside parliament.
One protester threw a blue paint bomb at the police barrage. Protesters are also complaining that the water used in the high power water cannons was again laced with a chemical irritant. Protesters are numbered around 400-500 at this stage.
"Let parliament do its job" – Speaker of the House
Another joint sitting of parliament is underway as protesters gather at the front to push their polarised agendas.
is protesters from both sides to leave the politicians alone so they can get on with their job.
Parliamentary speaker Chuan Leekpai says six proposals have been submitted by MPs. A seventh draft, proposed by Internet Law Reform Dialogue and petitioned by 100,000 people, is also being debated.
1,350 unarmed police have been deployed to keep the peace. This morning there was a gathering of around 100 members from Thai Pakdee, royalists who are opposing any changes. The Ratsadon (People's Movement) movement is currently rallying, demanding that the discussions also involve the constitution's relationship with the Thai monarch.
The outcomes from this 2 days of debate will decide the setting up of a Charter amendment committee and its terms of reference.
Special holiday weekend expected to generate 12.6 billion baht – TAT governor
With this Thursday and Friday deemed "special holidays" , over 3 million people are predicted to travel around Thailand and circulate over 12 billion baht in tourism revenue.
But the ever-optimistic TAT says that recent Covid-19 cases could influence travellers' plans. 4 mystery local transmutations over the past month have put question marks over the Thai government's narrative of containment of Covid-19 in Thailand.
Along with Covid fears, the TAT governor says the number of travellers might not be high because several private companies decided not to grant the extra holidays… The Thaiger being one of them.
According to the TAT, the most popular holiday spots for locals are Chon Buri, Bangkok, Kanchanaburi, Nakhon Ratchasima, Rayong, Prachuap Khiri Khan, Khon Kaen, Chiang Mai and Ayutthaya. The international favourites of Phuket, Samui and Pattaya are, generally, off most local tourism maps.
Thai VietJet passenger arrested for allegedly saying the "airline should be bombed"
We might think all sorts of things when flight delays inconvenience us. But most of us stew in the departure lounge. Mike, a Thai man, decided to vent his anger.
A Thai VietJet passenger was arrested after he allegedly muttered "I think this airline should be bombed" just as he was boarding a flight at the Phuket International Airport. 26 year old Mike Wims was arrested by airport security for allegedly violating Thailand's Air Navigation Act which prohibits false statements that could potentially cause panic.
Mike muttered his threat, seriously or not, just as an airline employee was handing him back his ticket. The employee then asked her colleague to contact the airline's chief as well as airport security who then detained the passenger.
Mike claims he was angry about the flight delay and the statement was a "slip of the tongue." He faces charges under Section 22 of the Act on Certain Offenses against Air Navigation.
Thailand's Covid-19 task force to debate quarantine reduction proposal tomorrow, again
It's on again. After deciding in last week's meeting to continue on with the mandatory 14 day quarantine, the issue of a reduction from 14 days to 10, is back on the table.
The Centre for Covid-19 Situation Administration will meet tomorrow to discuss the proposal, again, to reduce mandatory quarantine from 14 days to 10, for arrivals from low-risk countries. But, again, a number of leading Thai medics are warning against the move, saying it could cause an uncontrollable spike in virus numbers. They are urging officials to wait until an effective vaccine is available, which it's hoped could be within the next 6 months.
The Public Health Minister says that he understands the doctors' concerns, but believes them to be unfounded, reminding them that the reduction would only apply to people coming from countries considered low-risk.
Want more from the Thaiger family?
📱 Download our app on Android or iOS for instant updates on your mobile
📧 Subscribe to our daily email newsletter
👍 Like/Follow us on Facebook
🔔 Subscribe to or Join our YouTube channel for daily video updates
Burmese military declares martial law in border city after attack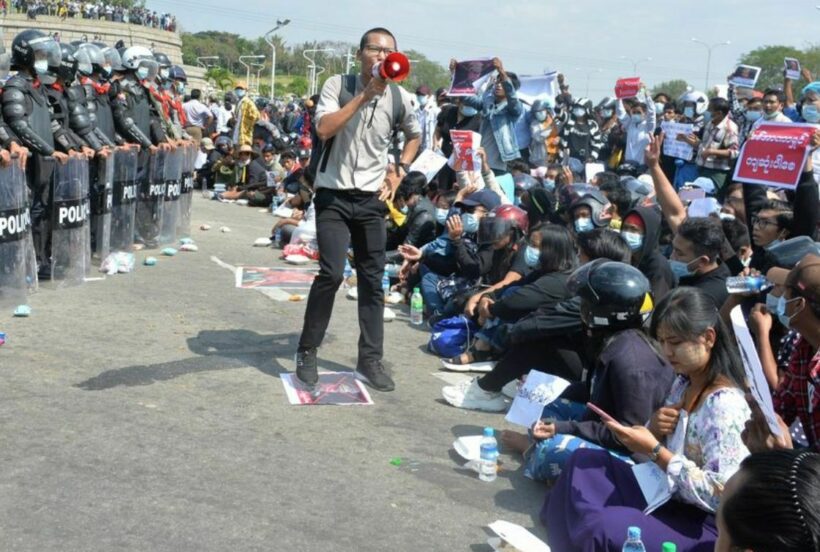 After blaming attacks on a bank and a police station on armed terrorist the Burmese military Junta has declared martial law in the town of Mindat in Chin State. Ethnic rebels have been increasingly battling the military in these border regions – the Chin State borders India – and about 100 people were reported over the last 2 days to have launched an attack on the police station using homemade guns while 50 more people sieged the Myanmar Economic Bank.
State media reported that Burmese military forces quashed the attacks that lead to the martial law declaration without sustaining any casualties, though international news outlets have been unable to confirm any details. Local media aligning against the junta claim that the skirmishes erupted after the Burmese military broke a deal to release 7 recently detained protesters, and claimed that the martial law was invalid. a new militia called the Chinland Defense Force claimed responsibility for the attacks and supported the local media account of events.
That militia say that one of their members was killed in the confrontation and that the military has called in reinforcements. They claim that the junta is losing power in rural areas and can only maintain strongholds in the cities they have military bases in. The martial law declaration comes as the Burmese military continues to try to maintain control amidst daily protests in major cities and violent conflict in border states since their February 1 coup.
The People's Defence Forces, a group formed last week by the National Unity Government of leaders deposed in the coup, have been working to coalesce support against a common enemy between the protesters in cities and ethnic insurgents who have long fought the oppressive military. These insurgents have assassinated junta leaders and clashed frequently with Burmese military security forces in attacks like the one leading to martial law today.
Still, Pro-democracy demonstrators marched through Yangon today, with videos surfacing on social media showing their defiant chant, "we believe that we gonna win, we must win, we must win"
SOURCE: Bangkok Post
Want more from the Thaiger family?
📱 Download our app on Android or iOS for instant updates on your mobile
📧 Subscribe to our daily email newsletter
👍 Like/Follow us on Facebook
🔔 Subscribe to or Join our YouTube channel for daily video updates
Activist who was denied bail tests positive for Covid-19 in jail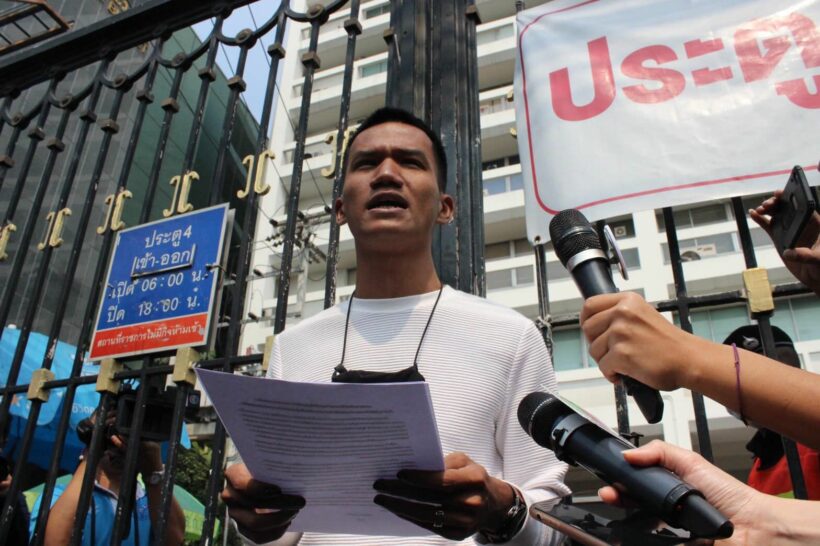 Activist leader Panupong Jadnok, or Mike, has tested positive for Covid-19 while remaining in jail after the Criminal Court has denied his requests for bail. The news, according to Noraset Nanongtoom, his lawyer, is that now Panupong will ask the Criminal Court to consider a bail request by video conference. If granted, he would be released and able to be admitted to a hospital for Covid-19 treatment.
24 year old Panupong, has been imprisoned since March 8, pending trial on charges related to a pro-democracy rally in Bangkok on September 19-20 of last year. Noraset says he is worried because his client has suffered from asthma for almost 7 years, which indicates he has a pre-existing condition presently with Covid. Thailand's Department of Corrections announced that thousands of inmates in Bangkok prisons have tested positive for Covid-19. 1,795 inmates at Bangkok Remand Prison are infected, along with 1,040 at the Central Women's Correctional Institution. At least 8 political prisoners have also tested positive for the virus.
The announcement, over Covid's presence in prisons, comes after political activist Panusaya Sithijirawattanakul, aka, "Rung", tested positive for Covid-19 shortly after her release on bail. According to a Coconuts report, she is the eighth activist known to have become infected in prison. She says she knows of at least 50 other infected inmates. The news has prompted Amnesty International to call on the Thai government to reduce unnecessary detentions to prevent the spread of the virus at prisons.
Parit "Penguin" Chiwarak, who staged a 57 day hunger strike, was recently released on May 11, after being denied bail 10 times. The high-profile student activist leader that has been jailed for months, but recently was taken to a hospital for closer monitoring as his condition was reported to be deteriorating. Another student protester, singer Chaiamorn "Ammy the Bottom Blues" Kaewwiboonpan, was also released on the same day. Both activists were being held without bail in Bangkok Remand Prison, charged under Thailand's strict lèse majesté laws that prohibit anyone from speaking out against the royal family.
As a condition of their bail and release, the activists are barred from taking part in any activities including protesting, organising or giving speeches, that are in any way against Thailand's royalty. They were made to pledge to respect and not to dishonour the monarchy as a condition of their release. The activist leaders will have to follow a schedule of reporting to the court and are not permitted to leave the country without prior permission.
SOURCE: Bangkok Post
Want more from the Thaiger family?
📱 Download our app on Android or iOS for instant updates on your mobile
📧 Subscribe to our daily email newsletter
👍 Like/Follow us on Facebook
🔔 Subscribe to or Join our YouTube channel for daily video updates
"Penguin" publishes letter 1 day after being granted bail, says hunger strike is over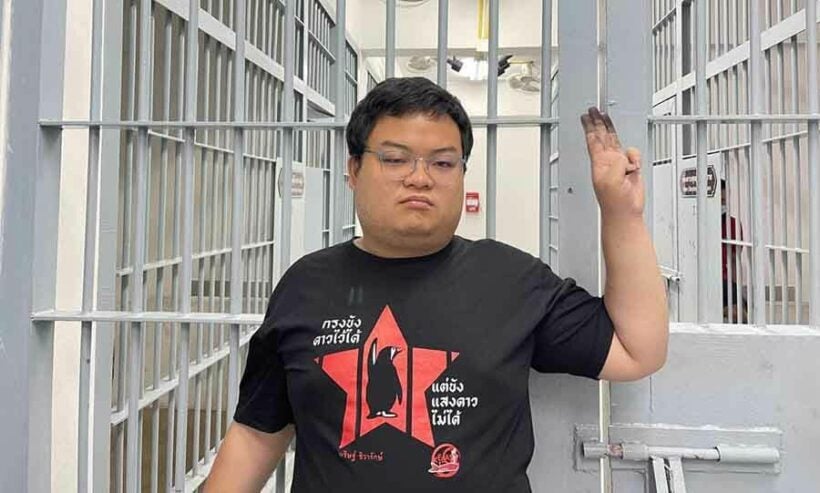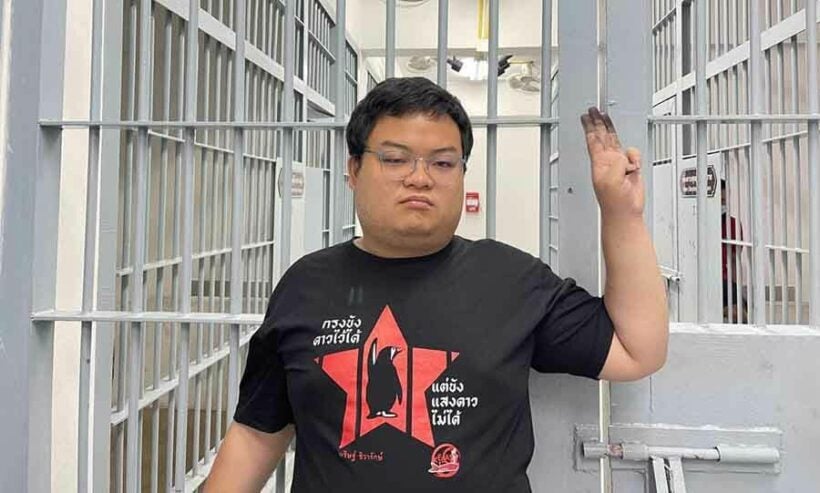 Parit "Penguin" Chiwarak, a student activist who was charged with violating Section 112 of Thailand's Criminal Code, or lese majeste, has penned his first letter after being released on bail Tuesday. He calls it "Letter of Freedom," and says more will come. He published the letter 1 day after being released on bail, or May 12. He has also announced the end to his hunger strike, which lasted for 57 days.
Below, is a translation of the letter, that was published on Thisrupt.
"The 93-day imprisonment and 57-day hunger strike to protest against injustice are now over. Yesterday, the court returned my and Ammy's right to receive bail, even if there are some bail conditions. It's self-evident these conditions are meant to obstruct the struggle for democracy. I believe the court is political, and the court must examine whether it stands for justice. In any case, there is now a legal precedent on the right to bail in Article 112 cases. In the past, bail was never granted. Also, I believe this barbaric law should be abolished soon.
I have no issues with the bail conditions because I don't see how I commit royal defamation. I don't think there's defamation when the people speak the truth, whether it's the demand to abolish Article 112, the request to return royal assets (such as SCB shares), or the call to cancel personal royal armed forces. I don't see how these things defame the royal institution. If the call for the king to be under the constitution is defamation, then the question becomes: is Thailand a democracy with the king as the head of state or an absolute monarchy?
As such, for me, the struggle for monarchy reform continues.
Regarding the condition barring me from participating in protests that lead to social chaos, I insist I have always upheld peaceful resistance throughout my struggle. Every protest I participated in or organized has been peaceful and without weapons. There have only been nonpeaceful actions by the authorities and government supporters as far as I can see. Therefore, this condition is not an obstacle in my struggle. I am ready to participate in every activity after the current COVID crisis (which occurred because of government incompetence) has passed.
The struggle for democracy continues with strength and conviction. Our struggle is built on the foundation of truth. There is no power greater than truth. Like the stars, truth never dies. No matter which corner of the sky, the stars shine bright, just as the truth. No matter the cage, the torture chamber, or the execution chamber, the truth remains powerful and eternal.
In the immediate step, we must help release others who speak the truth that remains unjustly imprisoned: Lawyer Anon, Brother Mike Rayong, Frank, Natchanon, and others. We who love democracy must continue our struggle to prove speaking the truth is not wrong; lies cannot forever hide the truth.
I am still who I am. I still have faith in the truth. No one can turn back the clock, and soon the wind of change will sweep us into the other side of the sky.
For now, I must rest my body and eat before I march again with my brothers and sisters. I am the same person. I fight for the same ideals. I am more resolute than ever before.
Death to feudalism. Long live the people.
Penguin Parit Chiwarak
12 May 2021 (1 day after freedom)
SOURCE: Thisrupt
Want more from the Thaiger family?
📱 Download our app on Android or iOS for instant updates on your mobile
📧 Subscribe to our daily email newsletter
👍 Like/Follow us on Facebook
🔔 Subscribe to or Join our YouTube channel for daily video updates