Thailand News: Big three apply for 3G; Tantawan rejected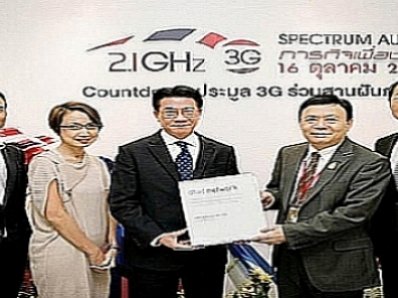 PHUKET MEDIA WATCH
– Thailand news selected by Gazette editors for Phuket's international community
As expected, only big three apply for 3G spectrum auction
Phuket Gazette / The Nation

PHUKET: It's clear now that the big three in the cellular service industry will be the only bidders for the long-awaited 2.1-gigahertz spectrum on October 16. The spectrum will be used for third-generation wireless broadband.
Subsidiaries of Advanced Info Service (AIS), Total Access Communication (DTAC) and True Corp, and the newly founded firm Tantawan Telecommunications, submitted applications to the National Broadcasting and Telecommunications Commission (NBTC) yesterday for the right to bid for segments of the spectrum. However, Tantawan's application was rejected because of the lack of some key required documents and a bank-guarantee cheque.
AIS subsidiary Advanced Wireless Network (AWN) was the first to submit an application and related documents, including bank guarantees, early yesterday morning. It was backed by guarantees of Siam Commercial Bank (SCB), Krung Thai Bank (KTB), Thanachart Bank, Kasikornbank and TMB Bank.
AWN was followed by DTAC subsidiary DTAC Network, guaranteed by Bangkok Bank, and then True Corp subsidiary Real Future, backed by SCB and KTB.
A committee examining the submissions yesterday requested additional documents from AWN and DTAC Network, besides those on the NBTC's list of requirements, to see if they comply with the commission's regulations against foreign dominance of telecommunication providers. The additional documents were to cover the shareholding structures of AIS and DTAC. Both AWN and DTAC Network were able to provide these documents to the committee yesterday.
AIS is 40.45 per cent owned by InTouch, formerly known as Shin Corp. InTouch is 41.62 per cent owned by Aspen Holdings and 29.66 per cent by Cedar Holdings, both of which in turn are controlled by Singapore's Temasek Holdings.
DTAC in July revamped its shareholding structure to clear away the risk of being regarded as a foreign dominated entity. DTAC is 42.61 per cent owned by Norway's Telenor. Thai Telco Holdings owns more than 22 per cent of DTAC, while Telenor owns 49 per cent of Thai Telco.
Tantawan, founded by the Yuthana Photasuthon family, submitted its application at 4.20pm, 10 minutes before the deadline. However, after examination the NBTC dismissed its application, given the lack of some required documents.
NBTC secretary-general Takorn Tantasit said the company submitted an application fee of 500,000 baht versus the total required 535,000 baht (including value-added tax). It also did not bring a cashier's cheque of 1.35 billion baht. This is required of bidders as a guarantee of support from banks should they win the auction, and includes the application fee.
Yuthana said Tantawan was serious about joining the auction. He said it had obtained a letter from the China Development Bank guaranteeing that it would provide B1.35bn to the company, which he thought would be enough to make its application acceptable.
He added that the transfer of such a huge amount could not be made to his company on time.
Yuthana is the son of Senator Prasit Photasuthon. It is the second time the Pothasuthon-owned company has failed to get in on an auction for the 2.1GHz spectrum. Two years ago, Prasit's daughter Patamawadee headed an application by WinWin NGV to join the auction planned by the NBTC's predecessor, the National Telecommunications Commission (NTC). But that application failed because of the lack of a cashier's cheque and bank guarantee.
Seventeen companies picked up applications last month, including Tantawan, which was just founded on September 17.
The NBTC will hold the pre-qualification process from October 1-8 and announce the names of pre-qualified bidders on October 9. The bidders can appeal the result of the pre-qualification within three days after the announcement.
The commission will hold a mock auction on October 12 and 13 and open the actual auction on October 16. It will officially announce the names of winning bidders three days after the auction is completed.
The NBTC will auction nine slots of the spectrum, each containing a 5 megahertz bandwidth for a total of 45MHz, at a reserve price of B4.5bn. Each bidder can go for a maximum of three slots.
AIS, DTAC, and True each are expected to go for three slots to enable them to offer 3G cellular service effectively.
— Phuket Gazette Editors
Keep in contact with The Thaiger by following our
Facebook page
.
Never miss out on future posts by
following The Thaiger
.
More catchy than Covid, K-Pop fans raise millions to support Thai protesters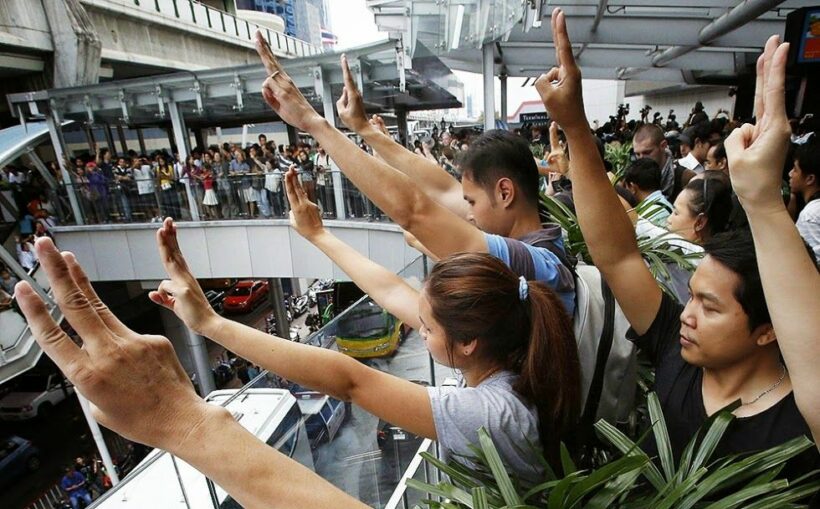 More catchy the Covid and spreading out around the world, this time from South Korea.
Fans of K-Pop groups, South Korea's slick pop music genre, have already raised millions of baht to support Thailand's anti-government protests. The young Thai protesters have been showered with support, supportive K-Pop lyrics, Tweets, messages. And money.
The incredible worldwide reach of K-Pop fans, for over 20 'idol' groups and South Korean celebrities, has been a major force in spreading the plight of the Thai protest movement to a younger audience, across the world.
K-pop fandom have rallied together and pooled their resources to support the anti-government protesters who have been holding rallies around Thailand, mostly in Bangkok, since July. The Girls' Generatin 'Into The New World' is just 1 K-Pop song being taken on as an unofficial anthem for the Thai protesters.
Political statements are relatively unusual from South Korean idols but some defy their tightly controlled public image. It's even led common in Thailand where lucrative endorsements rely on the billionaire clans that control the country's 'establishment'. But last week's use of water cannons against the protesters at the Pathumwan intersection has pushed some to publicly voice their support for the protest movement.
Thai-American K-Pop idol Nichkhun, the so-called "Thai Prince", Tweeted to his nearly 7 million followers that he cannot "stand idly by". Nichkhun is a member of popular South Korean boy band 2PM
"The use of violence is something I cannot watch and stand idly by." His message has been retweeted nearly 100,000 times.
Even Thailand's BNK48 member Milin "Namneung" Dokthian – the group criticised in the past for doing paid promos for the Thai government – has made it clear where she stands in regards to the protests, posting "stay safe" this week.
"We wouldn't have to say 'be safe' if we had a true democracy". Her post was shared by the other band members.
Amanda Obdam, the current Miss Universe Thailand, posted on her Instagram a photo of a young protester facing off against a cordon of riot police.
"A picture says a thousand words. Your job is to protect the people not harm them."
Former Thai beauty queen and TV presenter Maria Poonlertlarp posted on her Facebook page that the treatment of protesters was "completely unjust".
"People have been silenced from speaking up about the double standards and the abuse of power. We've had a lot of injustice going on in Thailand for decades, fighting against our government for democracy."
Thai daily Khaosod reported last week that K-pop fan groups had collectively raised more than 3 million baht to help the anti-government protest organisers. It's now well past 5 million baht.
Thai Actress Intira "Sai" Charoenpura Tweeted that the funds raised from fans of groups including BTS , Exo , Got7 , and Girls' Generation had helped buy equipment such as helmets and raincoats.
Mega group BTS (last week they held the Number 1 and 2 positions on the US Billboard Top 100 singles chart, this week 5 and 6), tweeted that they wanted fans (aka. 'Army') to stop spending money on fan posters for members' birthdays with the owners of the Thai public transport system. The BTS fandom frequently buy expensive poster spots in the Skytrain and MRT statins to wish their favourite idol members happy birthday. Bangkok's skytrain system was closed down last Saturday in a move by the operators to prevent the movement of protesters to rally around the city. The command had come from the police.
The Thai protesters are being funded by donations, in-kind support and the selling of merchandise on their social media platforms. But they'll be happy for the support from the huge worldwide K-Pop fan base.
BTS, 'Not Today' lyrics
All the underdogs in the world
A day may come when we lose
But it is not today
Today we fight!
No not today
Someday the flowers will fall
But no not today
That time is not today
No no not today
Never die, not today
The light pierces through the darkness
The new world. You want it too
Oh baby yes I want it.
If you can't fly, then run
Today we will survive
If you can't run then walk
Today we will survive
If you can't walk, then crawl
Even if you have to crawl, gear up
Aim gun! Ready! Fire!
Keep in contact with The Thaiger by following our
Facebook page
.
Never miss out on future posts by
following The Thaiger
.
TAT announces update to compulsory Covid-19 insurance for foreign visitors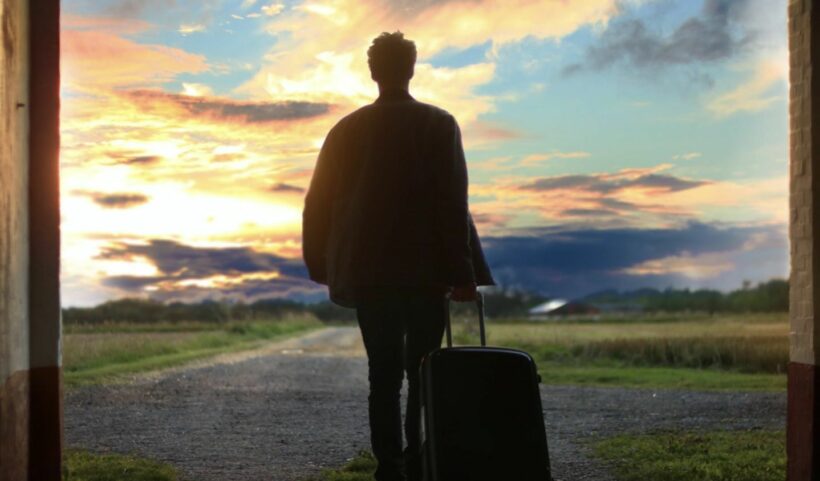 The Tourism Authority of Thailand has announced today an update about compulsory Covid-19 insurance. They say it's now "conveniently" available online in a one-stop-shop. Up to now the compulsory Covid-19 insurance, a pre-requisite before foreigners can come to Thailand, under any visa, was through selected insurance providers at their own websites. The Thailand Office of Insurance Commission has allowed the review of its policy, making it easier to find and purchase the compulsory insurance.
"Foreign travellers will enjoy the following advantages of purchasing an OIC-endorsed medical insurance policy, which is available online HERE."
The update provides additional clarity and ease for people looking to travel to Thailand at this time.
"The Tourism Authority of Thailand is pleased to share the latest announcement that foreign visitors will be able to purchase compulsory Covid-19 insurance policy online prior to visiting the Kingdom."
TAT Governor, Yuthasak Supasorn says the compulsory insurance is part of any package of documents that will need to be completed by foreigners entering Thailand at this time.
"A medical insurance policy with at least US$100,000 coverage or about 3.16 million baht for possible Covid-19 treatment is among the official documents required from foreign visitors planning to visit Thailand."
"TAT hopes the Covid-19 insurance protection program, under the regulation of the OIC, offers additional peace-of-mind for foreign visitors and hopefully makes it easier for inbound travellers before departing from their country of origin."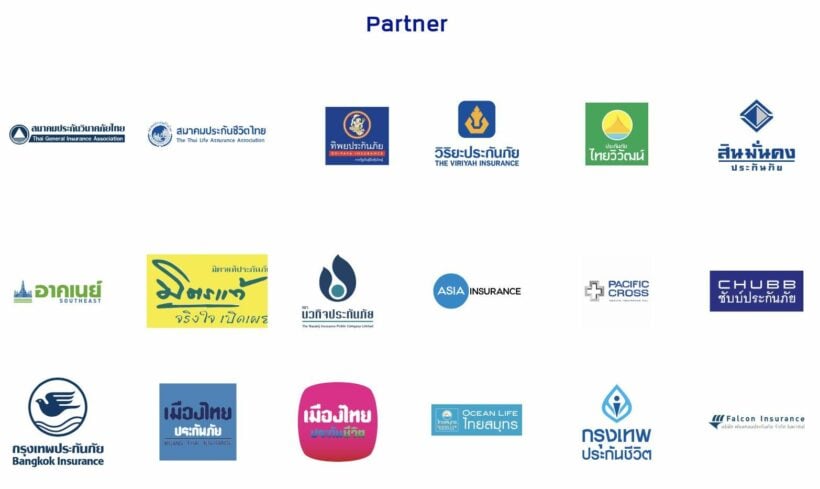 The Thai General Association and the Thai Life Assurance Association, plus 16 leading and non-life insurance companies in Thailand are partnering together with the oversight according to regulations from the OIC to offer the Covid-19 insurance protection program to foreign visitors.
The insurance policy has been approved by the Thai government and can be used in the Thai visa application process. Coverage begins immediately upon arrival in Thailand.
No need for advance payment or out-of-pocket expenses when admitted at private hospitals nationwide. Insurance coverage does not exceed US$100,000 or about 3.16 million Baht.
In the case of death from Covid-19 infection, the insurance company will provide a life insurance benefit of USD $100,000 or about 3.16 million Baht to the beneficiary.
The insurance premium cost is reasonable, the process is overseen by the OIC, and purchase can be done efficiently online.
Thailand's public health infrastructure and healthcare facilities, as well as healthcare professionals are recognised as some of the best in Asia for treating infectious diseases.
Here's an example of some of the costs for packages that vary from 30 days to 1 year. The premiums range from 1,600-4,800 Baht for 30 days of coverage; from 2,880-8,640 Baht for 60 days; from 3,840 – 12,160 Baht for 90 days; from 7,680 – 23,040 Baht for 120 days, and from 14,400 – 43,200 Baht for one year.
The Thaiger recommends that, before you make any other travel arrangements about a trip to Thailand, including the booking os flights or ASQ hotels, you should make general enquiries at the Thai Embassy or Consulate-General in your country.
SOURCE: TAT
Keep in contact with The Thaiger by following our
Facebook page
.
Never miss out on future posts by
following The Thaiger
.
The World's 50 Best Foods… Thai massaman curry tops the list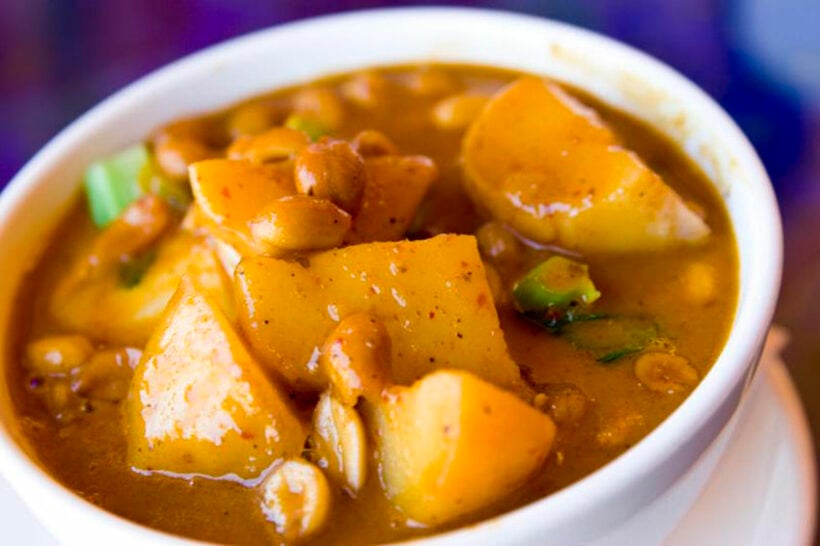 The humble Thai massaman curry has topped a list of the World's 50 Best Foods, compiled by the CNN Travel team. Thailand's smooth coconut milk and potato-based curry (add meat, tofu or vegetables of your choice) comes in at Number 1, with 2 other popular Thai dishes also making it into the World's Best food list.
The hot and spicy shrimp/prawn soup, Tom Yum Goong, comes in at Number 8, with papaya salad, aka somtam, in 46th place (mai phet please!) Tell us your favourite Thai dish, and why, in the comments section (below).
CNN Travel says its staff conducted extensive research on global cuisine to find the 50 best dishes ever created. Nice work if you can get it…
Italian pizza, Mexican chocolate, Japanese sushi, Chinese Peking duck, Penang Assam laksa, Malaysia and German Hamburger also top the delicious list.
Here's what the writers had to say about the 3 Thai dishes that made the top taste grade…
First Place, Massaman curryEmphatically the king of curries, and perhaps the king of all foods. Spicy, coconutty, sweet and savoury. Even the packet sauce you buy from the supermarket can make the most delinquent of cooks look like a Michelin potential. Thankfully, someone invented rice, with which diners can mop up the last drizzles of curry sauce. "The Land of Smiles" isn't just a marketing catch-line. It's a result of being born in a land where the world's most delicious food is sold on nearly every street corner.
Eighth Place, Tom Yum Kung
This best food Thai masterpiece teems with shrimp, mushrooms, tomatoes, lemongrass, galangal and kaffir lime leaves. Usually loaded with coconut milk and cream, the hearty soup unifies a host of favourite Thai tastes: sour, salty, spicy and sweet. Best of all is the price: cheap.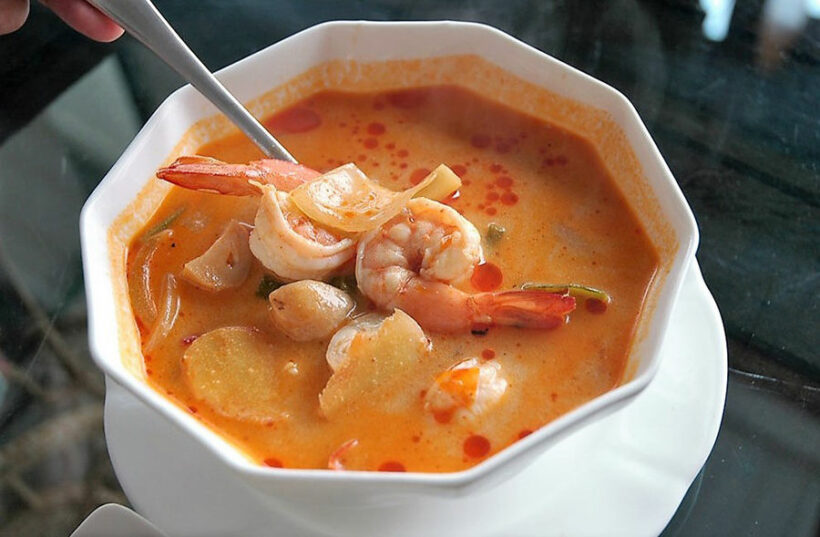 PHOTO: Richard Lee on Flickr
46th Place, Som Tam/Papaya salad
To prepare Thailand's most famous salad, pound garlic and chilies with a mortar and pestle. Toss in tamarind juice, fish sauce, peanuts, dried shrimp, tomatoes, lime juice, sugar cane paste, string beans and a handful of grated green papaya. Grab a side of sticky rice. Variations include those made with crab (som tam pu) and fermented fish sauce (som tam pla ra), but none matches the flavour and simple beauty of the original.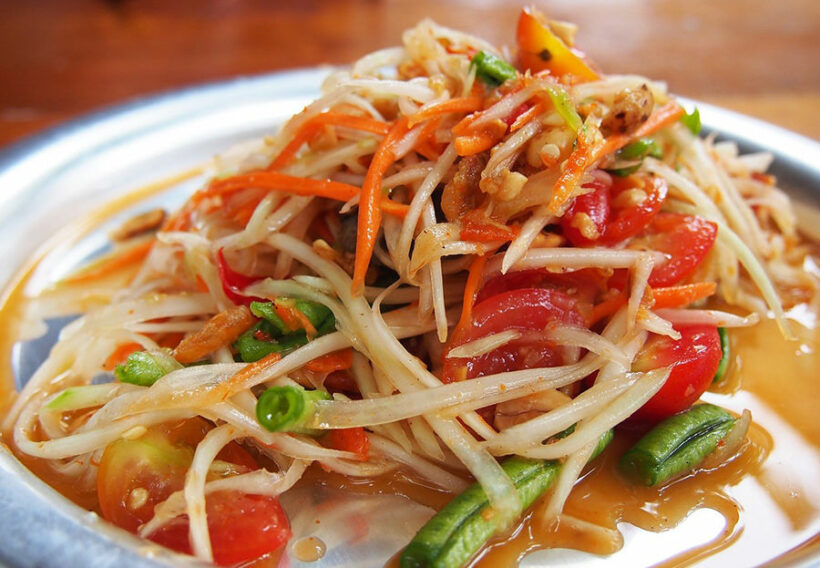 PHOTO: www.needpix.com
SOURCE: Thai Residents | CNN Travel
Keep in contact with The Thaiger by following our
Facebook page
.
Never miss out on future posts by
following The Thaiger
.