Phuket Gazette Thailand News: Tourism takes B50bn hit from protests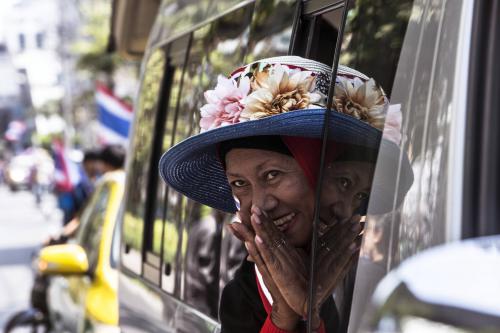 PHUKET MEDIA WATCH
– Thailand news compiled by Gazette editors for Phuket's international community
Bt50 bn loss expected in Q1 revenue from tourism
The Nation / Phuket Gazette
PHUKET: Thailand's tourism sector has lost income so far in the new year because of he political turmoil plaguing Bangkok, experts said.
Small hotels and restaurants near protest sites have started to cut down their part-time workforces in response to lower occupancy rates and the lack of customers.
According to Tourism Council of Thailand president Piyamarn Techapaibul, hotel occupancy in the affected areas of Bangkok has dropped to 50 per cent, while those the in central business district near protest sites have seen their rates dwindle to 40 per cent.
The TCT's 2014 revenue target for the tourism industry is Bt1.3 trillion, but Piyamarn said that because of the protests and the government's decision to declare a state of emergency in metro Bangkok, the industry was expected to see around Bt50 billion worth of income evaporate in the current quarter. That loss could swell to Bt80 billion if the situation turns violent or remains unsolved until the next quarter.
"In the past three months we have lost around a million of the 7.5 million tourists who had been planning to come to Thailand but now have decided not to because of the current political situation," she said.
Regarding the trimming of the part-time workforce, Piyamarn said most big hotel chains like the Centara Group could still cope as long as there is no violence, since the number of tourists in other major destinations has not declined.
She said some part-time employees in the big hotel chains in Bangkok had been shifted to other locations in the country, such as Chiang Mai and Phuket, so they are still able to work.
However, smaller hotels in the affected areas of Bangkok don't have the resources to provide alternative employment for their part-timers. Still, for the time being, there is no report of them trimming their full-time staff. She was unable to provide figures on how many part-timers had been laid off.
Piyamarn recommended that hotels in the affected areas use this opportunity to train their workforce in order to improve service quality. She discouraged cutting room rates because that would affect their business and tourists' confidence in the long run.
She also urged the caretaker government to reconsider the period of the state of emergency – originally set at 60 days – because the longer it stands, the more it will affect tourists' confidence and the image of the country. It should be lifted "as soon as they possibly can", she said.
"I want to see smiles brought back to the faces of Thai people. The parties in conflict should avoid violence and all sides should think of the country as a whole – we all have to do our duty. It is time to stop fighting, because we have reached a dead end, and nobody wants to see violence.
"It is time to negotiate and find a way to compromise our differences for the sake of our country."
Thai Hotels Association president Surapong Techaruvichit confirmed that the occupancy rate of hotels in Bangkok, particularly those near the protest sites, had continued dropping 30 per cent to 40 per cent since the Bangkok Shutdown on January 13 till now.
The demonstrations, which are unlikely to end soon, will affect advance bookings for hotel rooms over the next two months. Some foreign tourists have suspended their plans to come to Thailand on safety concerns.
He added that the hotels would wait until the situation gets better before resuming the launches of aggressive marketing campaigns. Pricing campaigns at this moment are unlikely to be able to draw back tourists.
He confirmed that the hotels did not plan to cut full-time staff as the situation is not yet that serious.
Association of Thai Travel Agents president Sisdivachr Cheewarattanporn said that only about 200,000 Chinese tourists were expected to visit Thailand this weekend, when the Chinese New Year season starts. Tour operators are waiting to see a better situation before resuming their marketing activities.
Public debt at Bt5.39tn in November
The Nation / Phuket Gazette
PHUKET: Thailand's public debt slightly rose from Bt5.3 trillion in August to Bt5.393 trillion in November 2013, according to the Public Debt Management Office.
Compared to the previous month, the public debt rose by Bt19.85 billion. The government's direct borrowing and debt of non-financial state enterprises rose by Bt28 billion and Bt2.27 billion, respectively.
As of November, the public debt accounted for 44.65 per cent of the country's gross domestic product (GDP) in August to 45.34 per cent.
Of total, the government's direct borrowing accounted for Bt2.676 trillion in November, compared to Bt2.57 trillion in August. An amount of Bt1.1 trillion is the burden stemming from the Financial Institutions Development Fund's financial rescues.
Long legal battle to follow poll, with damaging effect
The Nation / Phuket Gazette
PHUKET: The February 2 election is set to trigger a lengthy legal battle between the two rival political camps, which are ignoring the negative consequences of the country being dragged into a power vacuum.
It is quite certain that the February 2 election will be held, with the likely consequence being that voting cannot be carried out in many constituencies and provinces. No one knows when the voting in these provinces will be able to take place, or how many rounds of advance voting and absentee voting will be carried out, given that anti-government protesters are determined to block the elections.
The possibility of completing the whole process of the February 2 poll is thus inevitably thrown into doubt. This may not be surprising; some political parties have rejected it from the very start.
Legal specialists such as former Senate speaker Meechai Ruchuphan and People's Democratic Reform Committee leader Suthep Thaugsuban believe that the solution is to nullify the election – with the April 2, 2006 election serving as an example.
Meechai said the most likely reason for the February 2 election being invalidated would be that voting cannot be held on the same day in every province across the country, not because an insufficient number of voters will cast ballots.
Suthep said the PDRC protesters and the Democrats are not afraid of being deprived of their political rights for failing to vote, because they believe the poll will definitely by nullified. Once the matter is brought to the Constitutional Court and the election is nullified, he said, a new Royal Decree for a new election will be issued and the Democrats would be able to run in that election. All parties, including the government, will accept the new election because the February 2 vote is coming to a dead-end, he said.
This issue was the topic of discussion between the government and the Election Commission at their meeting on Tuesday. The government decided to proceed with the election even though it knew it would be invalidated. But if the government defers the election, it may face suits and court cases. Some legal specialists, however, doubt that failing to hold voting on the same day across the country would lead to the election's invalidation
— Phuket Gazette Editors
Want more from the Thaiger family?
📱 Download our app on Android or iOS for instant updates on your mobile
📧 Subscribe to our daily email newsletter
👍 Like/Follow us on Facebook
🔔 Subscribe to or Join our YouTube channel for daily video updates
Illegal border crossings bringing in new Covid-19 infections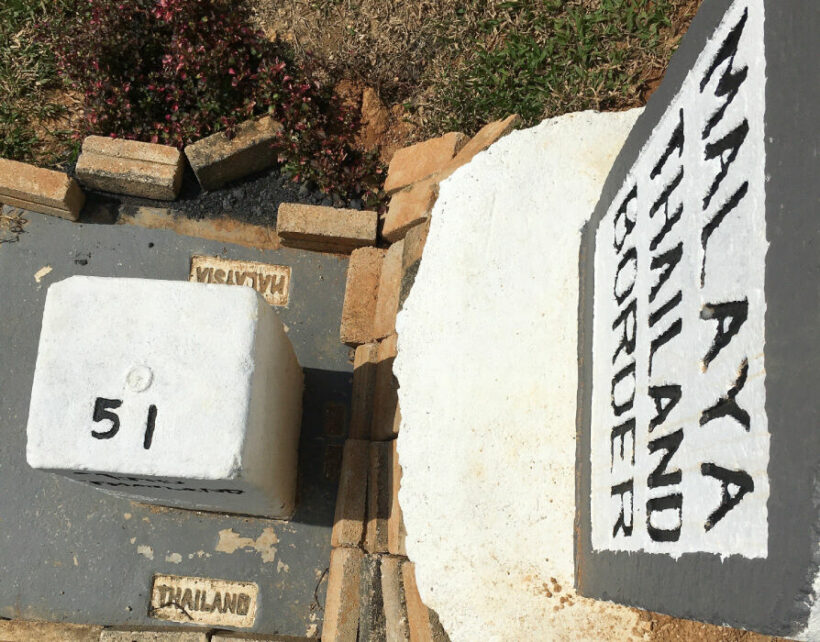 Authorities are worried about illegal border crossings into Thailand bringing in the Coronavirus after 5 recent Covid-19 infections from such crossings. Bypassing all health and security checkpoints along the border, 5 Thai nationals were identified today as being positive for Covid-19 after they snuck into the country, according to the Centre for Covid-19 Situation Administration.
Authorities nabbed 2 after border crossings from Malaysia illegally on April 28 and May 3rd, while another snuck across the Burmese border into Tak on May 2. The last 2 came from Cambodia on Thursday across the Sa Kaeo border. All 5 illegal border crossers are now in state hospitals for Covid-19 treatment.
According to CCSA data in the first four months of 2021 a total of 15,378 people were arrested by Thai authorities while sneaking across borders. Even after security forces increased patrolling along the borders, people managed to sneak in from Myanmar, Malaysia, Laos, and Cambodia. 6,700 of those who crossed the border were Burmese citizens, while another 1,700 of them were Thai nationals.
With nearly 400 lives lost to Covid-19 and over 83,000 people having been infected in the pandemic, the CCSA declared that Prime Minister Prayut Chan-o-cha and National Security Council Secretary-General Natthapol Nakpanich agree that these illegal border crossers without Covid-19 screening are a serious problem.
Many Thai people work in Malaysia and as the pandemic drags on they are sneaking across the border, desperate to make it home to their family. Another recent case found illegal Burmese border hoppers in a taxi en route to Hat Yai after they crossed into Thailand from the Malaysian border. They were trying to travel incognito across Thailand in order to cross the border again back into their home country of Myanmar.
The dilemma is even worse at the Burmese border as the often violent protests following the February 1 military coup has been pushing much of the country into poverty, and creating refugees who are flocking to the border in hopes of crossing over to safety. Many are seeking to escape the conflict and find work in Thailand.
SOURCE: Bangkok Post
Want more from the Thaiger family?
📱 Download our app on Android or iOS for instant updates on your mobile
📧 Subscribe to our daily email newsletter
👍 Like/Follow us on Facebook
🔔 Subscribe to or Join our YouTube channel for daily video updates
Thailand Consumer Confidence Index hits record low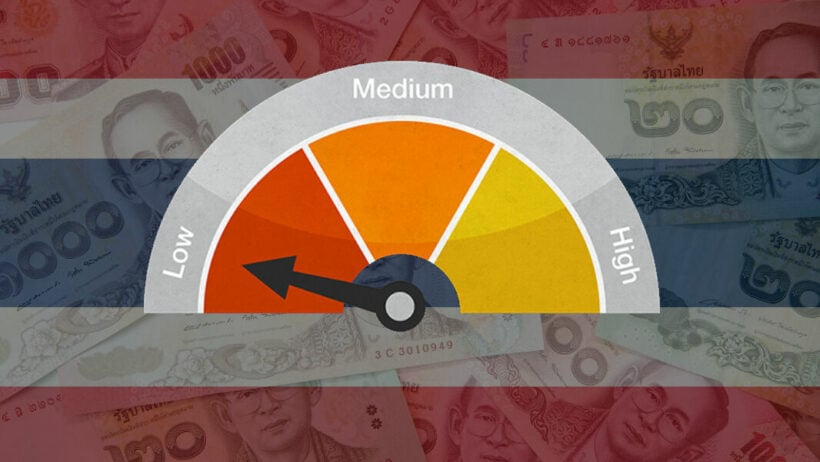 The University of the Thai Chamber of Commerce has reported that the Consumer Confidence Index has hit another new record low of 46.0 in April. The Covid-19 global pandemic has had a devastating effect on the economy and consumer confidence has fallen frequently to the lowest points that it has seen since 1998.
The president of the UTTC believes that consumers generally don't feel like there has been much of a recovery for the economy since the global pandemic began and without a stimulating event to motivate economic growth, the index is expected to continue to fall further. The university estimated that if the third wave of Covid-19 continues past the end of May the economy can expect to lose 400 to 600 billion baht.
The UTTC president stressed that the government should hasten to step up relief measures and make sure they continue relief and economic stimulus throughout the pandemic to avoid economic catastrophe. He predicted that the economy and the Consumer Confidence Index will continue on a downward slope without any hope of improvement until the vaccine rollout gets well underway towards herd immunity, and new Covid-19 infections are decreased dramatically.
Today saw another 2,101 new Covid-19 infections and 17 deaths in Thailand. Vaccination efforts are continually being stepped up, but still remain woefully slow.
The Consumer Confidence Index first started falling last year, with a drop below the previous record low in 1998 in April of 2020, when it fell to 47.2. A few months later, by July of last year, it had recovered significantly, climbing back over 50. But by March of this year, the index had fallen again to 48.5. With April's tumble of 2.5 points, the Consumer Confidence Index pushes once again to a new record low.
SOURCE: Thai Business News
Want more from the Thaiger family?
📱 Download our app on Android or iOS for instant updates on your mobile
📧 Subscribe to our daily email newsletter
👍 Like/Follow us on Facebook
🔔 Subscribe to or Join our YouTube channel for daily video updates
Thailand searches for cow vaccine for lumpy skin disease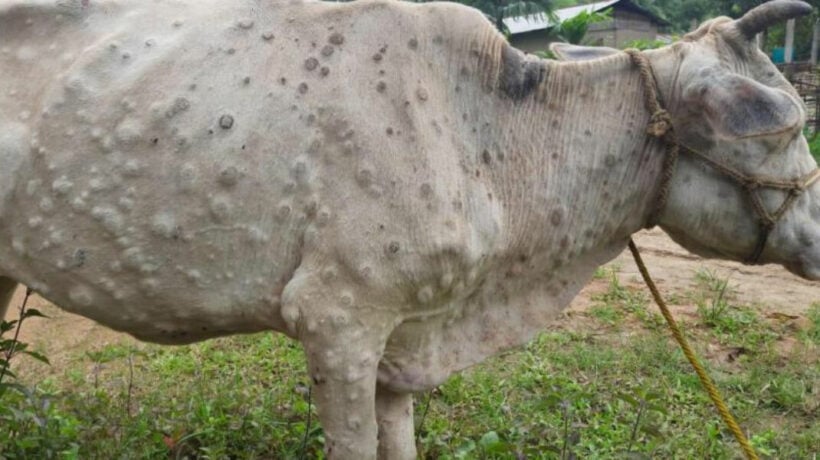 Move over Covid-19 there's a new disease sweeping the country as Thailand's cow population is afflicted with a lumpy skin disease. The Department of Livestock Development is now working on procuring vaccines from overseas manufacturers to import and treat the cattle population in Thailand. The lumpy skin is caused by pustules that are the most visible symptom, perhaps more detectable than other bovine signs such as drooling, loss of appetite and drowsiness.
The cow disease is spreading in the North, Northeast, and Central Plains area of Thailand and has been found in 18 provinces total. First identified in Roi Et, it has now spread in Chiang Rai, Kalasin, Kanchanaburi, Khon Kaen, Maha Sarakham, Nakhon Pathom, and Nakhon Phanom. The first case of the lumpy skin disease was reported in Don Daeng village last month and on April 9th officials reported it to the World Organisation for Animal Health.
The lumpy skin disease is found in cow pens and spread through flies, ticks, and mosquitoes, but the DLD says not to panic, it is not transmissible to humans. The department is distributing important information about symptoms and how the disease spreads to breeders and farmers in the area. They're requiring the breeders to monitor their cattle closely and have imposed measures to control the disease in heavy hit areas.
To prevent the spread of disease in livestock, traders are being requested to not buy and sell cattle within 50 km from disease-stricken regions. And for farmers caring for cattle, the DLD recommends spraying insecticide in all areas to prevent transmission via insects. Finally, in case the cattle were jealous of traveling humans, the DLD is advising farmers to prevent disease spread by isolating any new cow that comes into their farms with a 28-day bovine quarantine where they should be kept under nets to keep insects away.
SOURCE: Bangkok Post
Want more from the Thaiger family?
📱 Download our app on Android or iOS for instant updates on your mobile
📧 Subscribe to our daily email newsletter
👍 Like/Follow us on Facebook
🔔 Subscribe to or Join our YouTube channel for daily video updates