Phuket Gazette Thailand News: Suthep sets for Bangkok seige; Bus terminal brawl bumps holiday death toll; Deep South insurgency deaths double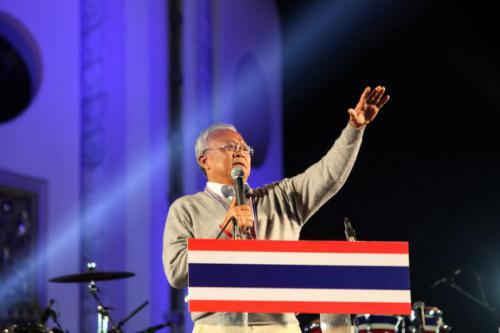 PHUKET MEDIA WATCH
– Thailand news compiled by Gazette editors for Phuket's international community
Capital siege set for Jan 13
The Nation / Phuket Gazette
PHUKET: The anti-government People's Democratic Reform Committee last night announced details of its plan to lay siege to Bangkok from January 13. PDRC leader Suthep Thaugsuban said the siege could last for a month, or until the caretaker government of Yingluck Shinawatra resigns so political reform is possible.
He said that from Sunday, daily marches will be held so PDRC members can further promote the siege. He added that from today, the PDRC would be accepting suggestions from local Bangkok communities on how they could contribute to the siege. He also cited PDRC supporters attached to Chulalongkorn University, who say they may set up a stage at Pathum Wan intersection and businessmen who will do the same on Silom Road.
PDRC supporters may also gather outside the homes of key government figures, essentially keeping them captive in order to limit their activities, Suthep said.
He had earlier pressured police chiefs to look into the widely distributed video clips of so-called "men in black" apparently firing projectiles at protesters from a building inside the Labour Ministry compound during a skirmish at the Thai-Japanese stadium on December 26. The protesters were trying to disrupt candidacy registration.
Suthep has given Bangkok police chief Pol Lt-General Camronvit Toopkrajank until Tuesday to identify these "men in black" and seek their arrest. He also named national police chief Pol General Adul Saengsingkaew as being responsible for the presence of men dressed in anti-riot gear at the Labour Ministry.
In related news, the possibility of a February 2 general election being held still looks bleak, with legal complications disrupting registration procedures.
MP candidates were unable to register at 24 constituencies in five southern provinces on the final day of registration yesterday. But nobody showed up in 28 constituencies in eight provinces, the EC said.
The Pheu Thai Party is pressuring the Election Commission (EC) to extend candidacy registration and accept the legitimacy of MP candidates who registered at police stations.
However, the proposals have been turned down by Election Commissioner Somchai Srisuthiyakorn, who said the election law clearly states candidacy registration must be carried out at places earlier announced by the EC. Extending registration, he said, might adversely affect the election's timetable.
He added, however, that the EC would look for and discuss solutions to the problem, and whether to extend the election registration period.
Somchai said the EC would today hold a meeting with Pheu Thai and Democrat leaders to find solutions to the country's political deadlock.
EC to seek solutions
EC secretary-general Puchong Nutrawong said the EC would meet today to try and resolve the problems, especially the severe ones in 40 constituencies.
He said the EC would also talk about the action that can be taken in relation to the 123 MP candidates who filed police complaints after failing to register. The commission promised to protect their rights.
As for extending the registration period, Puchong said it would be difficult as changing the deadline would also affect the number of eligible voters.
Pheu Thai party-list MP candidate Panas Tassaneeyanont dismissed Somchai's statement that registration cannot be extended. He cited Article 7 of the Constitution's organic law, which he said stipulates that candidacy registration can be carried out for more than five days but not beyond election day.
He insisted that Article 36 also empowers election chiefs at constituency level to select a new location where registration can be held. He added that if election officials did not carry out their duties, they could face charges punishable by up to 10 years in jail and a 10-year political ban.
Speaking after a meeting with the EC on Tuesday, Democrat Party leader Abhisit Vejjajiva said the government's move to push for the general election would lead to political chaos.
As long as the government did not change its stance, he said, he was left with nothing to talk about.
"If the government leaves other options open, then talks are possible. If the government refuses to do so, it would lead to confrontation and intensifying political tension," he said.
A total of 168 candidates representing 23 political parties, not including the opposition Democrat Party, have registered for constituency candidacies in Bangkok, the Election Commission said yesterday. Of those, 46 submitted their applications yesterday, the deadline for registering.
Anti-government protesters yesterday laid siege to the 42nd Border Patrol Police camp in Nakhon Si Thammarat's Thung Song district after 20 MP candidates from five parties registered early on Tuesday allegedly with the support of high-ranking police officers, who ordered a helicopter to transport the MP candidates there.
A police official said the incident had further tarnished the image of the police, as they were seen as siding with the Yingluck government at the expense of the country.
Trang Provincial Election Commission chief Saneh Rakrong said his commission had decided to cancel candidacy registration to prevent confrontation and clashes because of heavy public opposition throughout the five days of the registration.
Meanwhile, the anti-government People's Democratic Reform Committee (PDRC) yesterday forged ahead with its efforts to shut down the Yingluck Shinawatra caretaker government, announcing a planned blockade of Bangkok after the New Year break.
Core leader Satit Wongnongtaey, speaking onstage at the group's main rally site at Democracy Monument, said the dates of the anticipated marches and other measures would be announced within the next few days, quoting an earlier speech by fellow leader Kaewsan Atibodhi.
Satit said caretaker premier Yingluck's time was up and her government must end its tenure by the end of this month. "It's a cancer in the penultimate stage, which will stop spreading once it is removed," he added.
Celebratory events and a New Year countdown were held on Rajdamnoen Avenue, which is occupied by a large number of PDRC supporters, from Tuesday night into yesterday morning.
Security has been tightened at the rally site and other areas occupied by two other protest groups, with visitors and their bags being searched thoroughly.
Former Thai Rak Thai Party executive Suchart Tancharoen yesterday applied for an MP candidacy in Constituency 3 of Chachoengsao under the Bhum Jai Thai Party banner.
Suchart is a former deputy House speaker and deputy premier. He was slapped with a five-year ban when Thai Rak Thai was dissolved in 2007.
In Nakhon Ratchasima, 49 MP candidates from nine parties registered in all of the province's 15 constituencies yesterday. Former Bhum Jai Thai deputy leader Boonjong Wongtrairat, a former interior minister elected to several consecutive terms as an MP in the province, registered on the last day.
Election officials in Prachuap Khiri Khan said the province is ready for the February 2 election as they have registered candidates for all three constituencies.
In Narathiwat, 21 MP candidates registered to run in four constituencies.
They include candidates from the Pheu Thai, Bhum Jai Thai, Chart Thai Pattana and New Democracy parties.
MISSING CANDIDATES
Provinces with the number of constituencies
— Phuket Gazette Editors
Keep in contact with The Thaiger by following our
Facebook page
.
Never miss out on future posts by
following The Thaiger
.
Deputy PM says "Big Joke" transfer not necessarily unlawful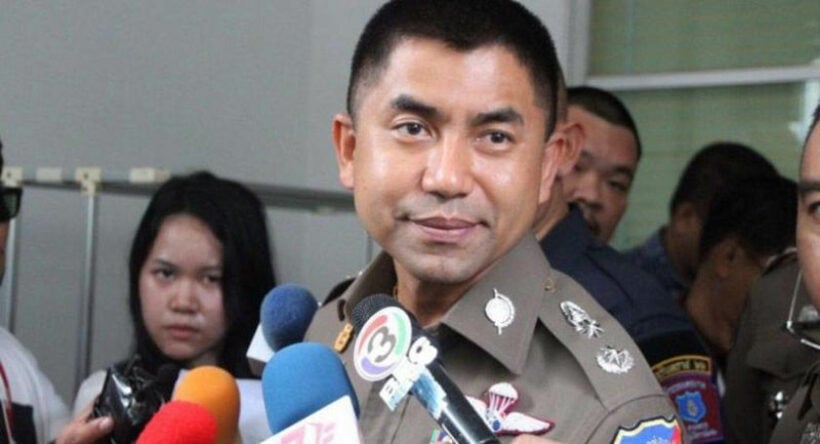 Deputy PM Wissanu Krea-ngam says former immigration chief, Surachate Hakparn, shouldn't assume his transfer to an inactive post in the PM's Office was unlawful. Surachate, known by the nickname "Big Joke" (given to him by Thai media) headed up Thailand's Immigration Bureau until he was unceremoniously side-lined by the PM, Prayut Chan-o-cha last year.
It's understood he is now planning to sue the PM, claiming that the lack of any investigation against him shows there were no grounds for the transfer. His lawyer, Sitthi Ngarmlamyuang, says other officers transferred to the PM's Office have since been re-instated, after being cleared of any wrongdoing. He insists his client deserves the same, pointing out that in the 1 year and 5 months since his transfer, there has been no investigation against him.
For his part, Deputy PM Wissanu says Surachate has the right to sue the PM if he so wishes but shouldn't assume his transfer is similar to that of former National Security Council chief, Thawil Pliensri, who was transferred under former PM Ying­luck Shinawatra in 2011. The transfer was subsequently deemed unlawful by the Supreme Administrative Court.
The Bangkok Post reports that Wissanu doesn't rule out the possibility of Surachate being re-instated, saying the PM's Office should submit the issue for the PM's consideration. For his part, Surachate claims his petitions to the PM have fallen on deaf ears.
SOURCE: Bangkok Post
Catch up with the latest daily "Thailand News Today" here on The Thaiger.
Keep in contact with The Thaiger by following our
Facebook page
.
Never miss out on future posts by
following The Thaiger
.
New army chief declares he'll protect Thailand's monarchy and restore peace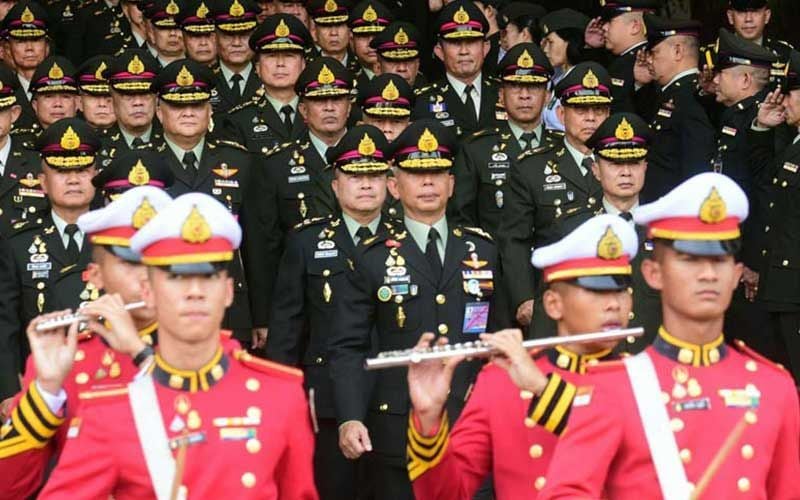 At a time of mass pro-democracy protests, with some activists facing charges for criticising the role of the Thai head of state, the new army chief says he pledges to restore peace and protect the country's monarchy. In a ceremony formerly saying farewell to retiring generals, incoming army chief Narongphan Jitkaewtae said he would restore peace and be loyal to the Thai Monarchy.
His statement comes at a time when many people are speaking out against Thailand's military-run government and calling for changes to the constitution (voted for by referendum in 2017). A number of protest leaders face charges relating to their actions at protests, like breaking the emergency decree back in July for holding a large public gathering, as well as violating the lèse majesté law for criticising or insulting Thailand's King or members of the royal family.
"Protecting the monarchy with absolute loyalty and supporting the government to resolve national problems and working to advance the country are tasks for which the generals deserve the honour."
Narongphan praised the more than 250 retiring generals, including the outgoing army chief, saying they all dedicated their time to protect Thailand and maintain law and order.
"We faithfully pledge to carry on your ideologies and perform our duties to the best of our ability, to ensure peace in society, foster national unity and support the country's development."
The retiring defence forces chief Pornpipat Benyasri said he was proud for his service in the armed forces and will continue to defend the country's sovereignty, people and the Monarchy after his service has ended.
"We won't hesitate to sacrifice our time whenever we are needed."
SOURCES: Bangkok Post
Catch up with the latest daily "Thailand News Today" here on The Thaiger.
Keep in contact with The Thaiger by following our
Facebook page
.
Never miss out on future posts by
following The Thaiger
.
Top 10 things that have changed in Thailand during the Covid-era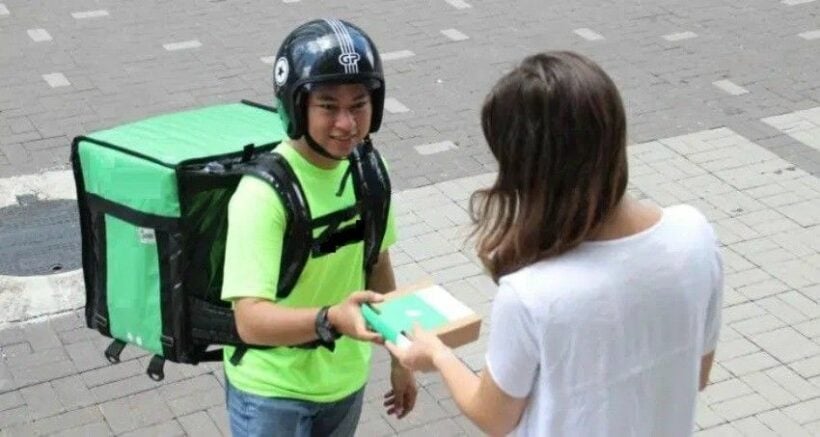 Things have changed. In some cases they've changed a lot and may never be the same again. Many people are suffering as a result of the impacts of lockdowns and the border closures. Entire industries, like aviation and entertainment, have been profoundly affected. Some people are being forced to re-invent their lives as a result. Fears over Covid-19 are causing people to change their habits and re-evaluate their lives. Here are some of the main things we believe have changed since January this year.
Face Masks
The now ever-present face mask will be with us for a long time. In Asia, it was never uncommon to see people wearing face masks for traffic, air pollution, fears of disease or just as a fashion statement.
In the Covid-era, mask wearing will now just become part of what we wear when in public spaces. When we leave home we'll check if we have our keys, our wallet AND our face mask. Even when the government relaxes the current laws about the wearing of face masks, most people, we predict, will continue to wear them anyway, at least in the medium to long term.
Taking Your Temperature
It's everywhere, it doesn't appear to be very effective or reliable, but it's not uncommon to have your temperature taken by someone pointing an infra-red thermometer at your head numerous times a day. The only people that appear to have benefitted from these temperature checks are the manufacturers of infra-red temperature check machines. But in the Covid-era they remain an ever-present reassurance that at least businesses are trying and want to be seen as contributing to the broader public health safety.
Flying in the Covid-era
While the domestic carriers are all flying again, they're doing it tough. Planes are sometimes half-empty and there's certainly less choice of times and destinations, compared to before the Covid travel restrictions set in.
But it hasn't stopped the budget airlines from making the situation extremely competitive with the fares still very low. The aviation industry will certainly re-emerge with fewer airlines as some will be unable to weather the Covid storm. Even the Thai government's announcement of soft-loans to airlines, with 2% interest, will do little to help and simply kicks the bankruptcy can down the road a few more months.
Confidence
Many business had to close during the lockdown. Some have re-opened. Others tried to re-open but have since closed again. Some are struggling along as best they can, tweaking their business models to cope. But people, through fear or simply being unable to afford it, are going out less and spending less. People are rediscovering the values of close communities, family or the joys of Netflix and at-home entertainment.
The impacts of recessions across the region will have long-lasting, profound effects on consumer confidence and behaviour. People's renewed confidence will lag behind any eventual economic recoveries.
Eating Out
There's been few clear winners in all this Covid mess. But delivery companies are one of them and the local motorcycle delivery services in particular. Grab Food and Food Panda are just two examples of the new way we eat and many restaurants are changing their table service model, and even their take away services, to suit the new normal of food-on-demand. Some restaurants have even closed their doors forever and turned into virtual restaurants, delivering food exclusively through the convenience of app ordering and delivery.
Even as the situation has eased to a large degree in Thailand where a lot of daily living is back to 'normal', people simply aren't going out as much, have pivoted to the delivery services for some shopping and eating, and finding new ways of running their lives, closer to home and with less household outlay.
The Travel Industry
Apart from the obvious lack of international tourism, there's no doubt we're simply going to be travelling less in the short to medium term. Many people will be unable to afford the long holidays of the pastand may travel less, or not at all. For business we've found efficient ways to keep in contact without meeting face to face. Had anyone ever heard of "zoom' video conferencing software before Covid?
For the communities that relied on tourism, the changes in their situation has been profound. Businesses are having to reinvent their model to cater for domestic tourism or simply find other ways to diversify their business plan, or just wait out the situation. That wait will eventually kill off a large chunk of local and foreign businesses.
The Economy
Thailand is in recession. So is everywhere else, and the situation, sadly, is likely to get worse as the Covid-era stretches out beyond 2020 and restrictions hold back investment. Some previously good businesses are now out of business. Businesses that were struggling before have been proven unsustainable and closed, probably never to re-open.
Globally, the government stimulus poured into local economies has caused artificial spikes in some stock markets. All this debt will need to be repaid at some stage. In other countries, where the government paid salaries for companies that were forced to close up or sack staff, are finding it hard to ween people off the grants and get them back to work.
In Thailand the economy has been hit hard, particularly in the export , tourism and hospitality industries. The downstream effects of all the staff losing their work, will have an effect on the local economy for many years.
Thailand, reliant on international tourism, has found itself exposed once the borders were closed. As the situation extends way past the 'few months' people were expecting, the full impact is starting to hit hard, particularly in places like Pattaya, Phuket and Chiang Mai. Their reliance on tourism has exposed their economies and left thousands wondering what else they can do to sustain themselves.
Whilst Thailand has recovered quickly from past political unrest, tsunamis and past pandemic threats, this time there will be a much longer path to recovery and will force many businesses to re-evaluate their businesses.
Work from home
Both Thailand's commercial property market and businesses that have previously had centralised offices, have seen a big shift in behaviour. Driven by the need to work from home during the lockdown in April and May, many businesses magically discovered that they can actually function perfectly well with their employees working from home. The flow-on effects of all this is reducing traffic on the roads, lighter peak traffic loads, flexible hours and, of course, larger businesses wondering why they've been renting all this expensive commercial building space. Freelance work is a boom industry as company's work forces move online instead of in-office.
The red light industries
The reality has certainly hit home for tens of thousands of Thailand's sex workers. Although not officially recognised in Thailand, prostitution has been a huge local underground (and not-so-underground) industry in the past, creating its own micro-economy involving locals and international tourists.
Without official government acknowledgment, the jobs of Thai sex workers are not recognised and their salaries vanish once the bars and borders close. No rights, no unemployment pay. The number of prostitutes in Thailand is upwards of 100,000, and these workers have had to head home, many back to the northern and northeast provinces. Thailand's red light districts were locked down for almost 3 months and bars and clubs, and the bar girls and boys, have been struggling ever since.
The pause button
There are few people that have not been profoundly affected by the impact of the coronavirus. Whilst some have been confronted directly with health issues, and even the deaths caused by Covid-19, of friends or relatives, others have had to put their lives and businesses on hold.
People have been unable to travel, business doors have been closed, many people have lost their job and thousands of events have had to be cancelled or postponed.
Even though many parts of the economy are being to grind back into action, there will be a lingering hang-over for just about everyone as they re-orient their lives to suit the new situation. In some cases, the pause button may have to be hit again, as the world continues to battle Covid-19, and find new ways to live with it.
Keep in contact with The Thaiger by following our
Facebook page
.
Never miss out on future posts by
following The Thaiger
.