Phuket Gazette Thailand News: Speaker spending probe; Samui alarmed over oil spill; Homeless foreigners hurt image; Emma Thompson to join talks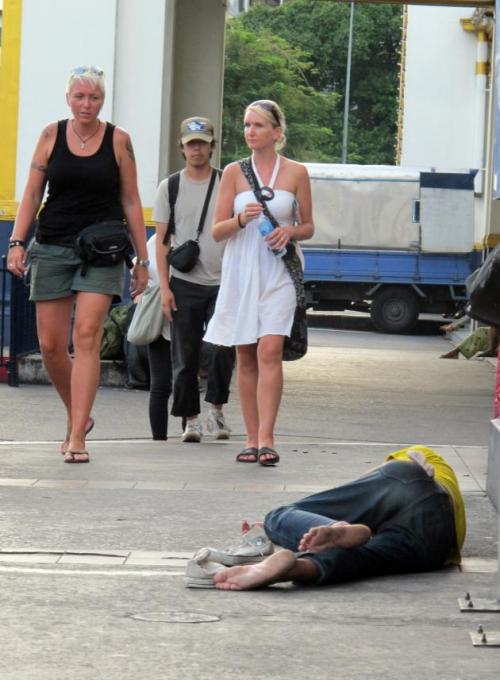 PHUKET MEDIA WATCH
– Thailand news compiled by Gazette editors for Phuket's international community
Samui, nearby islands also vulnerable to oil leaks
The Nation / Phuket Gazette
PHUKET: The oil-spill crisis on Koh Samet has scarred the Kingdom's tourism industry and operators, especially those in Koh Samui and neighbouring islands, are voicing concern that their investments will go down the drain if something like this happens to them.
In fact, some say that the islands nearby, such as Koh Pha-ngan and Koh Tao, also face the risk of oil washing up at their shores.
At present, four concessions have been granted for petrol exploration in the area, and the farthest oil drill is only 65 kilometres from Koh Tao, while another, operated by Coastal Energy Co, is about 40km away from the shores of Koh Samui and Nakhon Si Thammarat district of Khanom.
'Even at the exploration stage, islands face the risk of an oil leak. Let's look at the Koh Samet's Ao Phrao as an example. The initial leak was 24km away, but the spill hit Ao Phrao overnight. Here, Samui is 40km away, so it will only take two days to destroy its beautiful beaches," Tanongsak Somwong, president of the Tourism Association of Koh Samui, said.
Tanongsak was attending an Asia-Pacific Economic Cooperation (APEC) working-group meeting on tourism last week. At the meeting, he and other association members asked why the Energy Ministry had awarded such concessions, adding that the authorities should realise tourism is key to the Thai economy. Last year, tourism contributed up to Bt200 billion in taxes to national coffers and Koh Samui, Koh Tao and Koh Pha-ngan provided more than Bt1.5 billion combined.
For Samui, up to 75 per cent of its annual revenue comes from tourism, and if it is hit by a disaster such as an oil spill, many of its businesses could face the brink of bankruptcy. Not to mention the harm that will be done to marine life and bio-diversity – things that cannot be given a monetary value.
No confidence in preventive moves
This issue was also raised with Tourism and Sports Minister Somsak Pureesrisak, who was in Samui last week to meet with local operators after presiding over the opening of the APEC meeting on tourism. Last Friday, he also spoke with the Natural Resources and Environment Ministry to look for ways to secure tourism in areas by the sea.
Tanongsak said the association was not confident about the oil-spill preventive measures taken by oil companies, adding that the local community had learned from the Samet tragedy that firms don't have effective tools to save the island.
Last week, a fact-finding committee tasked with investigating the oil leak said that according to preliminary findings "unknown factors" – not human error – were behind the spill.
The leak apparently happened while crude oil was being transferred from a PTT Global Chemical offshore pipeline to a tanker at 6.30am on July 27. A gust of wind apparently destabilised the tanker receiving the oil, which lead the pipe to get disconnected, Khunying Thongtip Ratanarat, who is leading the investigation team, said.
Homeless foreigners lack assistance
The Nation / Phuket Gazette
PHUKET: A growing number of foreign tourists and retirees are becoming homeless in Thailand, and the country should change its mindset to help them – at least with initial assistance – especially with the Asean Economic Community fast approaching, the head of a non-government group working with homeless and displaced people has said.
There are believed to be up to 30 homeless foreigners in Chiang Mai, and there have been reported sightings in popular tourist areas like Phuket and Chon Buri, Natee Saravari, secretary-general of the Issarachon Foundation, said.
"They walk or sit in shopping malls during the daytime and scavenge through garbage for food at night," he said.
In some cases, these foreigners – mostly male Westerners – arrived as tourists or retirees and fell into poverty or neglect after settling down in Thailand, often having being duped or robbed by Thai former wives or partners, Natee explained.
They receive meagre amounts of money from sympathetic foreigners who are aware of their plight, but there was no Thai government agency or even a policy in place to help them.
Due to what Natee dubbed the "Thai-state mentality", there is no law or mechanism to help out foreigners in such cases. When arrested or found by the police, they are mostly deported.
Natee suggested an amendment to the laws and government policy was needed in the long run, and an ad-hoc mechanism put in place in the meantime to deal with such cases, in order to provide immediate assistance. "As the AEC 2015 is nearing, there should be assistance given immediately for such people," he said.
He suggested the Social Develop-ment and Human Security Ministry launch an initiative with officials from other countries in the region to welcome retirees for long stays and to discuss putting a mechanism in place to take care of foreigners who fall into destitution and become homeless.
The head of a government-run asylum in Nonthaburi, Supranee Kaewphet, said there were a few homeless Chinese nationals staying at the facility in addition to some Cambodians.
A senior ministry official, Panya Kangphorn, said a bill on providing assistance to foreigners was awaiting parliamentary scrutiny.
More planes to evacuate Thais from Egypt
The Nation / Phuket Gazette
PHUKET: Thailand will send more aircraft to evacuate Thais in Egypt as the crisis there worsens, with the death toll now reaching 750 and supporters of the ousted Egyptian president vowing to stage new demonstrations.
Deputy Foreign Ministry spokesman Jakkrit Srivali said as of yesterday, a total of 1,035 Thais had registered with the Thai Embassy in Cairo, saying they wanted to return home. Altogether, there are about 2,000 Thais in the country.
The evacuation will first concentrate on removing those from the country with no necessity to stay.
So far, the fleet of aircraft bringing Thais home consists of four C-130 passenger planes from the Royal Thai Air Force and a flight scheduled with Thai International Airways. Thai evacuees will be picked up at Dubai International Airport in the UAE, the transit point for the evacuation.
Air Force Commander-in-Chief Prajin Jantong yesterday said that two C-130 planes that were scheduled to leave Don Mueang's military airport at noon yesterday, had to be delayed as flight permission was needed to enter the airspace of Myanmar, India, Oman and the UAE. As of press time, the Thai authorities had only received permission from Myanmar.
Prajin said the C-130 transport planes will be accompanied by medical teams and representatives from the Foreign Ministry to provide Thai evacuees with consular assistance. The Bangkok-Dubai flights would take about ten hours. Each aircraft has a capacity of 110 passengers.
Meanwhile, Air Force spokesman AVM Monthon Satchukorn said two additional C-130 planes would be dispatched to Dubai today to help with the Thai evacuation.
The Air Force will be responsible for expenses incurred, ACM Sujin said, adding three teams of pilots have been prepared for each plane because of the distance to be flown
— Phuket Gazette Editors
Keep in contact with The Thaiger by following our
Facebook page
.
Never miss out on future posts by
following The Thaiger
.
Is Koh Pha Ngan Thailand's best island?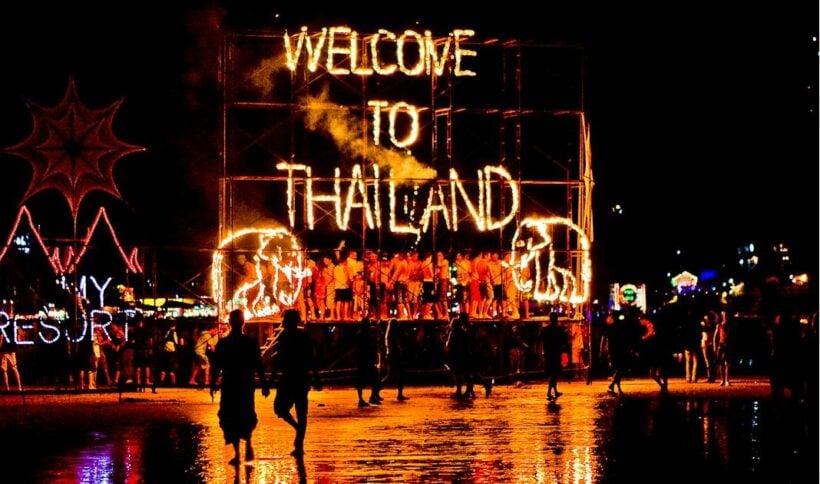 OPINION
Koh Pha Ngan was voted third best island in Asia in the 2020 Condé Nast's Readers Choice Awards. The island is widely known for its monthly Full Moon parties on Haad Rin beach, but Surat Thani governor Wichawut Jinto, who boasted about the island's recent rating, said there's more to Koh Pha Ngan than Haad Rin.
Condé Nast publishes a monthly travel magazine, Condé Nast Traveller, as well as GQ, Vanity Fair and Vogue. It's safe to say the publication's target audience is more interested in luxury resorts than dirt cheap party hostels and monthly beach raves. For example, for the best islands in the United States, Hilton Head Island in South Carolina was voted number 1. It's a golf lovers paradise and a popular vacation spot for suburban families.
A trip Koh Pha Ngan can be a completely different experience depending on where you go and what you do. Some stay on Haad Rin on the southeastern side of the island and have a trip like Hunter S. Thompson's drug-fueled "Fear and Loathing in Las Vegas," while some go to the western side for a yoga or healing retreat.
The Full Moon parties, which would draw more than 30,000 mostly foreign tourists, was put on pause due to the coronavirus pandemic restrictions in Thailand. But before the outbreak, the parties were known to be crazy with neon glow paint, fire jump rope and cheap buckets of alcohol and use of illicit drugs. The sand was so sticky that people were better off wearing shoes, and just about everyone pees (and pukes) in the ocean.
Even on the west side of the island, where it's more known for yoga and meditation retreats, things can sometimes get a little weird. A tourist said she did a "spiritual healing" ritual on the island known as a kambo cleanse where secretion from a South American frog is applied to burnt skin. She said "I feels like you're dying" but "it's great."
While the west side of the island has trendy resorts and bungalows, as well as a variety of yoga retreats and pricy vegan food, some people also live on a budget – a very tight budget. Some tourists even camped out on a hidden beach during the pandemic, a tourist claims. A local artist said he lives in a cave on the same beach.
Koh Pha Ngan topped Bali, Indonesia, which was number 9 on the list. Phuket was number 8 on the list and Koh Samui was number 10.
Here's what made the top 10 Asia islands in the Condé Nast Reader's Choice Awards 2020.
Cebu & Visayas, Philippines 95.83
Sri Lanka 95.45
Ko Pha Ngan, Thailand 95.30
Palawan, Philippines 95.22
Siargao Island, Philippines 95.19
Boracay, Philippines 95.06
Lombok, Indonesia 94.59
Phuket, Thailand 94.12
Bali, Indonesia 93.27
Koh Samui, Thailand 92.73
SOURCES: Condé Nast | Bangkok Post
Keep in contact with The Thaiger by following our
Facebook page
.
Never miss out on future posts by
following The Thaiger
.
Koh Pha Ngan and Chiang Mai win gongs in the latest Condé Nast Traveler Awards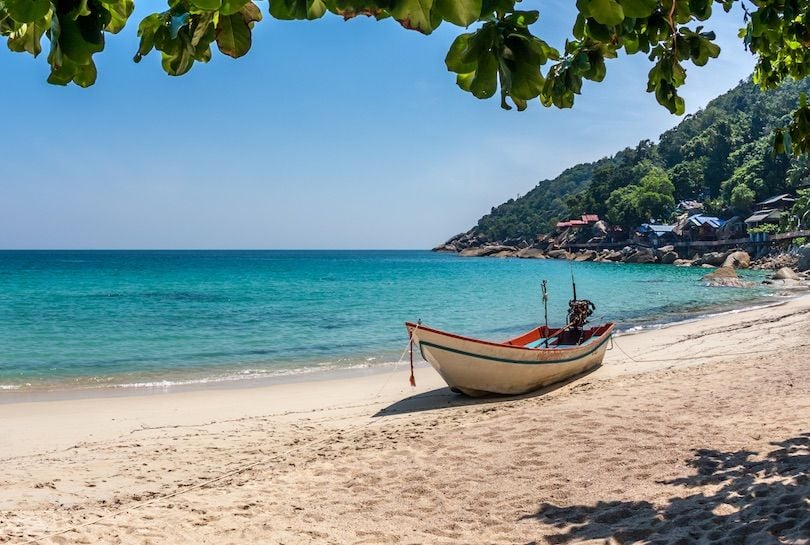 Koh Pha Ngan, a short ferry ride from Koh Samui off the coast of mainland Surat Thani, is the 'third best island in Asia', according to a vote in the readers' choice awards by Conde Nast Traveler. Thailand also ranked in 7th place in the 'Top 20 Countries in the World list.
Topping the 'Best Asian islands' list were Cebu & Visayas, Philippines and Sri Lanka. Koh Pha Ngan, at 3rd place, is the home of Rin Nok beach where party-going tourists gather for the monthly full moon parties. But they've been shut down since April when Thailand shut its borders. Two other Philippine islands – and Siargao and Palawan – made up the top 5.
But Surat Thani's governor Wichawut Jinto maintains there is more to Koh Pha Ngan than its full moon parties.
"The island boasts a blend of nightlife and beautiful natural scenery. The beach is a perfect cove flanked by mountains."
"Koh Phangan also has other beautiful beaches such as Thong Nai Pan, Khuad and Yao beaches. Apart from the beaches, Than Sadet waterfall is also a landmark attraction."
In other Condé Nast Traveler Awards, Chiang Mai was placed 2nd on the 'Top 10 Best Small Cities'. Who was number 1? San Miguel de Allende, Mexico. Bangkok, often a contender in the Best Big Cities Awards, didn't even figure in the Top 10 on the Condé Nast list this year. Kyoto, Japan, scored top spot in the Big City list this time.

Of course the TAT Governor Yuthasak Supasorn, seized the opportunity.
"We are always proud to see Thailand on this list, but in this challenging year when the Covid-19 restrictions are affecting international travel, it is indeed a very special honour."
"We would like to extend our sincerest appreciation to the readers of Condé Nast Traveler as well as travellers from across the globe for their confidence in Thailand. When all difficulties from the Covid-19 pandemic have improved, Thailand will certainly be more than ready to welcome international tourists once again."
But this year's Condé Nast Traveller Awards were announced at a time when much of the world isn't travelling. The magazine says the names in this year's edition were the ones that "brought voters comfort", that they "still connected with" long afterward and got them through the months without travel.
"These are the enduring gems that can withstand the test of time and the vicissitudes of circumstances. So while it is always an honour to be on this list, in this strangest of years, it is a special honour, indeed."
"Many readers have told us that when we emerge from this pandemic, they want to turn their attention to the classics, whether that means personal favourites or places they know have brought joy to others."
For more information on Condé Nast Traveller's Readers' Choice Awards 2020, check the full list HERE.
Keep in contact with The Thaiger by following our
Facebook page
.
Never miss out on future posts by
following The Thaiger
.
2 foreigners in same hotel as the Koh Samui woman test positive for Covid-19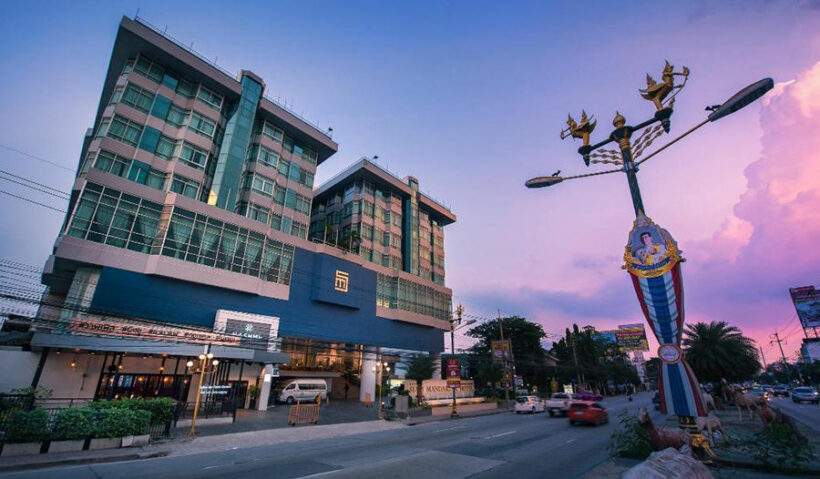 Officials are reviewing the use of a Samut Prakan hotel, just outside Bangkok, as a quarantine facility, after 3 foreign nationals staying there tested positive for Covid-19. The first was a 57 year old woman who developed symptoms of the virus after she had completed 14 days' quarantine and had returned to her home on the island of Koh Samui. It's understood the woman has both Thai and French citizenship; she was born in Thailand and is married to a French national.
Yesterday, Sophon Iamsirithavorn from the General Communicable Diseases Division, confirmed 2 more foreigners staying at the same hotel, in the central province of Samut Prakan, also tested positive. All 3 are now receiving hospital treatment, but Sophon says officials are still not sure how they became infected or if their cases are even linked. He adds that the hotel, named in a Bangkok Post report as the Siam Mandarina, may not meet the required standard of an alternative state quarantine facility.
Thai PBS World reports that the hotel has been thoroughly disinfected by health authorities after traces of Covid-19 were found on equipment in the hotel gym. It's understood the Disease Control Department is in talks with Samut Prakan health officials regarding a possible suspension of the hotel as a quarantine 'ASQ' facility.
Officials are also deciding whether to release those currently quarantining in the hotel once they've completed their 14 days, or whether they should be required to install a tracking app on their phones or other means to trace them post-quarantine. Tests are also being carried out on each of the 3 patients to determine if there is a match between the virus strains in each of them.
SOURCE: Thai PBS World | Bangkok Post
Keep in contact with The Thaiger by following our
Facebook page
.
Never miss out on future posts by
following The Thaiger
.