Phuket Gazette Thailand News: Poll set for Sunday amid fears of further violence; Man shot, gunman caught; Reds to rally nationwide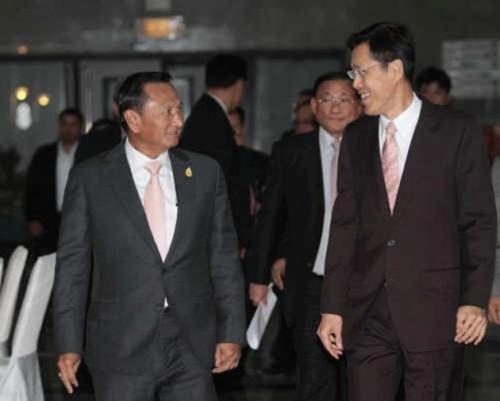 PHUKET MEDIA WATCH
– Thailand news compiled by Gazette editors for Phuket's international community
Poll set for Sunday amid fears of further violence
The Nation / Phuket Gazette
PHUKET: The decision to go ahead with the February 2 election would only mount pressure on the caretaker government because it would provide "ammunition" to the protesters, a leader of the People's Democratic for Reform Committee (PDRC) said yesterday.
The protest leader told The Nation, on condition of anonymity, that this decision would be advantageous for the PDRC as it would give them reason to continue. He said that if the government decided to delay the poll, the PDRC would have no reason to keep rallying.
After failing to reach a consensus yesterday over rescheduling the poll in a meeting with the Election Commission (EC), the government announced that the snap election would go ahead as scheduled – this Sunday.
Deputy Prime Minister Phongthep Thepkanjana, who was at the meeting, said delaying the poll would not solve problems and could open the door to more trouble.
The government and EC have been at loggerheads over delaying the election. The commission has been saying the poll should not be held due to the anti-government rallies, while the government has been arguing that delaying it would not end the protests either.
The protest leader said that while Pheu Thai Party would most definitely win the poll, its legitimacy would certainly be questioned. And it is feared that clashes may break out, as they did last Sunday, when advance voting was held. There could also be problems such as a delay in the endorsement of the winner and the inability of the House to convene.
Moreover, Prime Minister Yingluck Shinawatra – who is again Pheu Thai's top candidate – is being investigated by the National Anti-Corruption Commission in relation to the rice-pledging scheme. If she is indicted, it might affect her political status.
"The fight between the PDRC and the Yingluck government will become a prolonged battle and not end soon," he said.
Meanwhile, PDRC leader Suthep Thaugsuban announced last night that another 195 prominent individuals were ready to support his reform agenda. They include former Bank of Thailand governor Pridiyathorn Devakula, former commerce minister Krirk-krai Jirapaet and Magsaysay award winner Krisna Kraisintu.
Separately, Nipit Intarasombat, deputy Democrat leader, said he would sue the Cabinet for not postponing the election, which would cost the country Bt3.8 billion.
Earlier, Yingluck met all five EC members and ministers, including Labour Minister Chalerm Yoobamrung, Deputy Prime Minister Pracha Promnok, PM's Office Minister Varathep Rattanakorn and Deputy Prime Minister Surapong Tovichakchaikul.
Yingluck proposed that the election should only be postponed in constituencies or at polling stations that have had problems. She wanted constituencies where no candidates have enrolled, or advance voting was blocked, to have a new election date.
Election Commissioner Somchai Srisuthiyakorn said he analysed scenarios for the government to consider. He said there were plenty of problems already and more likely after ballots are cast.
The House would not be able to sit for three to four months, he said, as the number of elected candidates would be below 95 per cent, the legal quorum required.
There were 28 constituencies, mostly in the South, which lack candidates to contest the ballot, he said. The government needed a new decree or the EC needed a new declaration to set a new date, perhaps two to three months for voting in the 28 remaining constituencies.
Without complete results, the EC could not calculate the number of party-list MPs, he said. It would need at least 4 to 6 months.
Somchai said the EC would have to hold new elections for 83 constituencies, where advance voting was blocked last Sunday.
He said some 2.1 million voters who had registered to cast absentee ballots or advance votes were yet to exercise their right. They would have the right to cast ballots by late February, he said.
Somchai and Phongthep briefed the media on the outcome of the meeting but it seemed that they came out to argue against each other. When Phongthep said the delay would not solve any problems because protesters would not stop, Somchai argued that an election this weekend would face all kinds of trouble.
During the conference, three men came to protest. One man showed a placard that said "Respect us". He said they came from a group called "We are 100 per cent Thai citizens who want the EC to resign."
Meanwhile, a new problem emerged shortly after all 50 district chiefs have asked to step down en masse as heads of the EC in their areas in Bangkok, citing fears for their safety and huge pressure from both political camps.
Bangkok City Clerk Ninnart Chalitanont said Bang Kapi district chief Sin Nitithadakul had tendered his resignation. The other district chiefs also want to resign but were worried that the EC may not be able to find replacements for them in time.
She said the district chiefs did not want to face the dramas that occurred during advance voting last Sunday.
Ninnart said the EC would have to appoint new committees within 20 days before the election date if the other chiefs resign.
Man shot outside the Army Club; gunman caught
The Nation / Phuket Gazette
PHUKET: An anti-government protester was shot and injured outside the Army Club yesterday, where Prime Minister Yingluck Shinawatra and Election Commission members were meeting.
The drama occurred as the People's Democratic Reform Committee tried to break into the venue on Vibhavadi Rangsit Road to pressure the Yingluck government to step down.PDRC protesters rounded up the suspect gunman and seized several items as evidence.
The man had to be taken to Rajavithi Hospital after being attacked by angry protesters. The injured protester, 32, shot in the back into his stomach, was admitted to an intensive care unit at Ramathibodi Hospital for surgery.
The incident took place at about 2.30pm. About 15 minutes later, caretaker Labour Minister Chalerm Yoobamrung, who is also head of the Centre for Maintaining Peace and Order, left the Army Club via another gate.
He had arrived at 1.30pm and voiced his ideas before the PM met Election Commissioners. The Cabinet met at the same venue, but most ministers left before noon after the meeting ended.
The sound of a gunshot was heard near a flyover opposite the Army venue after PDRC protesters lined up in eight rows and stepped towards the club, after guards cut a chain locking the club gate.
The suspect gunman was caught by irate protesters, who beat him and grabbed his gun. Shortly after a PDRC leader took to a truck equipped with loudspeakers and announced that the suspect gunman was a police officer from Suthisan Police Station.
On the man or nearby, PDRC guards allegedly found a 11 mm gun with a fully loaded magazine, a motorcycle taxi jacket (number 35 from Bang Sue), a pair of handcuffs, gloves, a mobile phone, a black T-shirt, a motorcycle (Bangkok licence plate number 387), a camera hidden in front of the motorcycle, bullets and cartridges, two communication radios with the name "POL SR SGT MAJ TI" on them.
The protesters asked police to give them back all the evidence they found as they were not confident that officers would carry out their duty honestly. Th
— Phuket Gazette Editors
Want more from the Thaiger family?
📱 Download our app on Android or iOS for instant updates on your mobile
📧 Subscribe to our daily email newsletter
👍 Like/Follow us on Facebook
🔔 Subscribe to or Join our YouTube channel for daily video updates
Poll: Work from home popular, reduces Covid-19, helps gov't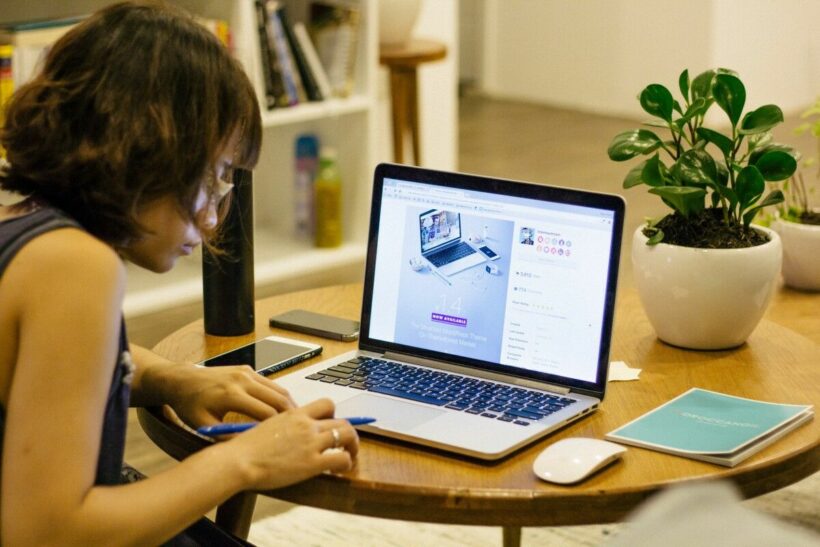 As far as strategies to reduce the risk of Covid-19 infections goes, work from home policies may be the most popular, far more liked than masks and lockdowns. In a recent poll by Suan Dusit Rajabhat University, 1,533 people in Thailand were asked about their opinions on working from home. The majority of responses were well in favour of it.
The Suan Dusit poll was conducted online and found that when asked about various opinions and attitudes towards working from home, nearly 75% of respondents believed that staying home to work made them feel safer and could prevent Covid-19 from spreading more. Nearly half also felt like working from home was a good way to cooperate with government policies regarding Covid-19.
Nearly 43% of those polled were working from home. Only about 23% of people never worked from home, while just under 35% of people worked in some combination of home and at their office or place of business. Just over 40% of respondents said they lacked the equipment at home that would allow them to work from home.
While people generally like to work from home, those surveyed did believe that there were pros and cons to it. 44% felt working from home gave them more personal time for themselves and more time with their families. 88% believed it had a positive effect on the Covid-19 pandemic and 70% loved how working from home reduced travel and commute costs. Over 60% viewed it as a way to help the government in their struggle against Covid-19.
On the downside, about 66% of those surveyed complained that they saw an increase in their household bills as their usage of water, electricity and internet went up. 62% had trouble without their normal work equipment and 46% said slow communication was an issue.
Oddly though, when asked which they preferred, only 18% completely favoured working from home, while double the amount preferred the office and 37% liked both equally. Just under 9% gave no opinion. Overall though, work from home as a Covid-19 fighting policy had a success rating of 70% by those polled.
SOURCE: Bangkok Post
Want more from the Thaiger family?
📱 Download our app on Android or iOS for instant updates on your mobile
📧 Subscribe to our daily email newsletter
👍 Like/Follow us on Facebook
🔔 Subscribe to or Join our YouTube channel for daily video updates
Covid UPDATE: 2,302 new infections and 24 deaths, provincial totals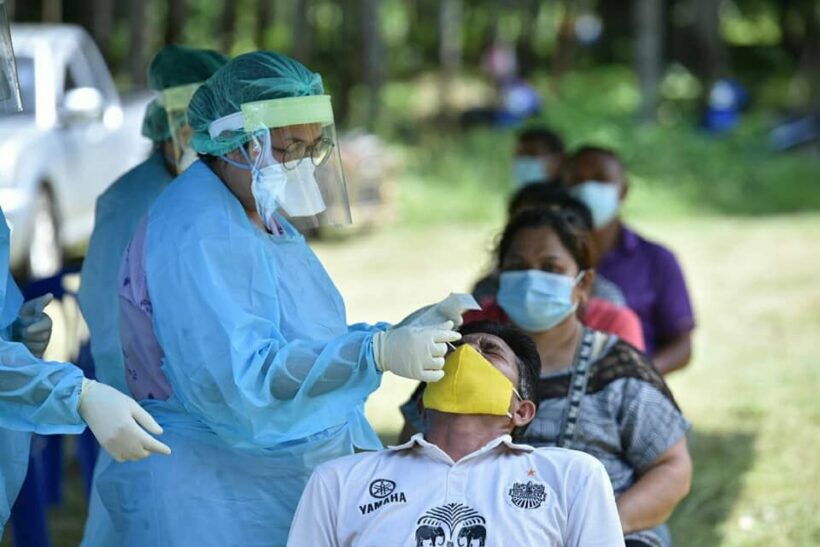 The CCSA have announced 2,302 new infections and 24 Covid-related deaths over the past 24 hours. There's now been a total of 101,447 infections and 589 deaths since the start of Thailand's tally on January 18, 2020. More than 64,000 are registered as 'recovered'. 35,055 people remain under treatment at public and field hospitals.
More news briefs on the Covid situation below.
Here are the provincial totals for Sunday as reported from the past 24 hours.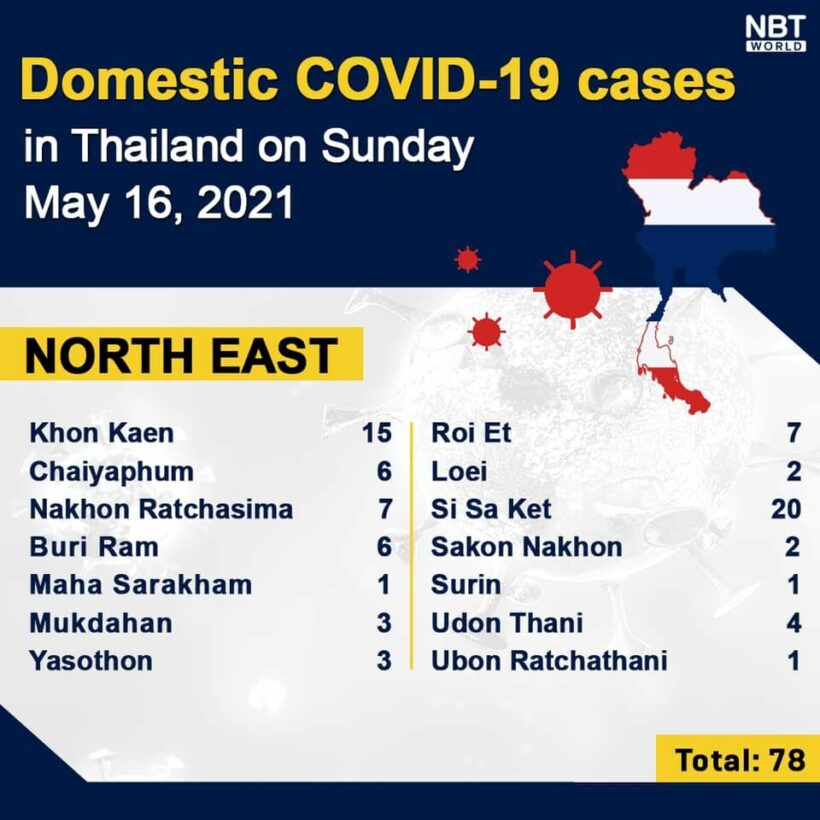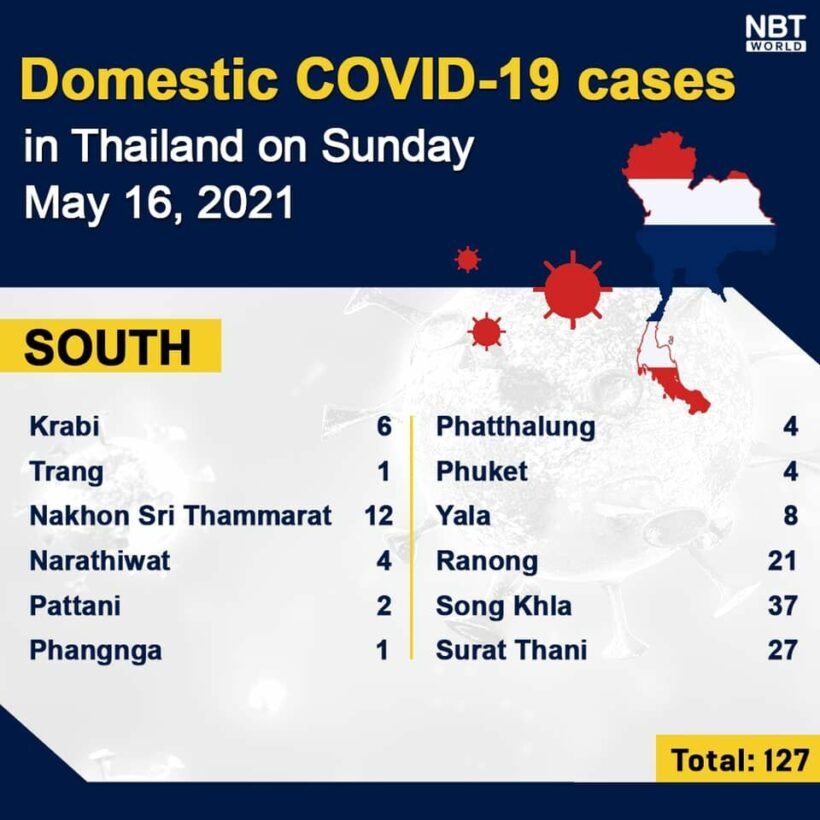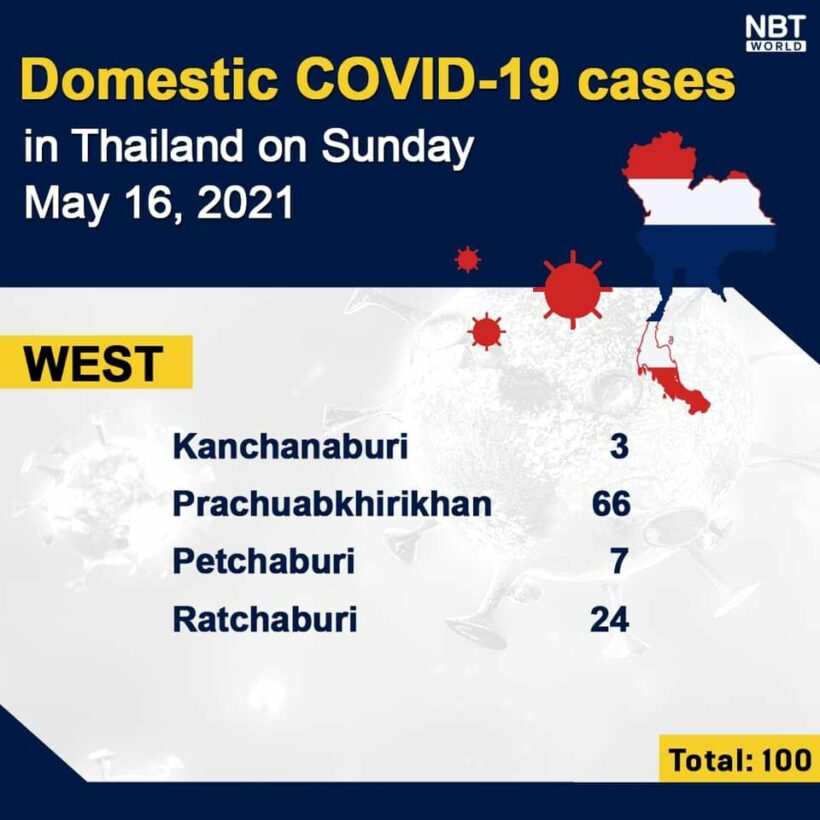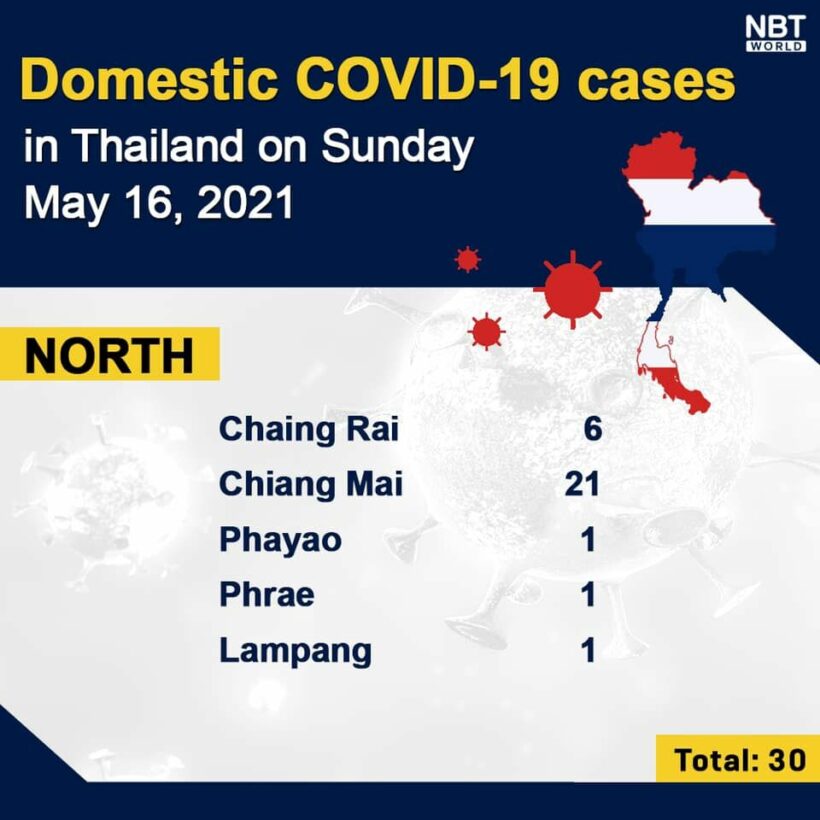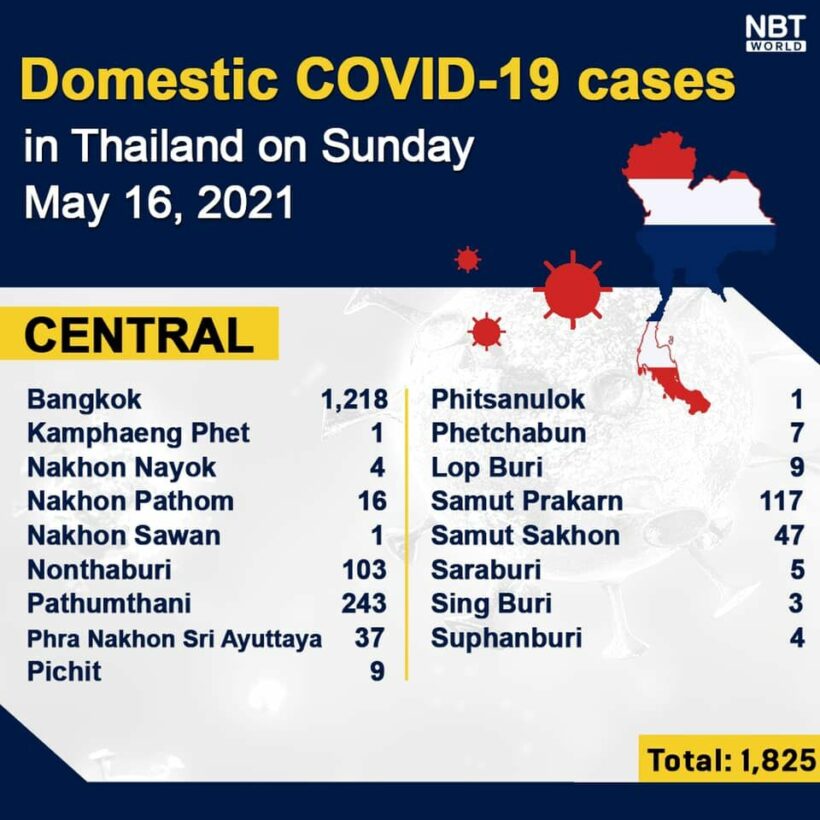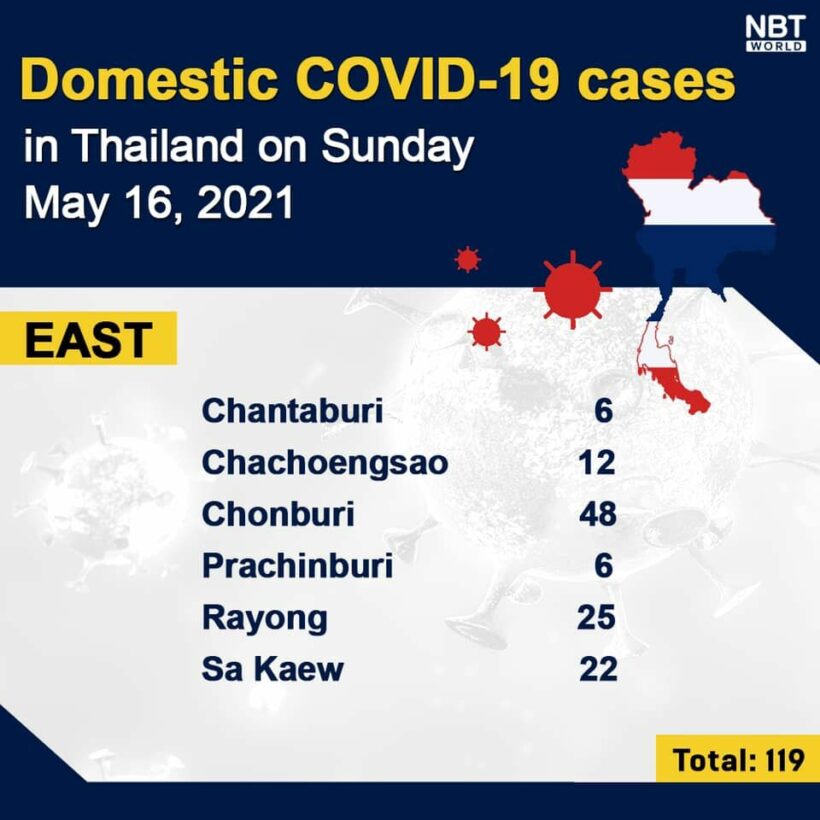 • A new study highlights the often maligned effectiveness of the Sinovac and AstraZeneca Covid-19 vaccine, showing they are both quite effective in boosting the immune system against the Coronavirus. The Center of Excellence in Clinical Virology of the Faculty of Medicine at Chulalongkorn University conducted the study that found that one month after the first shot of AstraZeneca, over 97% of people had developed immune responses. Results were not yet in for the second injection.
Three weeks after the first injection of the Sinovac vaccine, just under 66% of people had developed immune responses, but four weeks after the second injection, that number jumped to an impressive 99.49%.
Full report HERE.
• Indonesia is temporarily halting distribution of a single batch of AstraZeneca vaccine to check for "sterility and toxicity" The temporary action follows reports of a few adverse effects after immunisations.
The batch consists of 448,480 vaccine doses that arrived in the southeast Asian nation last month, part of a delivery of more than 3.85 million doses. Some of the doses have been distributed in part of the capital, Jakarta, and the province of North Sulawesi.
• Starting Monday, restaurants in Bangkok, Nonthaburi (immediately north of Bangkok), Pathum Thani, and Samut Prakan (south east of Bangkok) will be allowed to offer dine-in services at 25% of seating capacity until 9pm.
Restaurants in other 17 Red Zone provinces will be allowed to stay open until 11pm without seating limitations. Restaurants in the other Orange Zone provinces will be allowed to resume "normal operations", though alcoholic beverages may not be served anywhere across the country. In the Red Zones, schools can open as normal with permission from local and provincial authorities. In the Orange Zone schools can open without permission but under the latest rules.
• The Office of the PM has dismissed as false online rumours that Her Majesty the Queen was infected with Covid-19.
The office urged people to monitor Covid-19 news from a reliable channel, such as the Facebook page of the Centre for Covid-19 Situation Administration.
• Chonburi and Chiang Mai are being removed rom the dark red zone, or maximum control area, due to an improvement in the Covid situation in those 2 areas.
"If this proposal is approved by the prime minister, there would only be 4 provinces designated as dark red zone, namely Bangkok, Nonthaburi, Pathum Thani and Samut Prakan."
Chonburi, with only 33 new infections yesterday, will be moved to the orange zone, or medium control area, joining 16 other provinces… Kanchanaburi, Chachoengsao, Tak, Nakhon Pathom, Nakhon Si Thammarat, Narathiwat, Prachuab Khiri Khan, Ayutthaya, Phetchaburi, Yala, Ranong, Rayong, Ratchaburi, Samut Sakhon, Songkhla and Surat Thani.
Phuket was also downgraded into the Orange Zone category.
Want more from the Thaiger family?
📱 Download our app on Android or iOS for instant updates on your mobile
📧 Subscribe to our daily email newsletter
👍 Like/Follow us on Facebook
🔔 Subscribe to or Join our YouTube channel for daily video updates
Thailand's colour zones change from Monday – some restrictions ease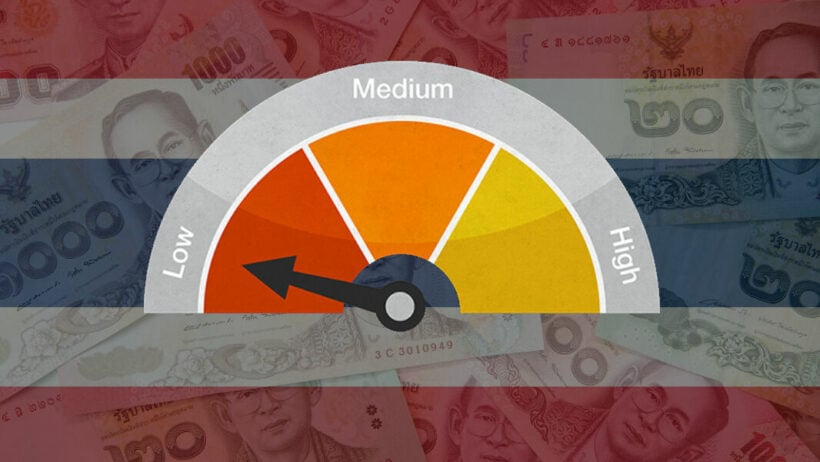 From tomorrow we'll see the resumption of limited dine-in services in restaurants located in the remaining 4 Dark Red zones of Bangkok, Nonthaburi, Pathum Thani and Samut Prakan.
Restaurants in these 4 provinces will now be able to resume dining on premises, until 9pm. But they can only seat 25% of their full capacity. So, a table for 4 can only seat 1 person, while takeaways can still be provided until 11pm. The serving of alcohol in these areas is still prohibited.
Schools and other educational institutions in Dark Red zones also remain prohibited from holding in-person classes and activities in their buildings.
Meanwhile, Chiang Mai and Chon Buri were removed from the list of Dark Red zones. Currently, there are 17 provinces considered Red zones, where dine-in services are permitted until 11pm, without the serving of alcohol. Phuket was downgraded to an Orange Zone.
Thailand still had no provinces categorised as Green or even Yellow yet, but hopefully, the downward trend continues. The zone layout now is: 4 Dark Red zones, 17 Red zones, 56 Orange zones for 77 provinces total.
The updated province colour-coded zones are…
DARK RED ZONE

Bangkok

 

Nonthaburi

Pathum Thani

 

Samat Prakan

RED ZONE

Ayutthaya Chonburi Chachoengsao Kanchanaburi Nakhon Pathom Nakhon Si Thammarat

Narathiwat Prachuap Khiri Khan Phetchaburi Ranong Rayong

Ratchaburi Samut Sakhon Songkhla Surat Thani Tak 

Yala

ORANGE ZONE

Amnat Charoen Ang Thong Bueng Kan Buriram Chai Nat Chaiyaphum Chanthaburi Chiang Mai Chiang Rai Chumphon Kalasin Kamphaeng Phet Khon Kaen Krabi Lampang Lamphun Loei Lopburi Mae Hong Son

Maha Sarakham Mukdahan Nakhon Nayok Nakhon Phanom Nakhon Ratchasima Nakhon Sawan Nan Nong Bua Lamphu Nong Kai Pattani Phang Nga Phatthalung Phayao Phetchabun Phichit Phitsanulok Phrae Phuket

Prachinburi Roi Et Sa Kaeo Sakon Nakhon Samut Songkram Saraburi Satun Sing Buri Sisaket Sukhothai Suphanburi Surin Trang Trat Ubon Ratchathani Udon Thani Uthai Thani Uttaradit Yasothon
There may still be some provincial-centric restrictions remaining. Keep up with your local media for the latest announcements.
SOURCE:PR Thai Government
Want more from the Thaiger family?
📱 Download our app on Android or iOS for instant updates on your mobile
📧 Subscribe to our daily email newsletter
👍 Like/Follow us on Facebook
🔔 Subscribe to or Join our YouTube channel for daily video updates