Phuket Gazette Thailand News: One suspect who used stolen passport on Malaysia Airlines flight identified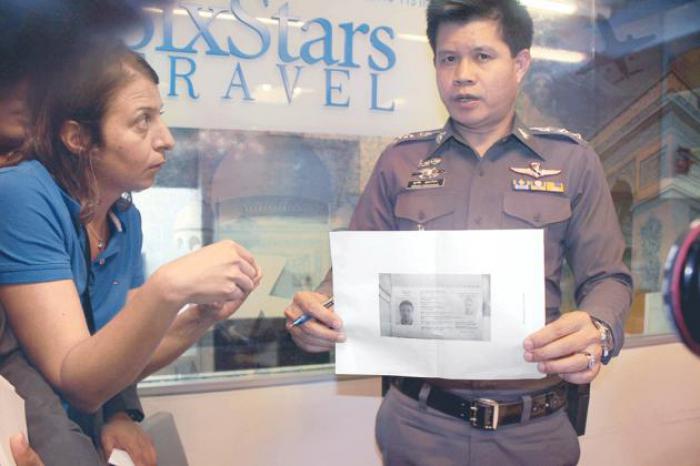 PHUKET MEDIA WATCH
– Thailand news compiled by Gazette editors for Phuket's international community
One suspect who used stolen passport identified
The Nation / Phuket Gazette
PHUKET: One of the two suspects who used stolen passports to board the missing Malaysian Airlines flight has been identified.
Malaysia's Inspector General of Police Tan Sri Khalid Abu Bakar said the man had been identified based on CCTV footage from Kuala Lumpur International Airport.
"I can confirm that he is not a Malaysian, but cannot divulge which country he is from yet," he said at Kajang police headquarters yesterday.
When asked if both suspects had immigration records showing entry into Malaysia, Khalid said police were in the midst of investigating the case.
"The man is not from Xinjiang, China," he said in reference to the autonomous region that is home to the Uighur, an ethic Muslim minority waging a deadly battle with Beijing.
Most of 293 passengers on flight MH370 are Chinese. Nearly 20 Uighur were secretly deported to China from Malaysia in 2011 and 2012, said New York-based Human Right Watch.
Malaysian authorities are sceptical of the unheralded Chinese Martyrs' Brigade claim that it was responsible for the missing aircraft.
"We do not have verification of a Chinese militant group claiming responsibility for the missing plane," Khalid said, adding that his personnel were investigating the case from all angles.
He said they had yet to classify the missing plane as being linked to terrorism.
"Let us investigate the matter thoroughly," he said, urging the public not to speculate further on the matter.
Malaysian Transport Minister Datuk Seri Hishammuddin Hussein also doubts the claim by the Chinese group.
"There is no sound or credible grounds to justify their claims," Hishammuddin told reporters at Kuala Lumpur International Airport.
Iranian 'Mr Ali' bought impostors' tickets in Pattaya
The Nation / Phuket Gazette
PHUKET: Travel arrangements for the two passengers with fake identities on the missing flight MH370 bound for Beijing were made in the Thai resort town of Pattaya and paid for in cash, according to a report.
British newspaper Financial Times quoted the Thai travel agent who booked the tickets for the men as saying that she had been asked to arrange the travel by an Iranian contact.
Benjaporn Krutnait, owner of the Grand Horizon travel agency in Pattaya, was quoted as saying the Iranian, a long-term business contact who she knew only as "Mr Ali", first asked her to book cheap tickets to Europe for the two men on March 1.
Benjaporn initially reserved one of the men on a Qatar Airways flight and the other on Etihad. But the tickets expired when Benjaporn did not hear back from Ali.
When he contacted her again on Thursday, she rebooked the men on the Malaysia Airlines flight through Beijing because it was the cheapest available, the paper said.
A friend of Ali paid Benjaporn cash for the tickets, the paper reported, adding that there is no evidence that Ali knew the two men were travelling on stolen passports.
Benjaporn said she did not believe Ali was linked to terrorism, particularly as he had not specified booking the Kuala Lumpur-Beijing flight but had instead asked for the cheapest route to Europe, FT reported.
Benjaporn was quoted as saying that she was speaking about the case because she was concerned over the speculation about a terrorist attack and wanted the facts to be known.
Spotlight on Thailand's trade in forged passports
The Nation / Phuket Gazette
PHUKET: The mysterious disappearance of a Malaysia Airlines plane and reports that two passengers used passports that tourists had lost while in Thailand – an Italian and an Austrian – has put a spotlight on the country's status as a haven of near-authentic passport forgery.
Fake passports could be used for human trafficking, terrorism, and transnational crimes such as drug or weapons trading, but it came as no surprise because Thailand is open to tourists from many countries. Once a passport goes missing, the affected tourist can apply for a new one easily at his or her embassy, a national-security source said.
"Criminal activity involving passports is relentless and the authorities are trying to crack down on them. It's noticeable that those using passports for terrorism mostly use passports issued from countries that have no embassy in Thailand – like former Soviet republics or small African countries – because it is difficult for the authorities to check back if there is no embassy for the individual in question," the source said.
The illegal activity here appears to involve whole or partial passport forgeries, as well as broke tourists selling or renting passports for money – typically about US$1,000-$2,000 (Bt32,000-Bt64,000).
"It's hard to check because the passports are sold or rented voluntarily by the holders, who then report their passports missing or stolen and apply for a new one," he said, adding that this selling or renting of passports was reported in Khao San Road in Bangkok.
Fake identity cards are also sold openly on this tourist strip.
Meanwhile, a source at the Immigration Police revealed that passport-forgery gangs that use Thailand as a production base often changed photos and inserted fake pages into authentic passports stolen elsewhere and sent here for forging. Forged passports are reportedly sold for Bt10,000-Bt20,000.
The other popular method is forging a whole passport using a laser printer, with such fakes selling for Bt3,000-Bt4,000 each, the source said.
These were hard to detect and required expertise to sport, as passports from various countries have different features.
Middle Eastern gangs, mostly based in Pattaya, often forged an entire passport and used them for people who look similar to photos in passports they get.
The source said Thailand was a hub for the production of forged passports, which are smuggled to other countries, as the passport components such as stickers and books were said to be good-quality forgeries.
Probe into stolen passports used by pair on missing jet
The Nation / Phuket Gazette
PHUKET: Thai police have launched an investigation into the suspicious use of passports by two passengers on board the Malaysian Airlines flight that has gone missing, a senior policeman said yesterday.
Two unidentified passengers used passports belonging to other people, who have since revealed they did not board the ill-fated MH370 flight, said Pol Col Sahaschai Lojaya,a deputy commander of the foreign affairs division. The investigation committee is made up of immigration police and the foreign affairs division. It is headed by deputy police chief Pol General Watcharapol Prasarnrajkit.
The panel has contacted Malaysian police to establish closer work relations and to help find out why and how the two passengers used passports reported stolen in Thailand.
News reports said two Europeans – Christ
— Phuket Gazette Editors
Want more from the Thaiger family?
📱 Download our app on Android or iOS for instant updates on your mobile
📧 Subscribe to our daily email newsletter
👍 Like/Follow us on Facebook
🔔 Subscribe to or Join our YouTube channel for daily video updates
Monks gather for a special ceremony in Pattaya to pray Covid-19 away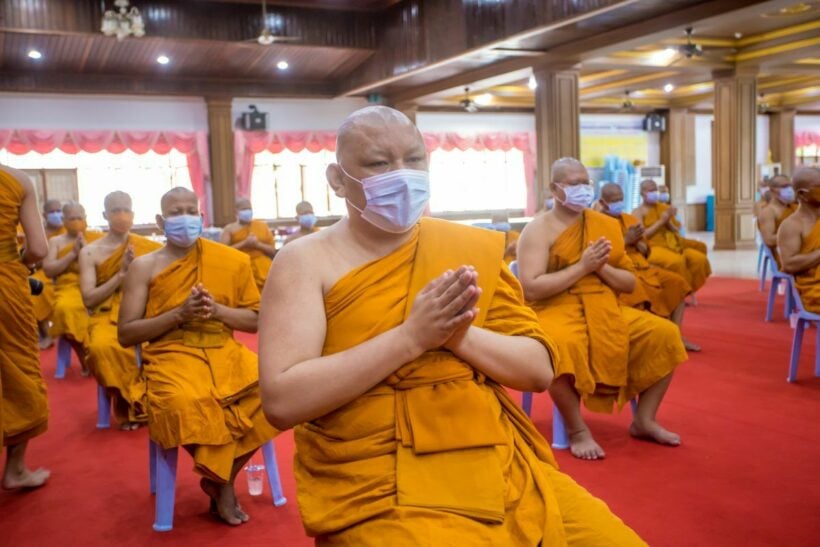 Hands placed together in the "wai" position and seated in chairs placed a safe "social distance" apart, monks in Pattaya gathered together at a local temple for a special ceremony to pray Covid-19 away.
The Wat Chai by the Pattaya Walking Street was given special permission to hold the event where dozens of monks from other temples in the area came together to pray. To prevent the spread of Covid-19 at the ritual, monks wore face masks, practised social distancing, used hand sanitiser and had their body temperature checked.
The monks chanted several mantras and performed rituals that they believe will help slow the spread of Covid-19 in Chon Buri and help the local economy recover.
SOURCE: Pattaya News
Want more from the Thaiger family?
📱 Download our app on Android or iOS for instant updates on your mobile
📧 Subscribe to our daily email newsletter
👍 Like/Follow us on Facebook
🔔 Subscribe to or Join our YouTube channel for daily video updates
Pattaya sandwich maker gives out food and face masks to needy in Banglamung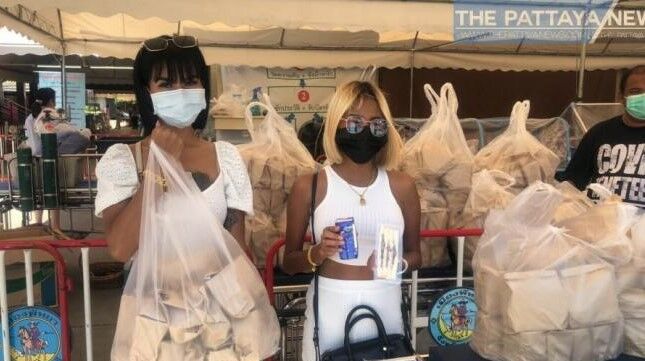 A Pattaya sandwich maker is giving back to the community by donating more than 500 sets of food and face masks to the needy in Banglamung district. The business operator prioritised giving the packages to medical staffers first, then to migrant communities and others in need. 29 year old Kanjana Wongsin and her friends handed out juice, food, and face masks yesterday. She told The Pattaya News that they are encouraging medical staffers who are working hard during the pandemic. Kanjana says they are fighting together to win and save the area.
She says they also gave free food to children at the Baan Kruja Anti Human Trafficking and Child Abuse Centre in the Pattaya area and to migrant worker camps in Banglamung. Meanwhile, Chon Buri province is seeing the lowest amount of daily Covid infections today, at 57, since the latest wave began in early April. Now, the total amount of cases in the province is 3,491 since April 9th. 1,430 are still listed as in medical care, with 10 deaths. 2,051 people have been released from care and have fully recovered. 112 people were released yesterday alone.
Chon Buri also released a
Covid-19
timeline of a recent market cluster that is seeing 19 cases of the virus so far. The Chonburi Public Health Office is asking those who visited the places listed below, to notify health authorities and monitor their health for Covid symptoms.
The following is an English version of the timeline, translated by The Pattaya News:
Phra Phrom Market in Nong Kham, Si Racha on May 1 from 9:30am to 11am
Thong Lang Market in Khlong Tamru, Mueang Chonburi on May 1 from 3pm to 8pm
Thong Kung Klong Tom Market in Na Pa, Mueang Chonburi on May 7 from 3pm to 8 pm
The health department is requesting for anyone who has respiratory symptoms and/or a fever within 14 days after visiting any of the places listed in the timeline, to go to a hospital and inform them you were around the area(s) which featured Covid infections.
Yesterday, the province reported 73 infections and 1 death. No details have been released on that case yet. This week will also see wider scale testing at factories and high-risk occupations in the province.
SOURCE: The Pattaya News
Want more from the Thaiger family?
📱 Download our app on Android or iOS for instant updates on your mobile
📧 Subscribe to our daily email newsletter
👍 Like/Follow us on Facebook
🔔 Subscribe to or Join our YouTube channel for daily video updates
Nong Pong, a new lagoon park nearing completion in Pattaya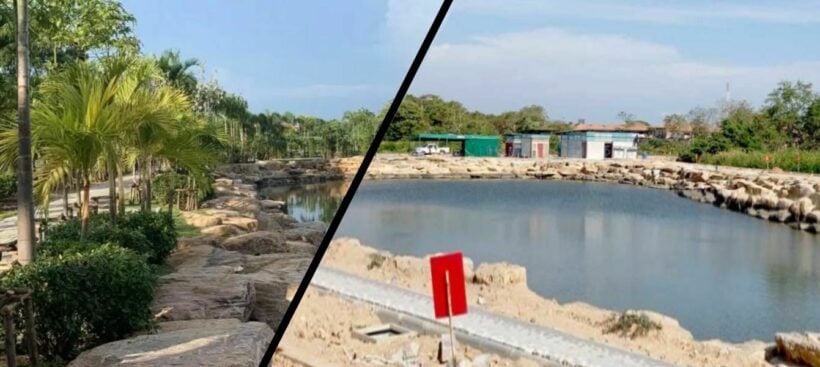 Project developers have announced that they are nearly finished building Nong Pong, a large new public park on Jomtien Second Road in the Pattaya area. The park began construction last May with an original completion date of August which the construction crew says should be met without a problem.
The Pattaya park features a large lagoon creating beautiful scenery and a tranquil environment and may even allow some limited water sports. Installation is underway now for good lighting and exercise equipment to finish up the nature park. One feature that may prove popular is that the park will be gated to keep out stray animals and keep it peaceful inside.
Pattaya's goal is to create more public parks and open space to make Pattaya a city with a large number of green zones and to be more eco-friendly. The hope is that beautiful and comfortable spaces will invite Pattaya locals to come out and exercise and enjoy the park space, while also attracting tourists from Thailand and from abroad to relax in the natural setting within the city. The project is part of an effort to lure tourists to the Jomtien area, a goal which also includes a billion baht makeover for the beach area.
City officials, including Pattaya City Mayor Sonthaya Khunplume, spoke excitedly about the park project hoping it would become a major landmark for the city and looking forward to announcing its official opening date. Nong Pong has a total budget of about 32 million baht for its construction and is located across from the Riviera condo.
SOURCE: The Pattaya News
Want more from the Thaiger family?
📱 Download our app on Android or iOS for instant updates on your mobile
📧 Subscribe to our daily email newsletter
👍 Like/Follow us on Facebook
🔔 Subscribe to or Join our YouTube channel for daily video updates