Phuket Gazette Thailand News: One suspect who used stolen passport on Malaysia Airlines flight identified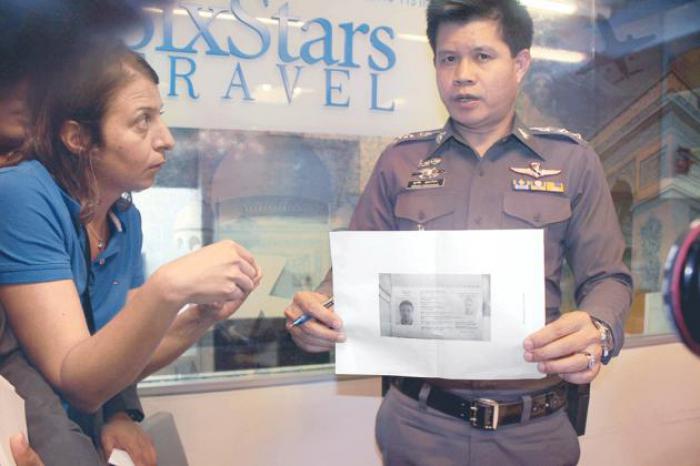 PHUKET MEDIA WATCH
– Thailand news compiled by Gazette editors for Phuket's international community
One suspect who used stolen passport identified
The Nation / Phuket Gazette
PHUKET: One of the two suspects who used stolen passports to board the missing Malaysian Airlines flight has been identified.
Malaysia's Inspector General of Police Tan Sri Khalid Abu Bakar said the man had been identified based on CCTV footage from Kuala Lumpur International Airport.
"I can confirm that he is not a Malaysian, but cannot divulge which country he is from yet," he said at Kajang police headquarters yesterday.
When asked if both suspects had immigration records showing entry into Malaysia, Khalid said police were in the midst of investigating the case.
"The man is not from Xinjiang, China," he said in reference to the autonomous region that is home to the Uighur, an ethic Muslim minority waging a deadly battle with Beijing.
Most of 293 passengers on flight MH370 are Chinese. Nearly 20 Uighur were secretly deported to China from Malaysia in 2011 and 2012, said New York-based Human Right Watch.
Malaysian authorities are sceptical of the unheralded Chinese Martyrs' Brigade claim that it was responsible for the missing aircraft.
"We do not have verification of a Chinese militant group claiming responsibility for the missing plane," Khalid said, adding that his personnel were investigating the case from all angles.
He said they had yet to classify the missing plane as being linked to terrorism.
"Let us investigate the matter thoroughly," he said, urging the public not to speculate further on the matter.
Malaysian Transport Minister Datuk Seri Hishammuddin Hussein also doubts the claim by the Chinese group.
"There is no sound or credible grounds to justify their claims," Hishammuddin told reporters at Kuala Lumpur International Airport.
Iranian 'Mr Ali' bought impostors' tickets in Pattaya
The Nation / Phuket Gazette
PHUKET: Travel arrangements for the two passengers with fake identities on the missing flight MH370 bound for Beijing were made in the Thai resort town of Pattaya and paid for in cash, according to a report.
British newspaper Financial Times quoted the Thai travel agent who booked the tickets for the men as saying that she had been asked to arrange the travel by an Iranian contact.
Benjaporn Krutnait, owner of the Grand Horizon travel agency in Pattaya, was quoted as saying the Iranian, a long-term business contact who she knew only as "Mr Ali", first asked her to book cheap tickets to Europe for the two men on March 1.
Benjaporn initially reserved one of the men on a Qatar Airways flight and the other on Etihad. But the tickets expired when Benjaporn did not hear back from Ali.
When he contacted her again on Thursday, she rebooked the men on the Malaysia Airlines flight through Beijing because it was the cheapest available, the paper said.
A friend of Ali paid Benjaporn cash for the tickets, the paper reported, adding that there is no evidence that Ali knew the two men were travelling on stolen passports.
Benjaporn said she did not believe Ali was linked to terrorism, particularly as he had not specified booking the Kuala Lumpur-Beijing flight but had instead asked for the cheapest route to Europe, FT reported.
Benjaporn was quoted as saying that she was speaking about the case because she was concerned over the speculation about a terrorist attack and wanted the facts to be known.
Spotlight on Thailand's trade in forged passports
The Nation / Phuket Gazette
PHUKET: The mysterious disappearance of a Malaysia Airlines plane and reports that two passengers used passports that tourists had lost while in Thailand – an Italian and an Austrian – has put a spotlight on the country's status as a haven of near-authentic passport forgery.
Fake passports could be used for human trafficking, terrorism, and transnational crimes such as drug or weapons trading, but it came as no surprise because Thailand is open to tourists from many countries. Once a passport goes missing, the affected tourist can apply for a new one easily at his or her embassy, a national-security source said.
"Criminal activity involving passports is relentless and the authorities are trying to crack down on them. It's noticeable that those using passports for terrorism mostly use passports issued from countries that have no embassy in Thailand – like former Soviet republics or small African countries – because it is difficult for the authorities to check back if there is no embassy for the individual in question," the source said.
The illegal activity here appears to involve whole or partial passport forgeries, as well as broke tourists selling or renting passports for money – typically about US$1,000-$2,000 (Bt32,000-Bt64,000).
"It's hard to check because the passports are sold or rented voluntarily by the holders, who then report their passports missing or stolen and apply for a new one," he said, adding that this selling or renting of passports was reported in Khao San Road in Bangkok.
Fake identity cards are also sold openly on this tourist strip.
Meanwhile, a source at the Immigration Police revealed that passport-forgery gangs that use Thailand as a production base often changed photos and inserted fake pages into authentic passports stolen elsewhere and sent here for forging. Forged passports are reportedly sold for Bt10,000-Bt20,000.
The other popular method is forging a whole passport using a laser printer, with such fakes selling for Bt3,000-Bt4,000 each, the source said.
These were hard to detect and required expertise to sport, as passports from various countries have different features.
Middle Eastern gangs, mostly based in Pattaya, often forged an entire passport and used them for people who look similar to photos in passports they get.
The source said Thailand was a hub for the production of forged passports, which are smuggled to other countries, as the passport components such as stickers and books were said to be good-quality forgeries.
Probe into stolen passports used by pair on missing jet
The Nation / Phuket Gazette
PHUKET: Thai police have launched an investigation into the suspicious use of passports by two passengers on board the Malaysian Airlines flight that has gone missing, a senior policeman said yesterday.
Two unidentified passengers used passports belonging to other people, who have since revealed they did not board the ill-fated MH370 flight, said Pol Col Sahaschai Lojaya,a deputy commander of the foreign affairs division. The investigation committee is made up of immigration police and the foreign affairs division. It is headed by deputy police chief Pol General Watcharapol Prasarnrajkit.
The panel has contacted Malaysian police to establish closer work relations and to help find out why and how the two passengers used passports reported stolen in Thailand.
News reports said two Europeans – Christ
— Phuket Gazette Editors
Keep in contact with The Thaiger by following our
Facebook page
.
Never miss out on future posts by
following The Thaiger
.
Pattaya men allegedly posed as police officers, extorted 50,000 baht from a woman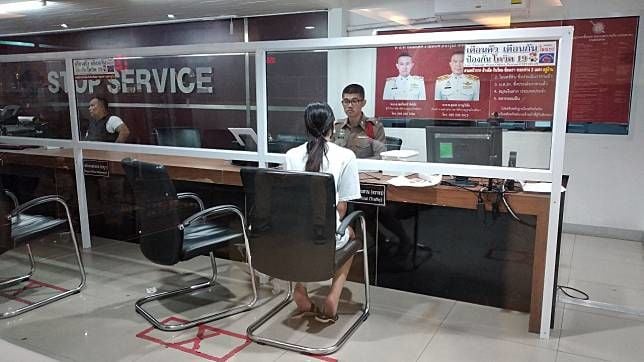 A group of 4 men in Pattaya allegedly posed as police officers and extorted 50,000 baht from a woman. The 20 year old woman says the men claiming to be police officers raided her condominium and a friend visiting had drugs in his possession.
In the report filed with Pattaya City Police, the woman says the men asked both her and her friend for a bribe of 25,000 baht each. If they didn't pay up, the men said they would arrest them on drug charges, according to the complaint. The woman says she gave the men 50,000 baht.
The men who allegedly posed as police officers were not in uniform and did not show any identification or badges, the woman says. After giving it some thought, the woman became suspicious and decided to file a complaint with police. Police are still investigating.
SOURCE: Pattaya News
Catch up with the latest daily "Thailand News Today" here on The Thaiger.
Keep in contact with The Thaiger by following our
Facebook page
.
Never miss out on future posts by
following The Thaiger
.
Baby's corpse found at garbage tip in Pattaya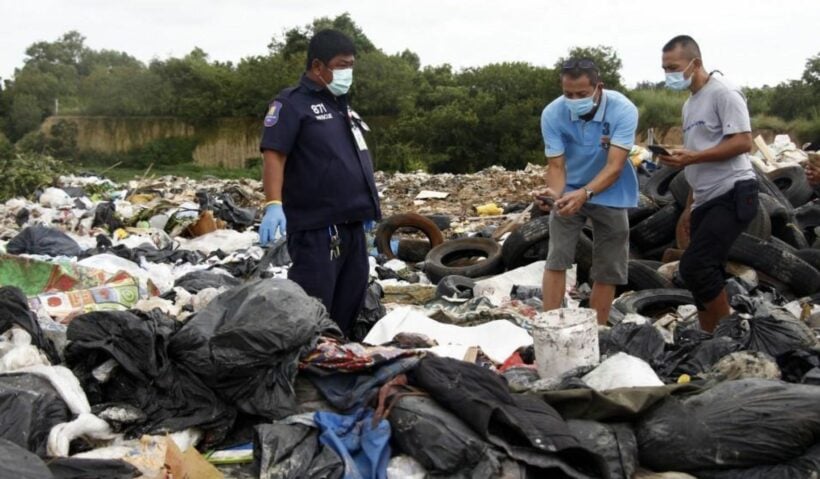 Pattaya residents made a grisly find today at the Nongprue Municipality tip this morning. Whilst digging for items they could recycle and sell, they discovered the dead body of a baby. Police are now launching an investigation for the individual responsible. Nongprue Police were notified of the discovery of the corpse of the newborn baby at the garbage dump at the Nongprue Municipality tip this morning.
Emergency responders arrived at the municipal garbage dump to find the body of the baby inside a black plastic bag amongst all the other garbage. 38 year old Sirithon Tapjeen, who made the horrifying discovery, told The Pattaya News that she and some associates were searching for plastic bottles to sell for recycling.
She says she "smelled something rotten before realising that it was a dead newborn baby".
Police are now trying to find the infant's mother and anyone associated with the dumping of the body at the site.
SOUCE: The Pattaya News
Keep in contact with The Thaiger by following our
Facebook page
.
Never miss out on future posts by
following The Thaiger
.
32 year old recovers in hospital after tiger attack in Pattaya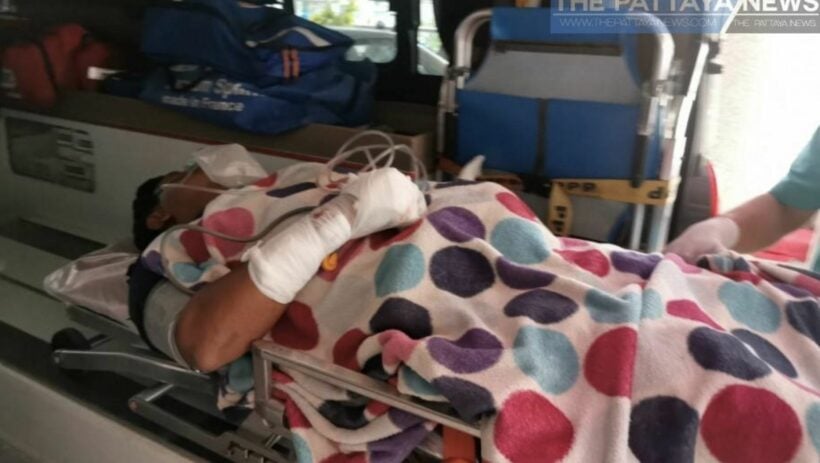 A 32 year old man is lucky to be alive after being attacked by a tiger yesterday whilst feeding it at the Elephant Kingdom park in Pattaya. Only quick action from park staff prevented the man from being mauled and killed by the animal. Emergency responders were called to the scene at around 3.30pm at the Elephant Kingdom in Huay Yai, Banglamung.
The injured man, named as Thitiphong Makkarom, suffered injuries to his legs, arms side of his face. He was rushed to hospital. Friends and fellow workers say that Thitiphong was feeding 3 tigers inside a cage as normal. The park has been closed due to the lack of tourists. They told reporters that Thitiphong had never had problems with these tigers before.
But one of the tigers "jumped" at the worker and started attacking him, apparently unprovoked. Nearby staff saw what was happening and rushed to help pull him away from the attacking tiger. Their quick action probably saved him from being killed.
The Elephant Kingdom Park has been closed since the start of the outbreak of the coronavirus in Thailand back in March. But staff have remained employed to continue feeding and taking care of the animals. The incident is now being investigated and police say they will interview Thitiphong when he is able to speak to them.
SOURCE: The Pattaya News
Keep in contact with The Thaiger by following our
Facebook page
.
Never miss out on future posts by
following The Thaiger
.