Phuket Gazette Thailand News: Bomb disposal veteran killed; Business says no to blanket amnesty; Drug mule caught with 7kg of cocaine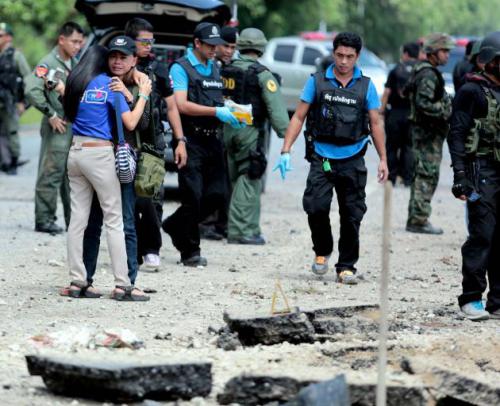 PHUKET MEDIA WATCH
– Thailand news compiled by Gazette editors for Phuket's international community
Revered bomb disposal expert among 3 killed
The Nation / Phuket Gazette
PHUKET: Pol Sub-Lt Shaen Warongphaisit, a police bomb-disposal veteran whose face was familiar to both locals and reporters covering the South insurgency, was yesterday laid to rest from his tiring and dangerous job after succumbing to severe injuries from a bomb explosion.
The bomb exploded while he was trying to defuse another at a site in Narathiwat's Bacho district. The explosion also killed Pol Sub Lieutenant Charoon Mekmaung and Pol Sergeant Nimit Deewong, who were part of the explosive ordnance disposal team, and wounded a Navy disposal expert known only as Chief Petty Officer First Class Somkiat.
Yesterday's toll brought the total number of casualties this year to six deaths and 15 injured. Provincial police chief, Pol Maj-General Phatthanawut Angkhanawin, said this was possibly an insurgency-related set-up targeting EOD police and military personnel.
The bomb was detonated by a two-way radio, while the first, possibly planted as a decoy, was being defused by Shaen, 50.
The late officer had spent the past decade defusing more than 200 bombs in the deep South. Fellow team members and his superiors – both past and present – were disheartened to hear of the losses, especially Shaen's death.
Shaen and Charoon survived, but sustained severe injuries, in a similar bomb incident in June 2011, in which three explosives were planted with the aim to trap and kill.
Shaen, whose vast experience and demeanour led him to become widely liked by the local population and well-known to both local and national media, received an award from Nation Multimedia Group four years ago as an Outstanding Policeman. The award was handed to him on the annual Police Day, which is marked every year on October 13.
A 1985 graduate of a constabulary school in the deep South, Shaen served mostly on the field doing combat-related duties. He held non-commissioned ranks and was promoted to sub-lieutenant in June 2001. A Narathiwat native, Shaen was of Chinese descent and previously went by the surname of sae-Wong. He is survived by his wife Nanthawan and two children.
Business says no to blanket amnesty
The Nation / Phuket Gazette
PHUKET: The Anti-corruption Organisation of Thailand (ACT), an alliance of private-sector groups, has stepped forward to oppose granting a blanket amnesty for those involved in the 2010 political turmoil that left more than 90 people dead.
The ACT includes finance and business organisations such as the Board of Trade, Federation of Thai Industries, Thai Bankers Association, the Securities and Exchange Commission, Thai Institute of Directors, Federation of Thai Capital Market Organisations, the Thai Listed Companies Association, and the Association of Thai Securities Companies.
This development came as a panel of Pheu Thai strategists agreed yesterday with plans for a party resolution to back the blanket amnesty, as proposed by the House committee vetting the government-proposed amnesty bill.
"Revising Article 3 to allow amnesty for graft offences will create the false value that cheating is not wrong," ACT chairman Pramon Sutivong said yesterday.
Pramon said relevant parties should be mindful that an amnesty would destroy the country's moral and ethical code, and do untold damage to society.
The government had pledged to root out corruption, as evidenced by its announcement of July 2, but the amnesty bill would do completely the opposite of that pledge, he said. He said anti-corruption advocates had mapped out retaliatory measures to take should the bill become law.
The ACT said it would today submit a letter to the United Nations office in Bangkok, in protest at the change to the amnesty bill so that it grants a blanket pardon.
In a related development, the House committee vetting the bill has finalised its endorsement of the minutes of its meetings, thus concluding its work.
The committee report would be checked for typographical errors before being forwarded to the House Speaker to place on the legislative agenda, Pheu Thai MP Chavalit Wichayasut said.
Report expected this week
Chair of the vetting committee Samart Kaewmeechai said the exclusion of lese majeste from the amnesty was justified because offenders had violated the monarchy, which by constitutional provisions had no link to the political mayhem.
Samart was commenting on a statement made by law lecturer Vorachet Pakeerat of the Nitirat Group.
Vorachet said that the amnesty might be arbitrary and unconstitutional because it did not apply to those offending the monarchy.
Article 30 of the Constitution states that legal provisions should be equally applicable to all without discrimination.
Vorachet has scheduled a press conference on Thursday to outline what he says are flaws in the amnesty bill.
Yesterday, Pheu Thai's panel of strategists convened to discuss the party's stance on the proposed change to the original bill so that it would grant a blanket amnesty, according to a party source. The meeting was chaired by Pheu Thai leader Charupong Ruangsuwan, who is also Interior minister.
The panel agreed that all Pheu Thai MPs should vote in support of the new version of the bill changed by vetting committee, which is dominated by coalition MPs, according to the source. The panel claimed an amnesty law would lead to national reconciliation, the source said.
In response to reports some red-shirt Pheu Thai MPs might vote against a blanket amnesty, the panel agreed they should respect the party resolution on the matter. However, the panel also forecast that government critics and detractors would attempt to play up this issue in a bid to bring down the government, the source said.
Pheu Thai MP Korkaew Pikulthong, who is a red-shirt leader, said yesterday that the red shirts were split on whether to support or to oppose the blanket amnesty. He said he would "feel pained" if Pheu Thai went ahead with the blanket amnesty, but he would not take to the streets to protest against it.
An influential politician in the ruling party met with its red-shirt politicians Jatuporn Prompan and Nattawut Saikua last Friday and asked them to help secure ex-PM Thaksin Shinawatra's return to Thailand, according to another Pheu Thai source. The politician pleaded in tears for the red-shirt MPs' help, saying that Thaksin "has been suffering for many years already", the source said.
Woman stopped at Don Mueang Airport with 7kg of cocaine
The Nation / Phuket Gazette
PHUKET: The Customs Department yesterday announced the arrest of a 23-year-old Thai woman who was found with seven kilograms of cocaine worth Bt31 million at Don Mueang Airport.
Department chief Rakop Srisupaat said that, following intelligence that a suspect would smuggle drugs into Thailand via the airport, the officials apprehended Thitiruk Tingtin on Sunday night, after she was seen acting suspiciously.
They found the cocaine hidden in her luggage. She reportedly confessed that she was hired for Bt20,000 per trip to transport cocaine from the Philippines. She was charged with possessing illicit drugs with intention to sell
— Phuket Gazette Editors
Want more from the Thaiger family?
📱 Download our app on Android or iOS for instant updates on your mobile
📧 Subscribe to our daily email newsletter
👍 Like/Follow us on Facebook
🔔 Subscribe to or Join our YouTube channel for daily video updates
Closure order in Bangkok set until May 31, restaurants can now offer dine-in services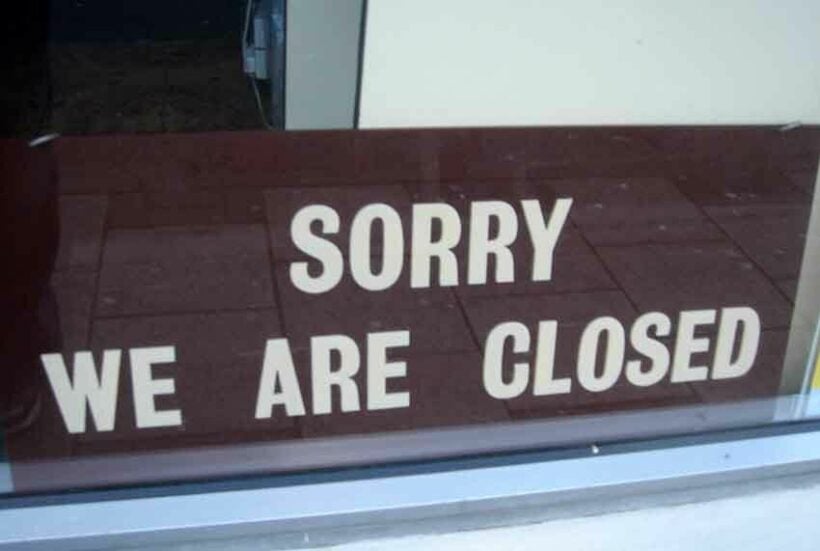 To control the spread of Covid-19 in Bangkok, where more than 28,000 people have tested positive for the virus in the latest wave of infections, the closure order in the capital has been extended a second time, now set to be in place until May 31.
While many entertainment and recreation businesses and venues are ordered to remain closed, some restrictions have been relaxed. Restaurants can now offer dine-in services, but only until 9pm. Restaurants can still offer takeaway services until 11pm.
Businesses and venues that must remain closed include…
Educational places including schools and tutoring centres

Entertainment venues including pubs, bars, karaoke venues and nightclubs

Massage parlours and spas

Recreation and amusement businesses and places including cinemas, theatres, water parks, amusement parks, playgrounds, zoos, skating rinks, billiard halls, bowling alleys, arcades, internet cafes, public parks, gardens

Fitness and sport venues and businesses including public swimming pools, gyms, boxing stadiums, dance studios, golf courses

Care centres such as nurseries, childhood development centres and elderly care centres (with the exception of overnight stays.)

Museums and public libraries
Other restrictions include…
Shopping centres can remain open until 9pm.

Convenience stores and other 24-hour shops must be closed from 11pm to 4am.

Events over 20 people must have permission from the government with a disease control plan.

Face masks are mandatory in public places. Violators face a 20,000 baht fine.
SOURCE: TAT
Want more from the Thaiger family?
📱 Download our app on Android or iOS for instant updates on your mobile
📧 Subscribe to our daily email newsletter
👍 Like/Follow us on Facebook
🔔 Subscribe to or Join our YouTube channel for daily video updates
Thai tourism minister re-iterates Phuket's re-opening on July 1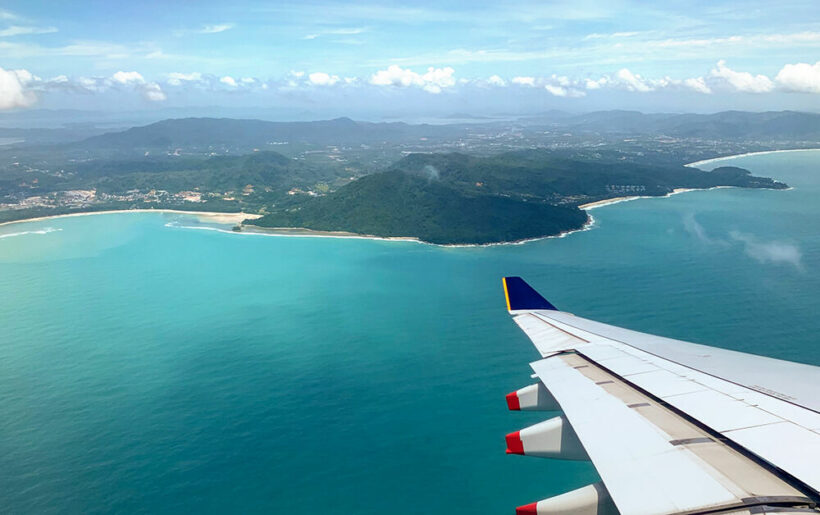 The Thai government has again reiterated its plan to reopen Thailand, specifically Phuket, to foreign tourists and travellers. The southern island province, under the so-called "sandbox" plan, is Thailand's pilot program for re-opening the country to general travel by July 1… just 6 weeks away.
The government has consistently said that the island's residents will have to be 70% vaccinated by the start of July before the re-opening can happen. With a current vaccination success of 22%, the island is certainly a long way ahead of the rest of the country but still a long way from its 70% target.
The National News Bureau, the voice of the Thai government, reports that the Tourism and Sports Minister, Phiphat Ratchakitprakarn, is "urging" Phuket officials to achieve the vaccination target next month.
The media release says… "The provincial administration and the private sector have developed plans to prepare for the reopening in all respects, while creating more awareness and understanding with the local people. Thus, the reopening will be safe and help drive the economy forward."
Far from providing "awareness and understanding with the local people", Phuket officials have been opaque about vaccination roll out programs. The island's foreign population, estimated to be around 40,000 people, or about 10% of the total population, are none-the-wiser today about their prospects to secure a place in the island's vaccination queues.
Last week Phuket residents, with a local and current work permit, were told they would be able to register for vaccination. So far that process has not proceeded.
There is also a hard rump of Thais who have stated in numerous polls, that they remain unwilling to accept a vaccination. This includes thousands of candid posts on social media where fear or mistrust over the Sinovac vaccine from China is plain to see. The island also has a large Muslim population where some community leaders have already expressed some doubt over recommending vaccination to their adherents.
But, even today, the second roll out has begun on the island for Thais who registered on the Mor Prom app since the start of May, so things are progressing. An area has been put aside at the island's Central Floresta shopping centre for registrants.
The 'reopening to tourists' on July 1 isn't without restrictions. People arriving by air will not be open to "countries where COVID-19 is widespread, or tourists without a vaccination certificate". That list hasn't been fully detailed although Thailand has a ban on people arriving from at least 4 countries – India, Pakistan, Bangladesh and Nepal.
"…visitors who travel by air must provide documents to prove that they have received both Covid-19 vaccine doses. They are required to undergo rapid antigen tests, or reverse transcription polymerase chain reaction (RT- PCR) tests, at their place of origin, and to register on www.gophuget.com and the MorChana application."
The MorChana app tracks the location of an individual whilst their phone is turned on with the data turned on as well.
Without specifically mentioning quarantine in the media release, it is understood that quarantine will be waived for international travellers who have have been fully vaccinated. Other specific paperwork requirements have not been announced at this stage… with 6 weeks to go to the international re-opening.
For domestic traffic, arriving in Phuket by road (as of May 17), "…people who do not have a certificate of vaccination and have not taken a swab test will have to undergo a 14 day quarantine. If they plan to spend only 3 days in Phuket, they are required to stay in home quarantine for the 3 days."
Phuket is still experiencing new daily infections
SOURCE: National News Bureau of Thailand
Want more from the Thaiger family?
📱 Download our app on Android or iOS for instant updates on your mobile
📧 Subscribe to our daily email newsletter
👍 Like/Follow us on Facebook
🔔 Subscribe to or Join our YouTube channel for daily video updates
Thai government expects to open vaccine registration to foreigners by August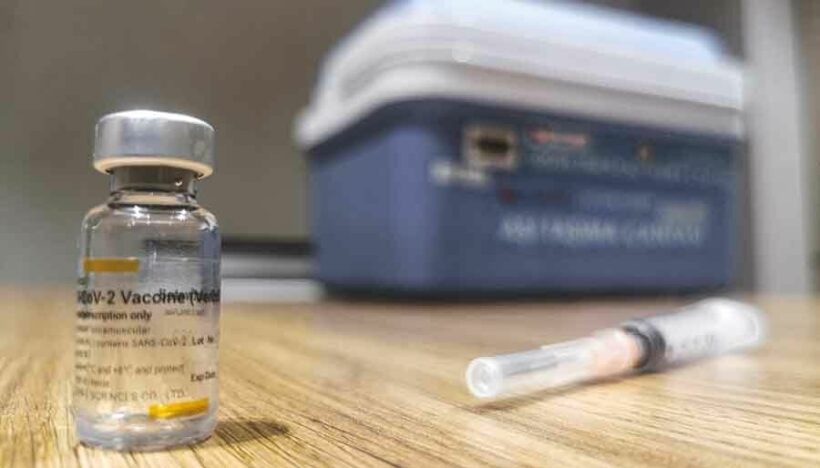 A Health Ministry spokesperson has confirmed that foreigners living in Thailand should be able to register for Covid-19 vaccination by August. Ratchada Thanadirek says the government is working on a dedicated registration platform for foreign nationals living in the Kingdom, which it's hoped will be ready in 3 months' time.
Meanwhile, Thai Visa News reports that vaccine registration for Thais has been extended to those aged between 18 and 59 years old, who can now sign up from May 31. Registration had initially been limited to Thai nationals over the age of 60, as well as those with underlying health conditions. However, the third wave of the virus means registration for younger Thais has been brought forward from July.
Thai nationals can register for vaccination through the Mor Prom platform or the Mor Prom Line account. They can also register at government hospitals. According to Ratchada, the vaccines that will be used in the government rollout will primarily be AstraZeneca, manufactured in-country by Siam Bioscience.
However, she points out that there are 3 other vaccines that have been approved by the Thai Food and Drug Administration. They are the Chinese-made Sinovac, the single-dose Johnson & Johnson vaccine, and the vaccine from US manufacturer, Moderna. The latter is expected to be available for purchase at private hospitals, although there has been no confirmation of when supplies might arrive.
SOURCE: Thai Visa News
Want more from the Thaiger family?
📱 Download our app on Android or iOS for instant updates on your mobile
📧 Subscribe to our daily email newsletter
👍 Like/Follow us on Facebook
🔔 Subscribe to or Join our YouTube channel for daily video updates