Phuket Gazette Thailand News: Abhist digs in; Yingluck rejects protesters' demands; Anand calls for mutual retreat, peace talks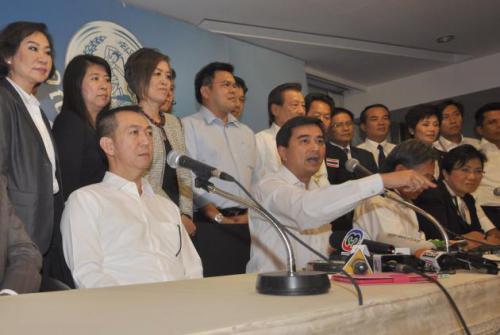 PHUKET MEDIA WATCH
– Thailand news compiled by Gazette editors for Phuket's international community
Abhisit: Dems will strive to oust 'Thaksin regime'
The Nation / Phuket Gazette
PHUKET: Opposition Democrat Party leader Abhisit Vejjajiva Thursday insisted his party is determined to overthrow the "Thaksin regime", saying the government had lost legitimacy.
He said the Democrats are ready to support popular movements conducted within constitutional limits.
Abhisit did not rule out the possibility of party MPs quitting in order to conduct the campaign.
"If it leads us to win the battle, we won't hesitate [to do it] with unity," he said.
"The Democrat Party is inviting everyone to join us in reforming the party in order to reform Thailand. Our aim is to uproot the Thaksin regime. If we succeed, we in the Democrat Party will not accept any post arising through unconstitutional means," he said.
Mr Abhisit was speaking after chairing an urgent meeting with the party's executive committee and MPs to discuss what role the party should play in the protests.
PM rejects protesters' call for people's council
The Nation / Phuket Gazette
PHUKET: Prime Minister Yingluck Shinawatra on Thursday urged protesters to leave all government offices, stop their rallies and hold talks with the government.
PM Yingluck went on TV at 1:50pm to insist that her government wanted to talk with protest leaders to find a solution for the country that would draw an end to the protracted political crisis.
She said the protesters should leave the government offices they are occupying so that government officials could continue to work to serve the people.
She added that the protests should end because the country is about to celebrate HM King Bhumibol Adulyadej's birthday.
The Prime Minister said the call for the establishment of a people's council to reform the country could not be done under the current Constitution.
As a result, the protesters should hold talks with the government instead of continuing the protests.
PM Yingluck also expressed confidence that government officials would continue to work to serve the people even though the protests were making their work harder.
Anand calls for mutual retreat, peace talks
The Nation / Phuket Gazette
PHUKET: Former prime minister Anand Panyarachun speaks to Nation Multimedia Group's editor-in-chief Thepchai Yong. The interview was conducted in Thai and translated by The Nation. Here are some excerpts:
Q : Do you see a way out of the prevailing situation?

A: Suthep Thaugsuban as well as the government can best answer your question. They are direct parties to the conflict.
I am not informed enough about the situation, though I believe that we shouldn't be over-excited by what is happening on the streets.
Protest marches happen in other countries. During the racial struggle in the United States, millions of people marched in Washington DC demanding that then-president [John F] Kennedy issue a pledge for the civil-rights law.
This law came into effect in 1964, during the administration of president [Lyndon B] Johnson. Other countries, such as India, have also faced similar experiences. The march led by [Mahatma] Gandhi, if you remember, gave birth to civil disobedience.
Q : So, what is happening can be seen as normal in a democracy?

This is normal. In England, millions of people, including university students, marched to protest against what they saw as the country leaning too close to the US on the nuclear issue.
We should view this protest as normal and not an attempt to overthrow the political regime or not abiding by the rulebook.
England, the original model for Westminster democracy, or the US, as a model for the presidential system, have both experienced protest marches. France and Greece as well.
What I am pleased to note is that the prevailing Thai protest is unarmed. It may be noisy, caused by whistle-blowing or through musical entertainment or by other elements. But, in my opinion this is frivolous as long as the protest is peaceful and unarmed. I have to commend the government for not trying to do anything in the extreme.
Therefore, I see little chance for clashes to erupt. Of course, there will be exchanges of fiery words if you listen to statements made by either side of the conflict.
I still hope words do not lead to a breaking point, causing street fights.
As the situation stands, there seems to be no potential resolution involving the disputed parties.
But I hear some voices going in the right direction, such as proposals for reform. We have been preparing reports on reform for the past years and no one paid attention. Now everyone is interested in reform. The government as well as the Democrats have started speaking on the matter.
That is the next step but the immediate issue is how to resolve the tension.
If you can convince people to remain hopeful for a resolution, then the immediate tension will dissipate. It is important to set new agendas, which are not about dealing with existing feuds but diverting attention to national issues.
Some say the problem is Thaksin [Shinawatra]. Others say it is Abhisit [Vejjajiva] or Suthep. Yet others say it is the yellow and red shirts. I think this will only lead to an endless argument.
You cannot speedily wipe out deep-rooted perceptions. You have to create a diversion to focus on other issues that have plagued the country.
There have been a lot of proposals to resolve the situation, such as each side taking a step back. But in practice, there is no tangible way to implement this. In your opinion, who should be held responsible for signalling the stepping back?
All sides should talk quietly in order to make a mutual retreat. The talk about stepping back raises the world's unsolved puzzle – which side will make the first move. The rivals should retreat at the same time.
Q : This means the rival camps should talk outside the glare of the media?
Before talking about reconciliation, you should touch on measures to dissipate tension or hatred. At present, a few television stations are seen as pro-reds. There also are those pro-blue and pro-yellow. A war of words is being carried out 24 hours a day.
Problems occur because some people fall prey to biased views. I think this rival broadcasting should cease.
Reconciliation can happen only after a quiet talk to work out the agreement on key issues, hence forging understanding and trust.
They need to engage in a dialogue before embarking on peace talks.
Q : As prime minister, Yingluck [Shinawatra] cannot avoid the responsibility of solving the problems.

No, she can't.
Q : What do you want to see the country's leader do at the moment to ease the situation? Maybe, at least some talks to find a solution and to see if any is possible?
Yingluck must present more of her leadership as now there is doubt that Thailand's prime minister is Yingluck Shinawatra. They don't believe this. It's a question of perception versus reality.
— Phuket Gazette Editors
Want more from the Thaiger family?
📱 Download our app on Android or iOS for instant updates on your mobile
📧 Subscribe to our daily email newsletter
👍 Like/Follow us on Facebook
🔔 Subscribe to or Join our YouTube channel for daily video updates
Thailand Consumer Confidence Index hits record low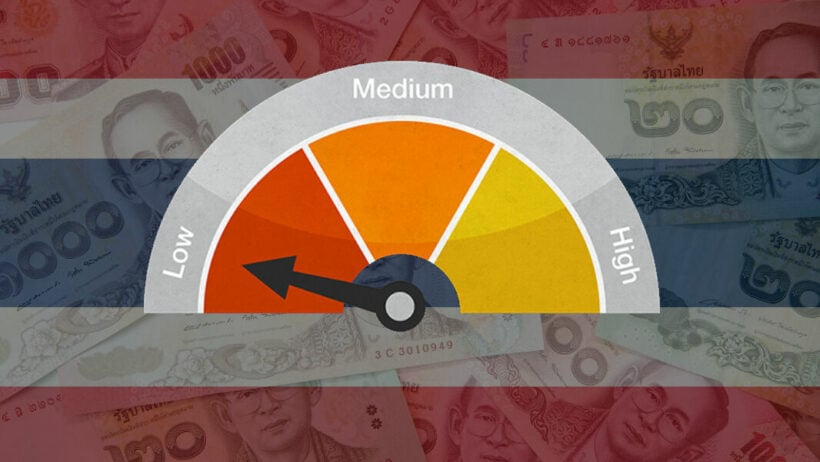 The University of the Thai Chamber of Commerce has reported that the Consumer Confidence Index has hit another new record low of 46.0 in April. The Covid-19 global pandemic has had a devastating effect on the economy and consumer confidence has fallen frequently to the lowest points that it has seen since 1998.
The president of the UTTC believes that consumers generally don't feel like there has been much of a recovery for the economy since the global pandemic began and without a stimulating event to motivate economic growth, the index is expected to continue to fall further. The university estimated that if the third wave of Covid-19 continues past the end of May the economy can expect to lose 400 to 600 billion baht.
The UTTC president stressed that the government should hasten to step up relief measures and make sure they continue relief and economic stimulus throughout the pandemic to avoid economic catastrophe. He predicted that the economy and the Consumer Confidence Index will continue on a downward slope without any hope of improvement until the vaccine rollout gets well underway towards herd immunity, and new Covid-19 infections are decreased dramatically.
Today saw another 2,101 new Covid-19 infections and 17 deaths in Thailand. Vaccination efforts are continually being stepped up, but still remain woefully slow.
The Consumer Confidence Index first started falling last year, with a drop below the previous record low in 1998 in April of 2020, when it fell to 47.2. A few months later, by July of last year, it had recovered significantly, climbing back over 50. But by March of this year, the index had fallen again to 48.5. With April's tumble of 2.5 points, the Consumer Confidence Index pushes once again to a new record low.
SOURCE: Thai Business News
Want more from the Thaiger family?
📱 Download our app on Android or iOS for instant updates on your mobile
📧 Subscribe to our daily email newsletter
👍 Like/Follow us on Facebook
🔔 Subscribe to or Join our YouTube channel for daily video updates
Thailand searches for cow vaccine for lumpy skin disease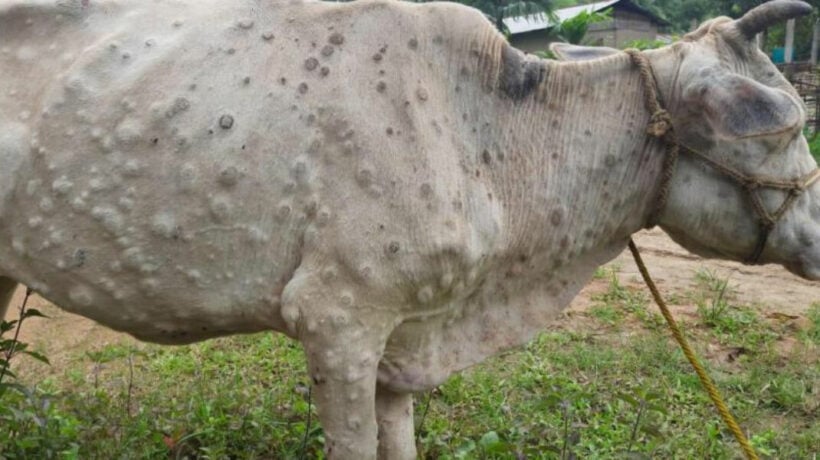 Move over Covid-19 there's a new disease sweeping the country as Thailand's cow population is afflicted with a lumpy skin disease. The Department of Livestock Development is now working on procuring vaccines from overseas manufacturers to import and treat the cattle population in Thailand. The lumpy skin is caused by pustules that are the most visible symptom, perhaps more detectable than other bovine signs such as drooling, loss of appetite and drowsiness.
The cow disease is spreading in the North, Northeast, and Central Plains area of Thailand and has been found in 18 provinces total. First identified in Roi Et, it has now spread in Chiang Rai, Kalasin, Kanchanaburi, Khon Kaen, Maha Sarakham, Nakhon Pathom, and Nakhon Phanom. The first case of the lumpy skin disease was reported in Don Daeng village last month and on April 9th officials reported it to the World Organisation for Animal Health.
The lumpy skin disease is found in cow pens and spread through flies, ticks, and mosquitoes, but the DLD says not to panic, it is not transmissible to humans. The department is distributing important information about symptoms and how the disease spreads to breeders and farmers in the area. They're requiring the breeders to monitor their cattle closely and have imposed measures to control the disease in heavy hit areas.
To prevent the spread of disease in livestock, traders are being requested to not buy and sell cattle within 50 km from disease-stricken regions. And for farmers caring for cattle, the DLD recommends spraying insecticide in all areas to prevent transmission via insects. Finally, in case the cattle were jealous of traveling humans, the DLD is advising farmers to prevent disease spread by isolating any new cow that comes into their farms with a 28-day bovine quarantine where they should be kept under nets to keep insects away.
SOURCE: Bangkok Post
Want more from the Thaiger family?
📱 Download our app on Android or iOS for instant updates on your mobile
📧 Subscribe to our daily email newsletter
👍 Like/Follow us on Facebook
🔔 Subscribe to or Join our YouTube channel for daily video updates
Covid-19 third wave cuts Thai domestic flights predictions by 38%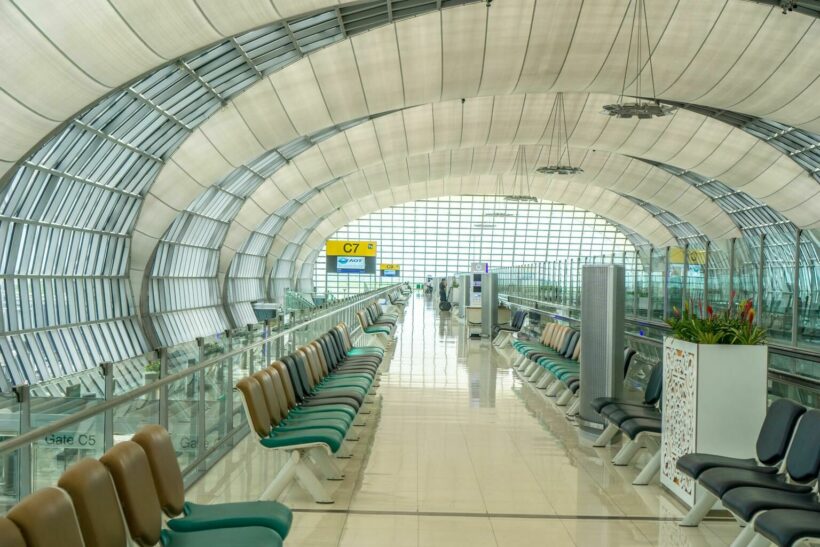 The Aeronautical Radio of Thailand is predicting a 38% drop in travel by domestic flights due to the effect of the third wave of Covid-19. Aerothai is a department under the Ministry of Transport that provides aeronautical communication and air traffic control in Thailand. With Covid-19 experiencing a rapid spread beginning in April and not yet under control, infections across all of Thailand's 77 provinces are projected to drastically hamper local travel until at least September.
The fiscal year, beginning last October, was originally predicted to have almost 519,000 domestic flight. But Aerothai has now reduced those figures down 38% to just over 323,000 flights in Thailand. The executive vice president for operations of Aerothai said that by the second half of April domestic flights had been severely reduced despite remaining relatively stable in early April.
The Civil Aviation Authority has also added increased restrictions on the way passengers are carried, adding another layer of difficulty for the domestic airlines who have slashed their schedules after having a bumper Songkran holiday period and were looking forward to better times ahead.
Flight reductions were a result of attempts to reduce and contain the spread of Covid-19 by implementing strict travel and safety measures. While domestic travel was strongly affected by Thailand's second wave of Covid-19 at the beginning of 2021, the current wave is much worse and Aerothai predicts domestic flights will reach their lowest point by the end of May.
An expectation of recovery beginning next month hinges on international flights starting to slowly creep back into Thailand. The Civil Aviation Authority of Thailand has loosened the restrictions for international travel in preparation for the government's plan to relaunch the tourism industry in key hotspots of Thailand like Phuket and Koh Samui in July. Aerothai is hoping that by August domestic flights will return to the levels seen at the end of 2020 before the second wave of Covid-19, with about 1,095 daily flights.
Aerothai has been tracking flight statistics since it was founded in 1948 by a group of airlines with the approval of the Royal Thai Government. In 1963 the government took on a majority stake in the company from the founding airlines and converted it to a state enterprise operating under the Ministry of Transport.
SOURCE: Bangkok Post
Want more from the Thaiger family?
📱 Download our app on Android or iOS for instant updates on your mobile
📧 Subscribe to our daily email newsletter
👍 Like/Follow us on Facebook
🔔 Subscribe to or Join our YouTube channel for daily video updates