Phuket Gazette: Probe into Rangers' ops; Sonthi faces tough question; Reconciliation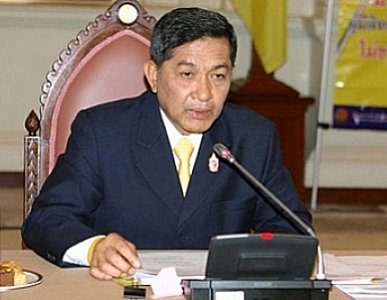 PHUKET MEDIA WATCH
– Thailand news compiled by Gazette editors for Phuket's international community
Rangers' operations lawful: probe
PHUKET (The Nation): The investigation into the shooting of a pickup in Pattani in January by Army paramilitary rangers, which left four villagers dead, has found the operation was lawful under the rules of combat engagement and called for compensation to all 10 victims.
Violence continued yesterday with one ranger killed and two others and a civilian injured by a home-made bomb in Narathiwat.
The shooting probe blamed confusion during the pursuit of a band of insurgents, darkness, combat fatigue and stress experienced by the rangers for the attack on the villagers' pickup, which killed four of them and injured five, said Udomchai Thammasaroj, chief of the Fourth Army Area.
Relatives of the four dead villagers received Bt400,000 for each case, while the five wounded received less. A minor who escaped the shooting unscathed received some money for mental trauma. Bt100,000 had earlier been paid in each of the 10 cases.
The victims may also be qualified to receive Bt7.5 million per case under a policy to compensate red-shirt victims and those suffering from previous or future political turmoil, said Pramuk Lamun, a deputy director of the Southern Border Provinces Administrative Centerer.
"As the investigation rules that the rangers were at fault for causing the deaths and injuries, the [compensation] panel will study the cases to determine if the 10 victims will also be entitled to receive the Bt7.5 million," he said.
Waedueramae Mamingjee, head of the investigation, said his job and that of the other 13 panel members, was over.
He praised Udomchai for being honest and admitting that the rangers were culpable, despite their acts coming under the rules of engagement, and for his transparent role in the incident and the probe.
"He is recognized as a gentleman and was instrumental in building up trust and ease among the relatives of the victims and the local community," he said.
Senator Anusas Suwannamong-khol, representing Pattani and the head of a Senate special committee on solutions to the violence in the deep South, called for the "equality of rights of victims of government acts" in the region.
Authorities should follow the same criteria in compensating those in the South as those living elsewhere, he said.
Other assistance should also be provided to the victims or their relatives, such as career training, educational support and rehabilitation for injuries and mental trauma, he said.
In yesterday's bomb attack, Somchai Khamjun, a member of the 48th Ranger Regiment, was killed and two rangers identified as Matohe Sae and Itthipol Thongsakul were wounded.
A Muslim man identified as Ahama Jehmae, who was drinking tea in a nearby café, was also injured.
The explosive, which was planted next to a trestle of a railway bridge in Burangae village in Tambon Bukit in Joh I Rong district, was detonated by the insurgents using a two-way radio at 7.30am, police said.
The blast did not damage the trestle but dug a hole 20cm deep and 30cm wide.
A Muslim man told police that he spotted an suspicious object left at the bridge when he was crossing the railway to the teashop so he alerted a patrol unit of 20 rangers, which was passing by. The bomb went off as the rangers were checking it. Police believe the insurgents intended to kill the rangers.
Sonthi faces tough question over forces behind coup
PHUKET (The Nation): More than five years after the September 19, 2006, military coup that ousted Thaksin Shinawatra, coup leader General Sonthi – now an MP and chairman of the House Committee on National Reconciliation – was asked in front of national media by veteran politician Sanan Kachonprasart: Were Privy Council President General Prem Tinsulanond and the bureaucratic elites behind Sonthi and the coup, as had been alleged by red shirts?
Sanan, de facto leader of the Chart Thai Pattana Party, took Sonthi by surprise by saying that unless Sonthi came clean and clearly affirmed that neither Prem nor the bureaucratic elites, known as amataya, were behind the coup, many red-shirt supporters of Thaksin would continue to believe so.
"Who was behind the coup?" Sanan asked at a symposium on national reconciliation hosted by Sonthi, who was sitting not too far away. "Was it you or did you not have any personal motivation? Please speak the truth, or else the public will continue to doubt. Before we can reconcile you must speak the truth and clear the doubt."
Sonthi's reply was enigmatic. He began by saying no one should ever doubt his loyalty to His Majesty the King, and then added: "I don't think I can answer. For some questions, you can't answer even if you are dead. When the time comes it will reveal itself." He added that no good would result if he revealed it now. He then urged everyone to forget the past and think about today and try to build the future. He complained that he could no longer wear a red necktie, which was his favorite tie color, since opponents of the coup and supporters of Thaksin had adopted red as their color.
So he opted to wear a light-blue tie instead.
Reconciliation meet exposes divisiveness
PHUKET (The Nation): At the Miracle Grand Convention Hotel, academics, politicians and a former coup leader-turned-peacemaker aspirant expressed serious disagreement over what should and should not be done. The forum ended without the one and only good sign – that it could be held at all. Before they left, participants were urged to calm down and go back to search their hearts before another meeting could take place.
General Sonthi Boonyaratkalin, the man who led the 2006 coup to oust Thaskin Shinawatra, is now trying to convince Thailand that he is now a man of peace and national reconciliation. However, it is unclear if many will follow his advice.
"Forget the past. Think about today and build the future," said Sonthi, now an MP and chairman of the House Committee on National Reconciliation.
According to Sonthi, Thailand was once "a society of love, peace and unity" but the political rift over the past six years has made things "very dangerous" and jeopardized the survival of "nationhood".
The former junta leader urged all parties to foster a climate of national reconciliation, "in order to restore peace and caring to society".
Opposition politicians who took the microphone, led by Democrat Party leader Abhisit Vejjajiva, were in no mood to accept the proposals made by King Prajadhipok's Institute at the request of Sonthi's committee.
Abhisit severely criticized many aspects of the report. He cited the omissions of many crucial incidents in the political conflicts. Also, proposals made by experts during KPI's interviews were never included, he said.
Two sticking points are who should be granted amnesty and what should be done about the actions of the now-defunct junta-appointed Assets Examination Committee (AEC).
Abhisit warned that KPI's proposals may in fact create more political conflicts.
"Is this reconciliation? If your answer is no, anyone who is thinking of making [such proposals] are the true opponents of reconciliation," he said.
MP Phiraphan Phalusuk, Pheu Thai Party member in the Reconciliation Committee, used the same words to criticize Abhisit, saying the former premier was only looking for defects in KPI's proposals.
Phiraphan insisted that actions taken by the AEC against Tha
— Phuket Gazette Editors
Want more from the Thaiger family?
📱 Download our app on Android or iOS for instant updates on your mobile
📧 Subscribe to our daily email newsletter
👍 Like/Follow us on Facebook
🔔 Subscribe to or Join our YouTube channel for daily video updates
Illegal border crossings bringing in new Covid-19 infections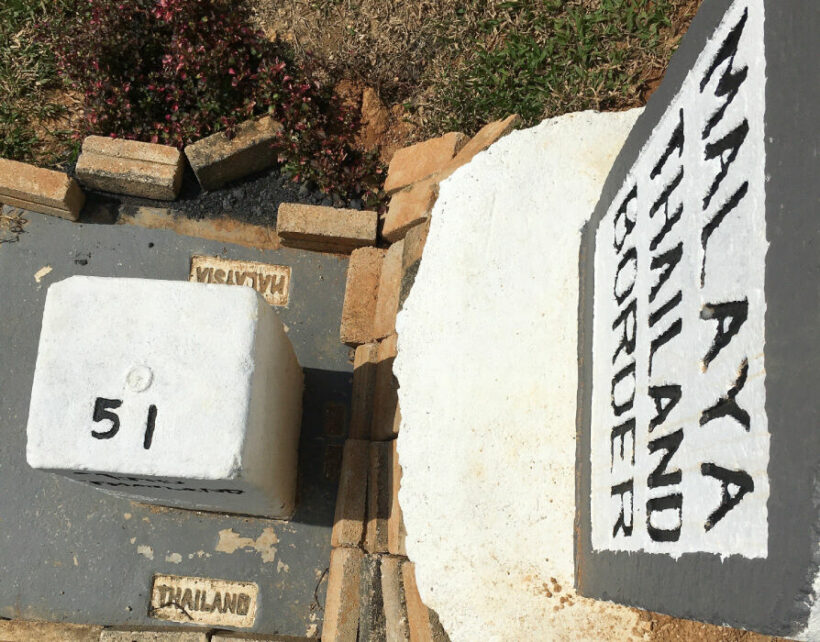 Authorities are worried about illegal border crossings into Thailand bringing in the Coronavirus after 5 recent Covid-19 infections from such crossings. Bypassing all health and security checkpoints along the border, 5 Thai nationals were identified today as being positive for Covid-19 after they snuck into the country, according to the Centre for Covid-19 Situation Administration.
Authorities nabbed 2 after border crossings from Malaysia illegally on April 28 and May 3rd, while another snuck across the Burmese border into Tak on May 2. The last 2 came from Cambodia on Thursday across the Sa Kaeo border. All 5 illegal border crossers are now in state hospitals for Covid-19 treatment.
According to CCSA data in the first four months of 2021 a total of 15,378 people were arrested by Thai authorities while sneaking across borders. Even after security forces increased patrolling along the borders, people managed to sneak in from Myanmar, Malaysia, Laos, and Cambodia. 6,700 of those who crossed the border were Burmese citizens, while another 1,700 of them were Thai nationals.
With nearly 400 lives lost to Covid-19 and over 83,000 people having been infected in the pandemic, the CCSA declared that Prime Minister Prayut Chan-o-cha and National Security Council Secretary-General Natthapol Nakpanich agree that these illegal border crossers without Covid-19 screening are a serious problem.
Many Thai people work in Malaysia and as the pandemic drags on they are sneaking across the border, desperate to make it home to their family. Another recent case found illegal Burmese border hoppers in a taxi en route to Hat Yai after they crossed into Thailand from the Malaysian border. They were trying to travel incognito across Thailand in order to cross the border again back into their home country of Myanmar.
The dilemma is even worse at the Burmese border as the often violent protests following the February 1 military coup has been pushing much of the country into poverty, and creating refugees who are flocking to the border in hopes of crossing over to safety. Many are seeking to escape the conflict and find work in Thailand.
SOURCE: Bangkok Post
Want more from the Thaiger family?
📱 Download our app on Android or iOS for instant updates on your mobile
📧 Subscribe to our daily email newsletter
👍 Like/Follow us on Facebook
🔔 Subscribe to or Join our YouTube channel for daily video updates
Thailand Consumer Confidence Index hits record low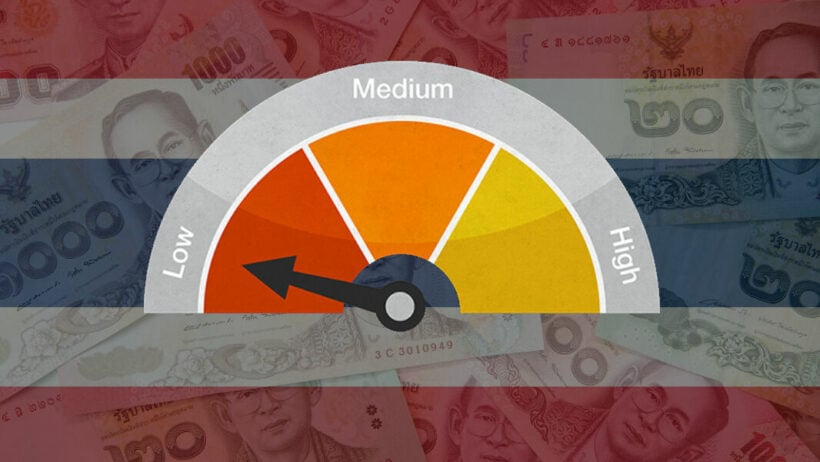 The University of the Thai Chamber of Commerce has reported that the Consumer Confidence Index has hit another new record low of 46.0 in April. The Covid-19 global pandemic has had a devastating effect on the economy and consumer confidence has fallen frequently to the lowest points that it has seen since 1998.
The president of the UTTC believes that consumers generally don't feel like there has been much of a recovery for the economy since the global pandemic began and without a stimulating event to motivate economic growth, the index is expected to continue to fall further. The university estimated that if the third wave of Covid-19 continues past the end of May the economy can expect to lose 400 to 600 billion baht.
The UTTC president stressed that the government should hasten to step up relief measures and make sure they continue relief and economic stimulus throughout the pandemic to avoid economic catastrophe. He predicted that the economy and the Consumer Confidence Index will continue on a downward slope without any hope of improvement until the vaccine rollout gets well underway towards herd immunity, and new Covid-19 infections are decreased dramatically.
Today saw another 2,101 new Covid-19 infections and 17 deaths in Thailand. Vaccination efforts are continually being stepped up, but still remain woefully slow.
The Consumer Confidence Index first started falling last year, with a drop below the previous record low in 1998 in April of 2020, when it fell to 47.2. A few months later, by July of last year, it had recovered significantly, climbing back over 50. But by March of this year, the index had fallen again to 48.5. With April's tumble of 2.5 points, the Consumer Confidence Index pushes once again to a new record low.
SOURCE: Thai Business News
Want more from the Thaiger family?
📱 Download our app on Android or iOS for instant updates on your mobile
📧 Subscribe to our daily email newsletter
👍 Like/Follow us on Facebook
🔔 Subscribe to or Join our YouTube channel for daily video updates
Thailand searches for cow vaccine for lumpy skin disease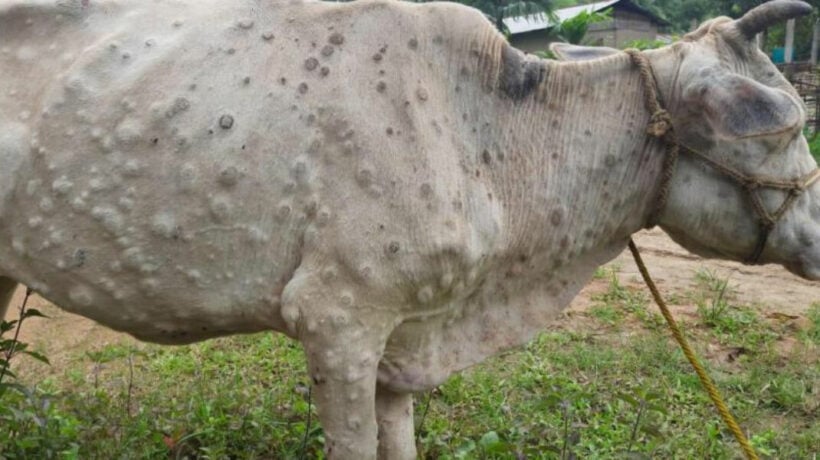 Move over Covid-19 there's a new disease sweeping the country as Thailand's cow population is afflicted with a lumpy skin disease. The Department of Livestock Development is now working on procuring vaccines from overseas manufacturers to import and treat the cattle population in Thailand. The lumpy skin is caused by pustules that are the most visible symptom, perhaps more detectable than other bovine signs such as drooling, loss of appetite and drowsiness.
The cow disease is spreading in the North, Northeast, and Central Plains area of Thailand and has been found in 18 provinces total. First identified in Roi Et, it has now spread in Chiang Rai, Kalasin, Kanchanaburi, Khon Kaen, Maha Sarakham, Nakhon Pathom, and Nakhon Phanom. The first case of the lumpy skin disease was reported in Don Daeng village last month and on April 9th officials reported it to the World Organisation for Animal Health.
The lumpy skin disease is found in cow pens and spread through flies, ticks, and mosquitoes, but the DLD says not to panic, it is not transmissible to humans. The department is distributing important information about symptoms and how the disease spreads to breeders and farmers in the area. They're requiring the breeders to monitor their cattle closely and have imposed measures to control the disease in heavy hit areas.
To prevent the spread of disease in livestock, traders are being requested to not buy and sell cattle within 50 km from disease-stricken regions. And for farmers caring for cattle, the DLD recommends spraying insecticide in all areas to prevent transmission via insects. Finally, in case the cattle were jealous of traveling humans, the DLD is advising farmers to prevent disease spread by isolating any new cow that comes into their farms with a 28-day bovine quarantine where they should be kept under nets to keep insects away.
SOURCE: Bangkok Post
Want more from the Thaiger family?
📱 Download our app on Android or iOS for instant updates on your mobile
📧 Subscribe to our daily email newsletter
👍 Like/Follow us on Facebook
🔔 Subscribe to or Join our YouTube channel for daily video updates