Over 100 Thai surrogates may be carrying babies for Aust couples
PHUKET MEDIA WATCH
– Thailand news selected by Gazette editors for Phuket's international community
Probe into 'baby clinic for Aussies'
The Nation / Phuket Gazette
PHUKET: The Health Service Support Department is investigating a Bangkok clinic that provided surrogacy services to more than 100 clients, including the Australian couple linked to the baby Gammy controversy and probably many other Australians.
Gammy, an infant with Down's syndrome, has been living with his Thai surrogate mother, who said his biological parents took his healthy twin sister but left him behind.
Australian authorities reportedly believe Thai women are now carrying more than 100 surrogate babies for Australian couples.
In such cases, Thai doctors involved look set to face punishment from the Medical Council, which bans the use of paid surrogates and requires a surrogate to be either a blood relative or an in-law to the couple seeking her help.
"We believe more than 100 babies for Australian couples could be related to the clinic that has provided services to Gammy's mother," Dr Pattarapol Jeungsomjate-paisan said yesterday in his capacity as head of the Health Support Service Department's legal division. He said the clinic handled more than 100 surrogacy cases.
"We will determine which ones are legitimate and which ones are not," he said.
Although Thailand does not yet have a specific law to control surrogacy services, authorities are preparing to use related laws and regulations to take action against practitioners who flouted Medical Council rules.
The Australian Foreign Minister Julie Bishop voiced concern about the surrogacy affair in talks with her Thai counterpart Sihasak Phuangketkeow in Myanmar on Saturday amid fears some Thai surrogates may abort babies they are carrying for Aussie couples. But there has been no suggestion yet that surrogates may be punished for commercial arrangements, such as the deal linked to baby Gammy and her twin sister.
"Doctors involved will face action from the Medical Council," Pattarapol said. "Medical facilities involved will face legal action."
In a related development, police are now planing to summon a Japanese man for questioning after he was identified as the father of 12 babies born through surrogacy. One surrogate mother is also carrying his baby as of now.
Mitsutoki Shigeta, 24, left Thailand last week after his case became big news. Sources say he has already taken three children out of Thailand.
"We want more information," Lat Phrao Police Station superintendent Colonel Wittawat Chinkham said yesterday. "We will try to contact him via his lawyer."
Meanwhile, the Singapore-based Straits Times reported that Bangkok has been a popular choice for Singaporeans who wanted to "rent a womb." Singaporean couples desperate to have a baby have gone to countries such as Malaysia, India, the United States and Thailand and paid large sums for a surrogate mother.
But Singaporeans prefer to go to Bangkok as it is nearby and the costs about the same as Malaysia, the facilities world-class and the doctors very experienced, the paper said.
The baby Gammy controversy may also deliver a big hit to surrogacy businesses in Singapore, as Thai doctors now fear doing the service as they risk losing their medical licence.
The Straits Times said by using a Thai surrogate mother, a couple would have to pay about 100,000 Singapore dollars (Bt2.56 million).
Meanwhile, a war of words broke out last night after Australian TV show "60 Minutes" aired an interview with Gammy's father yesterday. His remarks prompted an angry response from Gammy's Thai mother in Chon Buri, Pattharamon Chanbua, who revealed that while the twins were fathered by David Farnell, the egg implanted inside her was provided by a Thai woman, not Farnell's wife Wendy, according to a report in the Sydney Morning Herald.
— Phuket Gazette Editors
Keep in contact with The Thaiger by following our
Facebook page
.
Points deduction system for drivers to be introduced mid-December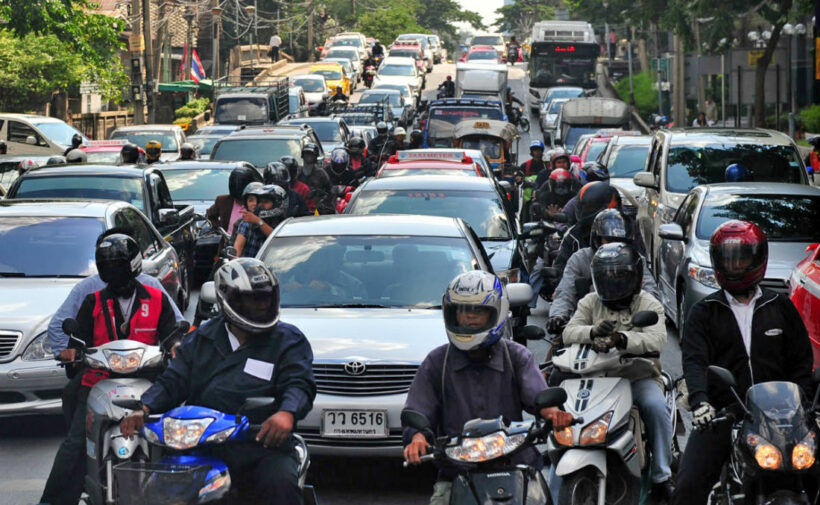 The point deduction system, for traffic and road infringements, is tentatively scheduled for activation for motorists and motorcyclists in mid-December. It is hoped that the system will help reduce road fatalities and injuries on Thai roads.
The deputy commander of Highways Police Command says that every licensed driver will be given an allocation of 12 points. Each time the driver commits a traffic law violation, points will be deducted. When there are no points left, the driver's license will be suspended for 90 days, after which the driver or motorcyclist will have to undergo training administered by the Land Transport Department to get their licence back, and another 12 points.
Those who don't attend the training, however, will have their licence returned after 90 days, but with only 8 points.
Points to be deducted differ, depending on the offence. Offences are divided into four categories:
• One point deduction
Using a cell-phone while driving; exceeding the speed limit; not wearing crash helmets for motorcyclists; not wearing seat belts; not giving way to emergency vehicles, riding on the sidewalk and not stopping for pedestrians on zebra crossings.
• Two points deduction
Running a red light; driving on the wrong side of the road; reckless driving; driving while his/her license is suspended and drunk driving.
• Three points deduction
Organising or promoting street racing without permission; hit-and run; driving while under the influence of narcotics; driving while under the influence of alcohol exceeding 150mg per ml.
• Four points deduction
Driving under the influence of alcohol exceeding 200mg per ml, drunk driving in a way which may cause serious injuries or death to the other people; driving in a manner disregarding the safety of the other people or causing trouble to other people.
SOURCE: Thai PBS World
Keep in contact with The Thaiger by following our
Facebook page
.
Opposition hits out at government's military spending in 2020 budget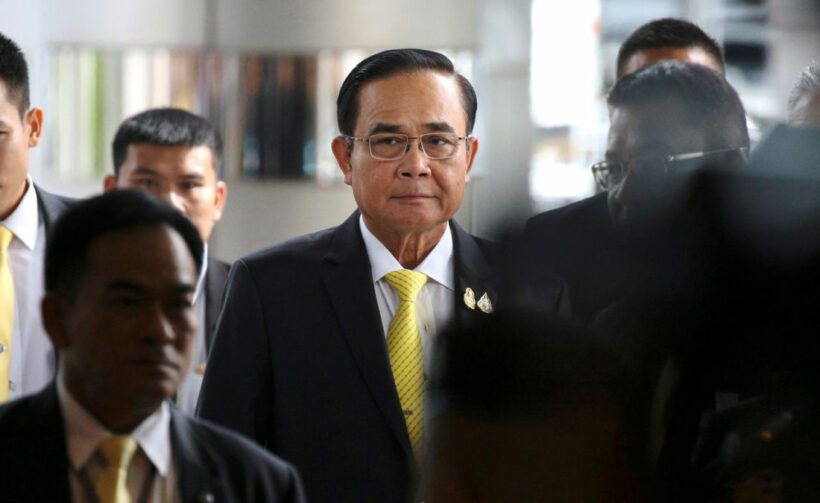 PHOTO: Reuters | The Business Times
The opposition is accusing the government of being more concerned with military arms than the daily struggles of Thai citizens. During a debate in Parliament on the budget bill, the government was accused of caring more about the growth in military spending than citizens' financial woes.
The opposition levied the attack after PM General Prayut Chan-o-cha delivered the 3.2 trillion baht bill to the House of Representatives. The debate on the 2020 budget is expected to continue for two more days and if approved by Parliament, the bill will come into force early next year.
The PM says the budget aligns with the "20 year strategy" to improve the living standards of the nation's citizens while growing the economy, but opponents accuse him of making defence spending a priority.
The leader of the opposition, Sompong Amornvivat, claims that in the five years the PM has been in power, total spending has hit 14.3 trillion baht, with loans of 2.2 trillion baht, without any significant growth in the economy. He accuses the government of spending more than 6 billion baht on defence, with the Interior Ministry getting 25 billion baht more than last year.
It's also understood that the government has also put 518.8 billion baht aside, which it can spend as it wishes, without the consent of Parliament.
The government's tourism stimulus plan, whereby domestic tourists would be given cash incentives, also came under fire as Sompong declared it a waste of money that would do nothing to boost productivity.
The subject of the PM's oath-taking fiasco reared its head again, as the leader of the Seree Ruam Thai Party, Pol General Sereepisut Temiyavej declared the PM and his government unfit to rule or propose a budget bill as a result of it.
Anudit Nakorntab from the Pheu Thai party said the government should postpone unnecessary spending on military arms while the country's citizens battle economic hardship, accusing the previous junta-led administration of also prioritising the military in its spending.
SOURCE: The Nation
Keep in contact with The Thaiger by following our
Facebook page
.
Academics warn of high cost of Thai ban on agri-chemicals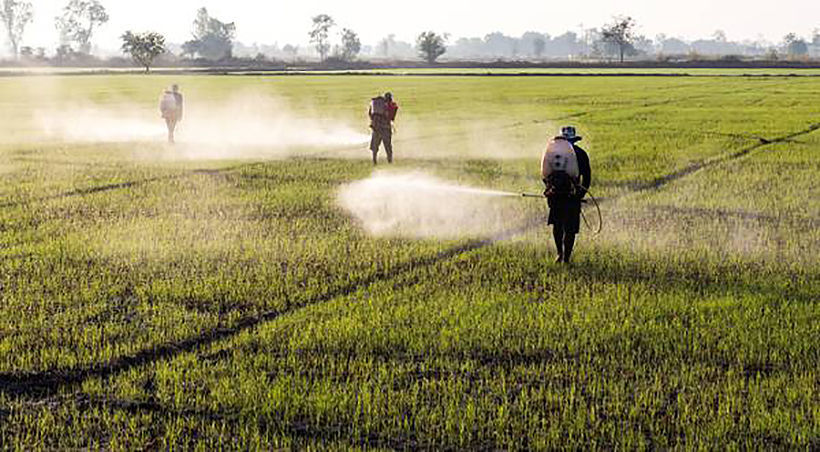 The chairman of the Thai Sugarcane Farmers Association, Thongkam Cheongklad, says a ban on the weed-killer paraquat would have a severe impact on production costs. Academics and Thai sugarcane farmers have also expressed their concern over the ban, saying it could cost the industry up to 570 billion baht.
The Nation reports that up to 1.2 million people working in the sugarcane industry are understood to be against the ban, saying the proposed paraquat substitute is both expensive and ineffective.
The president of the Thailand Society of Sugarcane Technologists, Kitti Choonhawong, says Thailand has approximately 11 million rai dedicated to sugarcane plantations, generating about 300 billion baht a year.
He claims that a ban on agri-chemicals may lower sugar production, which in turn would affect sugar factories and cause the export market to lose as much as 94.6 billion baht. Thailand is currently the world's second biggest sugar exporter, behind Brazil.
A research director from the Thailand Development Institute says the ban could ultimately mean the country is not allowed to produce enough food, unless chemical fertilisers are still allowed if chemical pesticides are banned.
Viroj Na Ranong says production costs will still rise however, along with labour costs, adding that the government needs to do its homework.
"The government has to implement measures based on research, not on social trends and politics."
It's understood that The National Hazardous Substances Committee will meet on October 27 to decide if a ban on three chemicals currently used in farming will go ahead. The substances involved are paraquat, glyphosate and chlorpyrifos and the proposal is for them to be banned from December 1.
SOURCE: The Nation
Keep in contact with The Thaiger by following our
Facebook page
.