Monsanto says RoundUp is safe. A Californian jury disagreed with them.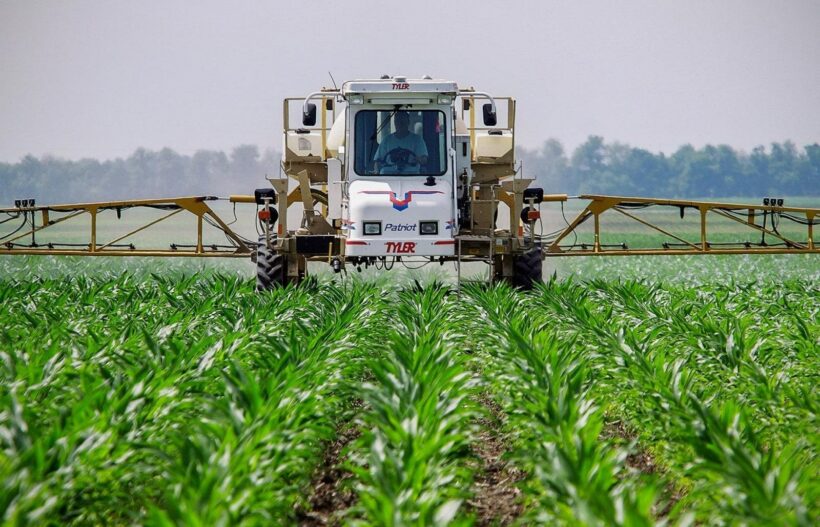 A jury in San Francisco has ruled this week that RoundUp, the world's most popular weedkiller, gave Dewayne Johnson, a former school groundskeeper, terminal cancer.
The court awarded him $39 million dollars and awarded punitive damages of $289 million to agri-chemical company Monsanto.
The man's victories is poised to set a massive precedent for thousands of other cases that similarly claim Monsato's famous herbicide caused the patient to contract non-Hodgkin's lymphoma. The decision comes amongst a deluge of conflicting evidence on both sides of the argument that, despite decades of research, is yet to find conclusive evidence of the chemical's failings, despite tons of anecdotal evidence.
Mr. Johnson's case was the first to go to trial because doctors said he was close to death. In California, a dying plaintiff can be granted expedited trials. 46 year old Johnson said during the trial that used RoundUp 20-30 times a year when working as a gardener for a school in San Fransisco. He said that twice he had accidents when we was 'soaked' with the product, accidents that exceeded the recommended use of the chemical.
But rather than providing closure in the long-running debate, there are another 800 patients waiting for their trials in the US as they prepare to sue Monsanto over the same contention – that 'RoundUp' gave them cancer.
The big question remains, despite this jury ruling, whether RoundUp (glysophate) causes cancer and, if so, whether Monsanto either knew about the potential problems with the chemical or failed to warn consumers about the cancer risk.
In March 2015, the World Health Organisation International Agency for Research on Cancer (IARC) said the key ingredient in Roundup, glyphosate, is "probably carcinogenic to humans." Here's a link to the report.
Monsanto has long maintained that RoundUp does not cause cancer and the IARC report is greatly outnumbered by studies saying glyphosate is safe.
Partridge, Monsanto's vice president of strategy, backed up the weight of evidence on Monsanto's side.
"More than 800 scientific studies, the US EPA, the National Institutes of Health and regulators around the world have concluded that glyphosate is safe for use and does not cause cancer."
"We all have sympathy for Mr. Johnson," Partridge said this week. "It's natural he's looking for answers. Glyphosate is not the answer."
In all cases plaintiff's will be put into a position that they have to prove, beyond reasonable doubt, that the chemical caused their cancers.
Glysophate is a common weed killer used in Thai agriculture. Over past years there has been activists trying to ban it's use. The Thai government has responded, so far, by putting it on a list of dangerous chemicals and is continuing its investigation into the use of the chemical in Thai agriculture.
A successful court case, coming down on the side of a plaintiff claiming the chemical caused his cancer, has brought the issue to a head and will temper many other companies and governments' use of Glysophate in the future.
An article about glysophate from National Geographic HERE.

Thailand's household debt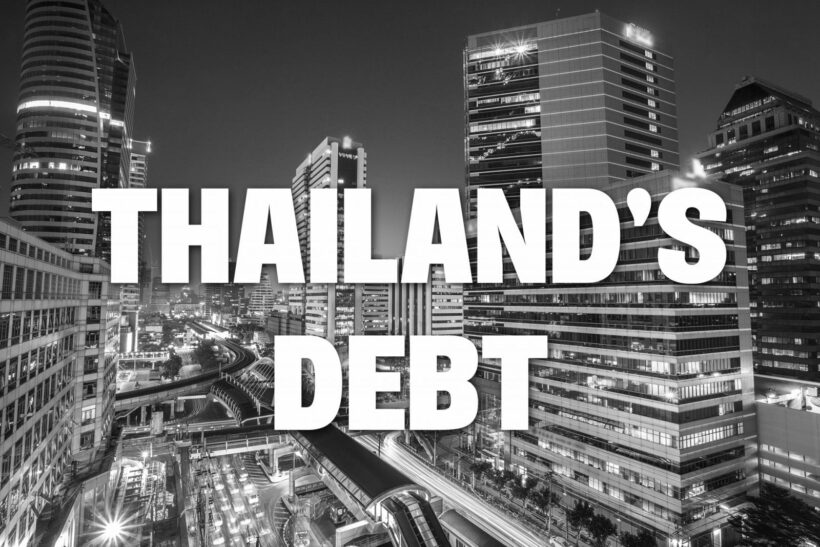 Thailand's household debt has been on the rise over the past decade, up from an average of 116,681 baht in 2007 to 178,994 baht in 2017, but should be measured with commensurate growth in wages, inflation and the country's GDP.

The figures show that Thailand's debt for farming is around 16% of the total debt bill. 36% is spent on buying property and land whilst Thais only go into debt for education – around 1.6% of their total borrowings.
More disturbingly Thais are using borrowings and credit cards for keeping their lifestyles and daily costs alive. 39% of all Thai debt is for daily consumption items.
The three provinces that have the highest rate of debt are #1 Pathum Thani, #2 Krabi, #3 Nontaburi. The average debt for all Thais is 179,000 baht. Bangkok has the highest household debt at 202,000 baht per person, Yala the lowest at only 28,000 baht.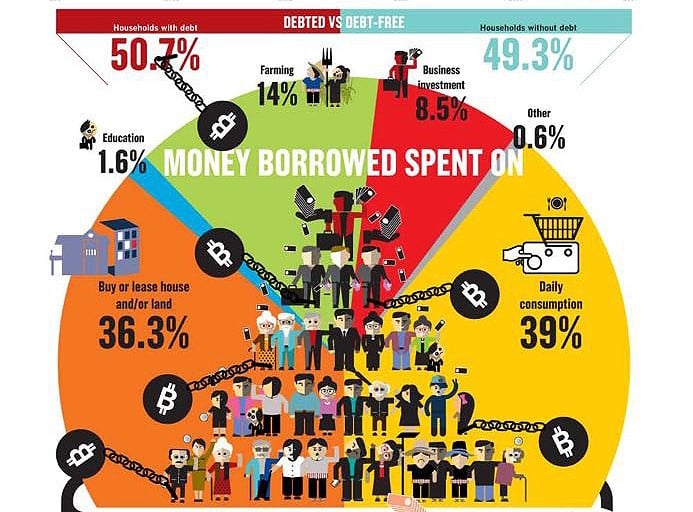 SOURCE: The Nation
Resorts near Kaeng Krachan dam in Petchaburi temporarily closed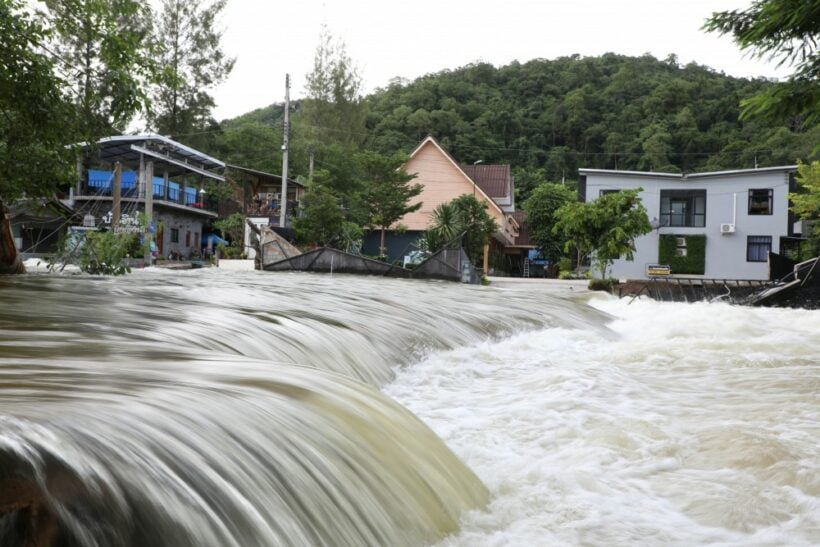 PHOTOS: The Nation
More than 30 resorts downstream of the Kaeng Krachan dam in Phetchaburi province, are being closed temporarily due to heavy flooding.
Thai PBS reports that floodwater levels at the 30 plus resorts range from 1-3 metres making it impossible to carry on with their business. It's also been reported that spillover water from the spillway has heavily damaged the only road leading to the resorts downstream of the dam.
Officials at Kaeng Krachan dam said that the dam was discharging 259 cubic metres/second of water out of the dam into the Phetchaburi river after water level in the dam has risen to 750 million cubic metres against its full capacity of 710 million cubic metres.
One of the resort operators, Mr Thongbai Klaipetch, said that his resort and nine others in the same neighbourhood were marooned and the only road to the resorts was badly flooded.
About 60 families of Ban Tham Sua in Tambon Kaeng Krachan have made preparations to evacuate out of their village due to heavy flooding which has rendered their daily livelihood difficult.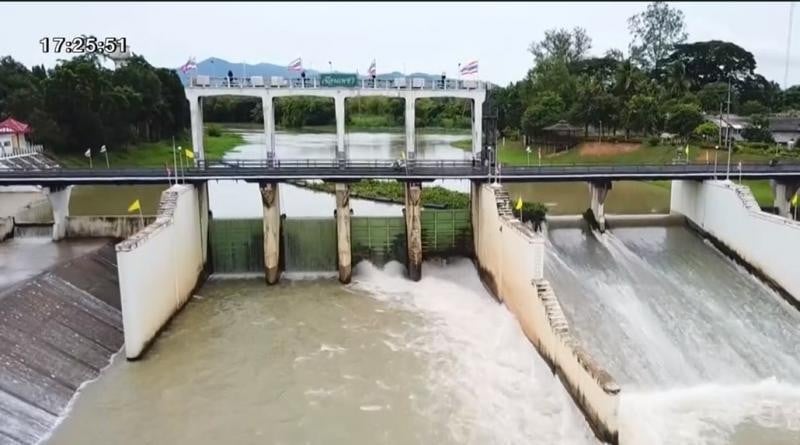 SOURCE: Thai PBS

Thaiger Radio News – Sunday