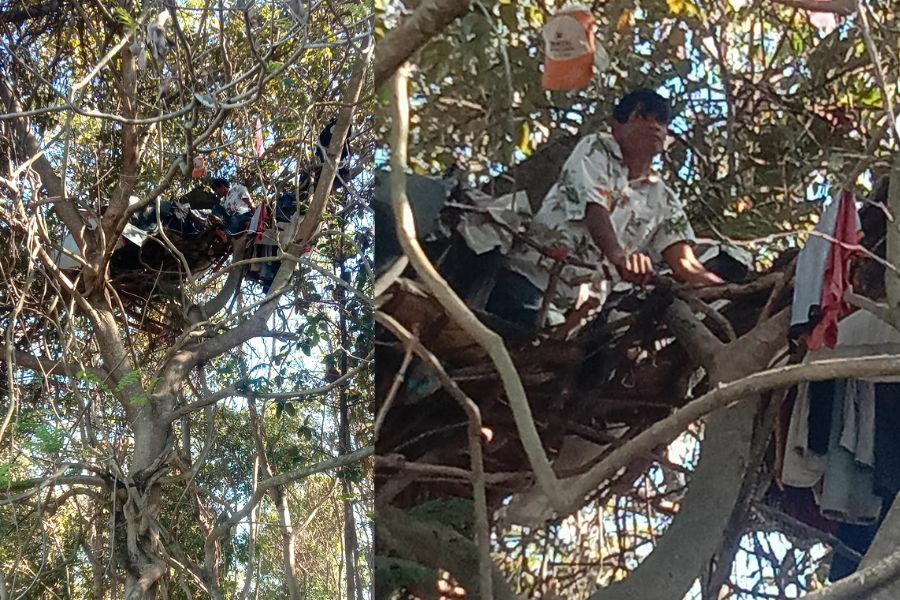 A Thai man in the Isaan province of Udon Thani has been living in a tree for three years due to financial embarrassment. A provincial official offered him a new house on the ground and food, but he refused. He insisted on staying in the tree until officials find him a job.
The 38 year old man, Charlie, constructed a simple dwelling in the tree three years ago. He tied pieces of wood together with ropes to make a floor and used a plastic sheet as a roof. He placed the floor on a branch of a tree and avoided tying it to the tree to allow the tree to grow freely. His tree-house is about ten metres off the ground.
Charlie's story went viral after a netizen shared pictures of his house on Facebook. Thai media visited him in the Nampong district of Khon Kaen to talk about his past life.
Charlie informed the media that he used to work in Bangkok and was able to take care of himself and his family. The economy went bust when the pandemic hit the country so he moved back to his home province of Khon Kaen.
Returning to Khon Kaen did not work out, so he moved to Udon Thani to look for more work opportunities. He applied for whatever work was available but his salary could not pay his bills. So, he paid back all his debts and decided to live in a tree.
Charlie said he lives a simple life. If someone hires him, he will go to work. If not, he goes to a temple to get some food. Sometimes, people in the community share food with him.
Officers from the Protection Centre for the Destitute and Social Development and Human Security Ministry visited Charlie on Saturday, January 7. Officers invited him to stay at a free accommodation for the homeless in the province. They said the accommodation was equipped with food and facilities, and it was safer than Charlie's tree house.
Charlie refused the offers. He insisted on staying in his treehouse because it was the place where he felt comfortable. He added he would move out if the landowner asks him to do so. Charlie said that the only thing he wanted was a job.
He would like to live by himself but does not want to be a burden on the government or anyone else.