Judgment day for Yingluck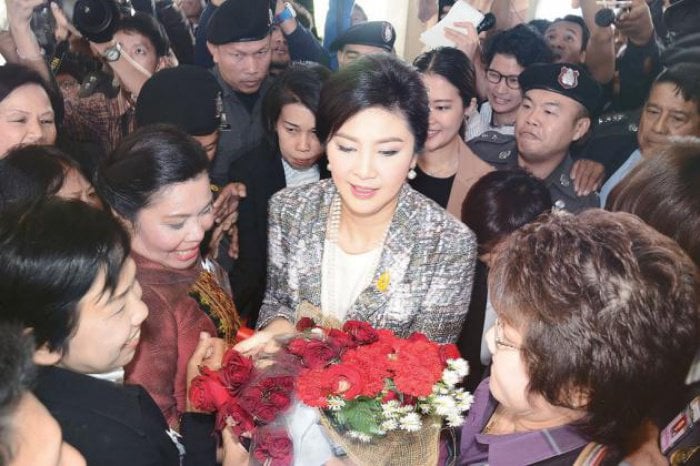 PHUKET MEDIA WATCH
– Thailand news selected by Gazette editors for Phuket's international community
Judgment day for former PM Yingluck
The Nation / Phuket Gazette
PHUKET: Pressure is mounting on the National Legislative Assembly (NLA), which votes today on whether to impeach former prime minister Yingluck Shinawatra and two former parliamentary speakers accused of wrongdoings.
Supporters and detractors of the three targeted politicians – Ms Yingluck, former Parliament president Somsak Kiartsuranon and his ex-deputy Nikom Wairatpanij – have urged the NLA members to vote with their conscience.
Social media yesterday was agog with campaigns from both sides. People supporting impeachment said it was a necessary step towards national reform while those opposing impeachment warned of renewed conflicts if the NLA votes to punish the trio.
Observers, meanwhile, expect the impeachment vote to polarize the nation. "No matter which way it goes, there will be those who agree and those who disagree. It won't please everyone," Reuters quoted NLA vice president Peerasak Porchit as saying.
Either way, the vote would create dissension against the junta, said Paul Chambers, director of research at Chiang Mai University's Institute of South East Asian Affairs. "Ultimately, no matter which way the NLA votes, it will create dissension against the NCPO by either pro- or anti-Thaksin elements of Thai society," he said, referring to former premier Thaksin Shinawatra.
Support from at least three-fifths of the 220-member NLA, or 132 votes, is required to impeach any of the targeted politicians.
An impeached politician will face a five-year ban from holding political office.
The National Anti-Corruption Commission (NACC) accused Ms Yingluck of negligence of duty by failing to curb corruption in her government's rice-pledging scheme, and former House speaker Somsak and Senate ex-speaker Nikom of violating the constitution while chairing parliamentary meetings on charter amendments.
The People's Democratic Reform Committee (PDRC), which held street protests against Ms Yingluck's government, yesterday called on the NLA members to decide with their conscience.
"It is now the NLA's task to prove that morality and ethics exist in Thai society," PDRC spokesman Akanat Promphan said in a phone interview with The Nation.
He said Ms Yingluck failed to provide satisfactory answers to NACC's accusations in her closing statement.
Red-shirt leader Kwanchai Praipana yesterday said Ms Yingluck is the latest of the people close to former prime minister Thaksin Shinawatra who are victims of "political persecution".
He also said that as the country has been under the control of the National Council for Peace and Order, the red shirts have been unable to do much in campaigning publicly about this matter.
A politician from Ms Yingluck's Pheu Thai Party, Somkid Chueakong, said yesterday that he expected increased voter support for the party in the next general election if the NLA votes to impeach Ms Yingluck. Defence Minister Prawit Wongsuwan yesterday criticized certain red-shirt leaders for having warned that a decision to impeach Ms Yingluck could lead to bloodbath or riots.
"Such talk is not good for the country, which is now progressing well. They must use more brains before such talk," he said.
Mr Prawit, who is also deputy PM, said the government was not seeking revenge or acting against anyone. "We are just solving the country's problems and helping the country to move forward."
Yingluck 'satisfied'
Meanwhile, Ms Yingluck said after presenting her closing statement before the NLA that she felt satisfied for "explaining everything" to the assembly members. "I feel happy," she said when asked to describe her feelings.
Ms Yingluck's lawyers were also satisfied with her explanations in response to all the allegations against her, said Pichit Chuenban, one of the legal team members.
He also said that NACC member Wicha Mahakhun, who represented the agency in presenting the closing statement yesterday, appeared to rely on rhetoric in a bid to persuade the NLA members.
The lawyer also urged NLA members to carefully consider all the documents presented by Ms Yingluck's legal team to support her case, before voting today.
Mr Wicha yesterday also voiced satisfaction with his closing statement. "Whether the NLA will vote for impeachment or not, we have created a new standard for the country's reform," he said. Before leaving Parliament yesterday, the ex-PM was handed flowers by a small group of supporters. Ms Yingluck is expected to watch a broadcast of the NLA vote today at SC Park Hotel, which is owned by her family, according to a source close to her.
Starting at 10am, the NLA is scheduled to hold a secret ballot whether to impeach Mr Somsak and Mr Nikom, followed by a vote on Ms Yingluck's case later in the day.
NLA member Wanlop Tangkananurak said that after listening to their closing remarks yesterday, he feels that both sides had not produced any new information that was different from their opening remarks last week.
He stressed that reconciliation and impeachment are entirely different issues and the NLA members should make decisions based strictly on legal principles.
"I can't answer for other NLA members but mention of the word 'reconciliation' was less frequent during our impeachment conversation," he said.
Regarding the contrasting information produced by both sides, including the estimated total loss caused by the rice scheme, Mr Wanlop said in his opinion the official figure produced by the Rice Scheme Accounting Committee, which the NACC used as its reference, has more credibility because it came from an official committee.
— Phuket Gazette Editors
Keep in contact with The Thaiger by following our Facebook page.
Never miss out on future posts by following The Thaiger.
Foreign tourists must use Covid-19 tracking app when travelling to Thailand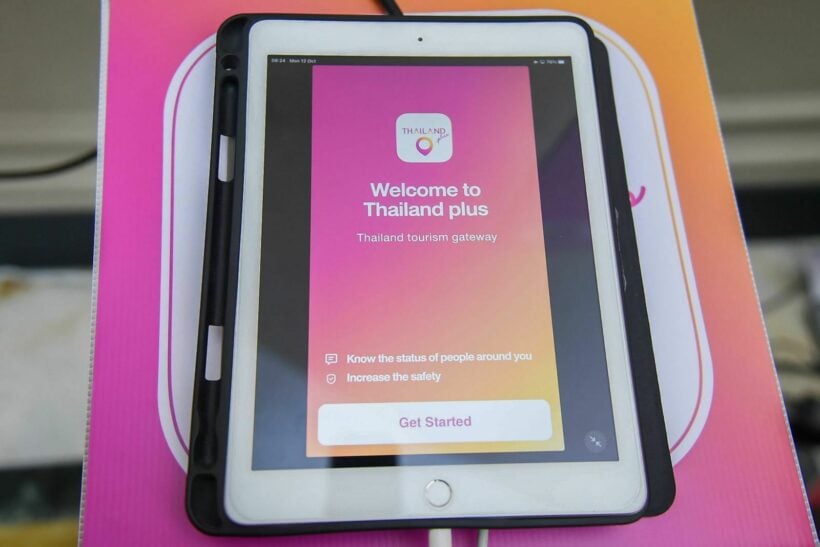 Foreign tourists travelling to Thailand will need to download the Covid-19 contact tracking mobile application "ThailandPlus" before arriving in Thailand and use it throughout their stay. The app will notify travellers if they have been in close contact with any confirmed cases.
Throughout their trip to Thailand, tourists will need to keep the app "on" and check in and out of various locations by scanning QR codes. The app requires access to the smartphone's GPS , but the Tourism Authority of Thailand says the information collected will only be used for public health purposes and will not infringe on the tourists' right to privacy.
Travellers will also need to upload a recent headshot as well as supply their Certificate of Entry number and reference ID from the Royal Thai Embassy.
The app is a spinoff to the "Thai Chana" and "Mor Chana" apps. All use GPS and Bluetooth as well as QR code scanning to detect the users' locations. The apps sparked controversy and many Thais expressed concerns about their privacy, but the government has assured the public that information will be kept private.
The development of the app is a collaboration between the Ministry of Digital Economy and Society, the Prime Minister's Office and the Digital Government Development Agency.
Click HERE to download the ThailandPlus.
SOURCE: TAT
Keep in contact with The Thaiger by following our Facebook page.
Never miss out on future posts by following The Thaiger.
Thailand News Today | Pollies in jail, Covid originated in Thailand? | Feb 25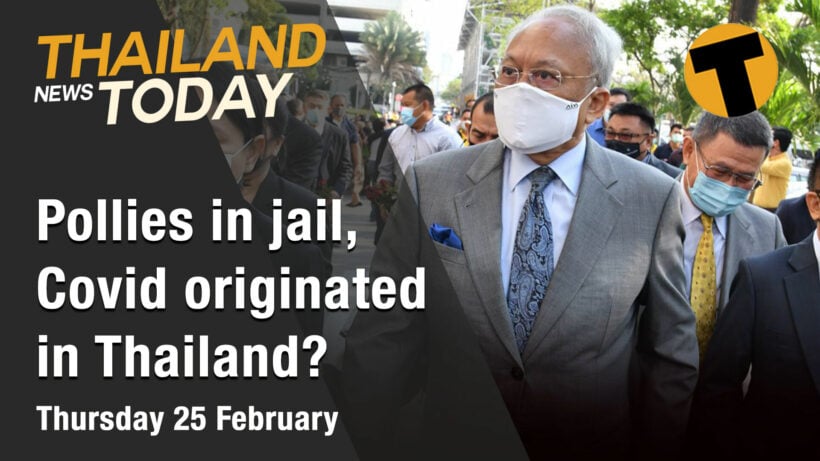 Today on Thailand News Today, a number of government ministers have ended up in jail, the vaccines are about to roll out but experts say the injections are not the end of the pandemic, and A Pattaya motorbike taxi driver is being accused of attacking a Chilean national. We've also get a special report on the channel about accusations that surfaced this week that Covid 19 may not have started in Wuhan at all, but in Thailand. That's all coming up now on Thursday's Thailand News Today.
A number of government ministers have been jailed for their part in protests against the government of Yingluck Shinawatra that crippled Bangkok and ultimately led to the 2014 military coup. Yesterday, the Criminal Court handed prison sentences to 29 former members of the People's Democratic Reform Committee, some of whom were serving as MPs in the current Chan-o-cha administration.
Police have shut down a network of online casinos in raids that took place across 7 provinces, with 19 suspects arrested, and cash and other goods seized. In total, 8 online casino networks in 7 provinces have been shut down, with police apprehending 19 out of a total 22 suspects.
A specialist in infectious diseases at the Faculty of Medicine of Bangkok's Chulalongkorn University says the arrival of vaccines does not mean it will automatically be safe to re-open to foreign visitors. Thira Woratanarat says opening the borders too soon will only put Thailand in more danger, pointing to a lack of data on the efficacy of vaccines against transmission.
The Thai Ministry of Public Health is being praised after seemingly doing an about face over whether Bangkok's Chatuchak Weekend Market could be the source of Covid‐19. After health officials denied that the World Health Organisation was investigating the market, a recent Facebook live press conference saw the Ministry acknowledging that unregulated wildlife trades may endanger public health.
A Pattaya motorbike taxi driver is being accused of attacking a Chilean national, leaving his nose broken and face bloodied. The 24 year old Salvatore Chilean, filed a report to the Pattaya City Police at around 2am this morning after saying he had left a nightclub on Pattaya's Walking Street after it had closed.
Keep in contact with The Thaiger by following our Facebook page.
Never miss out on future posts by following The Thaiger.
Canadian Embassy to help Thailand recruit English teachers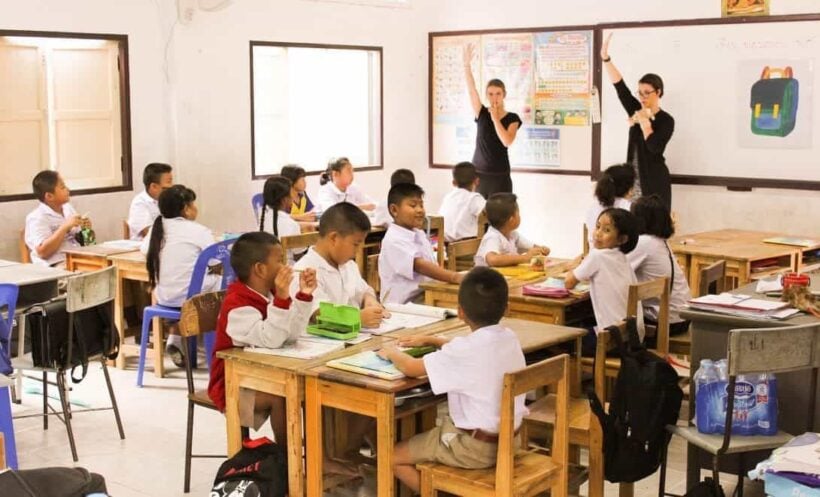 Thailand officials want more native speaking English teachers and plan to recruit more than 10,000 English teachers for 300 schools to improve English proficiency among Thai students. To help draw in potential teachers, the Education Ministry is teaming up with the Canadian Embassy in Thailand.
Teachers will be placed in schools once the pandemic has eased. Recruitment for the plan is expected to be completed by May, according to Education Minister Nataphol Teepsuwan. He says the Cabinet has approved an agreement between the ministry, embassy and the Thai-Canadian Chamber of Commerce for the recruitment plan.
The ministry plans to focus on teaching language in early levels of education because young students are at a suitable age for building communication skills, Nataphol says. Teachers will be either native English speakers or Thai teachers who hold an English degree, according to Nataphol.
Along with 10,000 English teachers, the Cabinet also plans to recruit 10,000 Chinese teachers. Teachers will also receive training.
SOURCE: Bangkok Post
Keep in contact with The Thaiger by following our Facebook page.
Never miss out on future posts by following The Thaiger.