Educator dreams up hydropower plant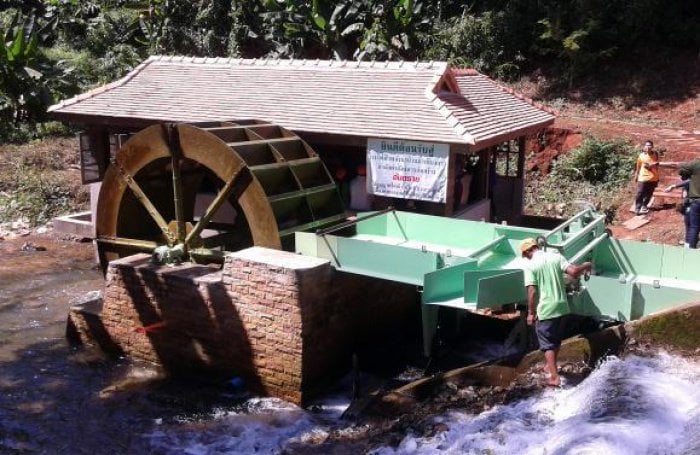 BANGKOK: Vocational teachers and students have joined forces with local people to construct a hydropower plant at the foot of Doi Luang Chiang Dao Mountain in Chiang Mai.
Manus Daomanee, president of the Toyota Automotive Technological College, is credited with starting the innovative project in the remote location.
Mr Manus hopes his charity-funded project will provide free electricity for a local school and temple starting next May.
"This power plant may additionally be able to provide free lighting on local and public roads at night, as the school and the temple won't need to use much electricity after nightfall," said Mr Manus.
Nestled as it is in a timeless rural setting, the mountain has attracted a high number of tourists over the years. Mr Manus was one of those tourists and he was inspired to start the project during cycling trips to the area. During his many visits, he noticed that a stream by the Doi Luang Chiang Dao Mountain never ran dry.
"It has water in all seasons. That's why I believe it should be possible to set up a hydropower facility here for a good cause," he said.
Mr Manus turned his ideas into action, encouraging his friends, who had solid knowledge of hydropower technology, to check the water flow in the Doi Luang Chiang Dao Mountain and inspect a hydropower plant in a nearby village.
He also held meetings with locals to find out if they would agree with his idea.
After he got the green light, he raised 3 million baht via two merit-making campaigns.
Lecturers and students from Samut Prakan Technical College have also jumped on the bandwagon. With their help in welding, designing and assembling, key parts of the 100-kilowatt hydropower plant have already been installed.
"I think we will launch one more charity campaign to raise additional funds for this project. We need some more money to buy equipment such as a transformer and electric wires," Mr Manus said.
He also hopes this project can become a learning center in the future.
Wimon Sripakdee, a local resident who also serves as a tour guide and village-defence volunteer, said he had taken part in the hydropower plant project from the very beginning and is keen to embrace Mr Manus's initiative.
"I would like to contribute wherever I can. I am ready to learn new things and help run the power plant," he said.
Taweesak Khiewthong, director of Samut Prakan Technical College, said the project has provided vocational students with a good opportunity to work on a real project.
"This project also gives a boost to the image of vocational students. It is in line with the government's policy to encourage students to put their knowledge to good use," he said.
Wanit Uamsri, deputy secretary general of the Office of Vocational Education Commission, described the hydropower plant project as an exemplary model of fruitful collaboration between private and government-run vocational education institutes.
"Through such collaboration, vocational students and teachers focus not just on learning and teaching at their institutes, but also on how to apply their knowledge to benefit society and community," Mr Wanit said.
— The Nation
Keep in contact with The Thaiger by following our Facebook page.
Never miss out on future posts by following The Thaiger.
Foreign tourists must use Covid-19 tracking app when travelling to Thailand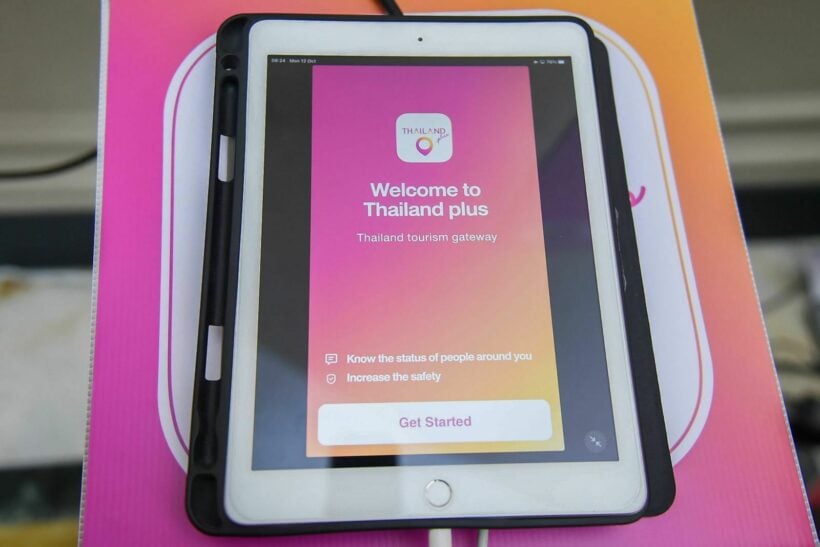 Foreign tourists travelling to Thailand will need to download the Covid-19 contact tracking mobile application "ThailandPlus" before arriving in Thailand and use it throughout their stay. The app will notify travellers if they have been in close contact with any confirmed cases.
Throughout their trip to Thailand, tourists will need to keep the app "on" and check in and out of various locations by scanning QR codes. The app requires access to the smartphone's GPS , but the Tourism Authority of Thailand says the information collected will only be used for public health purposes and will not infringe on the tourists' right to privacy.
Travellers will also need to upload a recent headshot as well as supply their Certificate of Entry number and reference ID from the Royal Thai Embassy.
The app is a spinoff to the "Thai Chana" and "Mor Chana" apps. All use GPS and Bluetooth as well as QR code scanning to detect the users' locations. The apps sparked controversy and many Thais expressed concerns about their privacy, but the government has assured the public that information will be kept private.
The development of the app is a collaboration between the Ministry of Digital Economy and Society, the Prime Minister's Office and the Digital Government Development Agency.
Click HERE to download the ThailandPlus.
SOURCE: TAT
Keep in contact with The Thaiger by following our Facebook page.
Never miss out on future posts by following The Thaiger.
Thailand News Today | Pollies in jail, Covid originated in Thailand? | Feb 25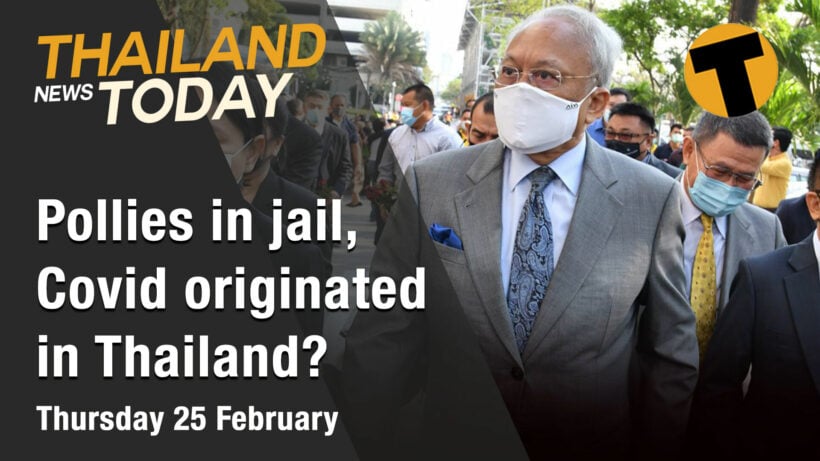 Today on Thailand News Today, a number of government ministers have ended up in jail, the vaccines are about to roll out but experts say the injections are not the end of the pandemic, and A Pattaya motorbike taxi driver is being accused of attacking a Chilean national. We've also get a special report on the channel about accusations that surfaced this week that Covid 19 may not have started in Wuhan at all, but in Thailand. That's all coming up now on Thursday's Thailand News Today.
A number of government ministers have been jailed for their part in protests against the government of Yingluck Shinawatra that crippled Bangkok and ultimately led to the 2014 military coup. Yesterday, the Criminal Court handed prison sentences to 29 former members of the People's Democratic Reform Committee, some of whom were serving as MPs in the current Chan-o-cha administration.
Police have shut down a network of online casinos in raids that took place across 7 provinces, with 19 suspects arrested, and cash and other goods seized. In total, 8 online casino networks in 7 provinces have been shut down, with police apprehending 19 out of a total 22 suspects.
A specialist in infectious diseases at the Faculty of Medicine of Bangkok's Chulalongkorn University says the arrival of vaccines does not mean it will automatically be safe to re-open to foreign visitors. Thira Woratanarat says opening the borders too soon will only put Thailand in more danger, pointing to a lack of data on the efficacy of vaccines against transmission.
The Thai Ministry of Public Health is being praised after seemingly doing an about face over whether Bangkok's Chatuchak Weekend Market could be the source of Covid‐19. After health officials denied that the World Health Organisation was investigating the market, a recent Facebook live press conference saw the Ministry acknowledging that unregulated wildlife trades may endanger public health.
A Pattaya motorbike taxi driver is being accused of attacking a Chilean national, leaving his nose broken and face bloodied. The 24 year old Salvatore Chilean, filed a report to the Pattaya City Police at around 2am this morning after saying he had left a nightclub on Pattaya's Walking Street after it had closed.
Keep in contact with The Thaiger by following our Facebook page.
Never miss out on future posts by following The Thaiger.
Canadian Embassy to help Thailand recruit English teachers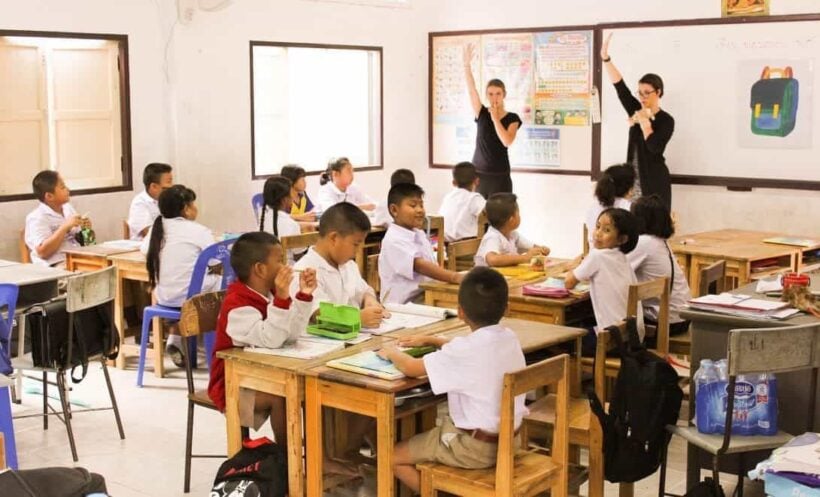 Thailand officials want more native speaking English teachers and plan to recruit more than 10,000 English teachers for 300 schools to improve English proficiency among Thai students. To help draw in potential teachers, the Education Ministry is teaming up with the Canadian Embassy in Thailand.
Teachers will be placed in schools once the pandemic has eased. Recruitment for the plan is expected to be completed by May, according to Education Minister Nataphol Teepsuwan. He says the Cabinet has approved an agreement between the ministry, embassy and the Thai-Canadian Chamber of Commerce for the recruitment plan.
The ministry plans to focus on teaching language in early levels of education because young students are at a suitable age for building communication skills, Nataphol says. Teachers will be either native English speakers or Thai teachers who hold an English degree, according to Nataphol.
Along with 10,000 English teachers, the Cabinet also plans to recruit 10,000 Chinese teachers. Teachers will also receive training.
SOURCE: Bangkok Post
Keep in contact with The Thaiger by following our Facebook page.
Never miss out on future posts by following The Thaiger.