Call to revise Thai lese majeste law; Cambodia offers prisoner swap; MP surrenders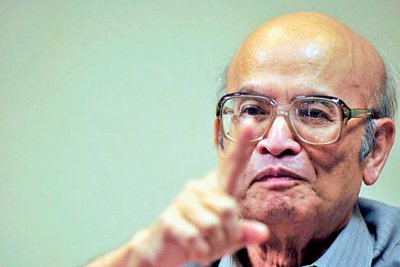 PHUKET MEDIA WATCH
– Thailand news compiled by Gazette editors for Phuket's international community
Call to revise lese majeste law
Phuket Gazette / The Nation
The head of the Truth and Reconciliation Commission of Thailand (TRCT), Kanit Na Nakorn, has called for amendments to be made to Thailand's lese majeste law, which mandates prison terms for anyone found guilty of insulting the monarchy.
Mr Kanit said changes should be made to the law to prevent further social divisions.
The announcement came just days after Army chief Gen Prayuth Chan-ocha said Thais who opposed the law should leave the country.
Mr Kanit said certain elements were invoking Article 112 for self-serving reasons. At the same time, some have argued that Article 112 stifles their freedom of expression, he said.
"The TRCT has taken up the challenge of reviewing the lese majeste clause with the hope of bringing about reconciliation," Mr Kanit said.
The TRCT was set up in July 2010 by former premier Abhisit Vejjajiva in the wake of protests by anti-government "red shirts" that left 92 people dead.
The mandate of the commission is to identify the causes of the conflict and take measures to promote long-term reconciliation in Thailand.
The TRCT did not support the abolishment of Article 112, saying that would be "inappropriate to Thai society," Mr Kanit said.
However, the current situation was not sustainable, he said.
Analysts have noted that lese majeste charges, which can be filed by any member of the public, have soared in recent years as Thailand's current political conflict has grown in intensity.
Instead, the TRCT is proposing that the royally-appointed Lord Chamberlain be able to decide whether such charges were warranted – or should be dropped.
The maximum punishment should also be reduced from 15 years to seven years, with the minimum sentence reduced to zero, the panel said.
Mr Kanit said he had forwarded the proposals to Prime Minister Yingluck Shinawatra for the government's consideration.
Despite the recommendations of the TRCT, there remain powerful elements of Thai society that oppose any reform of the law.
Last month Army chief Gen Prayuth said that activists who opposed Article 112 "must go and live in foreign countries," AFP reported.
"It is not appropriate to discuss this. Personally I will do my part for national security in protecting (the monarchy)," he told reporters.
Members of the current Pheu Thai Party-led government, including deputy premier Chalerm Yoobamrung, have also expressed opposition to amending the law.
Cambodia offers exchange for jailed political activists
Phuket Gazette / The Nation
Cambodia has refused a request by Thai Foreign Minister Surapong Tovichakchaikul for the early release of two high-profile Thai political activists, but has raised the unprecedented possibility of a prisoner exchange.
In a visit to Phnom Penh last week, Mr Surapong requested that Veera Somkwamkid and Ratree Pipatanapaiboon be granted royal pardons.
The pair are serving sentences of eight and six years respectively after being arrested for "spying and trespassing" in Cambodian territory in late 2010.
Mr Veera is a leader of the right-wing Thai Patriots Network group affiliated with the "yellow-shirt" People's Alliance for Democracy, while Mrs Ratree is his assistant.
They were among seven Thais arrested in the border area during a period of high tensions between the two neighbors. The group, which also included seated Democrat MP Panich Vikitsreth, were allegedly in the area to inspect the ongoing border demarcation process.
The remaining five members of the group were released a few weeks later, following a one-day trial.
Last week, Cambodian Foreign Minister Hor Namhong told Mr Surapong that the pair would not be eligible for a pardon from the Cambodian King until they had served two-thirds of their sentences.
However, Hor Namhong said an early release could be considered in exchange for the release of Cambodians detained in Thailand.
Mr Surapong said he would ask concerned authorities to consider Cambodia's offer. It was the first time the Cambodians had made such a proposal to Thailand, he added.
Thai MP surrenders to local police
Phuket Gazette / The Nation
A Democrat Party MP accused of shooting a rival politician to death has surrendered to police, denying charges of premeditated murder.
Samut Sakhon representative Khanchit Thapsuwan is accused of shooting Udon Kraiwatnussorn, former president of the province's Provincial Administration Organization, eight times at a gas station on Christmas Day before fleeing the scene.
Mr Khanchit reported to a police training unit on December 27 in neighboring Nakhon Pathom.
In contrast to widespread reports that Mr Khanchit and Mr Udon had argued publicly on many occasions, Mr Khanchit's father Anek, a Democrat veteran, said he was not aware of his son having any political feuds.
Mr Khanchit was questioned by police for one hour before being released.
By law, an MP cannot be held on criminal charges while Parliament is in session unless MPs vote to revoke his or her immunity. A letter has been submitted requesting the House to revoke Mr Khanchit's immunity.
— Phuket Gazette / The Nation
Keep in contact with The Thaiger by following our Facebook page.
Never miss out on future posts by following The Thaiger.
Koh Samui to start Covid-19 vaccinations early next month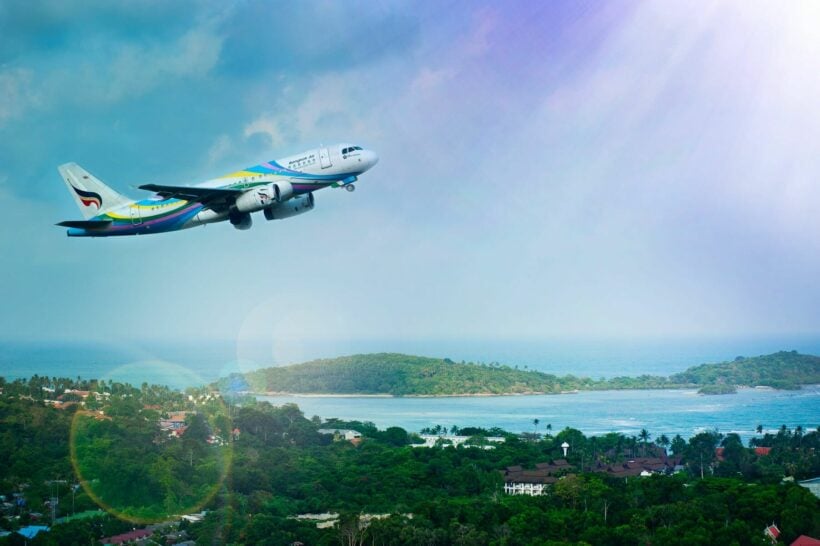 Covid-19 vaccinations on Koh Samui will start early next month with 2,500 doses planned to be given to 1,250 people on the island, according to Surat Thani governor Wichawut Jinto. Island authorities are also proposing that foreign visitors be allowed to quarantine on their yacht, at a villa hotel or at a wellness centre.
The tourist island off the coast of Surat Thani in the Gulf of Thailand is deemed as an area of "economic significance" and is included in the first phase of the country's immunisation plan. The first doses will be given to disease control officials and those in the tourism sector.
The vaccines, which just arrived from overseas yesterday, are expected to be delivered to the island before the end of the month and vaccinations are set to start in early March.
Half of the vaccines are reserved for those in the healthcare field as well as local government officials. Around 26% of the doses would be given to local health volunteers and the general public. 22% of the doses would be given to workers in the tourism industry, including airport employees and hotel quarantine employees. 2% of the doses will go to Covid-19 inspectors.
SOURCE: Bangkok Post
Keep in contact with The Thaiger by following our Facebook page.
Never miss out on future posts by following The Thaiger.
Another Thai man claims to have found a rare Melo pearl, shell was sold at a Pattaya market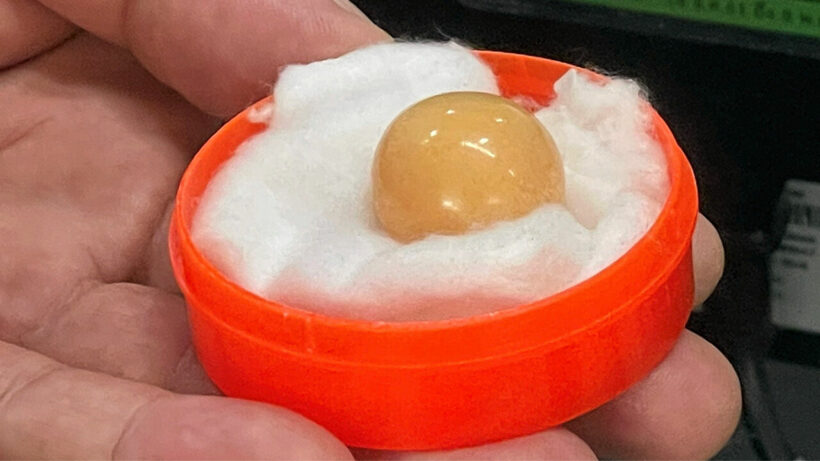 Another Thai man is claiming to have found a rare Melo pearl. The Pattaya chef says he bought a shell from a local market a decade ago and had no idea the object inside was a rare pearl. After hearing the news about the man in Nakhon Si Thammarat finding what he believes is a Melo pearl possibly worth millions of baht, 57 year old Patipat Hatthadon took the pearl off his shelf and brought it to the Gem and Jewelry Institution of Thailand where it was declared a real Melo pearl weighing 90.10 carats.
The chef bought the shell at the Larn Poe Market in Naklua 10 years ago. He found the pearl inside, but didn't realise what it was. At first he thought the orange pearl was just a weight, like a lead ball some market vendor put inside to make the shells heavier and up the price.
"I tried to use a knife to pierce the pearl and determine what it was but it didn't work and I had left it on a religious shelf for the past decade, unaware of what I potentially had."
Patipat obtained a certificate from the institution. He's keeping the pearl at a bank and he's filed a report with Banglamung Police for legal protection due to the value of the pearl. It might be worth millions of baht. He says he's already been contacted by numerous collectors from across the world. He's currently considering the offers, he says.
Earlier this month, a Thai fisherman found what he believes to be a Melo pearl possibly worth 10 million baht. He found the pearl in a shell on a Nakhon Si Thammarat beach in Southern Thailand. The news coverage, both nationally and internationally, caught police attention who say the man is a suspect in a drug case. He was arrested 2 weeks ago at his home by the beach.
SOURCE: Pattaya News
Keep in contact with The Thaiger by following our Facebook page.
Never miss out on future posts by following The Thaiger.
Thailand law enforcement gets new "laser" narcotics analysers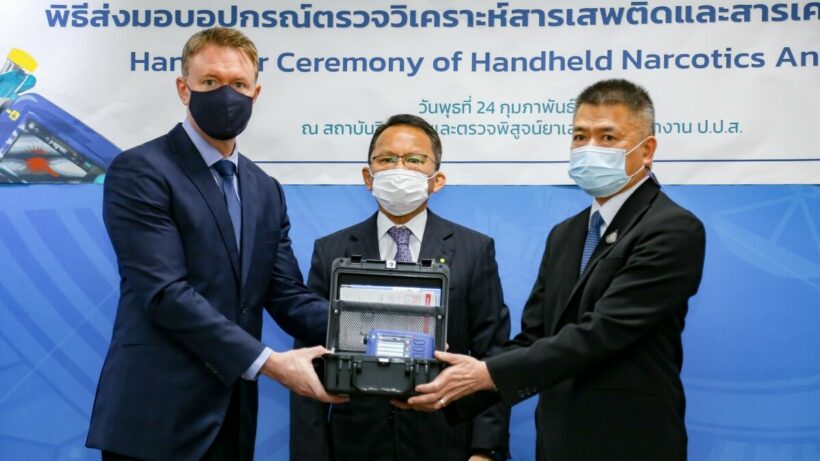 Thailand law enforcement will now use a new "laser" narcotics analyser to test suspicious substances and chemicals in major drug busts. It's apparently a more accurate method to identify illicit drugs than the current colour test. The new portable drug test happens to come a few months after Thailand claimed to have seized 11.5 tonnes of ketamine in the "biggest drug bust ever" and then discovered the substance was actually a cleaning agent.
In earlier reports, Justice Minister Somsak Thepsutin said the mistake was a "technical error" and the testing fluid had turned "purple," a positive sign for ketamine. Somsak didn't mention the failed ketamine bust when announcing that a pair of "portable Raman spectroscopy analysers" had been delivered to Thailand from the United Nations Office on Drugs and Crime. He says the new tool is more accurate than the colour test.
"The new portable analysers utilise the Raman spectroscopy technique to identify suspicious drugs and chemicals in less than 30 seconds, and more accurately than the colour test method that we currently use."
Not only can the device detect drugs, but apparently its laser can also detect additives like colouring and flavouring agents, according to Office of the Narcotics Control Board secretary general Wichai Chaimongkhol.
"The machine can detect chemicals either in powder, crystallised, tablet, capsule or liquid form… Its laser can penetrate transparent containers or wrapping of up to 2mm thickness and read the scattering of light to identify the substance accurately, reducing the risk of officials handling harmful chemicals while also helping preserve the evidence."
The tool is planned to be used to identify suspicious drugs and chemicals that are smuggled across the border as well as at airports and seaports.
SOURCE: Nation Thailand
Keep in contact with The Thaiger by following our Facebook page.
Never miss out on future posts by following The Thaiger.