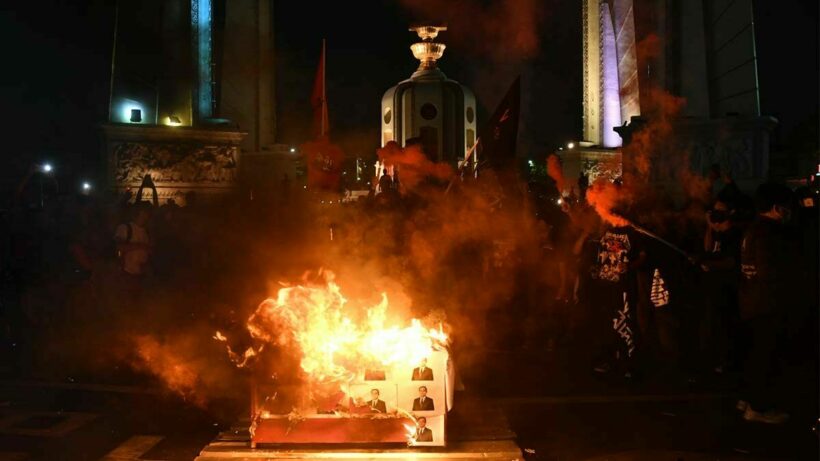 Yesterday, a teenager threw a "ping pong" bomb at Thailand's Prime Minister Prayut Chan-o-cha's house. On the same day, a mob of "Red Shirt" protesters took to the streets of Bangkok to burn a coffin adorned with pictures of PM Prayut's face.
Yesterday's protests were to commemorate the 12th anniversary of the 2010 Red Shirt protests, where 90 people died and 2,000 more were wounded in clashes between security forces and anti-government "Red Shirts" in their fight for democracy.
A teenage boy riding a motorcycle threw a homemade "ping pong" bomb at PM Prayut's house yesterday. The teenager threw the bomb at the gate of the 1st Infantry Regiment barracks on Vibhavi Rangsit Road in Bangkok where PM Prayut resides.
The bomb detonated on the lawn opposite PM Prayut's house but no one was injured. The Explosive Ordnance Disposal team has gathered evidence and investigating officers are looking to prosecute the perpetrators behind the attack. It is unclear whether the incident is linked to the "Red Shirt" protest that happened on the streets of Bangkok yesterday.
At around 5pm yesterday, more than four anti-government "freedom groups", including a mob of "Red Shirts" moved from the October 14, 1973 Memorial to the Democracy Monument on Ratchadamnoen Avenue in Bangkok. At 6:53pm, protesters poured oil onto a coffin adorned with pictures of Prime Minister Prayut's face and set it alight. Protesters cheered as the coffin burned and the fire was extinguished only a few minutes later at 6:57pm, before they cleaned up the mess and dispersed.
Groups who attended the event included the "14 Khun Pon Khong Ratsadon" — i.e. "14 Warlords for the People" — "Talu Gas" — i.e. "Overcome the Gas" — "Talu Fa — i.e. "Through the Sky" — "Ronin Fang Ton Mai Ow Padetgan" — i.e. "Ronins Resisting the Dictatorship" — "Salim Glab Jai — i.e. "Change of Heart" and others. The protest commemorated the lives of 90 people who were killed in the 2010 Red Shirt protests against the government at the time.
The 2010 political protests were a series of political protests organised by the United Front for Democracy Against Dictatorship, also known as the "Red Shirts". Put simply, "Red Shirts" are generally supporters of ex-PM Thaksin Shinawatra and have historically included a large proportion of working-class and rural communities in Thailand, especially in the north and north east. The "Yellow Shirts" are those opposed to former Thai leader Thaksin, often considered to be royalists, whose supporters have consisted of many influential members of Bangkok's elite.
The People's Democratic Reform Committee, or PDRC, was a reactionary political group composed of Democrat Party allies whose purpose was to remove ex-PM Thaksin Shinawatra's influence on Thai political reform. The Democratic Party, the oldest party in Thailand, was founded as a royalist party and currently upholds a conservative and pro-market position.
Leader of the Salim Glab Jai ("Change of Heart") group and proud "Red Shirt" Thanat Thanakit, reflects on the protest 12 years ago which he says was the "most embarrassing" time of his life. According to Thanat, since then, many Bangkokians have completely changed their stance from yellow to red…
"I wrote a message on Facebook 12 years ago laughing at the defeat of the Red Shirts. I got a reply which said, 'We were defeated today but we will not give up and one day you will feel it.' Now, I want to bow down and prostrate to that person. Today, Bangkokians who used to support the PDRC, the Democratic Party's allies, do not support them anymore. We have stopped loving them and stopped being ignorant. I had to wait until I had suffered destruction and ruin at the hands of that government before I stopped being ignorant."
"On April 10, 12 years ago, Red Shirts left their society, left their families and left a place of comfort because they could not close their eyes and endure the dictatorship. They found a new family in the Red Shirts. The proudest honour of my life is to wear a red shirt and demand democracy with my Thai brothers and sisters, for them and for the future of everyone."

Join the conversation and have your say on Thailand news published on The Thaiger.
Thaiger Talk is our new Thaiger Community where you can join the discussion on everything happening in Thailand right now.
Please note that articles are not posted to the forum instantly and can take up to 20 min before being visible. Click for more information and the Thaiger Talk Guidelines.