Governor visits flooded areas and discovers clogged drains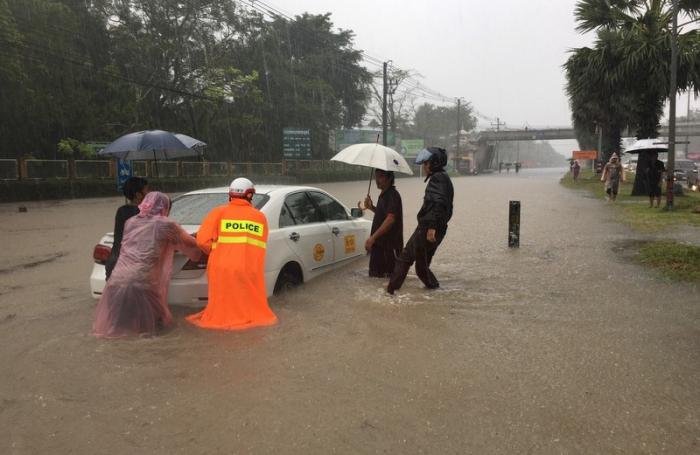 After a flash flood occurred on October 31 following just an hour of rain, Phuket Governor with his team visited the concerned areas and found that the drains were clogged by trash (again!). A budget of 220 million Baht is being set aside as part of the solution.
A team consisting several departments at the Provincial office visited Thepkasattri Road in front of the Super Cheap Mall and Soi Surin 2 – areas that are often flooded.
"After visiting the two spots, we found that the drain pipes were too small and they don't have any filter for trash, making it easy to get clogged and resulting in localised flooding. Also, Phuket doesn't have any retention areas to keep the water before flowing into the drains. Many buildings were built on the waterway and these are ongoing and major problems for the island flooding in the same spots every time we get heavy rains," said the Governor.
"For a short-term solution I have ordered the departments involved to enlarge the size of the pipes and install trash filters. The local authorities of the risky areas also have to monitor and be prepared during the rainy period."
For a long-term solution, the Governor noted that the 220 million Baht budget is expected to be spent on the flood issue on Thepkasattri Road from Kuan Din Daeng all the way to the area in front of Phuket Rajabhat University by expanding the size of the drains to create a better flow.
He says they are also looking for a location to make the 'Monkey Cheek Retention Area' which is a dam to store the excess amount of water and release it when the seawater level drops below the level of the dam. They expect this will need to be in the area of Saphan Hin.
"Please do not throw trash in public areas as we found today trash is the main problem that clogs the drains," the Governor added.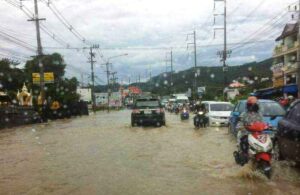 Keep in contact with The Thaiger by following our
Facebook page
.
Tour company owner arrested over non-delivery of discount luxury airline tickets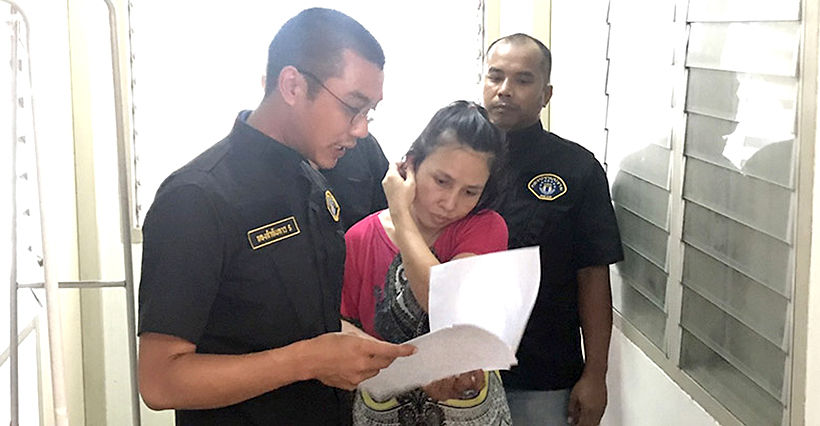 PHOTO: Sanook
Again, if it sounds too goof to be true, it probably is, especially when it comes to airline ticket scams.
The Thai Crime Suppression Division Police have arrested a tour company owner wanted over 6 arrest warrants. Her tour company was selling fake plane tickets to victims claiming that the company was able to source extremely cheap tickets from 'luxury' airlines.
Officers arrested Prayongsri, a 39 year old from Samut Prakan Province. There were 6 arrest warrants issued by the Prakanong Court. The court has charged Prayongsri on allegations of fraud. It all started 8 years ago when she opened her tour company. The company started advertising the sale of tickets from luxury airlines at an economy price tag.
According to officials, Prayongsri told buyers to transfer money into her account for the tickets. Instead of receiving the tickets as promised, the customers received only silence. Each customer lost an average of 100,000 – 150,000 baht. The total damages reach millions of baht with the prosecutors trying to find a total value of the scam.
Many of the victims filed reports with the police. But, Prayongsri continued running the same scam. Eventually, a total of 6 arrest warrants were issued for her and she was finally arrested on September 14 by the Crime Suppression Division. The suspect had been hiding in a relatives house in the city of Samut Prakan.
Prayongsri has told officials that, even though the money was sent to her account, another man had taken it all. She has now been sent to the Bang Na Police Station waiting for prosecution over the six filed cases.
SOURCE: Sanook.com
Keep in contact with The Thaiger by following our
Facebook page
.
Lilly wages war on Thailand's plastic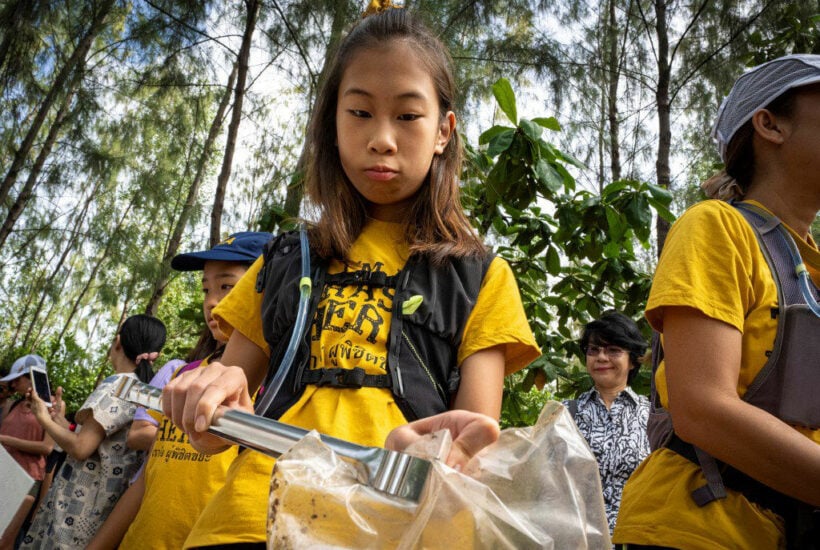 Skipping school to glide through a dirty Bangkok 'klong' on a paddleboard, Lilly fishes out rubbish in her mission to clean up Thailand, where the average person uses eight plastic bags every single day. Single-use plastic is now on the radar in Thailand and has become a hot topic on social media.
"I am a kid at war," the bubbly 12 year old says after a painstaking hour-long routine picking up cans, bags and bottles bobbing in the canal.
"I try to stay optimistic but I am also angry. Our world is disappearing."
Thailand is the sixth largest global contributor to ocean pollution, and plastic is a scourge.
Whether it's for wrapping up street food, takeaway coffees or for groceries, Thais use 3,000 single use bags per year – 12 times more than someone from the EU.
In June, Lilly won her first victory: she persuaded Central, a major supermarket in Bangkok, to stop giving out plastic bags in its stores once a week.
"I told myself that if the government did not listen to me, it would be necessary to speak directly to those who distribute plastic bags and convince them to stop."
This month some of the biggest brands, including the operator of the ubiquitous 7-Eleven convenience stores, pledged to stop handing out single-use plastic bags by January next year.
Mindsets have started to shift this year with the deaths of several marine mammals whose stomachs were lined with plastic, stirring emotions.
The demise last month of a baby dugong was mourned on social media, reviving discussion in the government over a proposed ban on most single-use plastics by 2022.
But critics say along with new rules there need to be enforcement mechanisms such as fines.
For now young activists like Lilly can help capture attention.
"You might be able to tune out all of the evidence and advocacy in the world, but it's very hard to ignore a child when they ask why we're trashing the planet that they have to live on," says Kakuko Nagatani-Yoshida, regional coordinator for chemicals, waste and air quality with UN Environment.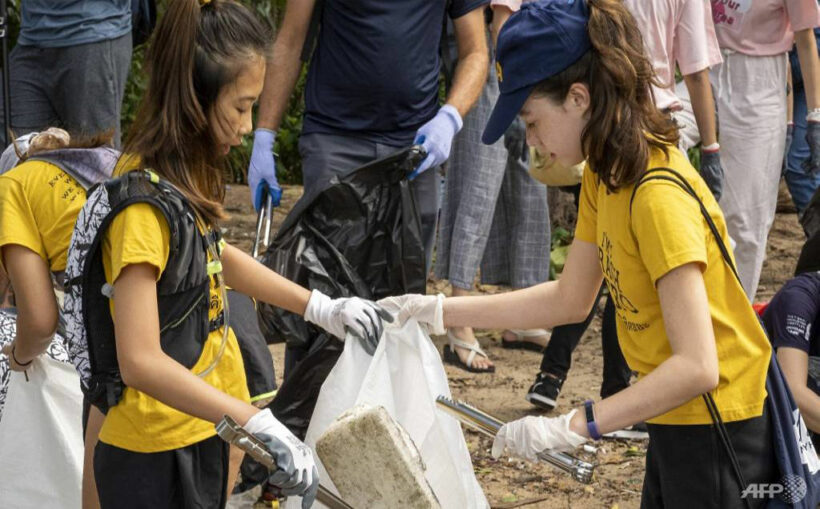 'It's up to us'
'Lilly' is Ralyn Satidtanasarn's nickname.
The US-Thai youngster started campaigning at the age of eight after a seaside vacation in southern Thailand where she was horrified by a beach covered in rubbish.
"We cleaned up with my parents, but that was not helpful because other waste was thrown out by the sea the next day," she recalls.
Then came the global movement initiated by 16 year old Greta Thunberg, who has become a key face in the battle against global warming.
Inspired by the young Swede, Lilly did sit-ins in front of the Thai government buildings.
"Greta Thunberg gave me confidence. When adults do not do anything, it's up to us children to act," she insists.
Though she often skips class to carry out her activism, she will not be in New York alongside Thunberg for a protest on September 20 just days before the UN climate conference.
"My place is here, the fight is also in Southeast Asia," she says.
Even if she sometimes wants to take a break and "go play" like other kids, she also takes part in cleaning sessions organised by local association Trash Hero.
Other activists praise her but say she is up against massive corporate interests.
The main obstacle is the petrochemical industry, one of the main markets for plastics, accounting for 5 percent of Thailand's GDP and tens of thousands of jobs.
"Lilly is a very good voice for the youth of this country but the lobbies are very powerful and that makes any change difficult," concedes Nattapong Nithiuthai, who set up a company turning discarded waste into flip flops.
She can also count on the support of her parents, who help her write speeches to the UN and government officials.
Her mother, Sasie, herself a former environmental activist, adds: "At first, I thought it was a child's fad, but Lilly hung on, so I decided to support her."
SOURCE: Agence France-Presse
Keep in contact with The Thaiger by following our
Facebook page
.
Thai poll favours new airport in Nakhon Pathom, west of Bangkok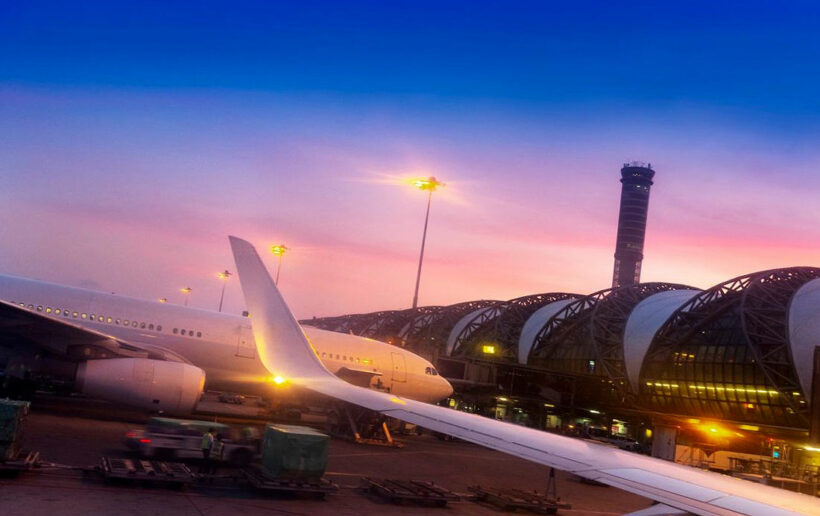 Sanook report that most Thais are in favour of building a new airport in Nakhon Pathom, 57 kilometres west of the capital Bangkok. The old Don Mueang airport is to the north of Bangkok and Suvarnabhumi, to the east.
In a Nida Poll 65% of respondents thought the new airport in Nakhon Pathom was a good idea citing benefits to tourism and the wider sharing of revenue and business opportunities to the city's western regions.
But 18% disagreed, saying that Suvanabhumi and Don Mueang international airports were coping, and that developing the existing airports would be a better idea. 1.7% had no idea whilst 14% didn't really care.
In the poll that asked 1,273 people over the age of 15 between September 12 & 13m just over 62% said that hadn't ever been on a plane.
Keep in contact with The Thaiger by following our
Facebook page
.